Prep:
Total:
Yield:
Servings:
Nutrition Facts :
Ingredients:
2 cloves of garlic, minced
Olive oil, for cooking
2 scallions, chopped
2 cups of vegetable broth
2 cups lightly packed wood sorrel leaves, flowers reserved for garnish
3 medium-sized mint leaves
1 cup of full-fat coconut milk
Salt and pepper, to taste
Instruction:
In a small saucepan, add a little olive oil. Sauté the garlic, until fragrant, and then add the scallions. Cover with vegetable broth and bring to a boil. Simmer for about 5 minutes before adding the sorrel for about 30 seconds.
Take off the heat and add the mint. Use an immersion blender to blend smooth, then stir in the coconut milk and salt and pepper. Refrigerate until nicely chilled and serve garnished with sorrel flowers.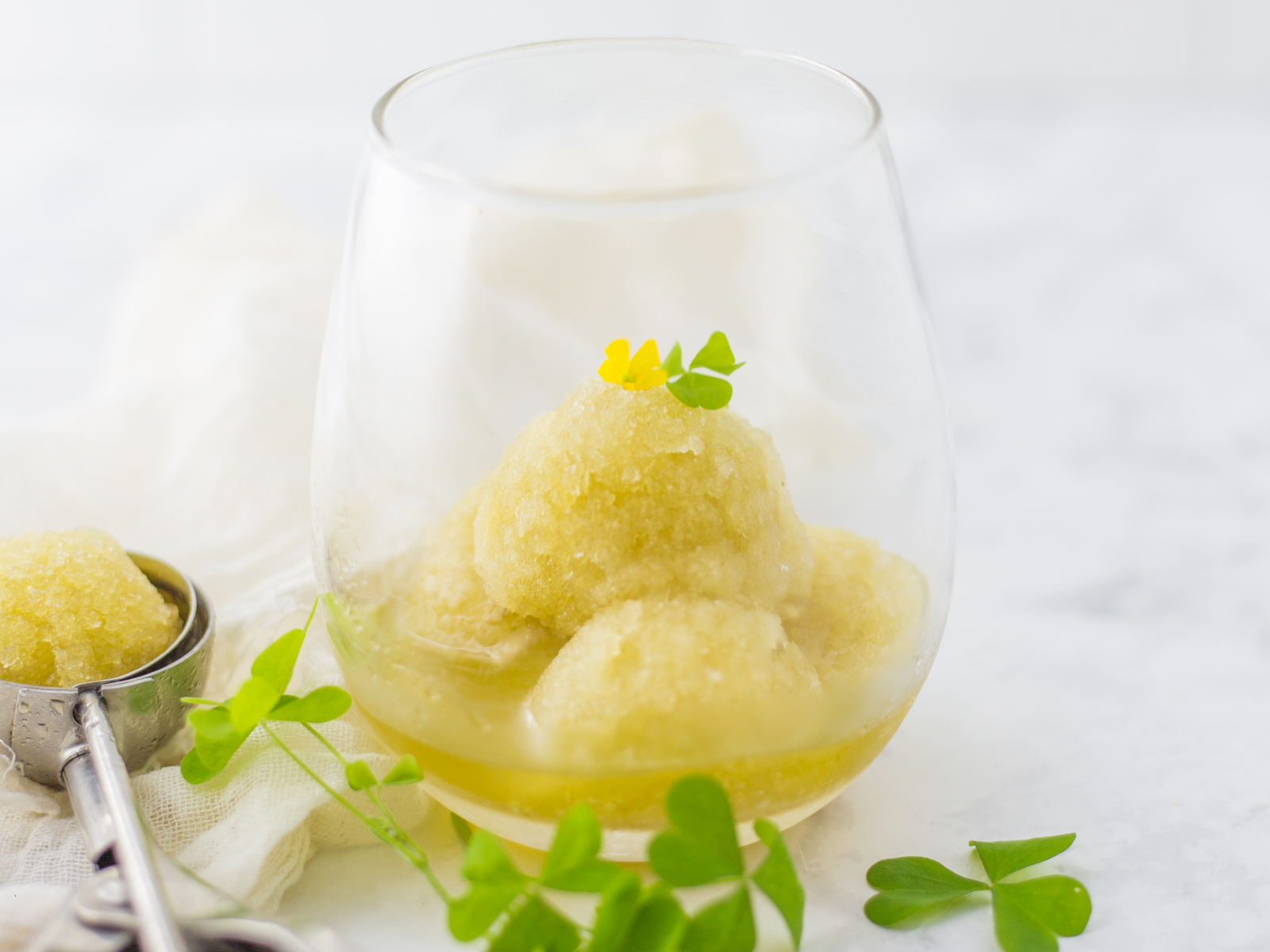 Prep: 10min
Total: 5h25min
Yield: 5
Servings:
Nutrition Facts :
Ingredients:
10 g wood sorrel stems and leaves
250 ml boiling water
200 g sugar
200 ml water
Instruction:
Rinse wood sorrel stems and leaves carefully, making sure there are no bugs hanging on! Discard any damaged leaves.
In a heat-safe bowl, add the wood sorrel and pour in the boiling water. Soak for 10 minutes.
In the meantime, make the simple syrup. Combine sugar and water in a sauce pan. Heat on high.
When it starts to boil, stir until sugar is completely dissolved. Remove from heat and let cool completely.
Add the wood sorrel and soaking water to a blender and blend until you get a smoothie-like consistency.NOTE: a single serve blender cup works perfectly.
Strain to remove the solids, keeping the liquid wood sorrel extract.
Once the syrup has cooled completely, stir in the wood sorrel extract.
Pour the mixture into a freezer-safe bowl or loaf pan. Cover and place in the freezer for at least 5 hours.
Take the mixture out of the freezer and use a fork to scrape it into sorbet texture.
Serve immediately or cover and return to freezer until ready to serve!
Prep:
Total:
Yield: 6
Servings:
Nutrition Facts :
Ingredients:
Wood Sorrel: 6 Handfuls
Whipping Cream: 300ml
Sugar: 1Tbsp
Butter: 1 knob
Precooked Tart Bases: 6
Berries: for Decoration
Instruction:
Gently fry the wood sorrel with a little butter until pureed.
Add a little sugar to taste and mix with some cream, then allow to cool.
Spoon into the tart bases, decorate with some fruit and serve.
This is my recipe for wood sorrel tart. Wood sorrel is such a versatile ingredient. I use it a lot for desserts and the good thing is it's available almost all year round.
The following recipe is a kind of lemon tart with a twist and can be served with any fruits. I went for figs since they're really nice at this time of the year.
Prep:
Total:
Yield:
Servings:
Nutrition Facts :
Ingredients:
For the pastry base:
125g unsalted butter, soft
65g sugar
170g plain flour
10g cornflour
vanilla, salt
For the wood sorrel cream:
225g cream
zest of 1 lemon
juice of 2 lemons
130g sugar
2 whole eggs
125g egg yolk
50ml wood sorrel juice
2.5 sheets gelatine
100g whipped cream
Instruction:
For the pastry base:
Sieve flour and cornflour. Combine butter, sugar, vanilla and a pinch of salt, then add dry ingredients. Mix to a paste and refrigerate. Roll out to 1cm thickness and cut desired shape. Bake at 180°C until golden brown (approx. 12minutes).
For the wood sorrel cream:
Combine the first part of the recipe using a Thermomix or a hand blender. Pour into a cake tin or baking tray and cook at 135°C until set. Leave to cool completely, then blitz in a Thermomix until smooth and creamy, meanwhile put the wood sorrel through a juicer (you'll need about 100g of wood sorrel leaves for every 50g of juice). Fold whipped cream and juice into lemon tart mix. Lastly melt the soaked gelatine with a little of tart mix. Once melted fold back into the tart mix. Fill into rings or silicon mould and refrigerate for 1 hour. Turn out of the moulds, place onto pastry base and garnish with fresh figs.
A wood sorrel savory onion quiche.
Prep: 20min
Total: 1h25min
Yield: 1 9-inch tart
Servings:
Nutrition Facts : calories 405.1 calories, Carbohydrate 15.5 g, Cholesterol 163.8 mg, Fat 33.4 g, Fiber 1.2 g, Protein 10.9 g, Saturated Fat 17.7 g, servingSize None, Sodium 496.5 mg, Sugar 1.3 g, Trans Fat None, unSaturated Fat None
Ingredients:
2 tablespoons butter
2 shallots, thinly sliced
1 large onion, thinly sliced
3 cloves garlic, minced
1 teaspoon salt
¼ cup dry white wine
3 tablespoons all-purpose flour
1 cup fresh wood sorrel leaves, flowers and pods only
4 eggs
2 cups heavy cream
2 teaspoons ground black pepper
1 cup grated Gruyere cheese
½ cup grated Parmesan cheese
1 (9 inch) pre-baked pie crust
Instruction:
Preheat the oven to 350 degrees F (175 degrees C).
Heat butter over medium-low heat in a skillet. Cook and stir shallots and onion in butter until softened and translucent, about 5 minutes. Add garlic; cook and stir 1 to 2 minutes. Season with salt.
Increase heat to medium. Pour white wine into the skillet and cook until evaporated. Stir in flour. Add sorrel and stir constantly for 1 minute. Remove from heat and let cool.
While sorrel mixture is cooling, whisk together eggs, heavy cream, and black pepper in a large bowl.
Combine sorrel mixture with egg mixture, 1/2 Gruyere cheese, and 1/2 Parmesan cheese. Pour mixture into the prepared pie crust. Top with remaining 1/2 Gruyere cheese and 1/2 Parmesan cheese.
Bake in the preheated oven until a knife inserted into the center comes out clean and tart is firm, about 1 hour.