White Gummy Bear shot is a great starter drink for your house party and fruity flavor richness adds to its advantage.
Prep: 3min
Total: 3min
Yield: 1
Servings: 1 serving
Nutrition Facts : calories 100 kcal, Protein 0.1 g, Carbohydrate 11 g, servingSize 1 serving
Ingredients:
½ oz. (15 ml) Raspberry Vodka
½ oz. (15 ml) Peach Schnapps
½ oz. (15 ml) Sweet & Sour Mix
½ oz. (15 ml) Lemon Lime Soda
White Gummy Bears (garnish)
Instruction:
Fill a Cocktail Shaker with ice cubes.
Pour Raspberry Vodka, Peach Schnapps, Sweet & Sour Mix and the Soda and mix the drink well.
Strain the cocktail into shot glasses.
Garnish with Shot glasses with White Gummy bears.
Serve and Enjoy the drink!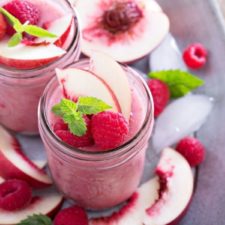 This homemade version of the white gummy bear Jamba Juice recipe is sure to be a favorite among both kids and adults.
A mixture of fruit juice, milk, frozen fruits and sherbet forms a sweet candy flavored smoothie exactly the flavors of white gummy bears.
This recipe is inspired by Jamba Juice secret menu beverage to allow you to make this delicious juice at home no matter where in the world you are.
Learn how to make this copycat version of White Gummy Bear Jamba Juice by following these steps:
Prep: 5min
Total: 10min
Yield: 1
Servings: 1
Nutrition Facts : servingSize 1, calories 196 calories, Sugar 37.2g, Sodium 0.6g, Fat 2.1g, Saturated Fat 0.6g, Carbohydrate 43.5g, Fiber 2.2g, Protein 3.1g, Cholesterol 0g
Ingredients:
½ cup peach juice
½ cup frozen mango
¼ cup soy milk
1 scoop rainbow sherbet
¼ cup ice
Instruction:
Into a blender add the peach juice, frozen mango, soy milk, rainbow sherbet and ice.
Blend the juice on high until the mixture is smooth and slushy. 
Pour the white gummy bear Jamba Juice into a glass and serve immediately. This refreshing sweet drink can be enjoyed at any point in the day.
Prep:
Total:
Yield:
Servings:
Nutrition Facts :
Prep:
Total:
Yield:
Servings:
Nutrition Facts :
Prep:
Total:
Yield:
Servings:
Nutrition Facts :