Tender and delicious deer neck roast in the slow cooker. Herbs, garlic, and butter make a rich, flavorful meat.
Prep: 510min
Total: 870min
Yield: 6
Servings: 1 cup
Nutrition Facts : servingSize 1 cup, calories 526 kcal, Carbohydrate 9 g, Protein 57 g, Fat 27 g, Saturated Fat 10 g, Trans Fat 1 g, Cholesterol 191 mg, Sodium 1342 mg, Fiber 1 g, Sugar 5 g, unSaturated Fat 15 g
Ingredients:
1 cup water
¼ cup olive oil
¼ cup worchestershire sauce
¼ cup balsamic vinegar
1 deer neck roast
2 Tablespoons olive oil
4 Tablespoons butter
1 onion (sliced)
6 cloves garlic (diced)
1 cup beef broth (or chicken broth)
¼ cup balsamic vinegar
¼ cup soy sauce
1 teaspoon salt
1 teaspoon thyme
½ teaspoon oregano
½ teaspoon pepper
¼ teaspoon cayenne
¼ teaspoon rosemary
Instruction:
Mix marinade ingredients together in large pan and place meat into the marinade, turning to coat both sides. Cover with plastic wrap and place in fridge for 4-12 hours. Can flip meat to other side once during marinade time if desired.
Slice onion and place in bottom of crockpot.
Heat oil in heavy skillet, and sear roast on both sides till well browned. Place roast on top of onion.
Sprinkle salt, pepper, thyme, rosemary, oregano, and cayenne on top of the roast.
Dice garlic and place carefully on top of the meat. Arrange sliced butter over top of the garlic, and pour the balsamic vinegar, soy sauce, and broth into the crockpot.
Cover with lid and cook on HIGH for 8 hours. Remove from crockpot and cut against the grain several times. Shred with a fork and place back into the juice. Stir and serve over noodles or potatoes.
This neck roast bbq recipe is a great dish to make with a whole venison neck, or a 4-to-6 pound piece of elk or moose neck. Since the neck is a heavily used muscle it takes a lot of cooking to tenderize the meat. l have great luck using a slow cooker.
After 6-8 hours, the meat can be pulled right…
Prep:
Total:
Yield: 8-10 (2 quarts of shredded meat). BBQ Sauce: makes 2 cups
Servings:
Nutrition Facts :
Ingredients:
4-to 6-pound neck, bone-in (use a whole venison neck or a 4-to 6-pound piece of an elk or moose neck)
Kosher salt
Freshly ground black pepper
3 tbsp. vegetable oil
2-3 qt. game stock or enriched stock (see below)
1/2-1 cup BBQ Sauce or store-bought BBQ sauce
Hamburger buns
BBQ Sauce
3 tbsp. vegetable oil
1 large onion, cut into 1/2-inch dice
4 cloves garlic, minced
1 cup ketchup
1/4 cup molasses
1 chipotle pepper in adobo sauce, chopped
1/4 cup apple cider vinegar
1 tsp. dry mustard
1 tsp. ground juniper berries
1/2 tsp. cumin
1/4 tsp. allspice
2 shakes Worcestershire sauce
Instruction:
Enriched Stock
If you don't have time to make your own stock from scratch. put in store-bought vegetable or chicken stock in a large pot on the stove, add an onion (peeled and cut in half), and some extra bones from the freezer (chicken wings, venison shank, etc).
Bring just to a boil, then lower to a simmer.
Skim off and discard any scum on the surface.
Add a bay leaf, a sprig of thyme or parsley stems if you have them.
Keep at a low simmer for several hours.
Skim off and discard the fat on the surface. Strain out the solids.
Use the stock immediately, or cool and freeze.
BBQ Sauce
This recipe comes from my buddy Chef Matt Weingarten, who tailored the sauce for the flavors of wild game. As you'll see, making your own BBQ sauce is simple and can be well worth the effort.
In a 6-quart pot, heat the oil and cook the onions until translucent.
Add the garlic and cook for another minute.
Add the remaining ingredients and bring to a boil over medium heat and then reduce the heat to low.
Simmer for about 20 minutes. until the sauce flavors have come together.
Cool and store in the refrigerator.
BBQ Roast
Bring the neck to room temperature. Season liberally with salt and pepper all over.
Heat a large sauté pan or roasting pan over medium-high heat. Add the oil. When the oil shimmers, swirl the pan to coat well. Sear the neck until it's browned on all sides.
Put the browned neck in a 6-quart slow cooker. Add enough stock just to cover the neck.
Cover, set the slow cooker on low, and cook for a minimum of 6-8 hours, until fork tender. (Alternatively, use a 6-to 8-quart Dutch oven, and cook in a 300° oven for 6-8 hours.)
Keep checking to be sure it's covered with liquid at all times. You'll know it's done when it flakes into really nice pieces.
Remove the meat from the liquid and start shredding. (Don't throw away the extra cooking liquid. Use the excess liquid like stock.)
The meat should shred like pulled pork. Toss with BBQ sauce and serve in soft hamburger buns with sliced pickles and potato chips on the side. A couple of spoonfuls of coleslaw on top of the meat is a great addition.
Alternatively, you can store the meat in the fridge for up to 1 week or in the freezer for up to 1 month.
Leftovers
Leftover shredded meat without the BBQ sauce can be tossed into a simple tomato sauce to make a convenient and tasty ragu for pasta dishes.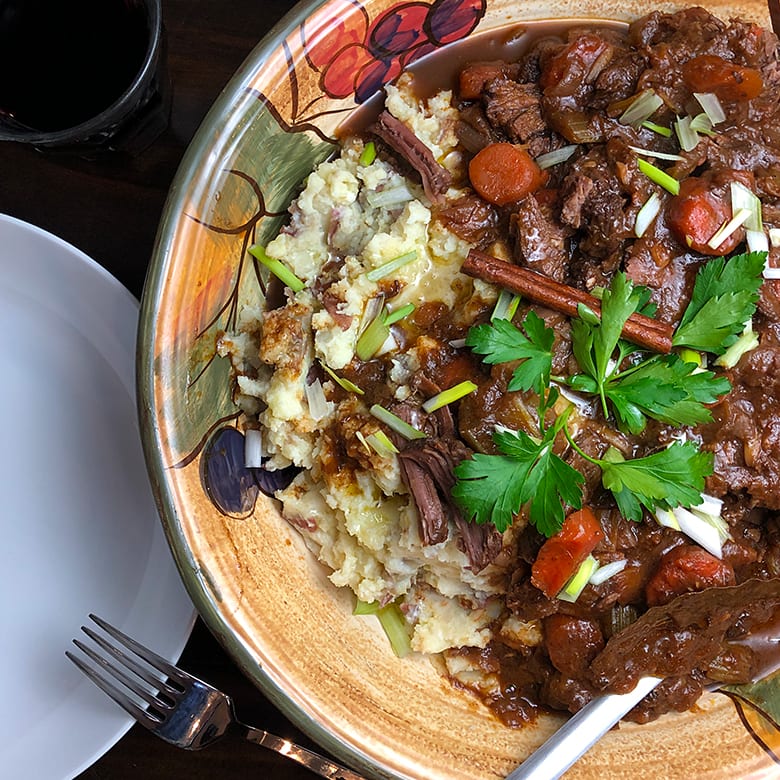 I braised this venison neck with wine but the kicker was hints of cinnamon 30 minutes prior to serving. Patience is important anytime you cook these specific cuts, but if you can stand to wait, your harvest will be celebrated with each and every appetizing bite.
Prep: 30min
Total:
Yield: 6
Servings:
Nutrition Facts :
Ingredients:
1 Half Boneless Venison Neck, (washed and dried)
3 tbsp vegetable oil
4 tbsp flour
1 tsp granulated garlic powder
1 tsp sea salt
1 tsp black pepper
4 carrots, (chopped)
4 ribs celery, (chopped)
1 large white onion, (chopped)
4 cloves garlic, (minced)
2 cups cabernet or merlot wine
2 cups beef broth
2 tbsp tomato paste
2 bay leaves
1 cinnamon stick
green onions, (chopped for garnish (optional))
parsley, (chopped for garnish (optional))
Instruction:
Preheat the oven to 325 degrees F.
In a small bowl, combine the flour, garlic powder, salt and pepper. Set the venison neck on a plate and coat lightly with the seasoned flour.
Heat a 6 to 7 Quart Cast Iron Dutch oven pot over medium heat and add oil. When the oil is warmed, carefully add the floured meat to the pot and brown, about 5 minutes. Turn the meat over and brown, for an additional 5 minutes. Remove the meat and set aside on a plate.
Add the carrots, celery, onions and garlic and cook until the onions soften, about 7-8 minutes. (If you partially cover with the lid, the vegetables will soften more quickly.) Pour the beef broth and wine into the pot stirring to loosen up all the stuck-on browned bits. Finish by adding the neck meat back into the post along with the tomato paste and 2 bay leaves.
Cover with the lid, leaving just a small opening to allow for the steam to release while cooking. Carefully place the pot in the oven and cook for 6-7 hours. The longer you braise the meat the more time it will have to breakdown all the connective tissues that run throughout the neck. Baste the meat every two hours during the cooking time. You may find that you need to add more liquid if needed. During the last 30 minutes of cooking, add a whole cinnamon stick to the pot.
Carefully remove the meat from the pot and shred on a cutting board. Serve the braised venison over mashed potatoes and cover with the gravy. Garnish with diced green onions and parsley.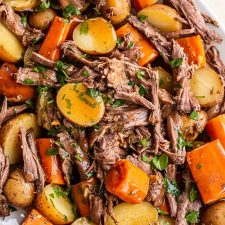 ▲
This is the way to get a flavorful, tender and juicy venison roast. Using the slow cooker is the easiest way to make the perfect venison roast every time.
Prep: 15min
Total: 8h15min
Yield: 6
Servings:
Nutrition Facts : servingSize None, calories 300 calories, Sugar 5.5 g, Sodium 598 mg, Fat 3.6 g, Saturated Fat 1.1 g, Trans Fat 0 g, Carbohydrate 48.3 g, Fiber 6.2 g, Protein 19.4 g, Cholesterol 41.4 mg
Ingredients:
3-4lb venison roast (shoulder or neck is best, bone-in or out is fine – see notes)*
1 and 1/2 tsp. salt, divided
1 Tbsp. high heat tolerant cooking fat (duck fat, avocado oil, clarified butter/ghee)
1 and 1/2 cups venison stock or beef stock*
2 Tbsp. tomato paste
1 Tbsp. balsamic vinegar
1 and 1/2 tsp. Worchestershire sauce
1 tsp. dried thyme
1 tsp. dried parsley
1 tsp. pepper
5 garlic cloves, minced
1 large, yellow onion, cut into large pieces
1 lb. baby yellow potatoes
4-5 carrots, peeled and cut into 2-inch pieces
2 Tbsp. tapioca starch, arrowroot powder or cornstarch
Instruction:
Remove your roast from the packaging and dry thoroughly with a paper towel to remove any liquid or old blood. Then, sprinkle 1/2 teaspoon of the salt all over the meat. 
Heat the oil/fat in a large skillet over medium-medium high heat and sear the roast on all sides until brown. If you go to flip the meat and it's sticking to the pan, it's not ready to be flipped. When a sear forms, it will release from the skillet. 
Once seared all over, remove the roast from the skillet and place it in the bottom of a slow cooker. 
Pour in the stock or add frozen stock to the bottom of the slow cooker. Then, add the tomato paste, balsamic vinegar, Worchestershire sauce, thyme, parsley, pepper, half of the garlic and 1/2 teaspoon of the salt. Rub that all over the meat the best you can. 
Then, add the onions, carrots and potatoes on top. Sprinkle on the remaining salt and garlic. 
When you're ready to serve, remove the meat and shred it on a board. Toss the veggies in the juice and move them to a platter to add with the pulled venison roast. You can halve the potatoes if you like. 
If you want gravy, mix the cornstarch (or tapioca or arrowroot powder) with a bit of the strained pot drippings to make a slurry. Then, add the rest of the drippings and the slurry to a small saucepan and reduce over medium-low heat for 10 minutes. 
Serve & ENJOY!
Prep:
Total:
Yield:
Servings:
Nutrition Facts :
Ingredients:
1 venison neck roast
olive oil
salt and pepper
1 cup kosher salt
1 cup brown sugar
¼ cup granulated or powdered garlic
¼ cup ground black pepper
1 cup cider vinegar
1 gallon ice water
1 quart apple cider
2 cups venison or beef stock
3 tart apples, quartered
1 medium onion, roughly chopped
6 cloves garlic, whole
2 bay leaves
Instruction:
Prepare brine. Heat 2 cups of the water in a saucepan over medium-high heat. Add salt, sugar, granulated garlic and pepper and stir until dissolved. Add to remaining ice water and stir in vinegar. Place roast in a heavy-duty plastic bag, pour brine over and seal bag at opening to immerse roast in brine. Place in a container, and refrigerate for 6 to 12 hours.
Remove roast from brine. Discard brine. Rinse roast, pat dry with paper or clean cloth towels. Rub with olive oil, and season with salt and pepper.
Preheat oven to 325 degrees. Heat 2 tablespoons olive oil in a large skillet (or Dutch oven) over medium-high heat. Add roast, and brown well on all sides. The browning will enhance flavor!
Transfer meat to a well-greased roasting pan (or leave in Dutch oven). Stir cider and stock together, and pour enough in pan to cover ½ to ¾ inch. Add apples, onion, garlic and bay leaves to pan. Cover tightly with heavy foil or lid, and place in the preheated oven.
Check oven after 2 hours to make sure there is adequate liquid in the pan. Add as necessary to keep at least ½ inch of liquid at all times. (Note: if you got distracted and allowed the liquid to evaporate, just deglaze the pan with additional cider and broth.) Depending on the size of the roast, it will take at least 5 hours for the braise. Check every hour or so after the first 2 hours, and continue until meat pulls away from the bone easily.