This Easy Vegan Summer Squash Sauté is healthy, delicious, and so easy to make. It's made with yellow squash, zucchini, cherry tomatoes, and vegan parmesan in one skillet. And, it's completely oil-free.
Prep: 10min
Total: 16min
Yield: 4
Servings:
Nutrition Facts : servingSize None, calories 40 calories, Sugar 5.1 g, Sodium 15.8 mg, Fat 0.6 g, Saturated Fat 0.2 g, Trans Fat 0 g, Carbohydrate 7.7 g, Fiber 2.3 g, Protein 2.6 g, Cholesterol 0 mg
Ingredients:
1 large zucchini, chopped
1 large yellow squash, chopped
1 cup grape or cherry tomatoes sliced in half
2 tsp. garlic powder
1/2 tsp. oregano
1/2 tsp. basil
salt and pepper to taste
Oil Free Balsamic Dressing
Vegan Parmesan
Instruction:
Preheat a large nonstick skillet over medium to medium-high heat.
Once the pan is ready add the squash and zucchini and cook for 2-3 minutes. Stir occasionally and add 1-2 Tbsp of water at a time if necessary to prevent sticking.
Add in the tomatoes and sprinkle with the garlic powder, oregano, and basil. If the pan is dry add a little more water to sauté, gently stir, and cook for another 3-4 minutes. You want to cook the dish until the zucchini and squash are tender and the tomatoes look like they're about to pop.
Season with salt and pepper as needed. Sprinkle the top with Vegan Parmesan and a drizzle of Oil-Free Balsamic Dressing. Serve immediately.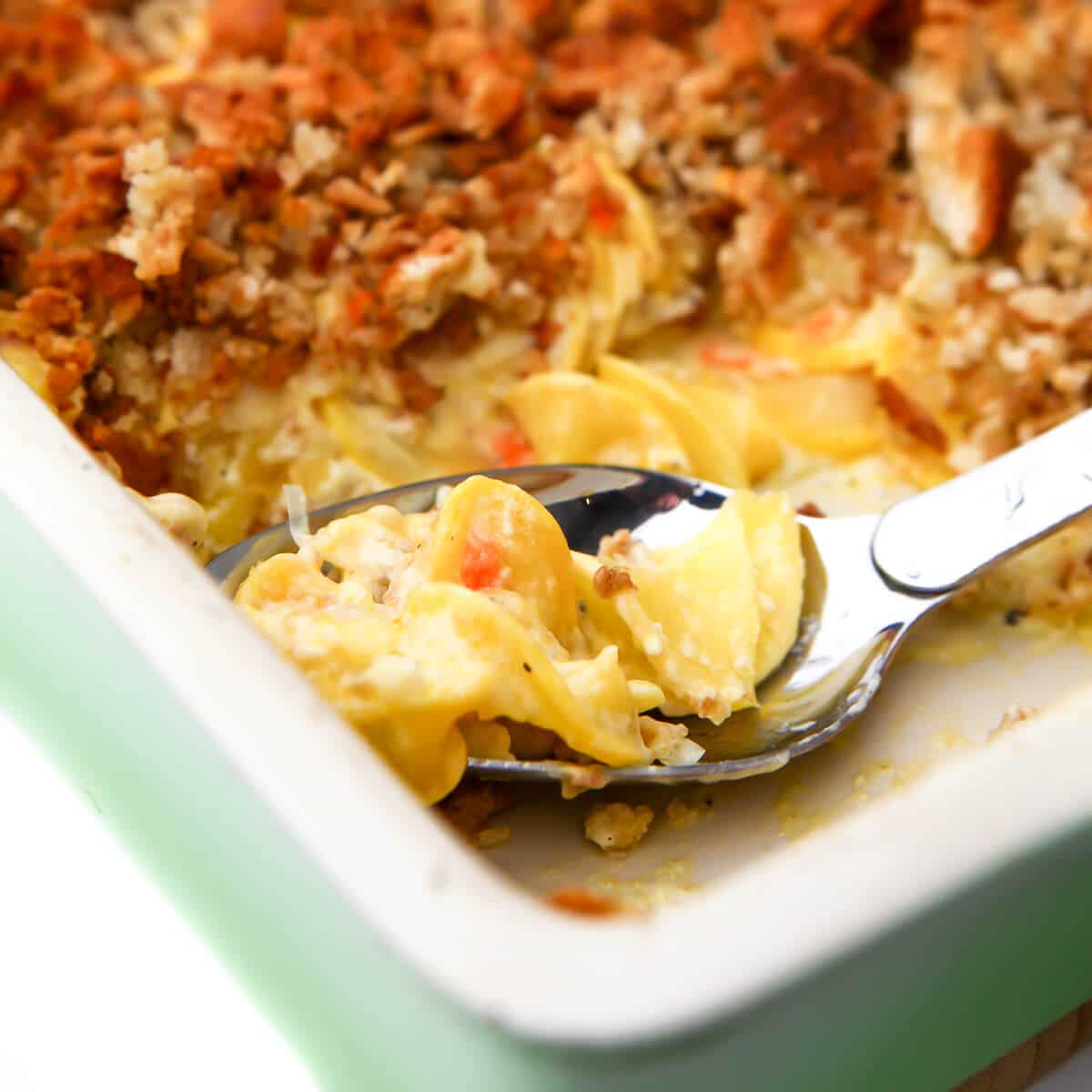 A classic southern-style summer squash casserole made with a creamy sauce and topped with breadcrumbs.
Prep: 10min
Total: 55min
Yield: 12
Servings: 1 cup
Nutrition Facts : servingSize 1 cup, calories 325 kcal, Carbohydrate 47 g, Protein 8 g, Fat 12 g, Saturated Fat 4 g, Trans Fat 1 g, Cholesterol 1 mg, Sodium 923 mg, Fiber 3 g, Sugar 8 g, unSaturated Fat 7 g
Ingredients:
2 tablespoons light olive oil
8 cups yellow squash ((or zucchini or a combination of both))
1 cup onion
1/2 teaspoon salt ((reduce for lower sodium))
1 teaspoon dried thyme ((or 1 tablespoon fresh thyme))
2 cloves garlic
1 cup carrots
1 tablespoon vegan butter ((or oil))
1 1/2 tablespoon flour ((or grain-based gluten-free flour))
1 cup plant-based milk (plain) ((I like soy or oat milk – don't use vanilla milk))
1 1/2 cup vegan sour cream
1 cup vegan mozzarella cheese
2 cups stuffing mix ((or breadcrumbs or crushed crackers))
1/2 teaspoon pepper
Instruction:
Preheat the oven to 375 F. (If you plan on baking it immediately.)
Dice the onion into small pieces and saute it in 2 tablespoons of oil and 1/2 teaspoon of salt, and 1 teaspoon of thyme, and 2 cloves of minced garlic over low heat for 5 minutes in a large wok.
While the onions are cooking, thinly slice 8 cups of squash into rounds and add them to the onions and stir well and cook for about 10 minutes until the squash has started to soften.
Stir in 1 cup of shredded carrots and cook for 1 more minute.
Transfer the mixture to a large casserole dish.
Heat 1 tablespoon of vegan butter or oil in the wok and sprinkle in 1 1/2 tablespoons of flour and stir well with a whisk to make a roux.
Slowly add 1 cup of plain plant-based milk to the roux a few tablespoons at a time stirring well between each get out all of the lumps. (This will become very thick at first, just keep stirring and adding small amounts of more milk and it will thin out.)
Add 1 1/2 cups of vegan sour cream to the thickened milk along with 1/2 teaspoon of salt and 1/2 teaspoon pepper. (You can also add some red pepper flakes or a dash of cayenne for a little spice.)
Add 1 cup of vegan cheese to the cream mixture and stir well.
Pour the cream mixture over the cooked vegetables and stir it around until it is mixed well with the squash.
Sprinkle the top of the casserole with a generous layer of stuffing mix, breadcrumbs, or crumbles crackers.
Drizzle 3 tablespoons of melted vegan butter over the top.
Bake at 375 F for 30 minutes until the casserole is bubbly and the top is golden brown.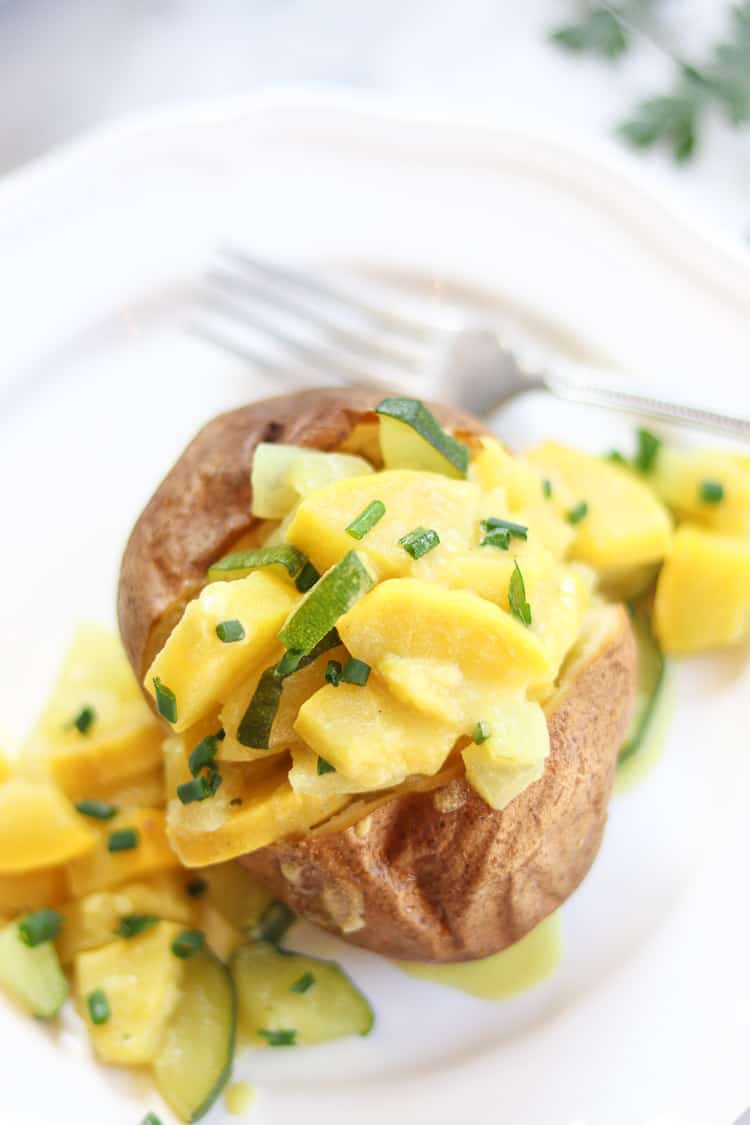 Yellow and Zucchini summer squash are cooked in a delicious vegan chicken-style savory broth and served as a side dish or over baked potatoes!
Prep: 7min
Total: 15min
Yield: 4
Servings: 1 serving
Nutrition Facts : calories 84 kcal, Carbohydrate 8 g, Protein 4 g, Fat 5 g, Saturated Fat 1 g, Fiber 3 g, Sugar 4 g, Sodium 528 mg, servingSize 1 serving
Ingredients:
4 cups Diced or sliced yellow or zucchini squash (about ¼ inch thick)
½ cup Finely diced onion
1 tablespoon Olive oil
1 tablespoon McKay's Vegan Chickenstyle Seasoning (or substitute)
2 tablespoon Nutritional yeast
½ cup Water
Instruction:
Dice (or slice if they're small!) yellow and zucchini squash into pieces about ¼ inch thick.  
Add finely diced onion, squash, olive oil, ½ cup water and seasonings to a skillet or heavy bottomed pan with a fitted lid.
Cook squash mixture over low-medium heat for about 5-8 minutes or just until squash is fork-tender.  Add up to an additional ½ cup of water if needed during cooking process.  Taste test and add salt if needed! Serve!
Vegan Yellow Squash Soup
Prep: 20min
Total: 30min
Yield: 4
Servings:
Nutrition Facts :
Ingredients:
2 lbs Yellow Squash (thinly sliced)
1 c Vegetable Broth
3/4 c Onion (chopped)
1 tbsp Vegan Margarine (or oil)
1 tbsp Lemon Juice
1/8 c Vegan Parmesan or Nutritional Yeast
2 tbsp Fresh Parsley
Instruction:
In a large saute pan, add the vegan margarine (you could also use oil) and add the onion and sliced yellow squash. Saute until tender and golden.
Add the vegetables to a blender along with the broth and lemon juice + vegan parmesan or nutritional yeast (if using). Puree until completely smooth. Season with salt and pepper to taste.
Serve warm with a garnish of fresh parsley.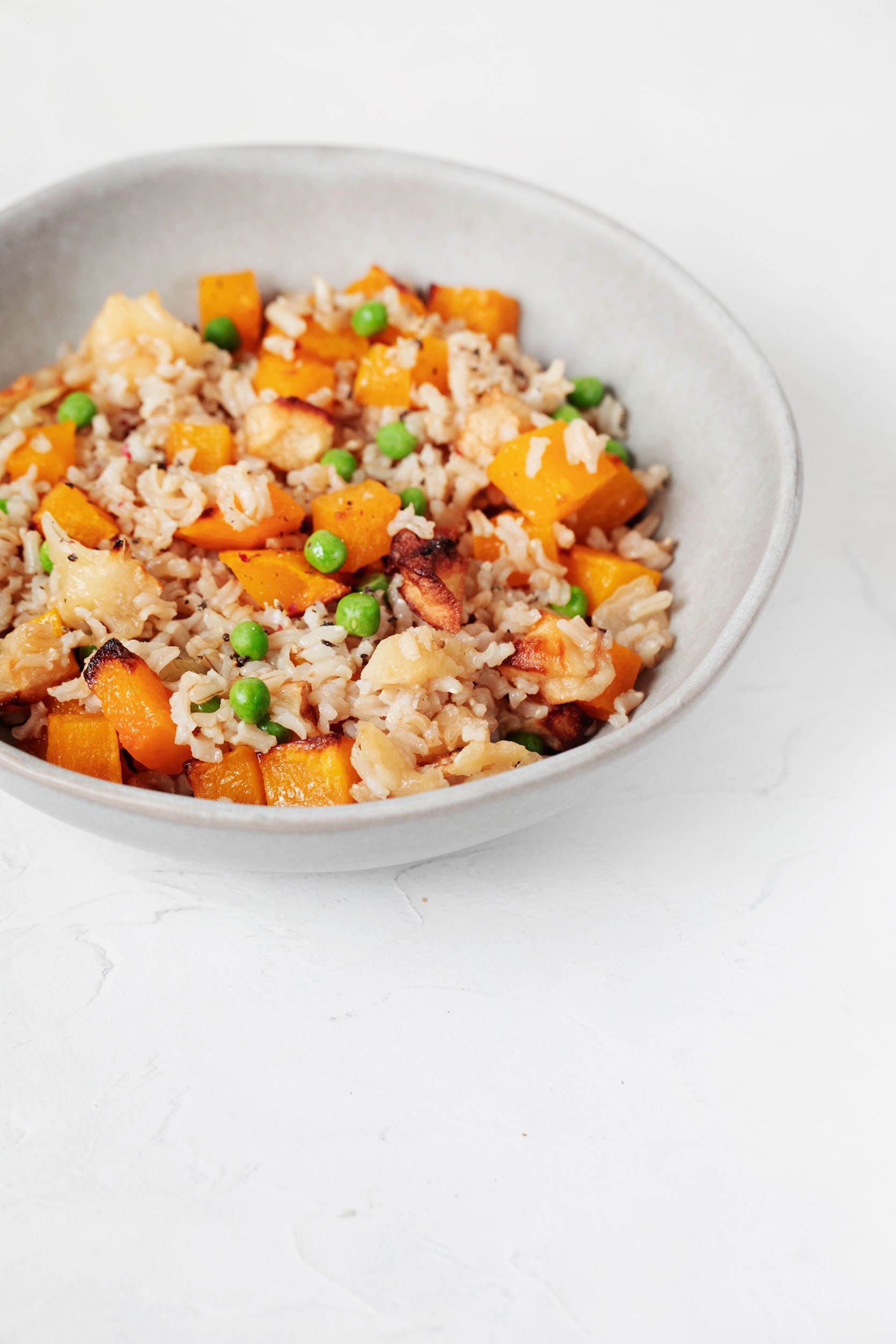 This gingery butternut squash rice with onions and peas has both savory and sweet notes. It's a perfect side dish for the fall months, and it's really easy to make. Plus, 15 wholesome vegan butternut squash recipes that I know you'll love!
Prep: 20min
Total: 65min
Yield: 6
Servings:
Nutrition Facts :
Ingredients:
16-20 ounces cubed butternut squash ((1 medium sized squash, peeled, seeded, and cubed))
1 white or yellow onion, cut into 1-inch pieces
1 large apple (any variety), peeled and cut into 1-inch cubes
1 tablespoon minced fresh ginger
3 tablespoons avocado oil ((divided))
Kosher salt
freshly ground black pepper
1 cup short grain brown rice ((medium or long grain rice will also work))
1 cup fresh or frozen and defrosted green peas
1 tablespoon tamari
1 1/2 tablespoons unseasoned rice vinegar
2 teaspoons apple cider vinegar
Instruction:
Preheat your oven to 400F. Line a baking sheet with parchment or foil. Place the squash, onion, and apple on the prepared sheet and drizzle with 1 1/2 tablespoons of the avocado oil. Season with Kosher salt and freshly ground black pepper. Roast the mixture for 20. Sprinkle the vegetables and fruit with the ginger, stir them on the sheet, and then continue to roast for another 10-20 minutes, or until the squash and apples are gently browning.
Bring a large pot of water to boil. Add the brown rice. Boil the brown rice for 35-40 minutes, or until all of the grains are tender. Add the peas to the pot and let them boil with the rice for 1-2 minutes, till bright green and tender. Drain the brown rice and peas, then return them to the pot. Cover the pot and let the mixture steam for 5 minutes.
In a large mixing bowl, fold together the cooked rice, peas, and roasted vegetables. Whisk together the remaining 1 1/2 tablespoons avocado oil, tamari, and vinegars. Pour this dressing over the rice, mix again, and serve warm.