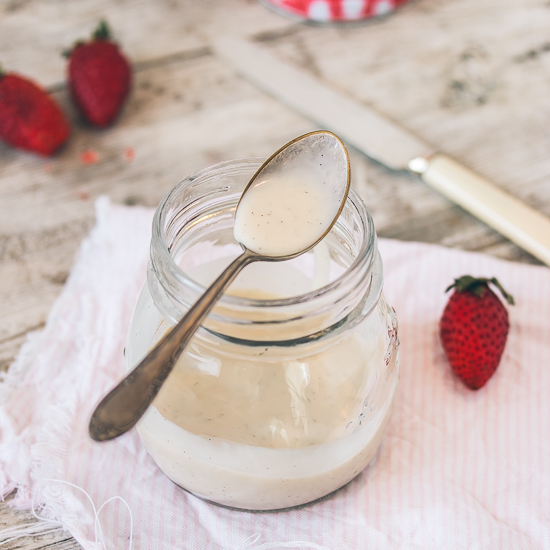 This is the easiest vanilla sauce recipe ever! It contains only 3 ingredients and goes perfectly on just about anything sweet!
Prep:
Total:
Yield:
Servings:
Nutrition Facts :
Ingredients:
2 cups (480 ml) heavy cream
1/3 cup (65 g /2.3 oz) granulated sugar
1-2 teaspoons pure vanilla extract ((or 1 vanilla bean – read above post))
Optional: up to 1/2 cup ((1 stick/113 g) butter for more flavor and a thicker, creamier consistency)
Instruction:
Place all ingredients in a saucepan and bring to a boil over medium heat, stirring constantly. Reduce heat to medium-low and continue to cook, stirring occasionally, until the mixture thickens, 10-15 minutes (or keep cooking until desired consistency).
Drizzle sauce over cakes, pancakes, waffles, bread puddings, and more. Serve warm or slightly cool (the sauce will thicken as it cools).
Sauce will keep in the fridge, in an airtight container, for up to a week.
This is really delicious on its own, but I use it mainly to serve alongside brownies, bread pudding, apple pie, berries, or poached pears. You can either make this as a thicker cream or as a sauce. I love it as a cream for berries, poached pears or brownies and as a sauce over apple pie or bread pudding. Serve chilled over warm or cool desserts or just eat it on its own as a custard.
Prep: 10min
Total: 1h10min
Yield: 6 servings
Servings:
Nutrition Facts : calories 128.7 calories, Carbohydrate 17.2 g, Cholesterol 78.4 mg, Fat 4.8 g, Fiber None, Protein 4.2 g, Saturated Fat 2.4 g, servingSize None, Sodium 43.5 mg, Sugar 15.8 g, Trans Fat None, unSaturated Fat None
Ingredients:
2 ½ cups whole milk, divided
1 tablespoon cornstarch, or more as desired
⅓ cup white sugar
2 egg yolks
1 teaspoon vanilla extract
Instruction:
Heat 2 cups milk in a heavy saucepan over low heat until simmering, about 5 minutes.n
Beat remaining 1/2 cup milk and cornstarch together in a bowl using a whisk until dissolved; add sugar and egg yolks and beat until smooth. Slowly pour milk mixture into simmering milk while gently whisking the simmering milk; simmer, stirring frequently, until thickened, about 3 minutes. Remove saucepan from heat and stir vanilla extract into sauce.n
Pour the sauce through a wire mesh sieve into a bowl to remove any cornstarch lumps. Place a piece of plastic wrap on top of the sauce, ensuring the plastic wrap is touching the sauce to prevent a skin from forming; cool to room temperature, about 20 minutes.n
Move sauce to refrigerator and chill completely cold, at least 30 minutes.n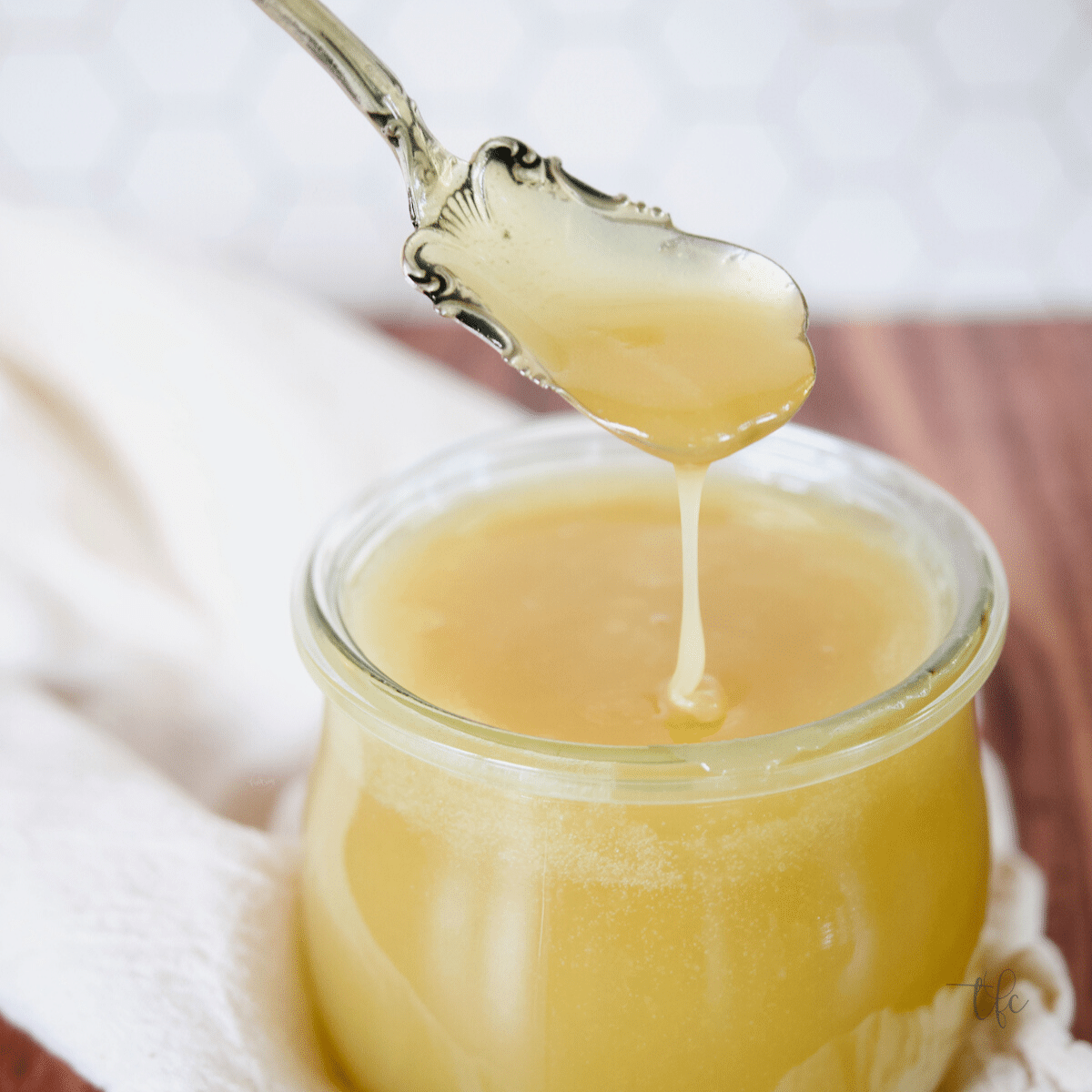 Vanilla sauce is ready in less than 10 minutes. While it might seem basic and simple, the flavor is out of this world. Use this vanilla sauce for bread pudding, bundt cakes, regular cakes and it's rather dreamy over ice cream.
Prep: 3min
Total: 8min
Yield: 1
Servings: 2 tablespoon
Nutrition Facts : servingSize 2 tablespoon, calories 144 kcal, Carbohydrate 15 g, Fat 10 g, Saturated Fat 6 g, Cholesterol 27 mg, Sodium 55 mg, Sugar 15 g, unSaturated Fat 3 g
Ingredients:
½ cup butter | use real butter (nothing soft coming out of the fridge)
½ cup heavy whipping cream (not fat-free)
1 cup sugar | I used all-natural cane sugar (but you can use white)
1 ½-2 teaspoons vanilla extract
Instruction:
In a small heavy-bottomed sauce pan (I like this one), over medium-low heat, melt the butter, sugar, heavy whipping cream and vanilla. Stirring constantly, until the sugar is dissolved and has a syrup consistency.
HINT | It should coat the back of a wooden spoon.
Sauce is best served warm, it will thicken as it cools, so if you need it thicker, allow it to cool until desired consistency.
Easy homemade creamy vanilla cream sauce. This old-fashioned cream sauce is delicious on bread pudding and cakes.
Prep: 5min
Total: 15min
Yield: 8
Servings: 1 g
Nutrition Facts : servingSize 1 g, calories 66 kcal, Carbohydrate 13 g, Fat 1 g, Saturated Fat 1 g, Cholesterol 4 mg, Sodium 13 mg, Sugar 13 g, Protein 1 g
Ingredients:
1/2 cup sugar
1 tablespoon cornstarch (* see note)
1 cup boiling water
1 slice of lemon
1 tablespoons butter
1 teaspoon vanilla
tiny dash salt
Instruction:
In a small sauce pan, add sugar and cornstarch.
Pour in a little of the hot water and whisk quickly to blend.
Turn on the stove onto low heat and add the rest of the water, butter, vanilla, and lemon.
Simmer for 10 minutes until thickened.
Homemade German vanilla sauce recipe for bread pudding and other desserts.
Prep: 3min
Total: 8min
Yield: 6
Servings: 1 /6 of the vanilla sauce
Nutrition Facts : servingSize 1 /6 of the vanilla sauce, calories 87 kcal, Carbohydrate 12 g, Protein 4 g, Fat 2 g, Saturated Fat 1 g, Cholesterol 38 mg, Sodium 57 mg, Sugar 6 g, unSaturated Fat 1 g
Ingredients:
1 egg
2 tablespoons granulated sugar (3 tablespoons if using a vanilla pod or pure vanilla extract)
1 tablespoon vanilla sugar with ground vanilla (See note 1)
1 ¼ tablespoons cornstarch
500 ml/ 1 pint/ 2 cups full-fat milk
a few drops yellow food coloring (optional (See note 2))
Instruction:
Give the egg, sugar and vanilla sugar (or pure vanilla extract) to a bowl. If using a vanilla pot, halve it lenghtwise and scrape the seeds out of the pod. Give the seeds to the bowl with the egg and sugar.
Whisk well until frothy.
Add the cornstarch and whisk very well again, making sure that the mixture doesn't have any clumps.
Slowly pour in the milk while whisking.
Transfer the mixture to a saucepan and gently bring to a boil while whisking almost constantly.
Let the vanilla sauce bubble shortly while whiking continously until it thickens slightly.
The vanilla sauce will continue to set while it cools, so don't let it get too thick at this point, the consistency you are aiming for is slightly thicker yet pourable.
Serve hot, warm or cold as suggested above.
The German vanilla sauce can be easily reheated. Heat it gently in a small pan, while stirring continously and adding a small splash of milk to make it slightly thinner again.