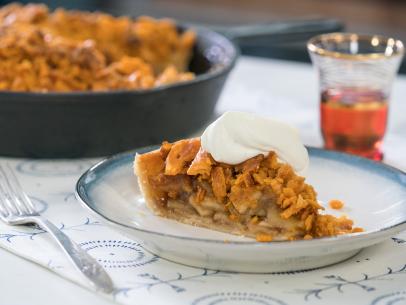 An all-American classic gets upgraded with a fun twist: This unique streusel topping is the perfect balance between sweet and salty!
Prep:
Total: 0 2h20min0
Yield: 8 servings
Servings:
Nutrition Facts :
Ingredients:
2 tablespoons unsalted butter
8 Granny Smith apples, peeled, cored and thinly sliced 
1 teaspoon ground cinnamon 
1/4 teaspoon ground nutmeg 
1 cup packed light brown sugar 
1/2 cup shredded white Cheddar
2 tablespoons cornstarch 
1/2 teaspoon kosher salt 
One 9-inch prepared pie dough 
3 1/2 cups cheese crackers
1/2 cup packed light brown sugar 
1/2 teaspoon kosher salt 
1/2 cup (1 stick) unsalted butter, melted 
1 lemon
6 large fresh sage leaves 
1 cup heavy whipping cream 
2 tablespoons maple syrup 
1 teaspoon kosher salt 
Instruction:
For the pie: Place a baking sheet in the oven and preheat the oven to 350 degrees F.
Warm a medium saute pan over medium heat and melt the butter. Add the apple slices, cinnamon and nutmeg and cook until slightly softened, about 4 minutes. Pour apples into a large bowl and cool in the fridge, about 5 minutes.
For the streusel topping: Meanwhile, fill a gallon resealable plastic bag with the cheese crackers and use a rolling pin to crush into small crumbs, but not a fine powder. Add to a medium bowl with the light brown sugar and salt and stir to combined. Stir melted butter into the mixture, tossing to bind your streusel, and set aside for pie assembly.
Back to the pie: Remove the apples from the fridge and stir in the light brown sugar, Cheddar, cornstarch and salt.
Fit the pie dough into a 10-inch cast-iron skillet. Gently press the dough against the sides of the skillet to form the bottom crust of the pie. (The crust will not reach the top edge of skillet and this is just fine.) Pour the apples into the skillet. Generously sprinkle the streusel on top of the apples and spread in an even layer.
Bake the pie on the preheated baking sheet until golden brown and bubbly, 45 to 50 minutes. Allow the pie to cool about 45 minutes before serving.
For the lemon maple sage whipped cream: Meanwhile, zest the entire lemon into a medium bowl. Gather sage leaves together in a tight bundle and grate the bundle into the bowl with the zest (it's okay if a few larger pieces fall in). Add the heavy cream, maple syrup and salt and stir together until combined. Strain mixture through a fine-mesh sieve into the bowl of a stand mixer fitted with the whisk attachment. Use a rubber spatula to press on the lemon and sage mixture in the sieve, to get out all the possible flavor. Beat the cream until it holds medium peaks and serve a dollop on each pie slice.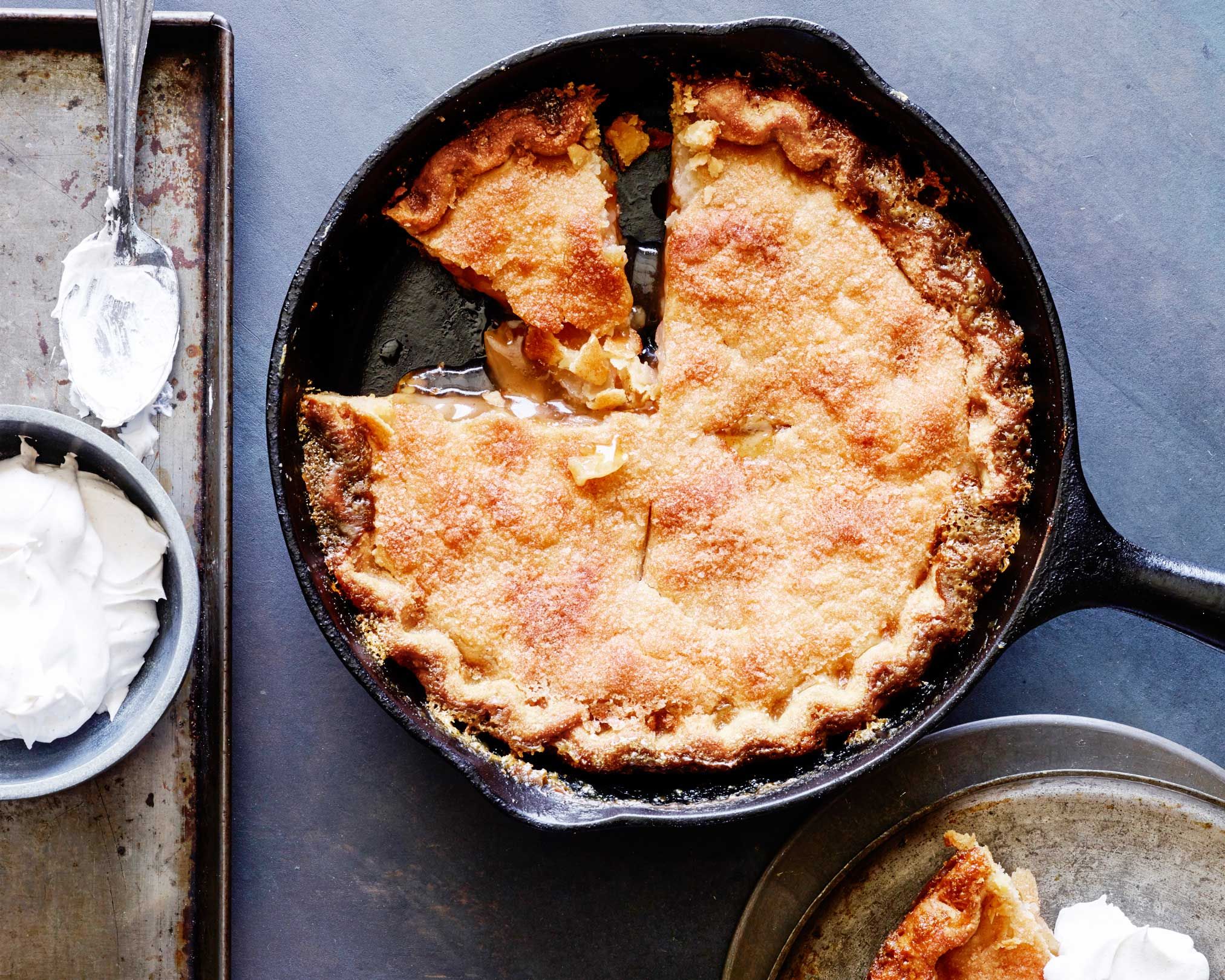 Looking for an easy pie recipe? Mrs. Carter's Skillet Apple Pie Recipe from CountryLiving.com comes from Trisha Yearwood's cookbook.
Prep:
Total:
Yield: 6 servings
Servings:
Nutrition Facts :
Ingredients:
1/2 c. (1 stick) plus 1 tbsp. salted butter
1 c. packed light brown sugar
2 (14-oz.) refrigerated rolled pie crust
1 (21-oz.) can apple pie filling
2 tbsp. cinnamon sugar, divided
Vanilla ice cream, for serving
Instruction:
Preheat oven to 400 degrees F. In a 9″ cast-iron skillet over medium heat, combine butter and light brown sugar until butter melts; remove from heat.
Line the skillet with 1 pie crust. Top with apple pie filling and sprinkle with 1 tbsp. cinnamon sugar. Top with remaining pie crust. Brush with 1 tbsp. melted butter and sprinkle with 1 tbsp. cinnamon sugar.
Cut four vents in crust. Bake until golden brown, about 30 minutes. Serve hot, topped with ice cream.
Prep:
Total:
Yield:
Servings:
Nutrition Facts :
Prep:
Total:
Yield:
Servings:
Nutrition Facts :
Prep:
Total:
Yield:
Servings:
Nutrition Facts :