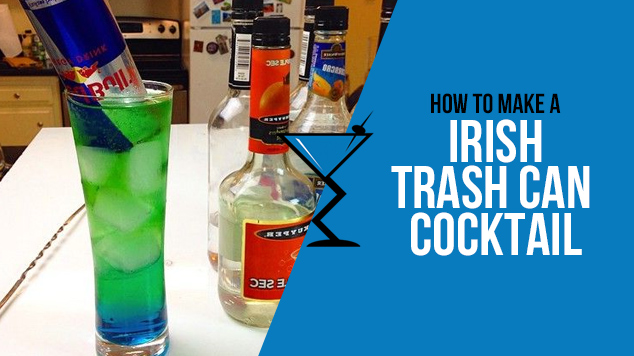 The Irish Trash Can is a popular green drink especially around St Patrick's Day. This cocktail is a bright green cocktail made with a large mix of liquor and Red Bull. The blue curacao and the energy drink are the secret to turning the drink green. It sounds like it wont taste any good, but its actually quite drinkable. the Irish Trash Can is a modern classic.The original trash can drinks came into being at college parties. Everyone brought whatever liquor they had lying around and added it to a large container, such as a plastic bin or small garbage can.
Prep: 5min
Total: 5min
Yield: 1
Servings: 1 serving
Nutrition Facts : calories 349 kcal, Carbohydrate 38 g, Protein 1 g, Fat 0.1 g, Sodium 167 mg, Sugar 34 g, servingSize 1 serving
Ingredients:
1 oz Blue Curacao Liqueur
.5 oz Vodka
.5 oz Rum
.5 oz Gin
.5 oz Triple Sec
.5 oz Peach Schnapps
Energy Soda ((Red Bull))
Instruction:
In your cocktail glass add blue curacao, then some ice.
Add vodka and gin, then rum and triple sec then peach schnapps
Add ice and turn a can of red bull upside down in the glass.
Has a bunch of unfinished spirits of the recent holidays or party that are not enough to serve for another party? Easy peasy. Throw everything into a punch bowl for delicious Irish Trash Can Drink. Add a can of energy soda and you're ready to party again! This time, probably to celebrate St. Patrick's Day.So, here's the recipe for the IrishTrash Can that anyone can do. Oops! Not, anyone. Sorry, minors! No virgin version of this too, so better wait till you're old enough to have a go on this. This recipe is good for 1 Collins glass of this delicious drink.
Prep: 5min
Total: 5min
Yield: 1
Servings: 1
Nutrition Facts : servingSize 1, calories 349
Ingredients:
0.5oz gin
0.5oz vodka
0.5 oz triple sec
0.5oz blue curacao
0.5oz light rum
0.5oz peach schnapps
1 can energy soda
Instruction:
Fill a Collins glass with ice.
Add all the liquors and stir.
Tip over a can of energy soda into the glass. The yellow contents will blend with the blue curacao turning the contents of the glass green.
Prep:
Total:
Yield:
Servings:
Nutrition Facts :
Prep:
Total:
Yield:
Servings:
Nutrition Facts :
Prep:
Total:
Yield:
Servings:
Nutrition Facts :