Gladys Gibson's simple but savory pie makes a tasty addition to brunch buffets and leisurely luncheons. The Hodgenville, Kentucky cook relies on a cheesy mixture for the pie's golden topping and a refrigerated pastry shell for easy preparation.
Prep: 15min
Total: 45min
Yield: 6 servings.
Servings:
Nutrition Facts : calories 530 calories, Fat 47g fat (11g saturated fat), Cholesterol 42mg cholesterol, Sodium 595mg sodium, Carbohydrate 19g carbohydrate (2g sugars, Fiber 1g fiber), Protein 9g protein.
Ingredients:
1 unbaked deep-dish pastry shell (9 inches)
3 medium tomatoes, cut into 1/4-inch slices
10 bacon strips, cooked and crumbled
1 cup shredded cheddar cheese
1 cup mayonnaise
Bake pastry shell according to package directions; cool. Place tomatoes in the crust; sprinkle with bacon. In a small bowl, combine the cheese and mayonnaise. Spoon over bacon in the center of pie, leaving 1 in. around edge. , Bake at 350° for 30-40 minutes or until golden brown (cover edges with foil if necessary to prevent overbrowning).
Prep: 20min
Total: 50min
Yield:
Servings:
Nutrition Facts :
Ingredients:
1 (9-inch) pie crust, baked
4 large tomatoes, sliced
1/2 cup scallions
8 to 10 fresh basil leaves, chopped
1 teaspoon salt
1 teaspoon freshly cracked black pepper
1 cup shredded cheddar cheese
1 cup shredded mozzarella cheese
1 cup mayonnaise
5 to 6 slices bacon, cooked and crumbled
Instruction:
Preheat the oven to 350 degrees. Prick the bottom and sides of a pie crust with a fork. Bake for 10 to 12 minutes or until the crust is light brown. Remove from heat.
Layer tomatoes, scallions, and basil on the bottom of the pie crust. Sprinkle with salt and pepper.
In a medium bowl, mix mozzarella cheese, cheddar cheese, mayonnaise, and bacon. Spread the cheese mixture evenly over tomato mixture.
Bake for 30 minutes or until a knife inserted in the center comes out clean.
Southern Tomato Pie is a tradition in the South, much like Sweet Tea. Most Southern Tomato Pie recipes will be similar with a slight variance depending on your traditions and background.
Prep: 35min
Total: 95min
Yield: 6
Servings: 1 serving
Nutrition Facts : calories 493 kcal, Carbohydrate 19 g, Protein 12 g, Fat 41 g, Saturated Fat 13 g, Cholesterol 48 mg, Sodium 996 mg, Fiber 2 g, Sugar 3 g, servingSize 1 serving
Ingredients:
1 Pie Crust (See blog for the homemade crust recipe)
6 slices Thick-Sliced Smoked Bacon (Fried to a crisp and chopped)
3-4 large Heirloom Tomatoes (Sliced ¼ inch thick)
1¼ teaspoons Kosher Salt (To sweat tomatoes)
1 cup Swiss Cheese (Hand shredded)
½ cup Mayonnaise
½ Fresh Basil (Chopped)
½ teaspoon Black Pepper
1 teaspoon Dried Italian herb blend
Instruction:
Preheat oven to 350 degrees F°
Place the sliced tomatoes flat on cutting the board or large plate and salt both sides to start the sweating process (this helps remove excess juice from the heirloom tomatoes. Place tomatoes in a colander while baking pie crust above for 7-8 minutes.
In a glass dish place freshly grated Swiss cheese, mayonnaise, ground pepper, 1/2 of the chopped basil, dried Italian seasoning blend and combine thoroughly.
Pat dry the tomatoes that have been sweating in the colander to remove excess juices. Place them in pie crust evenly, (see blog post for Homemade Pie Crust) add another 1/2 of the chopped basil, salt, and pepper to taste if desired.
Cover the tomatoes with the cheese and mayonnaise mixture, then spread evenly, add the chopped crisp bacon to the top.
Bake in a 350-degree oven for 30-35 minutes. Remove from the oven and allow Southern Tomato Pie to cool 20-25 minutes before slicing
Not your classic tomato pie.
Prep:
Total: 3
Yield: Serves 6 to 8
Servings:
Nutrition Facts :
Ingredients:
2 ¼ cups self-rising soft-wheat flour (such as White Lily)
1 cup cold butter, cut up
8 cooked bacon slices, chopped
¾ cup sour cream
2 ¾ pounds assorted large tomatoes, divided
2 teaspoons kosher salt, divided
1 ½ cups (6 oz.) freshly shredded extra-sharp Cheddar cheese
½ cup freshly shredded Parmigiano-Reggiano cheese
½ cup mayonnaise
1 large egg, lightly beaten
2 tablespoons fresh dill sprigs
1 tablespoon chopped fresh chives
1 tablespoon chopped fresh flat-leaf parsley
1 tablespoon apple cider vinegar
1 green onion, thinly sliced
2 teaspoons sugar
¼ teaspoon freshly ground black pepper
1 ½ tablespoons plain yellow cornmeal
Instruction:
Prepare Crust: Place flour in bowl of a heavy-duty electric stand mixer; cut in cold butter with a pastry blender or fork until mixture resembles small peas. Chill 10 minutes.
Add bacon to flour mixture; beat at low speed just until combined. Gradually add sour cream, ¼ cup at a time, beating just until blended after each addition.
Spoon mixture onto a heavily floured surface; sprinkle lightly with flour, and knead 3 or 4 times, adding more flour as needed. Roll to a 13-inch round. Gently place dough in a 9-inch fluted tart pan with 2-inch sides and a removable bottom. Press dough into pan; trim off excess dough along edges. Chill 30 minutes.
Prepare Filling: Cut 2 lb. tomatoes into ¼-inch-thick slices, and remove seeds. Place tomatoes in a single layer on paper towels; sprinkle with 1 tsp. salt. Let stand 30 minutes.
Preheat oven to 425°F. Stir together Cheddar cheese, next 10 ingredients, and remaining 1 tsp. salt in a large bowl until combined.
Pat tomato slices dry with a paper towel. Sprinkle cornmeal over bottom of crust. Lightly spread ½ cup cheese mixture onto crust; layer with half of tomato slices in slightly overlapping rows. Spread with ½ cup cheese mixture. Repeat layers, using remaining tomato slices and cheese mixture. Cut remaining ¾ lb. tomatoes into ¼-inch-thick slices, and arrange on top of pie.
Bake at 425°F for 40 to 45 minutes, shielding edges with foil during last 20 minutes to prevent excessive browning. Let stand 1 to 2 hours before serving.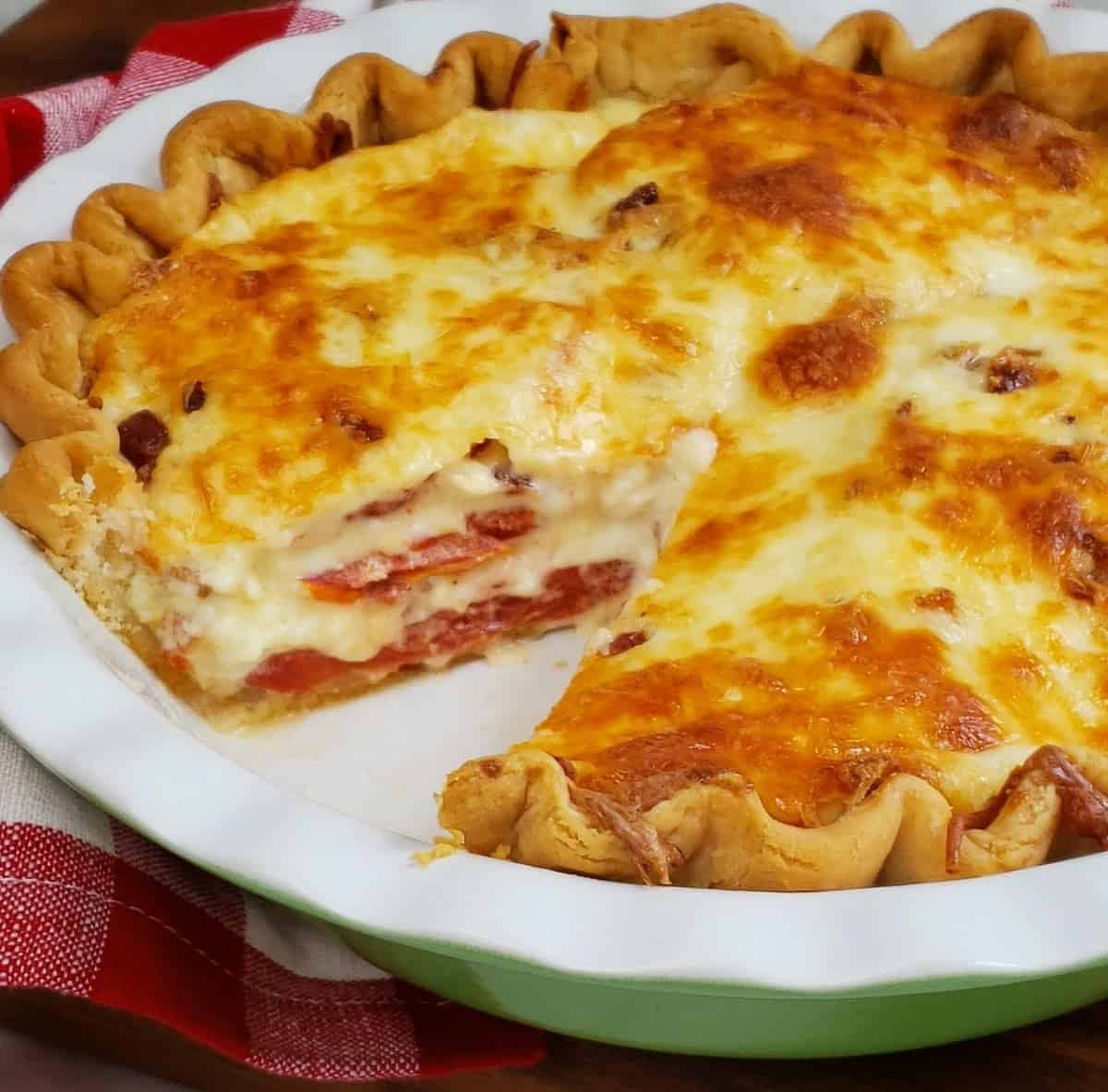 Tomato. Vidalia Onion. Bacon. Pie. Four of my favorite summer foods in one deep dish! Did I mention lots of cheese? This Southern classic recipe can be a side dish for a Summer lunch or a main dish for breakfast or brunch.
Prep: 15min
Total: 69min
Yield: 8
Servings: 1 serving
Nutrition Facts : calories 405 kcal, servingSize 1 serving
Ingredients:
1 Pillsbury refrigerated, rolled up pie crust
6 slices bacon
3 small tomatoes, sliced (Or 2 medium)
1/2 teaspoon salt
1/2 of one medium Vidalia onion, sliced and separated into rings
1 cup mayonnaise
1/4 cup sour cream
1/8 teaspoon ground black pepper
2 1/2 cups Italian blend shredded cheese, divided ((Mozzarella, Provolone, Parmesan, Romano))
Instruction:
Place the rolled up pie crust on the counter; let it stand at room temperature 15 minutes according to package directions.
Meanwhile, place tomato slices in a large colander or on paper towels or parchment paper; sprinkle with salt and let them stand 10 minutes. This helps pull out some of the juice.Gently press paper towels on the tomatoes after 10 minutes.
Preheat oven to 425F degrees.
Gently unroll the pie crust and gently smooth out the curled edges with a rolling pin or smooth drinking glass to a 12-inch circle. Fold it in half to transfer it to the pie dish.
Fold about 1/2 inch of the edge under all the way around. Some place may be a little more or less to make it even.Then, flute or crimp the edges by holding your pointer finger and thumb on one hand almost together like you were going to pinch something. Take your pointer finger (I'm right handed so I use my right finger) on your other hand, push edge of the dough into your pincher grip with the side of your finger and "pinch" it together to form the shape below.
Line the fluted pie crust with parchment paper or aluminum foil. Cover the bottom of the crust with ceramic pie weights or any dried beans you have in your pantry (about 1 cup).Bake the weighted crust at 400F degrees for 9 minutes. Let it cool while preparing the filling and slicing the onions. Remove the pie weights or beans and parchment before filling the crust.
Reduce oven heat to 375F degrees.
Meanwhile, stack the bacon slices on top of each other. Slice them crosswise to make 1/2-inch strips. Cook the bacon on medium-low to medium heat about 7 minutes, stirring occasionally, or until crisp and browned
Arrange one third of the onion rings on the bottom of the partially baked pie crust. Sprinkle with half of bacon.
Combine mayonnaise, sour cream, pepper, and 2 cups of cheese in a medium bowl; dollop one third of the mayonnaise mixture between the rings on the bottom of the crust and on the rings.Arrange a single layer of tomatoes on the mayo mixture. Top with one third of onion rings and then a second layer of tomatoes. This time, dollop the tomatoes with one third of mayo mixture and spread to the edges of the pie.Arrange the remaining one third of onion rings in a single layer and sprinkle with remaining bacon. Dollop with remaining one third of mayo mixture.
Sprinkle entire pie with remaining 1/2 cup reserved shredded cheese. Sprinkle some on the edges of the crust, if you like.Bake at 375 for 35 minutes or until filling is hot and bubbly. Let pie cool 10 minutes before serving to firm up enough to slice.