This homemade hot sauce recipe is similar to the well-known Texas-Pete® Sauce, using only a few ingredients. This is an instant sauce (30 minutes exactly) where no fermentation is needed and fresh chillis are used, which is why it only has a shelf-life of 2 weeks.
Prep: 10min
Total: 30min
Yield: 300
Servings:
Nutrition Facts :
Ingredients:
16 large red chilli peppers, stems removed, sliced roughly
6 small Bird's eye chilli peppers, stems removed (optional)
500 ml white wine vinegar, rice vinegar or apple cider vinegar
1 tsp salt
1 tsp garlic powder
2 garlic cloves, whole, smashed slightly
Instruction:
Place all the ingredients into a small pot.
Bring to the boil, then lower the heat to a gently simmer. Simmer for 20 minutes. The vinegar will eventually reduce by half.
Allow the chilli mixture to cool down slightly, before blending in a food processor or using an electric stick blender.
Strain the chilli mixture through a fine sieve into a jug, pressing the pulp down with a spatula.
Pour the sauce into a sterilised glass bottle or jar. Seal and store in the fridge or use immediately for any recipes that require the hot sauce as an ingredient.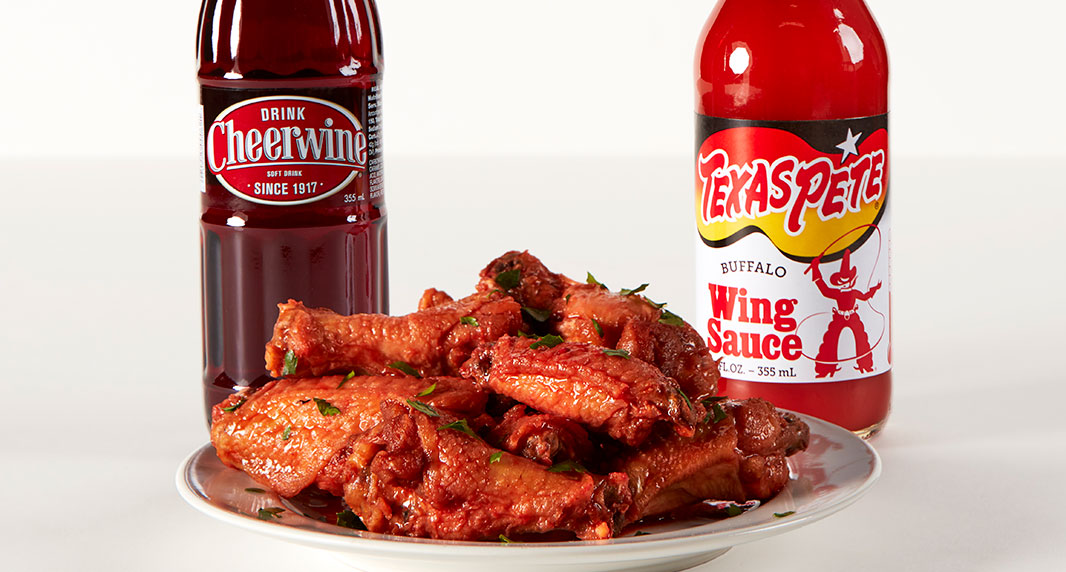 Hot wings just got an upgrade! You're gonna love the sweet and spicy flavor combination of Cheerwine and Texas Pete® together! This is the perfect recipe for your next party. 
Prep:
Total:
Yield:
Servings:
Nutrition Facts :
Ingredients:
1 12-ounce can Cheerwine (regular, not Diet or Zero Sugar)
1 teaspoon garlic, minced
½ cup Texas Pete® hot sauce 
1 tablespoon olive oil
12 chicken wings
Salt and Pepper, to taste
Instruction:
Preheat deep fryer to 375⁰F.
Pour Cheerwine into small saucepot, add minced garlic, and allow to reduce by half on medium heat. Remove from heat and add Texas Pete® hot sauce and olive oil mixing well.
Carefully place chicken wings into deep fryer and fry for approximately 10-12 minutes or until golden brown, crispy, and fully cooked to an internal temperature of 165⁰F. Remove from fryer and drain well. Season wings with salt and pepper and place them into a large mixing bowl. Toss with prepared Cheerwine glaze. Serve immediately.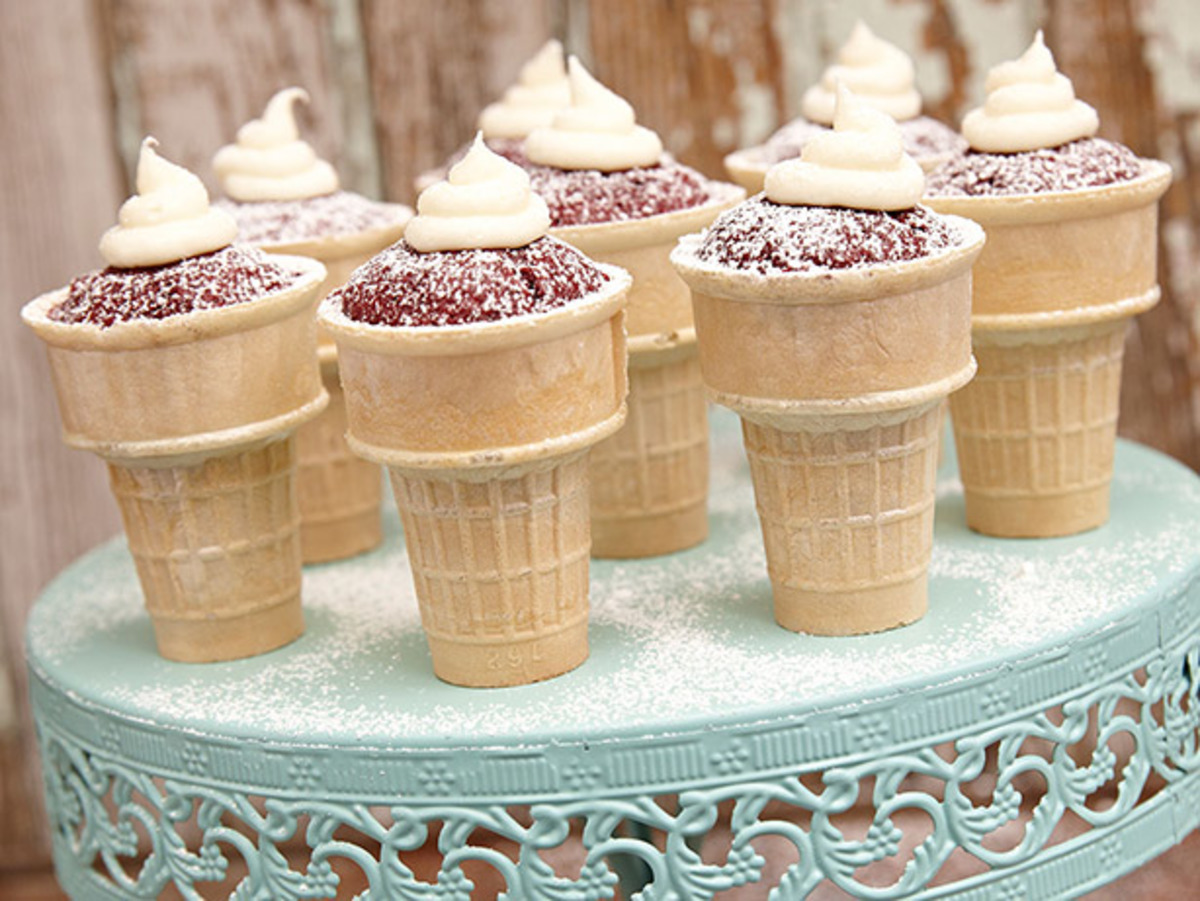 Make and share this Texas Pete® Red Velvet Cones recipe from Food.com.
Prep: 15min
Total: 35min
Yield: 48 cones, 48 serving(s)
Servings:
Nutrition Facts : calories 354.3, Fat 23.7, Saturated Fat 7.3, Cholesterol 44.4, Sodium 271.2, Carbohydrate 32.4, Fiber 0.5, Sugar 19.2, Protein 3.8
Ingredients:
2 tablespoons Texas Pete® Original Hot Sauce
2 teaspoons Texas Pete® Hotter Hot Sauce
5 cups all-purpose flour
3 cups granulated sugar
1 tablespoon baking soda
2 teaspoons salt, fine
2 teaspoons cocoa powder
3 cups vegetable oil
2 cups buttermilk, room temperature
4 large eggs, room temperature
3 tablespoons red food coloring
2 teaspoons vanilla extract
48 ice cream cones, small, flat bottomed
36 ounces cream cheese, softened, whipped
1/2 cup unsalted butter, softened, whipped
2 cups powdered sugar
1/2 teaspoon vanilla extract
2 tablespoons powdered sugar, for garnish
Instruction:
Preheat the oven to 350 degrees Fahrenheit.
In a large bowl, sift together the flour, sugar, baking soda, salt and cocoa powder. In another large bowl, whisk together the oil, buttermilk, eggs, food coloring, Texas Pete® Hot Sauce and vanilla.
Using a standing mixer, mix the dry ingredients into the wet ingredients until just combined and a smooth batter is formed.
Carefully spoon the batter into the ice cream cones filling them 2/3 of the way up to give them room for rising in the oven. Arrange the cones on a parchment-lined sheet tray standing up and place them into the oven to bake at 350 degrees for approximately 15-20 minutes or until they have fully risen and a tooth pick inserted into the center of the cake comes out clean.
Remove the cakes from the oven and let cool completely.
While the cakes are in the oven, prepare the spicy cream cheese frosting.
Place the softened cream cheese and the softened butter into a medium size mixing bowl and whisk together until smooth. Add the powdered sugar and continue to whisk until the mixture is smooth. Add the vanilla extract and the Texas Pete® Hotter Hot Sauce and whisk one more minute. You may add more powdered sugar or Texas Pete® Hotter Hot Sauce so that the icing is to your liking.
Place the spicy cream cheese frosting into a piping bag with a small decorative tip.
Using the tip of a piping bag, carefully puncture a small hole into the center of the top of the red velvet cake and pipe approximately 2-3 tablespoons of the spice cream cheese into the center of the cake allowing some of the cream cheese to come out of the top for decoration. Continue until all the red velvet cake cones are filled. Use any extra cream cheese icing to frost the tops of the cones.
Sprinkle with powdered sugar and serve.
A flavorful and fabulous easy-to-make dip that's perfect for game time or anytime!
Prep:
Total:
Yield:
Servings:
Nutrition Facts :
Ingredients:
3 boneless skinless chicken breasts
8 oz cream cheese
1/2 cup blue cheese salad dressing
1/4 + 1/8 cups Texas Pete Hot Sauce
1-1/2 cups shredded extra sharp cheddar cheese
Garlic Salt
Chili Powder
Cumin (ground)
Instruction:
Season the chicken with garlic salt, chili powder and ground cumin.
Bake chicken until cooked through and juices run clear.
Dice chicken.
Mix cream cheese, 1 cup of shredded cheddar, blue cheese dressing and Texas Pete Hot sauce.
Add mixture to a baking dish.
Cook at 350 for 15 minutes.
Add remaining 1/2 cup of shredded cheddar to top and bake for 5-10 minutes, until cheese is melted.
Serve and enjoy!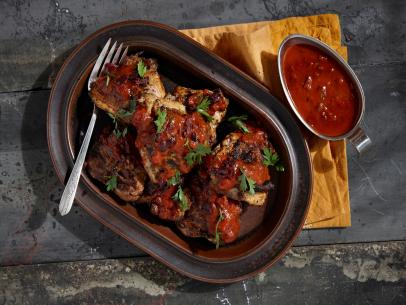 Prep:
Total:
Yield:
Servings:
Nutrition Facts :
Ingredients:
2 ½ cups Texas Pete® Original Hot Sauce
2 Tbsp finely chopped garlic
4 oz. olive oil
1 tsp Kosher salt
1 tsp pepper
2 lbs. boneless chicken tenders or thighs
2 Tbsp olive oil
2 Tbsp chopped garlic
2 – 26 oz. jars marinara sauce (prepared)
¾ cup Texas Pete® Original Hot Sauce
2 cups kalamata olives, drained, roughly chopped
3 Tbsp red wine vinegar
For garnish chopped fresh parsley
Instruction:
1.Combine Texas Pete® Original Hot Sauce, 2 tbsp. chopped garlic, ¼ cup olive oil, 1 tsp kosher salt and 1 tsp pepper for marinade. 2.Place chicken in large, sealable container or bag. Add marinade and allow to coat. 3.Refrigerate 48 hours. 4.Drain chicken before cooking. Discard marinade. 5.Grill chicken until internal temperature reaches 165°F. Alternatively, bake chicken at 400°F for 40 to 50 minutes or until internal temperature reaches 165°F. 6.To make sauce, saute garlic in olive oil until fragrant. Add 2 tbsp olive oil, 2 tbsp chopped garlic, marinara sauce, ¾ cup Texas Pete® Original Hot Sauce, 2 cups olives, 3 tbsp red wine vinegar and 1 tsp pepper. Simmer for 15 minutes to allow flavors to blend. Top cooked chicken with sauce. Garnish with chopped parsley.