A 5 min prep, flavorful, tangy, easy, cinnamon roasted sweet potato recipe that is perfect for the whole family. Ready in 25 minutes in the oven.
Prep: 10min
Total: 35min
Yield: 4
Servings: 1 serving
Nutrition Facts : calories 176 kcal, servingSize 1 serving
Ingredients:
4 medium sweet potatoes
1½ tsp ground cinnamon
1½ tsp sweet paprika
2 tsp olive oil
2 rosemary springs
2 garlic cloves, chopped up
1 tsp salt
Instruction:
Preheat oven to 200ºC / 400ºF
Peel the sweet potatoes and cut into cubes
Place on a roasting tray in a singe layer (this will help them get nice and crispy)
Add all the spices and olive oil and mix with your hands so that each piece is coated with the mixture; add rosemary springs at the end
Bake for 25 minutes (or longer if you want them crispier)
One-Bowl Sweet Potato Peanut Butter Muffins are easy peasy to whip up and a delicious way to get vitamin-rich sweet potato into your family's bellies. Paired with delicious peanut butter and made with just 8 real food ingredients, these muffins make the perfect addition to any breakfast or as a healthy snack.
Prep: 5min
Total: 23min
Yield: 10
Servings: 1 serving
Nutrition Facts : calories 199 kcal, Carbohydrate 12 g, Protein 8 g, Fat 14 g, Saturated Fat 3 g, Cholesterol 49 mg, Sodium 263 mg, Fiber 2 g, Sugar 8 g, servingSize 1 serving
Ingredients:
1 cup smooth natural peanut butter
1/2 cup cooked and mashed sweet potato
3 eggs
1/2 tsp baking soda
1/4 cup maple syrup or honey
1/2 tsp vanilla extract
1/2 tsp ground cinnamon
1/4 tsp ground ginger
1/4 tsp sea salt (omit if using salted peanut butter)
Instruction:
Preheat your oven to 350F and line a muffin tin.
Combine all ingredients in a blender or food processor and run until smooth. You may need to scrape down the sides a few time to insure that all ingredients gets blended in.
Using a 1/4 cup measuring cup, portion batter out between lined muffin tin holes.
Bake for 16-18 minutes or until a toothpick inserted in the center of a muffin comes out clean.
Let cool for 15-20 minutes and then enjoy! Store leftovers in fridge for up to a week or in freezer!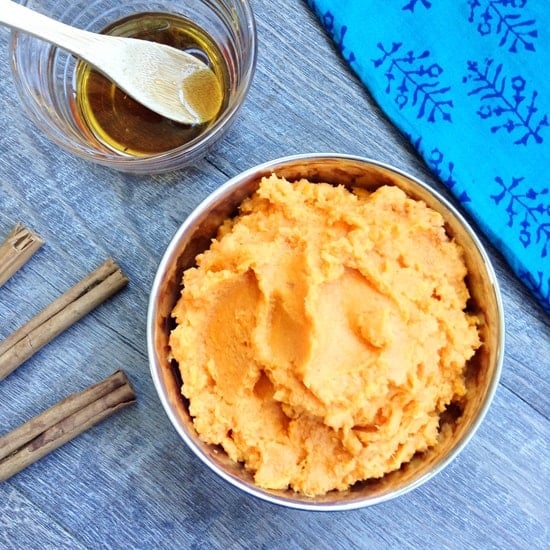 Got twenty minutes? Our cooking method puts Quick Honey Sweet Potatoes on the menu.
Prep: 10min
Total: 30min
Yield:
Servings: 1 serving
Nutrition Facts : calories 70 kcal, Carbohydrate 11 g, Protein 1 g, Fat 3 g, Saturated Fat 2 g, Cholesterol 8 mg, Sodium 19 mg, Fiber 1 g, Sugar 6 g, servingSize 1 serving
Ingredients:
1 medium sweet potato
1 tablespoon butter, unsalted
1 tablespoon honey
Instruction:
Peel the sweet potato, then chop it into 1/2 inch cubes, roughly.
Place the sweet potato in a steamer basket above 1-2 inches of water, and steam, covered, for 15-20 minutes, or until very tender.
Transfer the cooked sweet potato to a mixing bowl, then mash with a potato masher or fork.
Stir in butter and honey, then serve.
Prep: 10min
Total: 35min
Yield: 4 servings
Servings:
Nutrition Facts :
Ingredients:
2 large sweet potatoes, peeled and cut into ½ inch rounds
2 tablespoons olive oil
2 tablespoons honey
½ teaspoon ground cinnamon
Instruction:
Preheat oven to 450. In a large resealable plastic bag, add all the ingredients. Shake until combined, and the rounds are evenly coated.
Place rounds on non-stick baking sheet. Bake for 15 minutes. Remove from oven, turn over, and bake for an additional 10 minutes.
Prep:
Total:
Yield:
Servings:
Nutrition Facts :