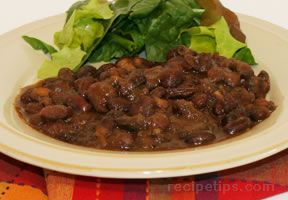 For those times when an oven isn't available, or when it's preferable not to heat up the kitchen, this combination of traditional baked-bean ingredients is just the answer.
Prep: 15min
Total:
Yield:
Servings:
Nutrition Facts :
Ingredients:
1 pound dried beans (navy, Great Northern, etc)
1/4 pound bacon, diced
1 large onion, chopped
1/4 cup molasses
1/4 cup brown sugar
2 tablespoons mustard, preferably spicey
1 teaspoon salt
1/2 teaspoon black pepper
water
Sort and rinse the beans. Cover with water by several inches and soak 8 hours or overnight; or use quick-soak method: cover beans with water, boil 2 minutes, cover pan and let stand for 1 hour. ( Or skip soaking altogether, but add 30 – 60 minutes to the cooking time.)
In a large heavy pot, 4 quarts or larger, cook diced bacon until crisp. Add chopped onion and cook until onion softens. Stir in brown sugar, molasses, mustard, salt, and pepper. Add beans, thoroughly drained, and 2 quarts water.
Bring to a boil, then reduce heat and simmer, partly covered (leave lid ajar) until beans are tender, but not mushy, 2-3 hours. Check occasionally to make sure beans aren't getting dry and add more water, if needed. If, near the end of the cooking time (when beans are almost tender), they seem too soupy, leave lid off for the the last 30 minutes or so.
TIP: Allow plenty of cooking time–older beans take longer.
 Recipe Tips from F&W Editors More Dishes with Beans
Prep:
Total: 4
Yield: 6
Servings:
Nutrition Facts :
Ingredients:
4 slices of bacon, cut into 1/2-inch strips
1 small onion, diced
1 garlic clove, minced
1/2 cup apple cider vinegar
1 tablespoon whole-grain mustard
2 teaspoons Worcestershire sauce
1 teaspoon tomato paste
1 pound dried navy beans, soaked overnight in cold water and drained
4 cups water
One 12-ounce bottle dark beer
1 teaspoon dried oregano
1 teaspoon dried thyme
1 bay leaf
1/2 cup dark brown sugar
1/3 cup molasses
1/3 cup ketchup
2 tablespoons Dijon mustard
Kosher salt and fresh ground pepper
Instruction:
In a medium enameled cast-iron casserole, cook the bacon over moderately high heat until the fat is rendered and the strips are beginning to brown, about 5 minutes. Reduce the heat to moderately low. Add the onion and garlic and cook until softened, about 5 minutes. Stir in the cider vinegar, whole-grain mustard, Worcestershire sauce and tomato paste and scrape up any browned bits from the bottom of the casserole.
Add the drained beans, water and beer; the beans should be covered by an inch of liquid so add more water if necessary. Stir in the oregano, thyme and bay leaf and bring to a boil. Cover and simmer over low heat until the beans are almost tender, about 2 hours and 30 minutes.
Stir the brown sugar, molasses, ketchup and Dijon mustard to the beans. Season with salt and pepper. Cover partially and cook until the beans are very tender and the cooking liquid is thickened, about 1 hour longer. Discard the bay leaf. Serve the beans hot or at room temperature.
An easy 'baked' beans recipe starts with pork and beans flavored with bacon and onion and simmered in a sweet-and-savory sauce
Prep: 15min
Total: 25min
Yield: 6
Servings:
Nutrition Facts : Calories 115 calories
Ingredients:
2 slices bacon, coarsely chopped
1/4 cup chopped onion
1 can (15 oz each) Van Camp's® Pork and Beans
1/4 cup Hunt's® Tomato Ketchup
1 tablespoon Gulden's® Spicy Brown Mustard
Instruction:
Cook bacon in medium saucepan over medium-high heat 4 minutes or until crisp, stirring occasionally.
Add onion; cook 2 minutes more or until tender. Stir in beans, ketchup and mustard; bring to a boil. Reduce heat to low; simmer 10 minutes or until sauce thickens, stirring occasionally.
Best quick and easy baked beans.
Prep: 10min
Total: 35min
Yield: 8 servings
Servings:
Nutrition Facts : calories 392.7 calories, Carbohydrate 74 g, Cholesterol 23.2 mg, Fat 6.2 g, Fiber 9.8 g, Protein 14.7 g, Saturated Fat 2.1 g, servingSize None, Sodium 931.8 mg, Sugar 41.7 g, Trans Fat None, unSaturated Fat None
Ingredients:
6 slices bacon, cut into 1-inch pieces
4 (16 ounce) cans pork and beans
1 cup chopped onion
½ cup packed brown sugar
6 tablespoons molasses
2 teaspoons yellow mustard
Instruction:
Cook and stir bacon in a large skillet over medium-high heat until crisp, about 10 minutes.
Stir pork and beans, onion, brown sugar, molasses, and mustard with the bacon in the skillet; bring to a boil, reduce heat to medium-low, and simmer, stirring occasionally, until thickened, 15 to 20 minutes.
Classic baked beans are cooked in a casserole dish, studded with onions, peppers, and bacon.
Prep: 15min
Total: 210min
Yield: 16
Servings: 1 serving
Nutrition Facts : calories 296 kcal, Carbohydrate 38 g, Protein 9 g, Fat 13 g, Saturated Fat 4 g, Cholesterol 26 mg, Sodium 711 mg, Fiber 6 g, Sugar 15 g, servingSize 1 serving
Ingredients:
1 red onion (finely diced)
½ cup green bell pepper (finely diced)
1 pound bacon (cooked crispy and diced)
½ cup ketchup
¼ cup molasses
⅔ cup brown sugar
2 tablespoons cider vinegar
1 tablespoon Worcestershire Sauce
2 teaspoons dry mustard
60 ounces baked beans (or pork and beans)
2 tablespoons green onion (sliced )
2 tablespoons bacon (chopped (reserved from cooked bacon))
Instruction:
Dice the red onion and pepper into even, small pieces. Set aside.
Cook bacon until it is crispy, drain on a paper towel. Reserve some of the bacon grease.
Finely dice the bacon. Reserve 2 tablespoons for garnish. Set aside.
Preheat oven to 350°F, set the rack to the lower-middle position.
In a skillet, heat reserved bacon grease on medium-high heat.
Add the diced red onion and green pepper, sauté until softened.
In a large sized bowl, combine ketchup, molasses, brown sugar, cider vinegar, Worcestershire sauce, and dry mustard, and whisk together.
Stir in the beans, onions, and green peppers.
Pour into a 9×13" baking dish.
Bake for 2 hours, then stir in the chopped bacon.
Bake another hour or more until the sauce has cooked down, and has reached your desired consistency.
Let the beans stand for 5 minutes to thicken sauce.
Garnish with reserved bacon and green onion. Serve.