Prep: 20min
Total:
Yield: 4
Servings:
Nutrition Facts :
Ingredients:
14.2 oz package of udon noodles
2 tbsp minced garlic
2 medium shallots, thinly sliced
1 tsp grated ginger
8 oz shittake mushrooms sliced
1 baby bok choy, chopped
2 tbsp oil
2 tbsp dark soy sauce
1 tbsp hoisin sauce
1 tbsp sweet thai chili sauce
1 tbsp gochujang
1 tsp gochugaru or crushed red chili flakes
1 tsp rice wine vinegar
1/2 tsp sesame oil
Instruction:
Cook or prepare the noodles according to package directions. I had udon noodles that did not require boiling but I did rinse them with hot water to simply help loosen them up. Follow the directions for whichever type of noodles you decide to use.
Heat 2 tbsp of oil in a large wok or pot over medium high heat. Once the oil is hot, add the shallots and stir until they become soft.
Next, add the mushrooms and cook until the mushrooms are for just about tender but not too soft. Reduce the heat to medium/low, add the garlic, ginger, bok choy, and stir until garlic is fragrant and bok choy starts to slightly wilt.
Add the noodles, sauce, sesame seeds and stir until well combined and noodles are heated through.
Serve hot and fresh!!
(10-min) Chili Garlic Udon Stir Fry is the simplest Yaki Udon Stir fry noodles recipe. This is spicy and flavorful. Also makes for the perfect dinner recipe for the family.
Prep: 5min
Total: 10min
Yield: 3
Servings: 1 serving
Nutrition Facts : calories 278 kcal, Carbohydrate 51 g, Protein 7 g, Fat 6 g, Saturated Fat 1 g, Sodium 954 mg, Fiber 4 g, Sugar 24 g, unSaturated Fat 4 g, servingSize 1 serving
Ingredients:
4 Oz Udon Noodles
1 Tbsp Sesame Oil
1 cup Cabbage (chopped)
1 cup Carrots (chopped (1 medium sized carrot))
1 Tsp Red Pepper Flakes
5 cloves Garlic (minced)
1 tsp Salt & Pepper
1 Tbsp Soy Sauce
1 Tbsp Sriracha
¼ cup Brown Sugar
Green Onions (finely chopped)
Instruction:
Bring a pot of water to boil. As the water boils add the Udon Noodles and cook until it comes to a boil. As it cooks for 3-4 minutes, drain the noodles, wash them with cold tap water and keep them aside.
Heat Sesame Oil in a Pan. As the oil shimmers, add the Chopped Veggies, Red Pepper Flakes, Salt & Pepper. Saute until they tenderize for about 2 minutes on high heat.
Reduce the heat to low. Pour Soy Sauce, Sriracha, and Brown Sugar over the veggies and toss to combine everything. Allow the mixture to simmer for about 2 minutes on medium high heat.
Add the cooked Udon Noodles in the simmering sauce and toss to combine. Stir fry over high heat for 1-2 minutes.
Garnish with chopped Green Onions and serve immediately.
Kimchi udon noodle stir fry is an easy weeknight meal that can be ready in 15 mins. Key ingredients are bacon, Kimchi, udon noodles and Korean spicy sauce. It's simply addictive! It will be your new favourite noodle dish!
Prep: 5min
Total: 15min
Yield: 2
Servings: 1 serving
Nutrition Facts : calories 389 kcal, Carbohydrate 24 g, Protein 14 g, Fat 26 g, Saturated Fat 7 g, Cholesterol 192 mg, Sodium 940 mg, Fiber 2 g, Sugar 17 g, servingSize 1 serving
Ingredients:
2 packs udon noodles ((total 400g))
4 slices rindless short cut bacon ((chopped into thumbnail size pieces) (*see note above), 120g)
1 cup aged Kimchi ((chopped into thumbnail size pieces))
50 g onion (thinly sliced)
30 g green onion (thinly sliced)
Some cooking oil ((I used rice bran oil))
1 Tbsp Korean chili flakes ((gochugaru))
1/2 Tbsp Korean chilli paste ((gochujang))
1 Tbsp soy sauce
1 Tbsp honey
1 Tbsp raw sugar
1/2 tsp minced garlic
1 tsp sesame oil
1 tsp rice vinegar ((optional) – add this if your Kimchi is not aged enough or if you want extra tanginess)
2 eggs ((soft boiled or pan-fried))
Few sprinkles ground black pepper
1 Tbsp toasted sesame seeds
1 Tbsp green onion ((thinly sliced))
Few strips roasted seasoned seaweed
Instruction:
Boil the udon noodles per manufacturer's instructions. Drain the water. Set aside. (Ideally, step 1 and step 2 should start at the same time so that you use the fresh, warm and not sticky noodles.)
Heat a pan/skillet on medium-high heat and once heated add some cooking oil and spread it thinly. Add the bacon and cook for 2 to 3 mins. Stir occasionally.
Add the onion and Kimchi and cook until they are wilted (about 1 to 2 mins). Add the sauce and mix them well.
Add the udon noodles and mix them with the rest of the ingredients. Add the green onions and stir lightly.
Serve the noodles on a plate and garnish with the egg, ground black pepper, more green onions, sesame seeds, and seaweed strips.
My 15 minute spicy udon noodles are extra saucy salty, sweet, spicy, and veggie filled noodles…my favorite. These noodles are ready for eating in just about 15 minutes, from start to finish! Perfect for those busy nights!
Prep: 5min
Total: 15min
Yield: 2
Servings:
Nutrition Facts :
Ingredients:
1 tbsp chili oil
½ med onion (sliced)
1 med carrot (grated, sliced or cubed )
2 sprigs scallions (sliced)
14oz vacuumed packed udon noodles
½ cup mushrooms (sliced )
½ cup extra firm tofu (cubed )
½ cup bean sprouts (optional )
broccoli, bell peppers (optional )
2 tsp sambal,sriracha
3 tbsp soy sauce
2 tsp rice vinegar
2 tsp toasted sesame seed oil
2 tbsp brown sugar
3 cloves garlic (grated )
½ tsp ginger (grated)
Instruction:
Prepare your vegetables and set aside. Mix up the sauce by combining all the ingredients in a small bowl. Set aside. Fill a large bowl with hot water and add udon noodles to the bowl to soak, so they can be separated before adding to the wok This isn't necessary though, as you can add fresh udon noodles directly from the package to the wok. I just find it easier to stir fry them having them separate before the go in to the wok.
In a large frying pan or wok, heat chili oil over medium-high heat until very hot. Add tofu and cook, stirring for a minute or so. Add onions, carrots, mushrooms and cook, stirring, until onions are soft and carrots are tender.( feel free to add any other veggies you have on hand) Add green onion, bean sprouts and cook, stirring, for 30 seconds or so.
If soaking udon noodles, gently stir to loosen udon noodles and separate, then drain. Add drained noodles (or unsoaked noodles) to the wok and cook, stirring, for 30 seconds or so. (Stir fry a little longer if soaked, to cook off any extra water before adding the sauce). Add sauce and cook for another 30 second, stirring to combine well.
Remove stir fry to a bowl or plate and garnish with sesame seeds, additional sliced green onion or chopped peanuts. Enjoy!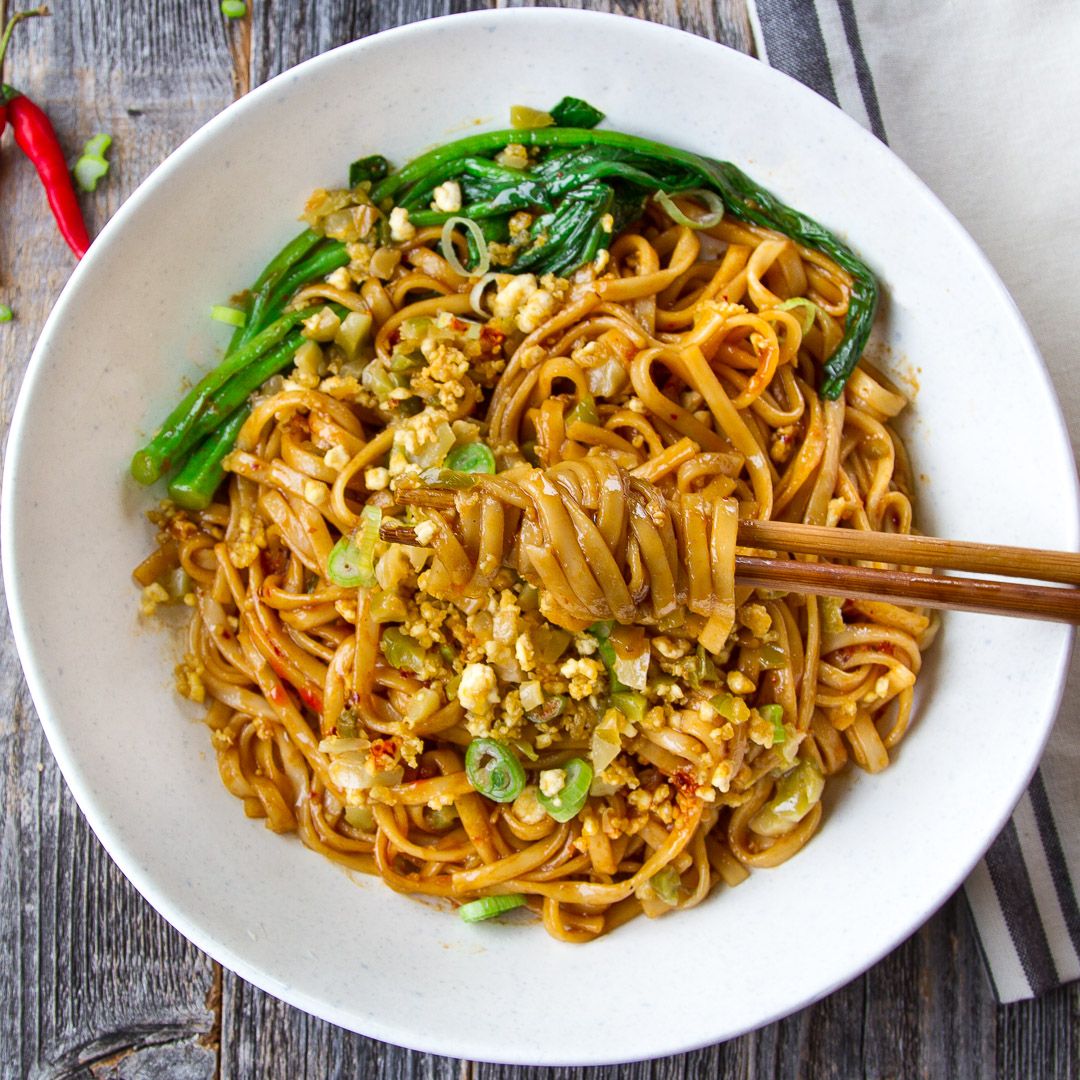 Spicy, flavorful and slurpy good noodles you can make at home in no time
Prep: 15min
Total:
Yield: 2
Servings:
Nutrition Facts :
Ingredients:
1 bunch dried udon noodles, about 3.5 oz – cooked based on package instructions
green veggies of your choice (I used Chinese spinach – yu choy), washed and blanched
1/2 block firm tofu, drained and mashed
2 tablespoons chopped salted spicy radish (optional)
1 tablespoons sesame oil
1 tablespoons stir fry sauce (substitute with 1tbsp soy sauce, 1/4 tsp maple syrup, and dash of salt)
1 teaspoons chili oil
dash of white pepper
1 teaspoons soy sauce (optional, if not using seasoned radishes)
Instruction:
In a heated pan with 4 tsp oil, stir fry mashed tofu until lightly brown, add radish and mix well, set aside.
In a pot filled with hot water, blanched your veggies, then use the same pot of water to cook your noodles.
In a bowl, mix sesame oil, stir fry sauce, chili oil, pepper until well combined.
Add noodles, veggies and tofu mixture – coat well.
Serve with more chili oil and scallions.