Beef Hash is another favorite Southern comfort food. It does take awhile to cook, but its worth the time and effort. Really good on a cold winter day.
Prep: 20min
Total: 5h50min
Yield: 6
Servings:
Nutrition Facts :
Ingredients:
3 lbs of Chuck Roast
4 medium Onions, diced
1 tsp Salt
1 tsp Black Pepper
1 tsp Crushed Pepper Flakes
½ stick Butter
Water as needed
Instruction:
Cut the chuck roast into about two inch sized cubes.
Place cubes in heavy stock pot.
Add enough water to cover meat by about 1 inch.
Place over Medium heat, bring to a boil, let boil for 30 minutes.
REDUCE heat to Medium-Low, simmer for 3 hours, stirring every 30 minutes.
Scoop off and discard any foam or impurities that might float to the top as you go.
Dice the onions.
After 3 hours, use a slotted spoon to remove the beef from the broth. Place beef in a bowl.
Let the beef cool a bit in the bowl. Let the broth continue to cook uncovered for the moment.
Add onions to broth.
Add salt,
Add black pepper.
Add crushed red pepper flakes.
Use two forks to shred the beef, removing any fat or gristle in the process.
Place the shredded beef back in the broth with the onions. Stir well.
Cover and continue to simmer for 1 hour, stirring after 30 minutes.
Remove the lid from the pot. Set lid aside.
Add butter. Stir until butter melts.
Simmer, uncovered, until hash thickens as desired, stirring as needed to prevent sticking.
Serve warm over rice or mashed potatoes.
Enjoy!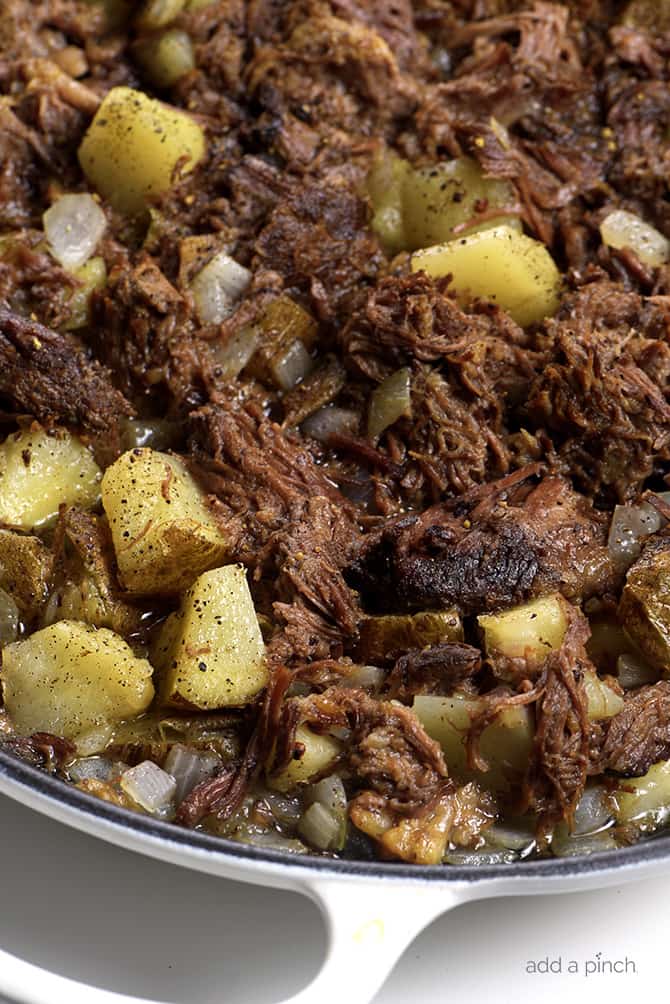 Southern Beef Hash is a great way to use leftover roast beef in a whole new way. Full of potatoes, onions, garlic, and roast beef, beef hash is a favorite.
Prep: 5min
Total: 25min
Yield: 4
Servings: 1 serving
Nutrition Facts : calories 440 kcal, Carbohydrate 13 g, Protein 66 g, Fat 14 g, Saturated Fat 4 g, Cholesterol 169 mg, Sodium 4470 mg, Fiber 1 g, Sugar 1 g, unSaturated Fat 8 g, servingSize 1 serving
Ingredients:
1 tablespoon olive oil
1 large baking potato (scrubbed and diced)
1/2 medium onion (diced)
2 ribs celery (diced)
1 clove garlic (minced)
2 – 3 cups cooked roast beef (shredded)
1 cup drippings from roast beef
1 teaspoon cornstarch
salt and pepper to taste
Instruction:
Add olive oil to medium skillet set over medium heat. Add diced potato and cook until tender on the inside and crispy on the outside, about 5 minutes, stirring frequently. Add in the onions and celery and cook until tender, about 3 more minutes.
Stir in the garlic and the shredded roast beef and cook until the beef is heated throughout.
Meanwhile, heat the roast beef drippings in a small saucepan set over medium heat until reduced by about half, about 8 minutes. Whisk in the cornstarch until well combined and then pour into the beef hash.
Salt and pepper to taste and serve.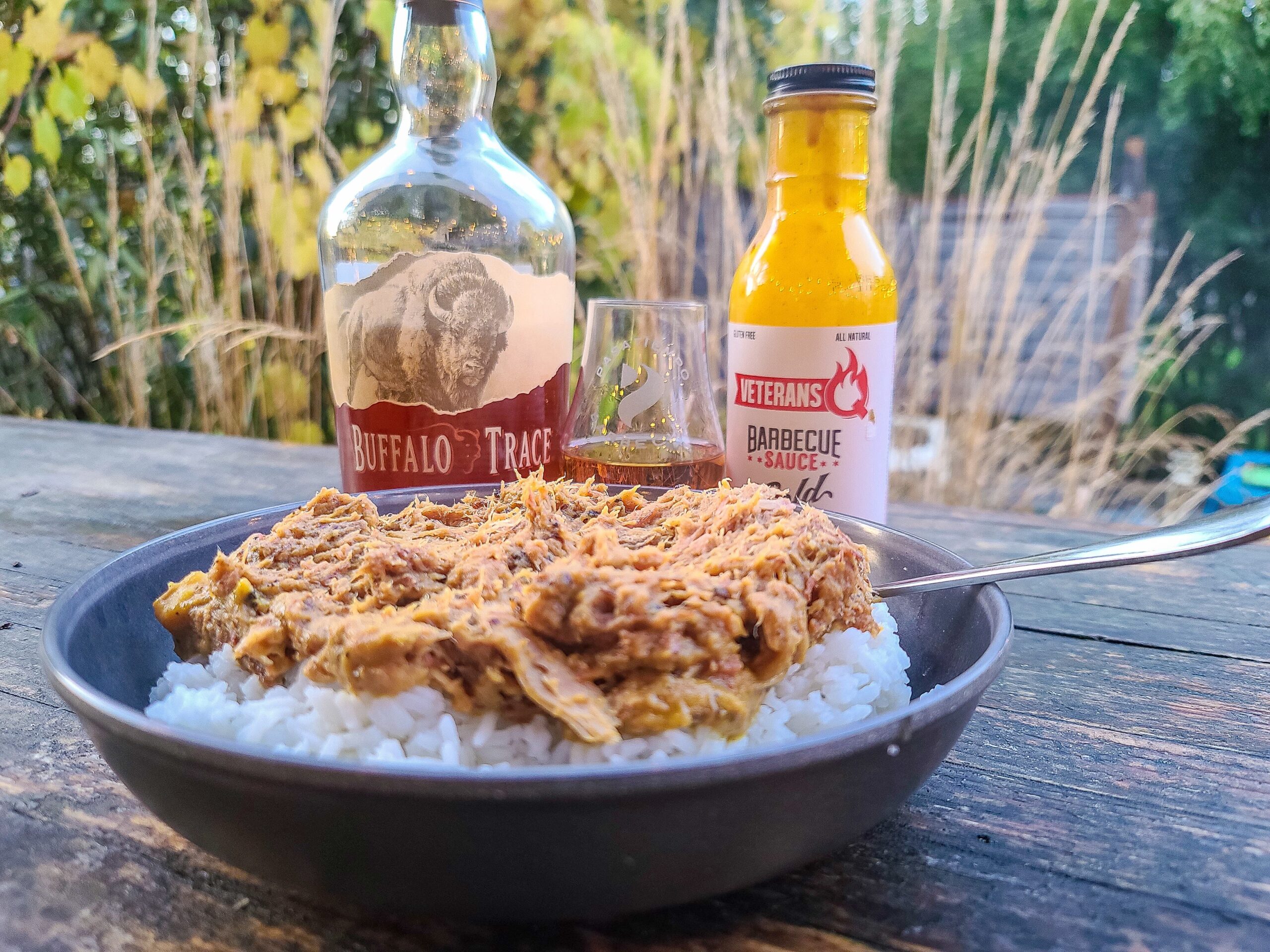 A South Carolina staple, hash and rice is typically a barbecue side but can also be eaten as a main course. Either way, it's comfort food at its finest.
Prep: 30min
Total: 450min
Yield: 8
Servings: 1 bowl
Nutrition Facts : servingSize 1 bowl, calories 290 kcal, Carbohydrate 22 g, Fat 11 g, Protein 28 g, Sodium 493 mg, Sugar 2 g
Ingredients:
1 Bone-In Pork Butt
Yellow Mustard (for binder)
Down With the Swine Rub
1 bottle Cheerwine
1 Yellow Onion
2 Potatoes
3 cloves Garlic
1 cup Chicken Stock
1 bottle Veterans Q Gold Sauce
2 cups White Rice
Kosher Salt (to taste)
Instruction:
The first thing you're going to need to do is smoke a pork butt. You can refer to our The Perfect Swine Pulled Pork recipe for that. However, unless you're cooking for a large crowd, you can use a smaller pork butt than you would normally use for pulled pork. I used one that was just over 5 pounds for this recipe.
In a cast iron pan over medium heat on the stove, sauté a diced yellow onion for about 5 minutes, then add 3 cloves of garlic.
Add 2 cubed potatoes and a stick of butter. Simmer for about 20 minutes, stirring often until your potatoes start to soften, brown, and absorb the butter.
Add your shredded pulled pork, 1 cup of chicken stock, and a bottle of your favorite mustard-based barbecue sauce.
Stir well, cover, reduce to low, and let simmer for an hour, stirring a few times throughout.
With about 25 minutes remaining, cook your white rice according to the directions on the package.
After an hour, everything should be nice and cooked down. If it's too dry, add more mustard-based barbecue sauce.
Use an immersion blender to blend it all together.
Serve over rice.
Prep:
Total:
Yield:
Servings:
Nutrition Facts :
Prep:
Total:
Yield:
Servings:
Nutrition Facts :