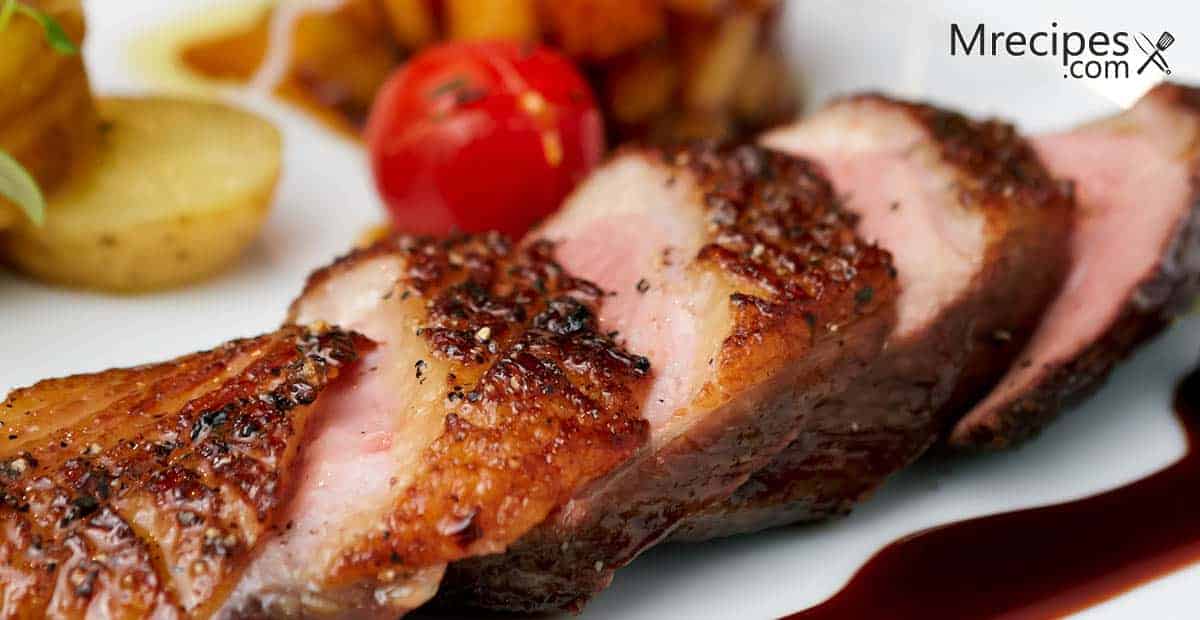 The recipes here are just for boneless breasts. That is a good starting place if you are smoking duck for the first time.
Prep: 10min
Total: 2h40min
Yield: 4
Servings:
Nutrition Facts :
Ingredients:
2 duck breasts, approximately 2 pounds
2 cups apple cider
2 cups filtered water
1/4 cup course sea salt
1 tsp coarsely ground pepper
1 clove of garlic, smashed
1 bay leaf
Apple wood chips
Apple cider and water
Disposable foil pan
Instruction:
In a container large enough to hold the brine and duck breasts, combine the cider, water, salt, pepper, garlic, and bay leaf. Stir well to dissolve all of the salt.
Using a sharp knife, score just the fat, not the flesh, of the duck in a 1" diamond pattern. Submerge the breasts in the brine to cover. You can add more cider if needed. Cover and refrigerate for 8 hours or overnight.
Remove the duck from the brine and rinse under cold water. Pat the duck dry with plenty of clean paper towels. Take a rack from the smoker and place the duck, fat side up, on the rack. Set the breasts aside to come to room temperature while you prepare your smoker. Discard the brine.
Prepare your smoker by filling the side tray with apple wood chips. Fill the water bowl 1/2 way with equal parts plain water and apple cider. Preheat the smoker to between 225°F and 250°F with the top vent open.
Place the rack in the middle of the smoker. On an empty rack below place a disposable foil pan to catch any fat drippings. Smoke for 60 minutes and check the internal temperature with a reliable meat thermometer. For medium rare, the temperature should read 145°F. Continue smoking for approximately 60 to 90 minutes longer if the temperature is below that. Remember to check the wood chips and liquid supply every 45 minutes and replenish as necessary.
Remove the duck breasts to a cutting board and tent with foil. Allow them to rest for 10 minutes before slicing to ensure they remain moist.
Slice and serve the duck with seasonal side dishes. Some recipe ideas are included below.
Delicious smoked ducks breasts with a nice maple flavor. Slice them thin and serve as an appetizer on crackers, if desired.
Prep: 10min
Total: 15h10min
Yield: 8 servings
Servings:
Nutrition Facts : calories 64.4 calories, Carbohydrate 6.5 g, Cholesterol 26.3 mg, Fat 2.1 g, Fiber 0.1 g, Protein 4.8 g, Saturated Fat 0.6 g, servingSize None, Sodium 1457.3 mg, Sugar 5.5 g, Trans Fat None, unSaturated Fat None
Ingredients:
2 boneless duck breast halves, skin on
2 tablespoons kosher salt
2 teaspoons cracked black pepper
3 tablespoons maple syrup
2 teaspoons maple syrup
maple wood chips
Instruction:
Season duck breasts on all sides with salt and pepper. Place in a shallow dish and cover with 3 tablespoons maple syrup. Cover, place in refrigerator, and allow to marinate 12 to 24 hours.
Preheat an electric smoker according to manufacturer's directions to 225 degrees F (110 degrees C) using maple wood chips.
Remove duck breasts from marinade and rinse well. Pat dry with paper towels. Use a sharp knife to cut shallow cross-hatch marks into duck breast skin; do not cut all the way through to the meat. Brush with 2 teaspoons maple syrup.
Place duck breasts, skin-side up, on grill rack in the smoker. Place a drip pan underneath. Smoke at 225 degrees F (110 degrees C) for 3 to 4 hours, adding more maple wood chips as necessary to keep smoke continuous, until duck breasts reach an internal temperature of 160 degrees F (70 degrees C). Cool to room temperature before slicing. Keep refrigerated until ready to serve.
Gently smoked duck breasts have a rich smokey flavor that highlights the duck's natural goodness, creating a perfect dish for nice dinners. The key to smoking duck breasts is making sure you smoke them long enough to cook them all the way through, but not so long that they become tired and rubbery.
Prep: 10min
Total: 70min
Yield: 2
Servings: 1 serving
Nutrition Facts : calories 282 kcal, Carbohydrate 1 g, Protein 44 g, Fat 9 g, Saturated Fat 2 g, Cholesterol 174 mg, Sodium 1292 mg, servingSize 1 serving
Ingredients:
2 duck breasts
2 tsp fresh thyme (minced)
1 tsp smoked paprika
1 tsp salt
1/2 tsp pepper
Instruction:
Mince the thyme and mix it with the smoked paprika, salt, and pepper.
Spread the spice mixture on the duck, making sure to cover both sides.
Smoke the duck at 250ºF for 60 to 70 minutes. For medium rare, the duck should be somewhere between 145ºF to 150ºF when you take it out of the smoker.
Let the duck rest for a few minutes before slicing and serving.
You can use fresh duck breasts in place of the smoked breasts called for below; cook them a little longer before serving with the intensely fruity sauce. More Incredible Duck Recipes
Prep:
Total:
Yield: 4
Servings:
Nutrition Facts :
Ingredients:
2 tablespoons unsalted butter
1 shallot, minced
1/4 cup ruby port
1/4 cup dry white wine
2 tablespoons seedless raspberry preserves
1 tablespoon raspberry vinegar
1 tablespoon Dijon mustard
1/2 cup raspberries
Salt and freshly ground pepper
Two 3/4-pound smoked duck breasts
1 teaspoon vegetable oil
Instruction:
Melt 1 tablespoon of the butter in a medium saucepan. Add the shallot and cook over moderate heat, stirring frequently, until softened, about 2 minutes. Add the port and white wine and cook over moderate heat until the sauce is reduced to 2 tablespoons, about 7 minutes. Add the raspberry preserves, vinegar and mustard and whisk over low heat until smooth. Add the raspberries and cook, whisking gently to break up the berries. Whisk in the remaining 1 tablespoon of butter and season with salt and pepper; keep the sauce warm.
Using a thin, sharp knife, make a crisscross pattern in the duck skin. Heat the oil in a large skillet. Add the duck breasts, skin side down, and cook over moderate heat until the skin is browned and crisp, 4 to 5 minutes; pour off the rendered fat as it accumulates in the pan. Turn the duck breasts and cook until the bottom is browned, about 2 minutes. Turn the duck again and cook over moderately low heat until most of the fat has been rendered, about 5 minutes longer; don't let the skin burn.
Transfer the duck breasts to a cutting board and let them rest for 5 minutes. Thinly slice the duck on the diagonal and arrange on plates. Spoon the raspberry-port sauce all around the duck and serve.
Succulent duck breast smoked over charcoal and served with cherry orange reduction and grilled asparagus.
Prep: 15min
Total: 55min
Yield: 2
Servings: 1 serving
Nutrition Facts : calories 391 kcal, Carbohydrate 19 g, Protein 46 g, Fat 10 g, Saturated Fat 3 g, Cholesterol 174 mg, Sodium 393 mg, Fiber 1 g, Sugar 14 g, servingSize 1 serving
Ingredients:
2 duck breasts
2 tsp Chinese 5 Spice
1 can cherries in syrup
1 ½ tbsp orange marmalade
¼ cup port
½ tbsp soy sauce
1 tsp brown sugar
1 tsp balsamic vinegar
½ tsp ground ginger
Instruction:
Trim your duck breast of excess fat.
Score breast in diagonal pattern approx 1/2" wide.
Pat the skin dry.
Dust duck breast with chinese 5 spice.
Set up BBQ for indirect heat to 400°F.
Smoke the duck breast using pecan or cherry wood until internal temp of 150°F, approx 20-30 mins.
Rest duck for 2 mins.
Place cast-iron skillet onto direct heat with a drizzle of oil.
Cook duck breasts skin side down for 1-2 mins to render fat and crisp skin.
Remove from the pan and cover with foil.
Wipe out the skillet and return to heat.
Pour in cherries with half the syrup, port, marmalade and all sauce ingredients.
Bring to the boil and reduce until thick and syrupy.
Slice the duck breast thickly.
Serve the duck with sauce, greens and mash.