Meet the Cook: This delectable candy is crisp but not as hard as peanut brittle. Some people say it reminds them of the toffee center of a well-known candy bar. Besides cooking, I enjoy gardening, sewing, needlework and family get-togethers. Husband Bob and I have six children, nine grandkids and three great-grandkids.
-Mildred Clothier, Oregon, Illinois
Prep: 20min
Total: 20min
Yield: 10 ounces.
Servings:
Nutrition Facts : calories 379 calories, Fat 30g fat (13g saturated fat), Cholesterol 55mg cholesterol, Sodium 214mg sodium, Carbohydrate 27g carbohydrate (22g sugars, Fiber 2g fiber), Protein 4g protein.
Ingredients:
1 tablespoon plus 1/2 cup butter, softened, divided
1/2 cup sugar
1 tablespoon light corn syrup
1 cup sliced almonds
Line an 8-in. square pan with foil; butter the foil with 1/2 tablespoon butter. Set aside., Spread the sides of a heavy saucepan with 1/2 tablespoon butter. Add 1/2 cup of butter, sugar and corn syrup. Bring to a boil over medium-high heat, stirring constantly. Cook and stir until mixture is golden brown, about 3 minutes. Stir in almonds. Quickly pour into prepared pan. , Refrigerate until firm. Invert pan and remove foil. Break candy into pieces.
Here's how to toast almonds two ways: it makes them crunchier and enhances their nutty flavor! Try toasted almonds on salads, oatmeal and desserts.
Prep:
Total: 5min
Yield: 1
Servings:
Nutrition Facts :
Ingredients:
1 cup whole, slivered or sliced almond (or any quantity; for any more than 1 cup use the oven method)
Instruction:
Place the nuts in a dry skillet (no oil) over medium heat. Heat, shaking the pan and stirring often with a wooden spoon, until the nuts are fragrant and golden brown (if sliced or slivered), about 4 to 5 minutes. Stay at the stove because the nuts can easily burn! Remove immediately from the heat and transfer to a plate to stop the cooking.
Preheat the oven to 350 degrees Fahrenheit. Place the nuts on a baking sheet in a single layer. Bake for about 7 to 8 minutes until fragrant and golden brown (if sliced or slivered), stirring once. Do not stray far from the oven, since the nuts can go from toasted to burned quickly. Remove immediately and transfer to a plate to stop the cooking.
Use immediately. Or, allow to cool completely and store in an airtight container at room temperature for 1 week and refrigerated at least 2 months. (You also can extend the life by freezing nuts.)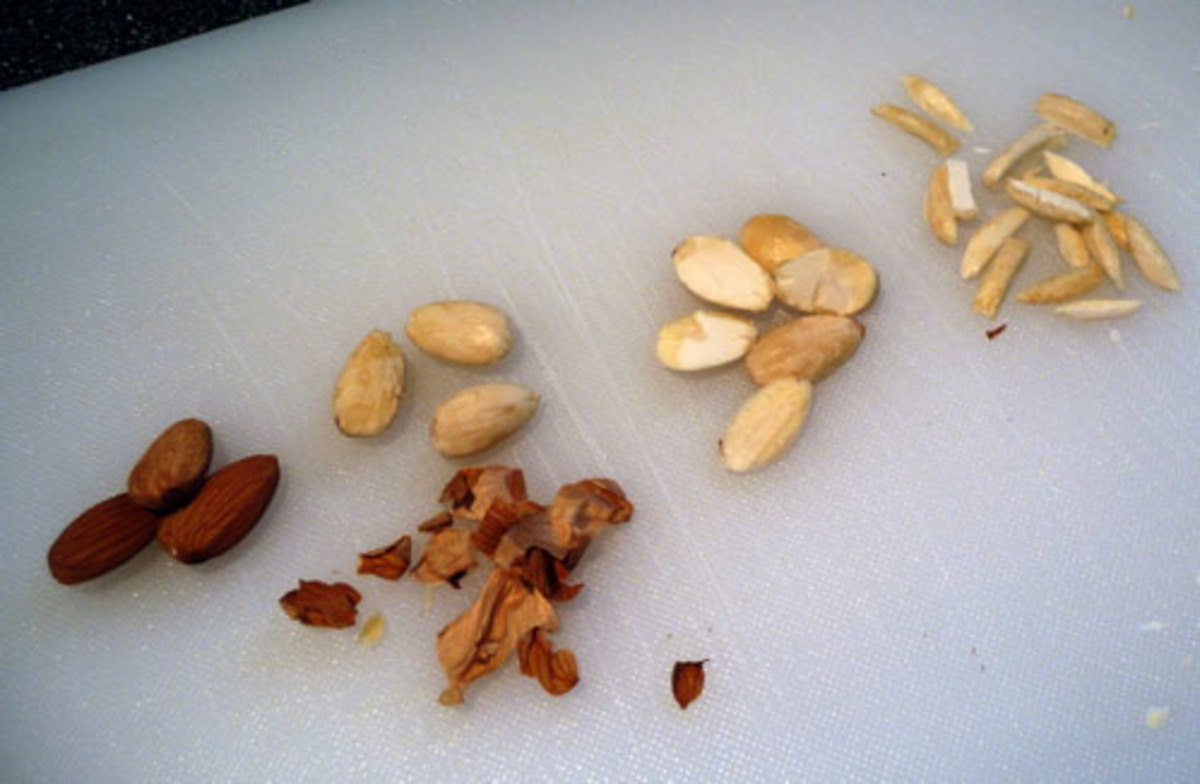 Best stored refrigerated. Purchase already shelled almonds with their skin on which prevents the kernel from drying out and loosing its flavoursome oils. When needed de-skin (blanch) and if required split or sliver them. In the northern Indian state, Jammu and Kashmir, the almond tree is designated as the State tree. A dish called pasanda is a popular North Indian meat dish, derived from a meal served in the Court of the Moghul Emperors. Reflecting the dish's flavour and its connection with the almond, pasanda also refers to a mild curry sauce made with cream, coconut milk, and almonds in North India and Pakistan. Recipe taken from The Complete Middle East Cookbook by Tess Mallos.
Prep: 20min
Total: 20min
Yield: 1 cup, 1 serving(s)
Servings:
Nutrition Facts : calories 823.9, Fat 72.9, Saturated Fat 5.6, Cholesterol 0, Sodium 477.3, Carbohydrate 26.6, Fiber 16.3, Sugar 6.8, Protein 30.5
Ingredients:
1 cup almonds, with skin on
2 cups boiling water
Instruction:
* Additionally 1 fine bladed knife to split & sliver (if needed).
Boil water and pour over almonds in a small bowl.
Leave for 2-3 minutes then drain.
When cool enough to handle squeeze the nut and the kernel will pop out of its skin.
Use as required.
To Split:.
Separate the two halves with the knife.
Use as required.
To Sliver:.
Soak them a little longer when blanching to soften the kernel.
Cut them into 3-4 slivers.
Dry out slivers in a 300F/150C oven.
Use as required.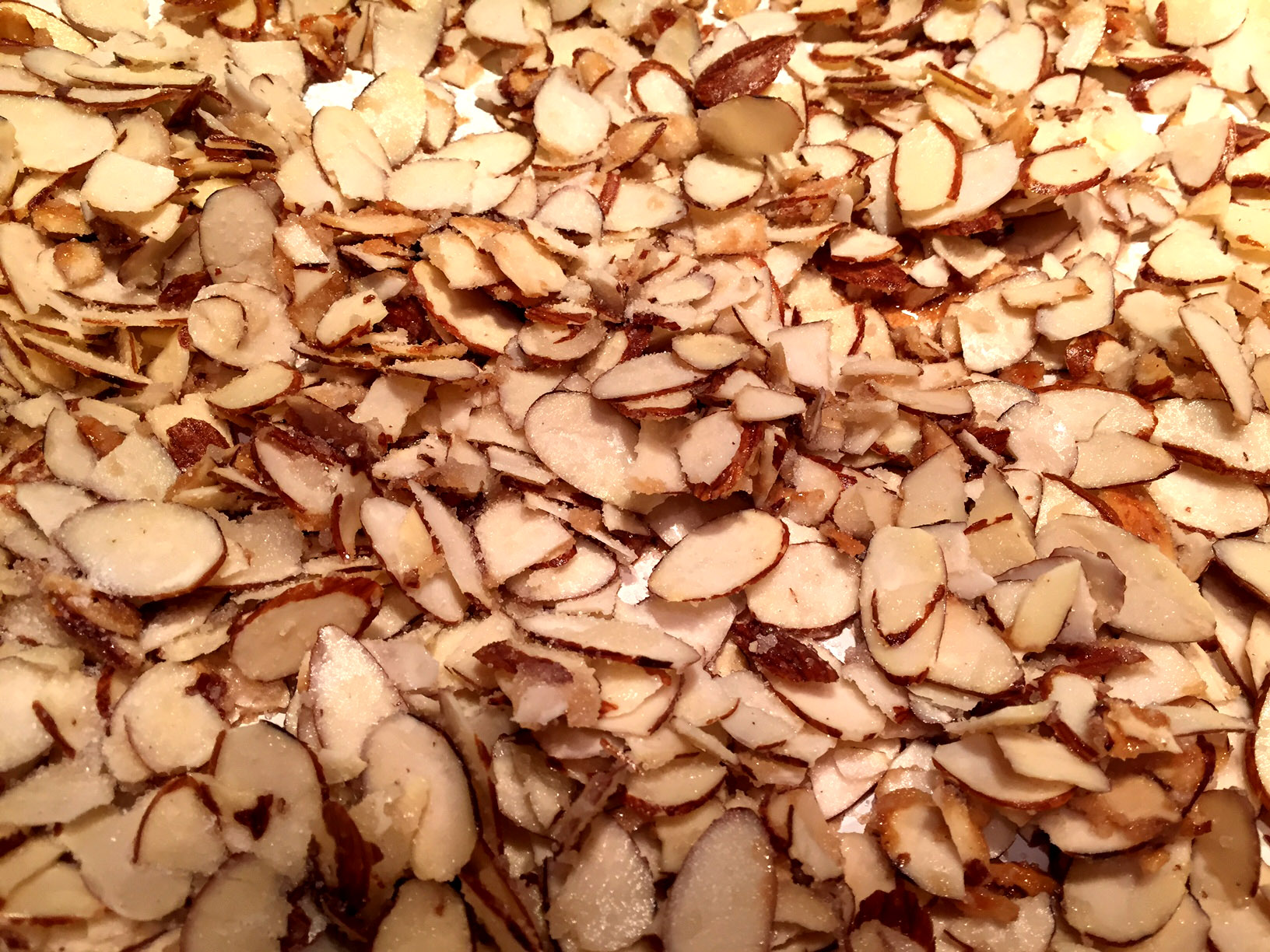 Slivered almonds are coated with caramelized sugar and toasted – crunchy, nutty and sweet! Perfect as salad topping, cake topping or a snack!
Prep:
Total: 5min
Yield:
Servings:
Nutrition Facts :
Ingredients:
1 package (8 oz slivered almonds)
1 tbsp butter
1/4 cup sugar
Instruction:
Line a baking sheet with parchment paper.
Melt butter on a non-stick frying pan over medium heat.
When the butter is melted, add sugar and stir to combine.
Add the slivered almonds and cook, stirring every 30 seconds, for 4 minutes, or until slightly browned.
Remove the toasted sugared almonds from a frying pan onto the parchment paper and spread in a single layer.
Let the almonds cool, then transfer to a serving dish.
These cookies are my family's favorite cookie. They are simple to make, unique and pretty. A wonderful recipe to make for a cookie exchange. Take your recipe along, everyone will want a copy!
Prep: 10min
Total: 30min
Yield: 4 dozen
Servings:
Nutrition Facts : calories 67.7 calories, Carbohydrate 10.4 g, Cholesterol 9.1 mg, Fat 2.6 g, Fiber 0.2 g, Protein 0.9 g, Saturated Fat 1.3 g, servingSize None, Sodium 48.1 mg, Sugar 6.7 g, Trans Fat None, unSaturated Fat None
Ingredients:
½ cup butter
1 cup white sugar
1 egg
½ teaspoon almond extract
1 ¾ cups all-purpose flour
2 teaspoons baking powder
¼ teaspoon salt
½ cup sliced almonds
2 tablespoons milk
1 cup confectioners' sugar
¼ teaspoon almond extract
¼ cup milk
Instruction:
Preheat oven to 325 degrees F (165 degrees C).
In a medium bowl, cream butter and sugar. Add egg and almond extract; mix until fluffy. Stir in flour, baking powder and salt; mix well.
Divide dough into 4 pieces, and roll each one into a log about 12 inches long. Place 2 logs per cookie sheet 4 to 5 inches apart. Flatten each roll by hand until it is about 3 inches wide. Brush flattened roll with milk and sprinkle with sliced almonds.
Bake in preheated oven 12 to 15 minutes or until edges are slightly browned. While the cookies are still warm, cut them crosswise at a diagonal, into slices about 1 inch wide. When cool, drizzle with almond icing.
Almond icing: In a small bowl, stir together powdered sugar, almond extract, and milk until smooth. Drizzle over the cookies.