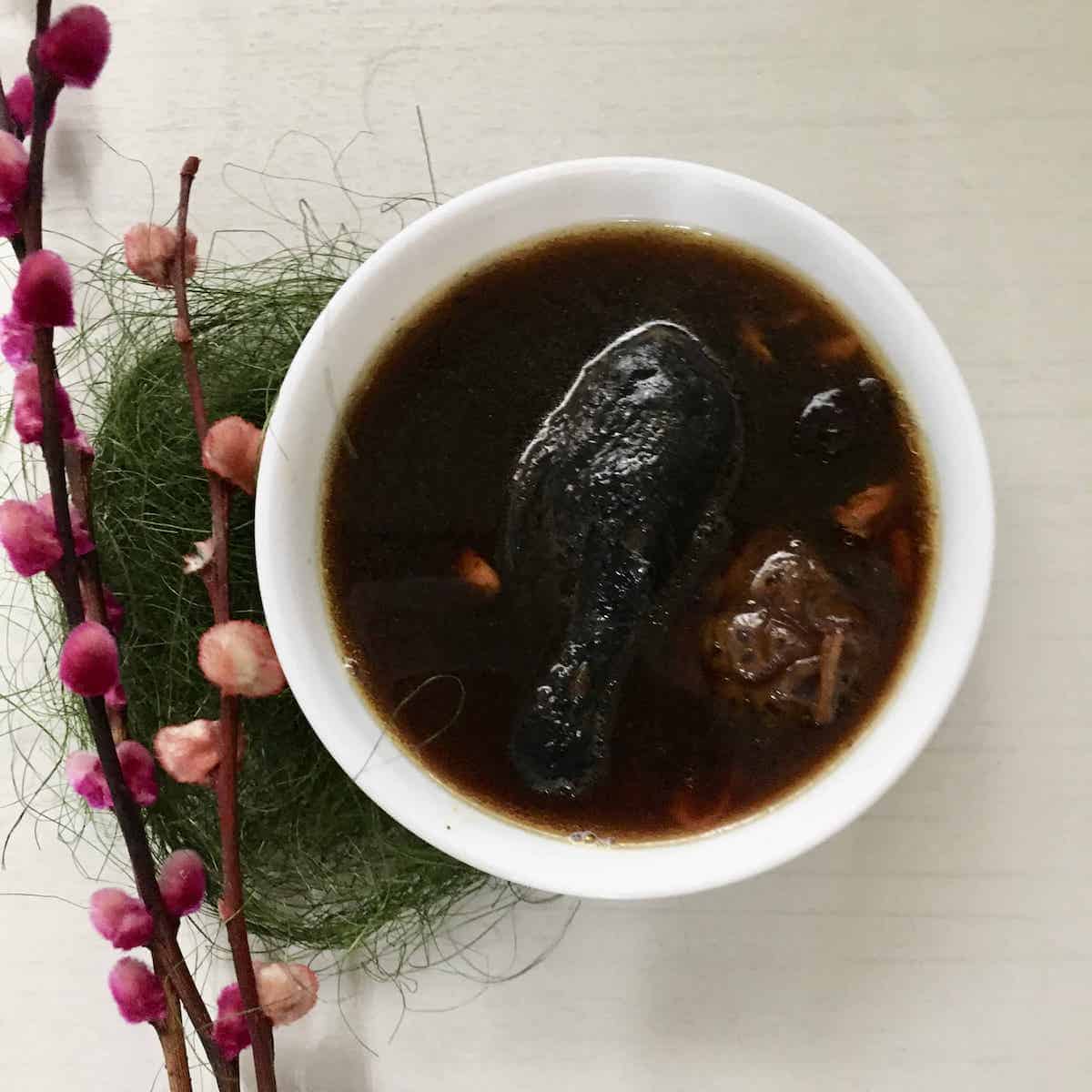 This easy Chinese Silkie chicken soup requires only 5-ingredients and is mostly passive cooking.
Prep: 5min
Total:
Yield: 2
Servings:
Nutrition Facts :
Ingredients:
1 Black chicken (Silkie Chicken)
6 dried shiitake mushrooms
5 dried scallops
3 jujubes or red dates, seeds removed (Substitute: 2 honey dates)
2-3 Tablespoons goji berries (wolf berries) (Rinsed then soaked for 5 minutes.)
10 + 1 Cups Water
Salt, to taste
Instruction:
Add the black chicken, red dates (deseeded) and 10 cups of water to the pot and bring to the boil on high.
Whilst waiting for the water to boil, soak the scallops, goji berries and shiitake in hot water. (If you started early, you can do this 30 minutes earlier then bring it to the boil with the chicken and dates, but I tend to work more last-minute.)
Once the soup has started boiling, lower the heat to medium. (I turn it down from 9, which is the max on a Bosch induction stove, to 6.) The water should now be simmering and not boiling. Whilst boiling extracts more flavour from the soup, I prefer to simmer the chicken to keep the meat tender as I find it wasteful to throw it away after stewing!
After 30 minutes, add the goji berries, scallops and shiitake to the soup and allow to keep simmering for the next 2-3 hours. (The longer the better, but after 2 hours the soup is already quite tasty.) DO NOT ADD SALT TILL THE END or the salty taste may become super concentrated later.
After 45 minutes or so have passed, check that the soup is not at a full boil (as the water evaporates, the simmer may turn into a boil- in that case, either turn down the heat or add more water.)
How quickly the water evaporates depends on the width of the pot (I used a le Creuset standard Dutch oven), the heat of your stove etc, so if you find the water level going very low, please add some more. Using a fire of 5-6, I only needed to add 1 extra bowl of water to the pot, at the end of the boil (i.e. in total I used 12 cups of water to 1 black chicken) but, as mentioned, this may vary for you.
After 2-3 hours have passed, add a bit of salt to the soup, then taste. The scallops are naturally salty so start with a sprinkle and, if not sufficient, add a bit more.
Once to your taste, scoop and serve. You should have enough to fill 2-3 Chinese bowls.
No silkie chicken? You can use regular chicken. Besides pork bones, you can also use lean pork meat.You may also add Chinese yams 淮山 and dried longan 桂圓. If adding longan, then add it in the last 20 minutes of cooking.I am really bad at chopping chicken. I can never land the cleaver where I want. Thank goodness I still have my fingers! Ever since getting a rubber mallet, it's been a lot easier. I just place the cleaver where I want to chop and I pound the cleaver with the mallet a few times.
Prep: 20min
Total: 200min
Yield: 6
Servings: 1 serving
Nutrition Facts : calories 310 kcal, Carbohydrate 9 g, Protein 24 g, Fat 19 g, Saturated Fat 6 g, Trans Fat 1 g, Cholesterol 95 mg, Sodium 692 mg, Fiber 1 g, Sugar 6 g, unSaturated Fat 12 g, servingSize 1 serving
Ingredients:
1 Silkie chicken (approx. 900g)
900 g Pork bones (or use 1lb lean pork meat)
20 g American ginseng
4 slices Ginger
50 g Red dates (pitted)
20 g Goji berries
1 ½ tsp Salt
2 L Water
Instruction:
Chop silkie chicken into smaller pieces
In a large pot, put in silkie chicken pieces and pork bones. Add water to cover and bring to a boil. Turn off heat. This step is to cleanse the meat so that your soup can be free of any impurities and bone residue. You may want to scoop out the impurities and foam before pouring everything out so that it doesn't stick to the meat
Pour into a colander and rinse clean with cold water
Soak ginseng, red dates and goji berries for 10 minutes to soften and to rinse off any dust
Remove the pits in the red dates Pits can cause heatiness and is often removed before cooking
In a clean pot, place silkie chicken, pork bones, ginseng, red dates, goji berries, ginger and 2 L of water. Bring to a boil and then turn heat down to low
Cook on low heat for 3 hours
Taste and add salt to suit your taste.
Serve
Silkie chicken and meat on bones can be eaten. It's common to serve with soy sauce for dipping. I generally will not eat it and I add another 1.5L of water and make more soup for the next day.
Silkie chicken Soup is a healthy and delicious food suitable for all seasons.
Prep: 10min
Total: 115min
Yield: 4
Servings: 1 serving
Nutrition Facts : calories 125 kcal, servingSize 1 serving
Ingredients:
1 silkie chicken
10 g angelica
5 g dangshen
6 grain of red jujube
2 grain of longan
1 cup goji berries
2 slices ginger
Water
Instruction:
Remove the silkie chicken's internal organs and wash it carefully.
Prepare the ingredients for the soup. The amount can be adjusted according to your needs. Slice the ginger.
Put the whole silkie chicken into the casserole pot, pour the water over the silkie chicken.
Start cooking on the fire until it boils.
Keep boiling for another 10 minutes, skimming off the foam.
Add all ingredients except goji berries, cover and simmer over low heat for about 1.5 hours.
In the last five minutes, add goji berries and simmer for another five minutes.
Finished. The silkie chicken soup tastes extremely delicious, no salt is needed.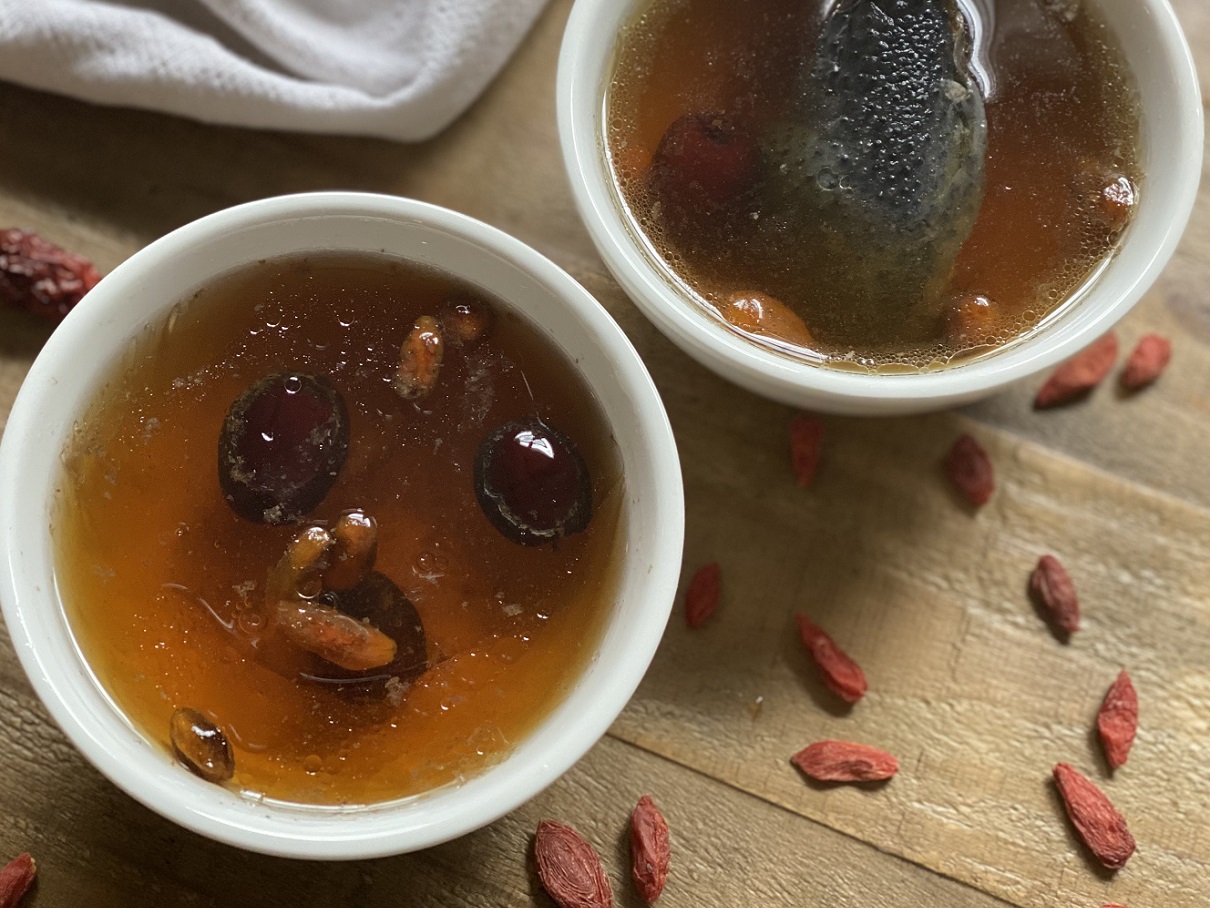 Traditional Chinese belief is ginseng provides many health benefits, so once in a while, I make this Chinese herbal soup with Silkie Chicken and American ginseng. The ginseng can be also replaced with Dong Quai, which is believed to aid recovery postpartum.
Prep: 10min
Total: 610min
Yield:
Servings:
Nutrition Facts :
Ingredients:
6 pieces American ginseng ((or 1 piece of Dong Quai))
15 pieces Astragalus Root
20 small pieces red dates (or 10-12 large ones)
2 tbsp goji berries
1 silkie chicken (See Note 1)
1 large knob of ginger
8 cups water
1 tbsp salt, or to taste
Instruction:
Parboil the silkie chicken in a large pot, removing right when the water boils. Rinse under cold water to remove excess impurities and set aside.
In an Instant Pot or regular slow cooker, add all the ingredients, except for the salt. Slow cook for 8 hours.
After 8 hours, add the salt (to taste) and allow the broth to set under the keep warm setting for up to 2 hours.
Serve hot/warm and enjoy!
Prep:
Total:
Yield:
Servings:
Nutrition Facts :