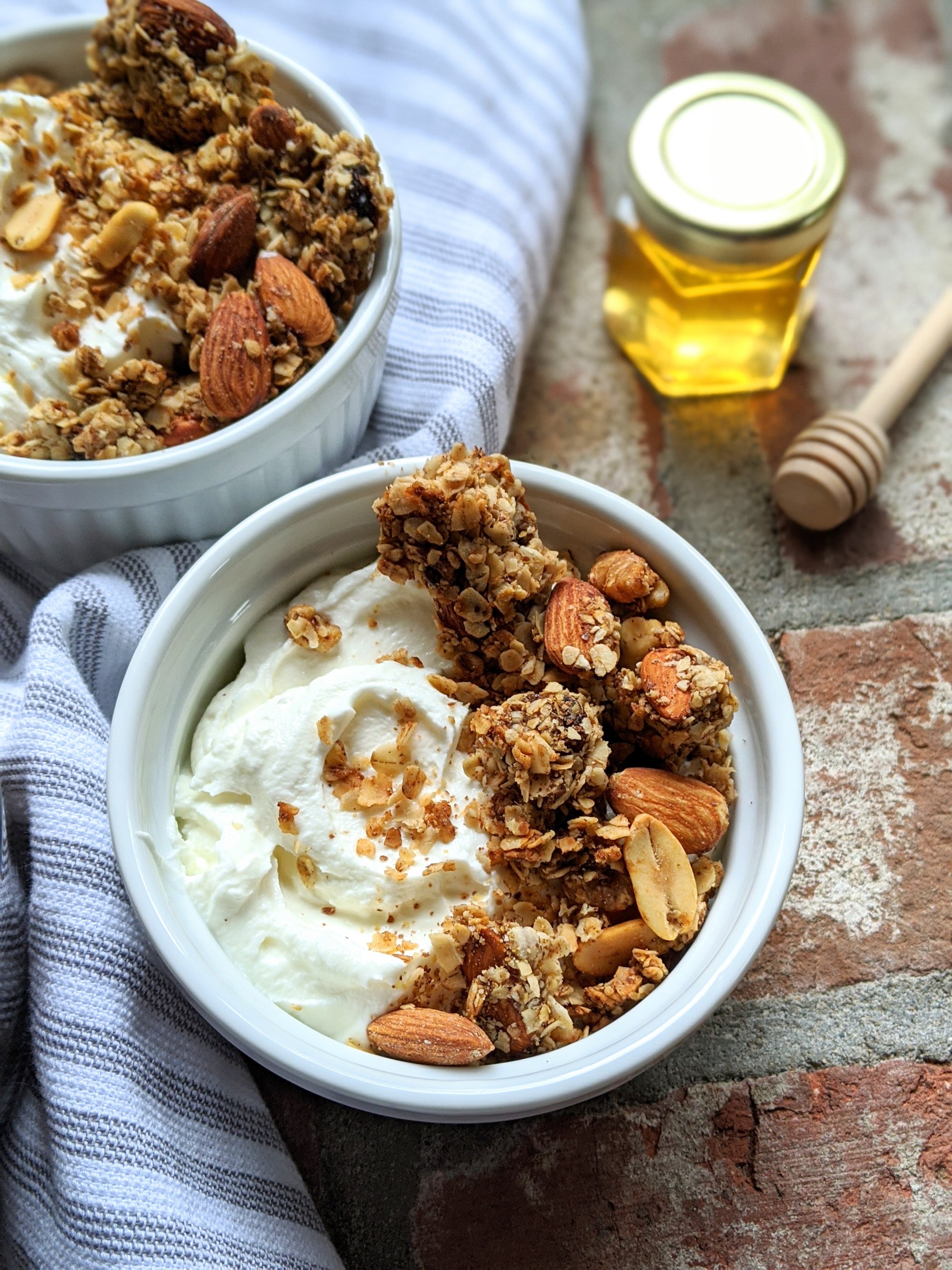 As a beekeeper, I know honey! This raw honey granola recipe is simple, healthy, and satisfying on top of yogurt, ice cream, or a smoothie bowl.  A great addition to breakfast or dessert. 
Prep: 5min
Total: 30min
Yield: 12
Servings: 1 serving
Nutrition Facts : calories 389 kcal, Carbohydrate 38 g, Protein 8 g, Fat 25 g, Saturated Fat 10 g, Sodium 103 mg, Fiber 6 g, Sugar 13 g, unSaturated Fat 13 g, servingSize 1 serving
Ingredients:
4 cups old fashioned oats
1/2 cup raw honey
1/2 cup coconut oil
1/4 cup flaxseeds
1 teaspoon cinnamon
1 teaspoon vanilla extract
1/2 teaspoon Himalayan sea salt
1/2 cup dried fruit
2 cups nuts (I used almonds, walnuts, and peanuts)
Instruction:
Preheat the oven to 350 degrees Fahrenheit, and line a baking sheet with parchment paper.
In a large mixing bowl, add all ingredients and stir well with a spatula to combine.
Spread granola mixture onto baking sheet, pressing down with your spatula.  Granola should be spread in an even layer.
Bake for 25 minutes, stirring the granola half way.
Remove from oven and allow to cool.  Enjoy with yogurt, ice cream, or on top of a smoothie bowl!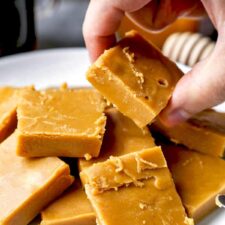 A creamy, floral, and perfectly sweet peanut butter and honey fudge recipe you entire family will love.
Prep: 5min
Total: 8min
Yield: 8
Servings: 1 square
Nutrition Facts : servingSize 1 square, calories 324 calories, Sugar 33.2g, Sodium 120.7mg, Fat 17.1g, Saturated Fat 2.7g, unSaturated Fat 3.3g, Trans Fat 0g, Carbohydrate 31.6g, Fiber 7.2g, Protein 0g, Cholesterol 0mg
Ingredients:
1 cup granulated sugar
1/4 cup non dairy milk such as hemp milk or unflavored coconut milk
1 cup natural creamy peanut butter
3 tablespoons raw organic honey
1 1/2 teaspoon vanilla extract
Instruction:
Brush an 8X8 baking pan with a little olive oil.
Put sugar and milk in a small pot and bring to a boil. Boil for 3 minutes, stirring often and turn the heat off.
Slowly add peanut butter and honey and stir well. Add vanilla extract and stir until the ingredient are mixed.
Pour mixture into the baking pan and refrigerate for at least 6 hours – if you can, refrigerate overnight for a harder texture.
Prep:
Total:
Yield:
Servings:
Nutrition Facts :
Prep:
Total:
Yield:
Servings:
Nutrition Facts :
Prep:
Total:
Yield:
Servings:
Nutrition Facts :