This tasty Salvadoran dish is often paired with a traditional cabbage salad called Encurtido Salvadoreño.
Prep: 10min
Total: 55min
Yield: 12 servings
Servings: 2 pupusas
Nutrition Facts : servingSize 2 pupusas, calories 290 calories, Fat 7 grams, Saturated Fat 3 grams, Cholesterol 33 milligrams, Sodium 223 milligrams, Fiber 5 grams, Protein 14 grams, Carbohydrate 38 grams
Ingredients:
1 lb ground chicken breast
1 Tbsp vegetable oil
1/2 small onion, finely diced
1 clove garlic, minced
1 medium green pepper, seeded and minced
1 small tomato, finely chopped
1/2 tsp salt
5 cups instant corn flour (masa harina)
6 cups water
1/2 lb low-fat mozzarella cheese, grated
1 medium head cabbage, chopped
2 small carrots, grated
1 small onion, sliced
1/2 tsp dried red pepper flakes (optional)
1/2 tsp oregano
1 tsp olive oil
1 tsp salt
1 tsp brown sugar
1/4 cup vinegar
1/2 cup water
Instruction:
Heat oil in a large nonstick pan. Add chicken, and sauté until chicken turns white. Constantly stir the chicken to make sure it is evenly cooked.
Add onion, garlic, green pepper, tomato, and salt, and mix well. Cook over medium heat until the mixture is cooked through (to a minimum internal temperature of 165 °F). Remove the pan from the stove. Put the mixture in a bowl and cool in the refrigerator.
While the chicken mixture is cooling, place the corn flour in a large mixing bowl and gradually stir in enough water to make a stiff tortilla-like dough.
When the chicken mixture has cooled, mix in the cheese.
Divide the dough into 24 portions. With your hands, roll the dough into balls. Press a hole in each ball with your thumb.
Put about a tablespoon of the chicken mixture into the hole formed in each ball. Fold the dough over to completely enclose it. Press the ball out with your palms to form a disk.
In a very hot iron skillet, cook the pupusas on each side until golden brown.
Serve hot with Encurtido Salvadoreño.
Blanch the chopped cabbage in boiling water for 1 minute. Discard the water.
Place the cabbage in a large bowl and add the grated carrots, sliced onion, red pepper flakes, oregano, olive oil, salt, brown sugar, vinegar, and water.
Refrigerate for at least 2 hours before serving.
Serve with Pupusas Revueltas or as a side for other dishes.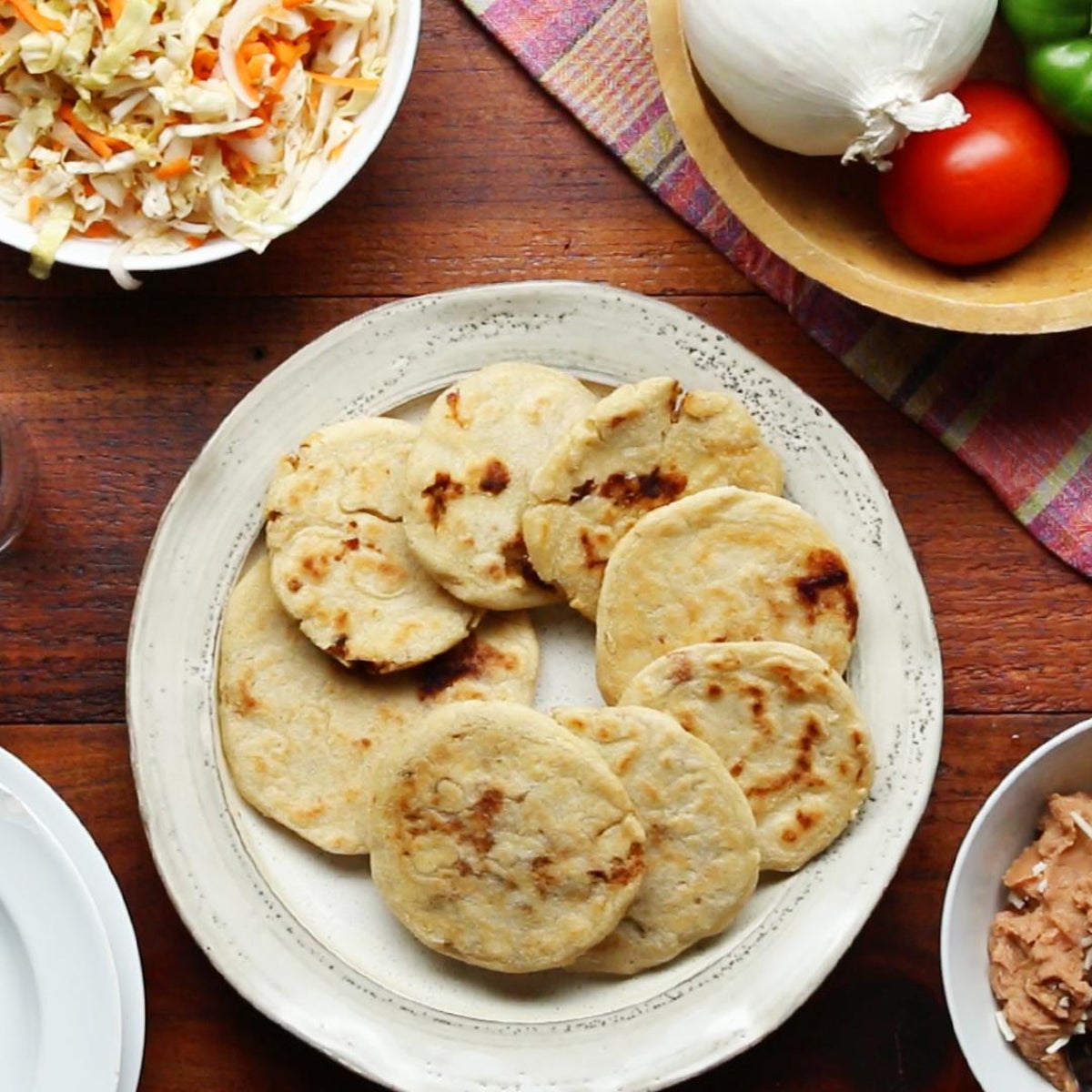 Here's what you need: green cabbage, small white onion, medium carrots, boiling water, distilled white vinegar, dried oregano, kosher salt, vegetable oil, boneless pork shoulder, salt, medium tomato, green bell pepper, small white onion, masa harina, salt, cold water, grated mozzarella cheese, refried bean, vegetable oil
Prep:
Total:
Yield: 18 pupusas
Servings:
Nutrition Facts : calories 201 calories, Carbohydrate 25 grams, Fat 7 grams, Fiber 3 grams, Protein 9 grams, Sugar 3 grams
Ingredients:
½ head green cabbage, cored and shredded
1 small white onion, sliced
2 medium carrots, grated
4 cups boiling water
1 cup distilled white vinegar
1 tablespoon dried oregano
2 teaspoons kosher salt
1 teaspoon vegetable oil
1 lb boneless pork shoulder, cut into 1-inch (2-cm) cubes
1 teaspoon salt
1 medium tomato, diced
½ green bell pepper, diced
1 small white onion, diced
4 cups masa harina
2 teaspoons salt
3 cups cold water
1 cup grated mozzarella cheese
1 cup refried bean, cooked
1 tablespoon vegetable oil, for frying
Instruction:
Make the curtido: In a large bowl, combine the cabbage, onion, and carrots. Pour the boiling water over the vegetables and toss. Let sit for 10 minutes, then drain.
In a liquid measuring cup or small bowl, combine the vinegar, oregano, and salt. Pour over the slaw and toss to coat. Once thoroughly mixed, transfer the curtido any any leftover liquid in the bowl to an airtight jar or container.
Chill for at least 20 minutes in the refrigerator, or chill overnight for best results.
Make the chicharrón: Heat the vegetable oil in a large pan over medium-high heat. Add the pork shoulder and salt. Cook for 15 minutes without disturbing. If the pork is browning too quickly, reduce the heat to medium. Turn the pork over and let cook on the other side for 10 minutes more, or until crispy and golden brown.
Transfer the pork to a food processor and add the tomato, green bell pepper, and onion. Pulse until a thick paste forms. The mixture should not be watery. Set aside.
Make the pupusa dough: In a large bowl, whisk together the masa harina and salt, then add the water. Use your hands to mix until the dough comes together with a clay-like texture.
Fill a small bowl with water and a bit of oil and set near your work station. You'll wet your fingers with the mixture as you work to keep the dough from sticking to your hands.
Take a golf ball-sized portion of dough and roll into a ball, then flatten into an even round.
Fill the dough round with ½ tablespoon chicharrón paste, 1 teaspoon refried beans, and 1 teaspoon mozzarella cheese. Fold the dough over the filling until it's completely sealed. Then, pat out the ball between your hands until flat. If the pupusa cracks, patch it with a bit of dough and a little oil. Repeat with the remaining ingredients.
Heat a large pan or griddle over medium heat. Brush with vegetable oil, then place 2-3 pupusas on the pan and cook for 2-4 minutes, or until the bottoms are golden brown. Flip and cook on the other side for 2-4 minutes more, until golden brown and warmed through. Repeat with the remaining pupusas.
Serve the pupusas with curtido.
Enjoy!
This is a fairly authentic version of the popular Salvadorean dish. It does take some time, however it is well worth the effort! You can purchase pre-made chicharron at specialty markets, however this recipe tastes just like it. I also make the salsa roja and curtido ahead of time (the salsa freezes very well, and the curtido can stay in the fridge at least a week).
Prep: 1
Total: 2h54min
Yield: 30 pupusas
Servings:
Nutrition Facts : calories 233.7 calories, Carbohydrate 33.8 g, Cholesterol 15 mg, Fat 7.7 g, Fiber 7.7 g, Protein 9.9 g, Saturated Fat 2.8 g, servingSize None, Sodium 676 mg, Sugar 5.9 g, Trans Fat None, unSaturated Fat None
Ingredients:
4 cups plain tomato sauce
1 cup water
4 bunches fresh cilantro, chopped
1 green bell pepper, seeded and chopped
1 onion, chopped
2 cloves garlic, crushed
1 cube chicken bouillon
salt to taste
½ head cabbage, shredded
1 large carrot, peeled and grated
½ cup white vinegar
3 scallions, minced
2 tablespoons dried oregano
1 pinch crushed red pepper flakes
1 (12 ounce) package bacon, or to taste
4 tomatoes, halved, or more to taste
1 green bell pepper, seeded and quartered
1 cup grated Monterey Jack cheese
2 cloves garlic, minced
salt to taste
4 cups masa harina, or more to taste
2 cups water, or as needed
½ cup vegetable oil for frying
Instruction:
Combine tomato sauce, water, cilantro, green bell pepper, onion, crushed garlic, bouillon cube, and salt in a saucepan over medium-low heat. Cook and stir until vegetables are soft, about 20 minutes. Let salsa roja cool for 10 minutes.
Fill a blender halfway with the salsa roja. Cover and hold lid down with a potholder; pulse a few times before leaving on to blend. Pour into a bowl. Repeat with remaining salsa roja. Return to saucepan and simmer for 10 minutes more stirring occasionally. Allow to cool completely, about 1 hour, and refrigerate.
Place cabbage and carrots in a large bowl. Add 4 cups boiling water and let stand for 5 minutes. Drain well. Mix in vinegar, scallions, oregano, and red pepper flakes. Chill curtido until serving.
Place bacon in a large skillet and cook over medium-high heat, turning occasionally, until almost fully cooked and not yet crispy, 5 to 7 minutes. Transfer bacon and grease (if desired) to a food processor. Add tomatoes, quartered green bell pepper, Monterey Jack cheese, and minced garlic. Puree and season the chicharron with salt.
Mix masa harina and 1/2 cup water together in a bowl by hand. Add the remaining water slowly, about 2 tablespoons at a time, mixing well after each addition, until dough is moist but still firm. Cover with a wet towel.
Heat 1/2 cup oil a large skillet over medium-high heat.
Take a golf ball-sized piece of dough and roll into a ball in your hands. Make a hole in the dough ball with your thumb; put a small amount of chicharron inside the hole, close it up, and flatten the ball with your hands into a thick tortilla shape. Place pupusa in the skillet and fry until golden brown, about 2 minutes per side. Repeat with the remaining dough and chicharron.
Serve each pupusa topped with 2 tablespoons of curtido and 1 tablespoon of salsa roja.
Prep:
Total:
Yield:
Servings:
Nutrition Facts :
Prep:
Total:
Yield:
Servings:
Nutrition Facts :