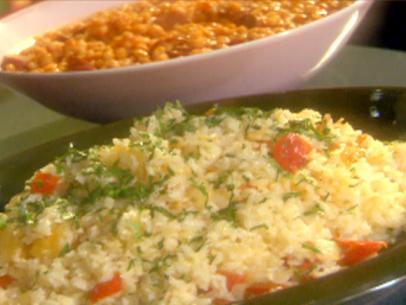 Prep: 0 5min0
Total: 0 40min0
Yield: 6 to 8 servings
Servings:
Nutrition Facts :
Ingredients:
1/4 cup olive oil
1 1/2 cups finely chopped onion
2 teaspoons minced garlic
1 1/2 teaspoons salt
1/8 to 1/4 teaspoon crushed red pepper flakes
1 bay leaf
1 1/2 cups chopped tomatoes
2 1/4 cups water
2 tablespoons chopped fresh parsley leaves
2 tablespoons chopped fresh cilantro leaves
1 1/2 cups long-grain white rice
Instruction:
In a 4-quart medium saucepan heat the oil over high heat until hot. Add the onion and cook, stirring, until softened, 4 minutes. Add the garlic, salt, red pepper, and bay leaf and cook, stirring, for 1 minute. Add the tomatoes and cook, stirring occasionally, until they begin to soften, about 2 minutes. Add the water, parsley and cilantro and bring to a boil. Add the rice and stir well. When the liquid returns to a boil, stir again, then cover the pot and reduce the heat to low. Cook the rice undisturbed for 20 minutes, or until the liquid is dissolved and the rice is tender.
Let rice stand for 5 minutes undisturbed before fluffing with a fork. Serve immediately.
The original recipe adapted from 'Food of Portugal' calls for seeding the tomatoes before cooking. But – we didn't seed the tomatoes, and the finished rice was still fantastic. However, if you prefer, you can seed your tomatoes.
Prep: 15min
Total: 1h5min
Yield: 4
Servings:
Nutrition Facts :
Ingredients:
2 tablespoons extra virgin olive oil
1 tablespoon bacon fat (use lard if you don't have bacon fat, but we don't recommend using vegetable shortening since it won't add much flavor to this dish)
1 cup diced onion
2 teaspoons minced garlic
2 cups fresh tomatoes cored and cut into large one inch chunks (save any juice from cutting)
1½ cups broth (we used vegetable, but chicken or beef will also work)
1 cup long-grain white rice
¼ teaspoon salt
¼ teaspoon freshly ground black pepper
Instruction:
In a medium pot with a tight-fitting lid, melt bacon fat in the oil over medium high.
Add onions and garlic and cook for 2 minutes.
Add tomatoes with their juice, cover and simmer for 30 minutes.
Add stock, bring to a boil and add rice, salt and pepper.
Cover and after it comes to a boil, lower to a gentle simmer and cook 20 minutes covered.
Remove from heat and fluff with fork before serving.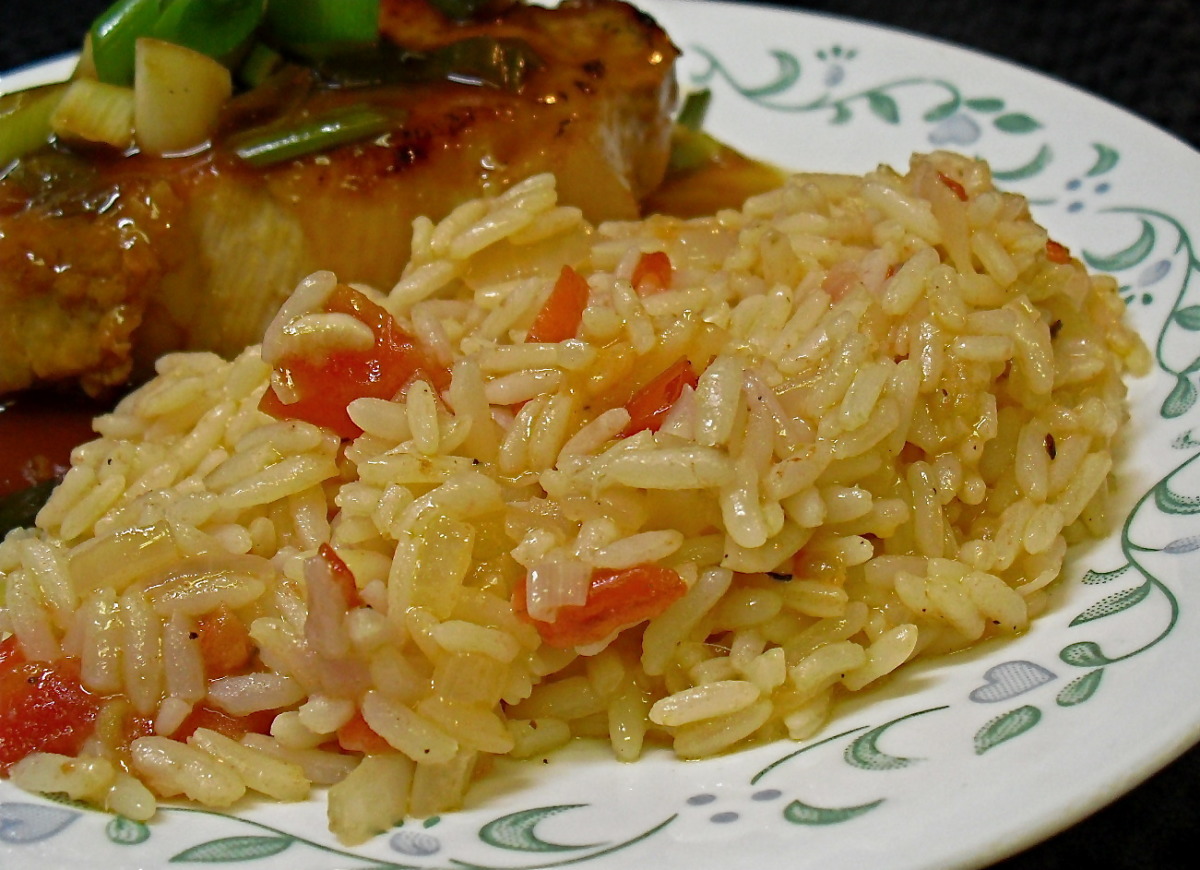 Found this recipe by Emeril on Food Network, posting for ZWT. To be made as an accompaninment to recipe#481914.
Prep: 10min
Total: 40min
Yield: 8-10 serving(s)
Servings:
Nutrition Facts : calories 326.2, Fat 7.3, Saturated Fat 0.6, Cholesterol 0, Sodium 154.7, Carbohydrate 58.3, Fiber 1.5, Sugar 1.5, Protein 5.4
Ingredients:
1/4 cup canola oil
1 yellow onion, finely chopped
3 garlic cloves, minced
3 cups long grain white rice, washed and drained
4 cups boiling water
1 bay leaf
2 medium tomatoes, chopped
1/2 teaspoon salt
Instruction:
In a 4-quart pot, heat the oil over medium-high heat. Add the onions and garlic and stir-fry until golden. Add the rice and cook, stirring constantly, until slightly toasted and fragrant, 2 to 3 minutes. Add the water, bay leaf, tomatoes and salt and bring to a boil. Cover and reduce the heat so that the rice just simmers. Cook undisturbed until tender, about 20 minutes. Remove from the heat and let stand covered without stirring for 10 minutes.
Fluff with a fork, discard the bay leaf, and serve.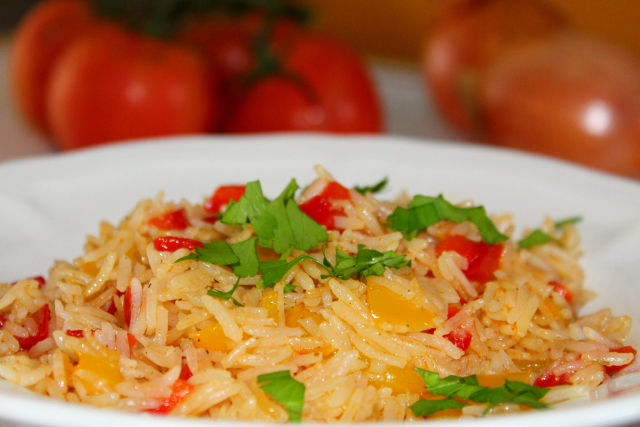 Prep:
Total:
Yield:
Servings:
Nutrition Facts :
Ingredients:
1 teaspoon salt
1 teaspoon oregano
1 teaspoon paprika
1 teaspoon cayenne pepper
1 teaspoon black pepper
1 teaspoon garlic powder
1 teaspoon cumin
2 tablespoon canola oil
1 cup rice
1 teaspooon piripiri seasoning plus 1 teaspoon piripiri seasoning
1 chicken stock cube
1/2 yellow bell pepper
1/2 red bell pepper
1 crushed garlic clove
Instruction:
Mix all the ingredients for the piripiri seasoning
Fry the rice in canola oil and one teaspoon piripiri seasoning until lightly toasted.
Add 2 cups hot water and a stock cube, bring to boil and reduce heat. Cook rice until it is light and fluffy.
While the rice is cooking sauté chopped bell peppers and garlic and some more piripiri seasoning depending on how hot you want it to be.
Add the cooked rice and sauté until well blended.
Today I will teach you how to make the signature Nando's Portuguese spicy rice. If you are a fan of this well-known food chain you will love this post.
Prep: 5min
Total: 15min
Yield: 2
Servings:
Nutrition Facts :
Ingredients:
1 cup rice
2 cups water
⅓ cup frozen peas
½ bell pepper diced
½ onion diced
1 garlic minced
1 tsp garlic powder
1 tsp paprika
½ tsp cayenne pepper
1 tsp turmeric
1 tbsp olive oil
Salt to taste
Instruction:
Heat the olive oil in a pan over medium heat. Toss the bell pepper, the onion, and the garlic.
Add the spices: cayenne pepper, turmeric, paprika, and garlic powder.
Add the rice, the water and salt to taste. Cover the pan with a lid and simmer for 10 minutes until the rice is almost done, then add the frozen peas and cook for a couple minutes until you get a fluffy spicy rice.