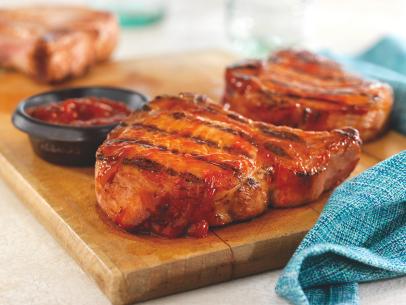 Prep: 0 10min0
Total: 0 40min0
Yield: 4
Servings:
Nutrition Facts :
Ingredients:
4 pork Ribeye (Rib) chops, 1-inch thick
Salt and pepper to taste
Olive oil for brushing grill grate
1 tsp. olive oil
½ yellow onion, chopped
¼ c. ketchup
1 tbsp. brown sugar
1 tbsp. Worcestershire sauce
1 tbsp. apple cider vinegar
¼ tsp. cayenne pepper
Instruction:
Preheat grill over medium-high heat and brush with olive oil. Season chops with salt and pepper on both sides. Place pork on grill for 8-9 min., turning once halfway through, until internal temperature is 145°F as measured by a meat thermometer. Remove pork from grill, tent with foil and rest for 3 min.
Spicy BBQ Sauce: Heat oil in pot over medium heat. Sauté onion until soft; add ketchup, brown sugar, Worcestershire sauce, vinegar and cayenne. Simmer for 15 min. until sauce thickens; turn off heat. Once cooled, puree sauce in blender. Serve chops with spoonful of sauce.
Pork ribeye roast is seasoned and roasted to a perfect 145 degrees F then smothered in a mushroom and sherry gravy for a Sunday supper that can't be beat!
Prep: 15min
Total: 45min
Yield:
Servings:
Nutrition Facts : calories 522.28, Fat 36.22, Saturated Fat 15.33, Carbohydrate 17.63, Fiber 1.45, Sugar 2.16, Protein 29.67, Sodium 672.25, Cholesterol 107.37
Ingredients:
2 lb. pork ribeye roast
1 1/2 tsp. kosher salt
1/2 tsp. fresh ground black pepper
1/2 tsp. dried thyme leaves
1/2 tsp. rubbed sage
1/2 tsp. dried rosemary
1 tsp. garlic powder or granulated garlic
2 tsp. olive oil
3 TBSP. unsalted butter (divided)
1/4 cup finely diced shallot 
8 oz. sliced button mushrooms
1/2 tsp. dried thyme leaves
3 TBSP. dry sherry
3 TBSP. all purpose flour
2 cups chicken stock
salt and pepper, to taste
Instruction:
Preheat oven to 425 degrees. Spray bottom of a small sheet pan. (I used a quarter sheet pan) with cooking spray. Set aside. 
In small bowl, combine seasonings for roast.  Coat roast on all sides with seasoning mixture. 
Heat a medium skillet over medium high heat. Add olive oil and brown roast on all sides (about 5 to 6 minutes). 
Remove roast to prepared sheet pan and roast in oven for 25 to 30 minutes, or until thermometer reads between 140 degrees and 145 degrees F. 
Remove roast from oven and tent with foil. Allow to rest for 10 minutes before slicing.
While roast is in oven, make the mushroom gravy. 
In same skillet you browned the roast in, on medium high heat, melt 2 TBSP. of the butter. 
Add in she shallots and stir. Cook for about 3 minutes or until shallots start to become translucent. 
Add in the mushrooms. Cook until mushrooms are soft and start to brown, about 6 minutes. 
Add in the sherry.  Cook for about a minute, then add in the remaining 1 TBSP. butter. Sprinkle in the flour. Stir and cook for 1 minute. 
Slowly, whisk in the chicken stock. Allow gravy to come to a boil and cook until thickened. Taste for salt and pepper, and add as needed. 
Serve mushroom gravy with pork roast.
Frank Stitt, the chef and owner of Bottega and Highlands Bar and Grill in Birmingham, Alabama, adores this versatile cut of pork. It can be sliced into chops and cooked individually or roasted whole and carved at the table.
Prep:
Total: 3h15min
Yield: 6
Servings:
Nutrition Facts :
Ingredients:
3 garlic cloves, minced
3 tablespoons extra-virgin olive oil
1 tablespoon chopped thyme
1 tablespoon chopped rosemary leaves
One 4-pound pork rib roast cut from the loin end, chine bone removed
Salt and freshly ground pepper
Instruction:
In a small bowl, blend the garlic with the olive oil, thyme and rosemary. Rub the herb paste all over the pork roast and let stand at room temperature for 2 hours or refrigerate overnight.
Preheat the oven to 500°. Set the pork in a small roasting pan and season with salt and pepper. Roast the pork for 15 minutes, then reduce the oven temperature to 325°. Continue roasting the pork for 40 minutes longer, or until an instant-read thermometer inserted in the thickest part of the meat registers 155°. Transfer the pork to a carving board and let stand for about 10 minutes. Cut between the ribs, transfer the chops to plates and serve.
Mustard-maple pork ribeye roast is a tender, oven-baked pork roast finished with a sweet and sour mustard-maple sauce poured over it. An easy dinner recipe!
Prep: 15min
Total: 90min
Yield: 8
Servings: 1 serving
Nutrition Facts : calories 267 kcal, Carbohydrate 3 g, Protein 22 g, Fat 17 g, Saturated Fat 5 g, Cholesterol 68 mg, Sodium 112 mg, Sugar 3 g, servingSize 1 serving
Ingredients:
3 tablespoons Dijon mustard (, divided)
2 pound pork ribeye roast
2 teaspoons extra-virgin olive oil
¼ cup apple cider vinegar
2 tablespoons maple syrup
½ teaspoon fresh thyme (chopped)
½ teaspoon fresh rosemary (chopped)
Kosher salt and freshly cracked black pepper (to taste)
Instruction:
Preheat oven to 425 degrees F.
Combine 1 tablespoon mustard, salt, and pepper in a small bowl; rub all over pork.
In a large ovenproof pan, heat oil over medium-high heat. When the oil is hot, add the pork roast to the pan. Brown on all sides, about 3 to 5 minutes. When the pork is brown, transfer the pan into the oven. Roast the pork roast is done and juices run clear, about 30 to 45 minutes, depending on the thickness of the meat.
When the pork is done, carefully remove the hot pan from the oven. Transfer the meat to a cutting board and let rest for 5 minutes.
Place the same skillet over medium-high heat (CAUTION, the handle will still be hot!), add the vinegar. Bring to a boil, scraping up any browned bits with a spatula or spoon, about 30 seconds.
Next, whisk in syrup and the remaining 2 tablespoons of Dijon mustard, thyme, and rosemary. Again bring to a boil, then reduce heat to a simmer and cook until the sauce is thickened; about 5 minutes.
Slice the pork roast into ½-inch chunks. Serve the pork topped with the sauce.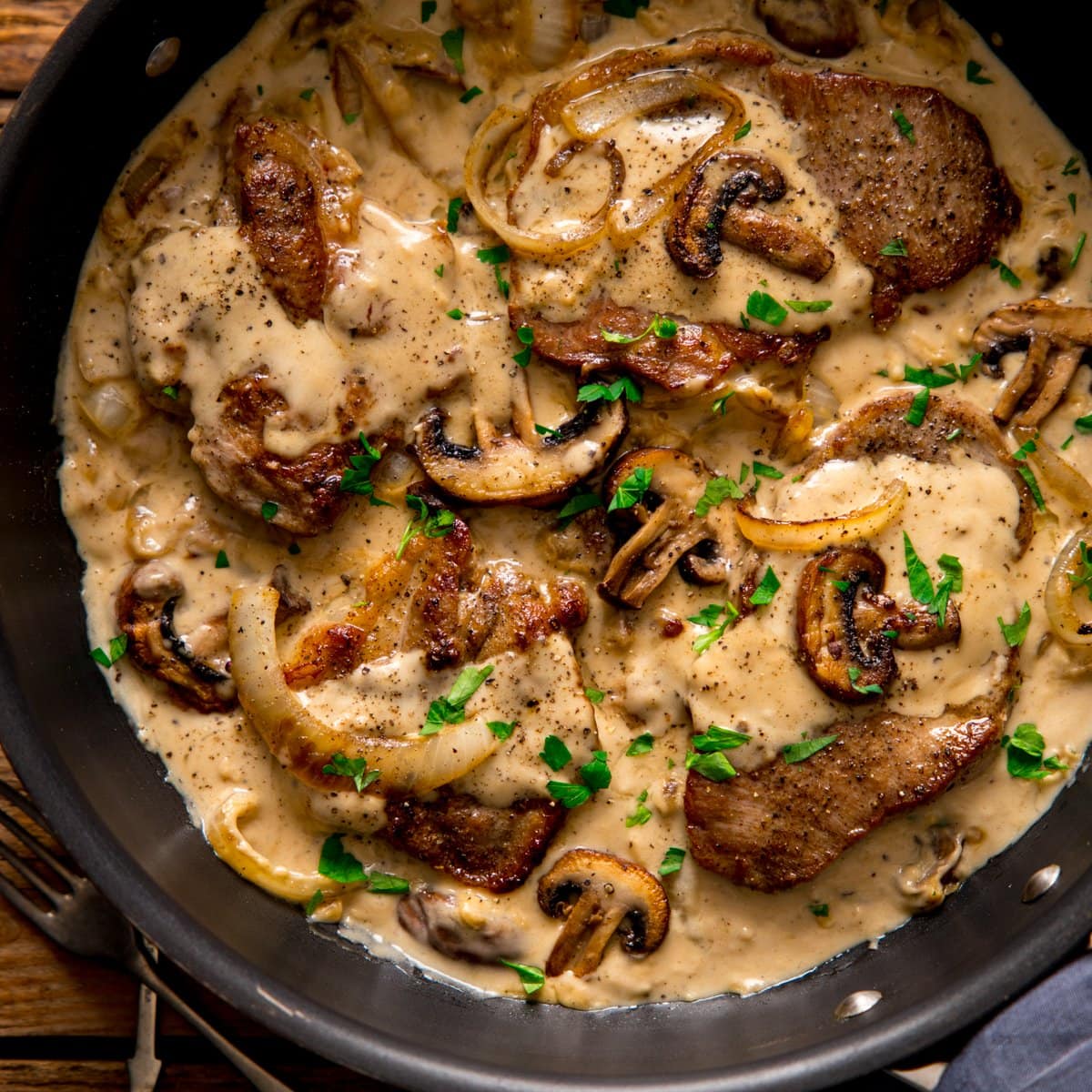 Juicy pork shoulder steaks in a creamy sauce with mushrooms and onions. A 25 minute one-pan meal – great for a weeknight dinner.
Prep: 5min
Total: 25min
Yield: 4
Servings: 1 serving
Nutrition Facts : calories 422 kcal, Carbohydrate 9 g, Protein 35 g, Fat 27 g, Saturated Fat 9 g, Trans Fat 1 g, Cholesterol 121 mg, Sodium 1090 mg, Fiber 1 g, Sugar 2 g, servingSize 1 serving
Ingredients:
3 tbsp olive oil
4 boneless pork shoulder steaks
1/2 tsp salt
1/2 tsp black pepper
1 onion (peeled and thinly sliced)
6 mushrooms (sliced (I like chestnut mushrooms, but use your favourite))
3 cloves garlic (minced)
2 tbsp plain (all-purpose) flour
360 ml (1 1/2 cups) chicken stock
1/2 tbsp tomato puree
1/2 tbsp white wine vinegar
60 ml (1/4 cup) double (heavy) cream
2 tbsp freshly chopped parsley
Instruction:
Heat 2 tbsp of the oil in a large frying pan over a medium-high heat.
Sprinkle both sides of the pork steaks with 1/4 tsp of the salt and 1/4 tsp of the pepper.
Place in the pan and fry for 6-7 minutes, turning once, until browned. Remove from the pan and place on a plate.
Add the remaining 1 tbsp of oil to the pan.
Add in the sliced onion, sliced mushrooms and the remaining 1/4 tsp each of salt and pepper.
Fry for 5 minutes, stirring often, until the onions have softened.
Add the 3 minced cloves of garlic. Fry for a further minute, whilst stirring.
Sprinkle the 2 tbsp of flour over the onions and mushrooms and stir together to coat.
Pour in the 360ml (1 1/2 cups) of stock whilst stirring.
Add in the 1/2 tbsp of tomato puree, 1/2 tbsp of white wine vinegar and the 60ml (1/4 cup) of cream and stir again.
Add the pork steaks back to the pan and simmer for 10 minutes to thicken the sauce and heat the pork steaks through.
Serve topped with a sprinkling of fresh parsley.