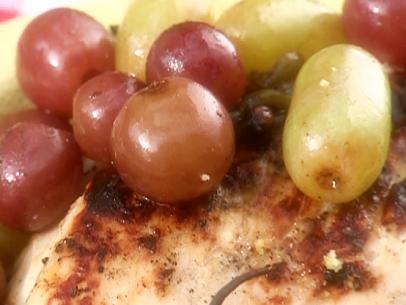 Prep: 0 25min0
Total: 0 1h35min0
Yield: 4 servings
Servings:
Nutrition Facts :
Ingredients:
1 1/2 cups distilled white vinegar
1 cup sugar
1/2 cup firmly packed light brown sugar
2 teaspoons ground coriander
1 teaspoon ground cinnamon
10 whole cloves
1/4 cup crystallized ginger
2 medium jalapenos, diced
1 bunch green or red seedless grapes, plucked from stems
Instruction:
Mix the vinegar, sugars, coriander, cinnamon and cloves together in a saucepan. Boil over medium heat for 2 to 3 minutes. Remove the saucepan from the heat and stir in the ginger and jalapenos. Add the grapes and allow to sit at least 1 hour or preferably, overnight. Use the grapes in your next chicken or fruit salad.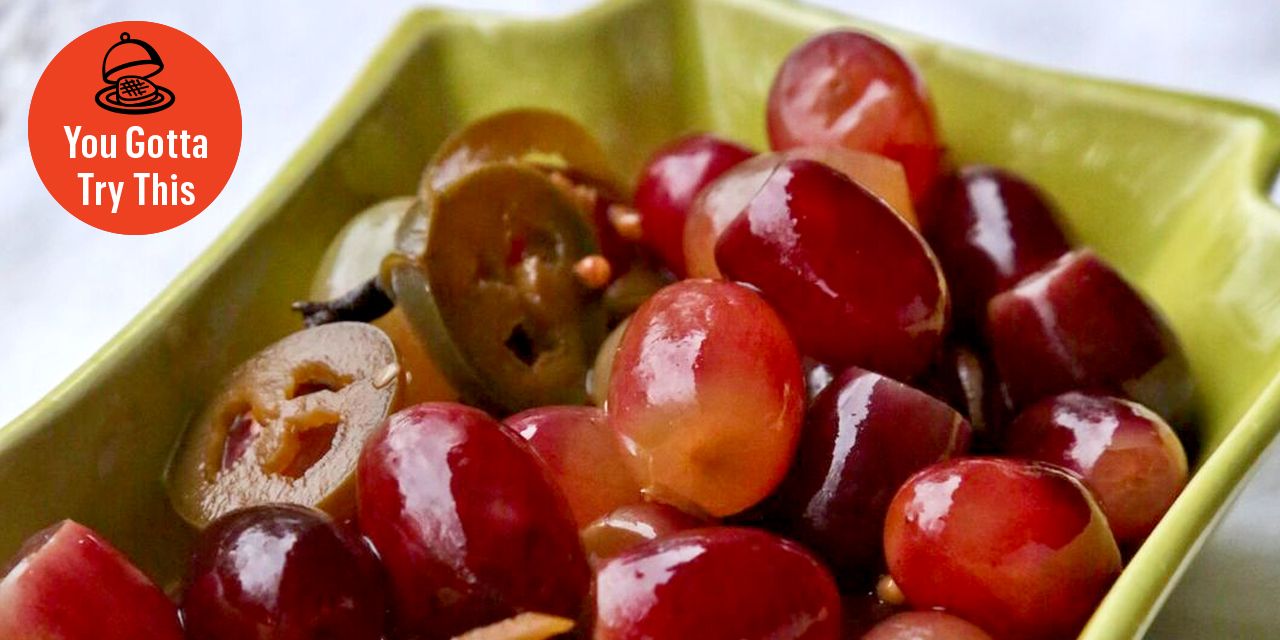 The unexpected combo of sweet and savory with pickled grapes might just become an all-star side for your next BBQ—or your favorite end of summer snack. Here's how Chef John Currence makes them.
Prep: 15min
Total: 30min
Yield: 2 quarts
Servings:
Nutrition Facts :
Ingredients:
6 c. red and green seedless grapes
2 1/2 c. apple cider vinegar
3/4 c. granulated sugar
1/4 c. light brown sugar
3/4 c. white wine
2 tbsp. coriander seeds, crushed
2 tbsp. mustard seeds, toasted
1 tbsp. ground cinnamon
7 cloves
1 tsp. salt
2 tbsp. fresh ginger, peeled and sliced
2 jalapeño peppers, diced
Instruction:
Remove the stems from the grapes and barely slice off the top of each grape with a sharp paring knife.
Combine the granulated and brown sugars, vinegar, wine, coriander and mustard seeds, cinnamon, cloves, salt, ginger, and jalapeños in a large nonreactive sauce-pan and bring to a boil over medium heat.
Decrease the heat to maintain a simmer for 5 minutes and then remove from the heat.
Place the grapes in pint- or quart-size jars, and pour the liquid over them to cover the grapes completely. Fill to just below the necks of the jars.
Let cool to room temperature and screw on the lids.
Refrigerate.
Prep:
Total:
Yield:
Servings:
Nutrition Facts : servingsize 1 serving, calories 293 kcal
Ingredients:
1/2 cup Champagne vinegar
1/2 cup apple cider vinegar
1/2 cup water
1/4 cup sugar
1 tablespoon salt
2 cinnamon sticks
2 cups green grape halves
Instruction:
Add vinegars, sugar, salt, water, and cinnamon sticks to a small sauce pan.  Cook over medium heat until sugar is dissolved.
Put grapes to a pint jar.  
Pour pickling liquid over grapes in jar.
Cool to room temp and put lid on. Stored in the fridge, these grapes will last about a month.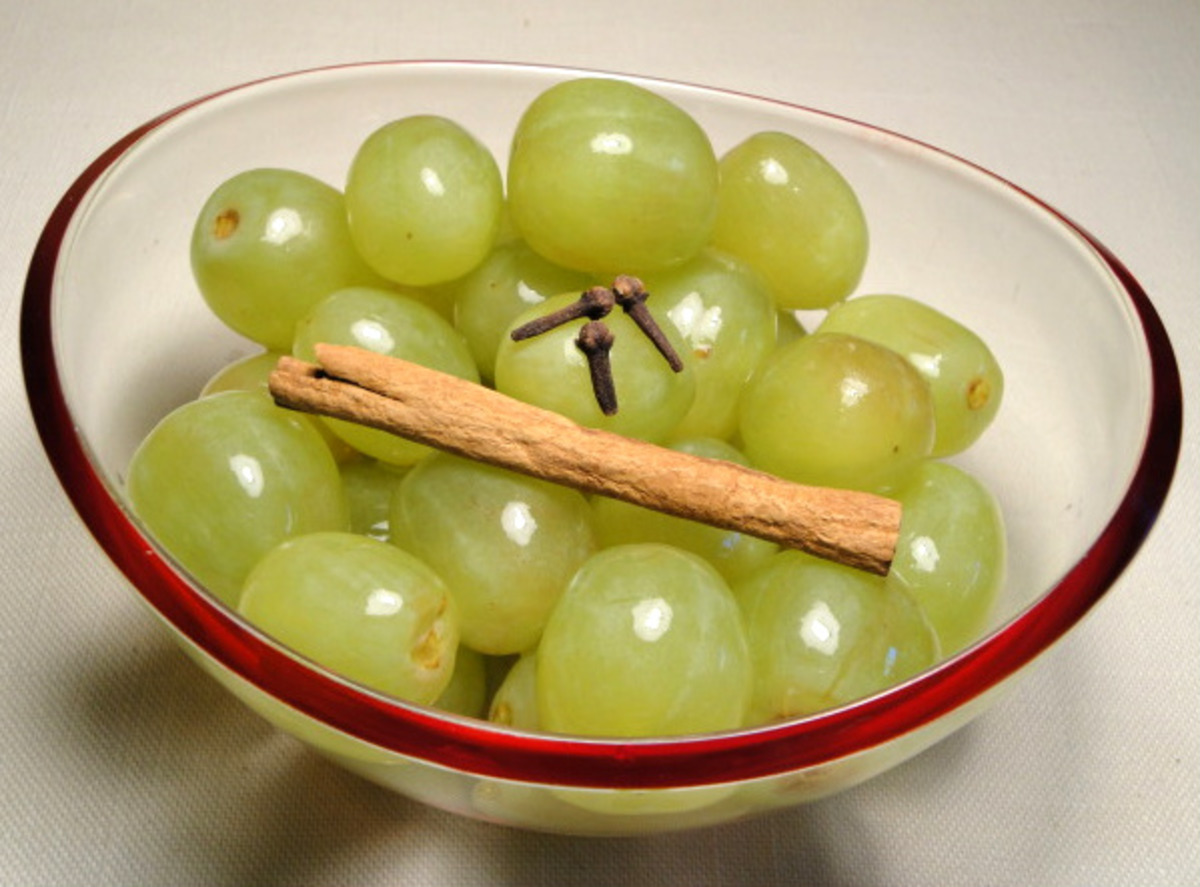 Wow! What can I say? Some of us love them, and others aren't so sure! Personally, I love them – in fact, I find them very hard to resist. They make a refreshingly different accompaniment to cheese or cold meat. By the way, I have used fructose in place of the sugar, with no noticeable difference in the end result. And most recently, I used a vanilla pod instead of the cinnamon stick, squeezing the seeds into the liquid before adding it to the grapes. The original recipe came from David Scott's "Middle Eastern Vegetarian Cookery", but I have doubled the quantity of spices because I like it that way – please half the cinnamon and cloves if you think you would prefer a milder version. Posted in the hope of joining the North African and Middle Eastern Zaar Tag game 🙂
Prep: 15min
Total: 48h15min
Yield: 8 serving(s)
Servings:
Nutrition Facts : calories 50.1, Fat 0.1, Saturated Fat 0, Cholesterol 0, Sodium 1.5, Carbohydrate 13, Fiber 0.5, Sugar 11.3, Protein 0.5
Ingredients:
1 lb seedless grapes (450g)
4 fluid ounces wine vinegar (100ml)
4 fluid ounces water (100 ml)
1 large oranges, juice of (100ml) or 4 fluid ounces fresh orange juice (100ml)
1 cinnamon stick
4 cloves
1 tablespoon sugar (or fructose, if preferred)
Instruction:
Put the wine vinegar, water, orange juice, cinnamon, cloves and sugar into a sauce pan, bring to the boil then set aside to cool.
Wash the grapes, take them off their stalks and make sure you remove any remaining bits of stalk from the grapes.
When the vinegar mixture is cool, remove the cinnamon stick.
Take a clean jar (a pickling jar is ideal) and pack in the grapes.
Pour the vinegar mixture into the jar to cover the grapes, then seal the jar tightly.
Leave the jar in a cool dark place for 2 days before eating – I keep mine in the fridge, because I am not sure how well they keep if not chilled. Eat within 2 weeks of making.
Prep:
Total:
Yield:
Servings:
Nutrition Facts :