A crunchy Greek cookie similar to Italian biscotti, this twice-baked treat is made with a flavorful combination of barley flour, sesame seeds, ouzo, and a hint of orange.
Prep:
Total:
Yield: Makes about 30
Servings:
Nutrition Facts :
Ingredients:
3 cups unbleached all-purpose flour
1/2 cup barley flour
2 teaspoons baking powder
1/2 teaspoon kosher salt
1/2 cup plus 2 tablespoons white sesame seeds, toasted
2 large eggs
1 1/2 cups plus 2 tablespoons sugar
1/2 cup grapeseed oil
1/3 cup ouzo
1 tablespoon grated orange zest, plus 1/4 cup fresh orange juice
1 tablespoon pure vanilla extract
1 tablespoon black sesame seeds, toasted
Instruction:
Preheat oven to 375 degrees. In a medium bowl, whisk together flours, baking powder, salt, and 1/2 cup white sesame seeds.
In the bowl of an electric mixer fitted with the paddle attachment, beat together eggs and 1 1/2 cups sugar on medium speed until pale. Beat in oil, ouzo, orange zest and juice, and vanilla. Reduce speed to low; gradually beat in flour mixture until well incorporated.
Divide dough in half; transfer one half to center of a parchment-lined baking sheet. Repeat with remaining half and another parchment-lined baking sheet; shape into 12-by-6-inch logs. Mix together black sesame seeds and remaining 2 tablespoons white sesame seeds; distribute evenly over logs. Sprinkle evenly with remaining 2 tablespoons sugar. Bake until lightly golden and firm to the touch, 25 to 30 minutes. Transfer sheets to wire racks; let cool 30 minutes. Reduce oven temperature to 300 degrees.
Transfer logs, one at a time, to a cutting board. Using a serrated knife, cut on the diagonal into 1/4-inch-thick slices. Arrange slices, cut-side down, on fresh parchment-lined baking sheets. Bake, rotating sheets and flipping cookies halfway through, until dry and lightly golden, 35 to 40 minutes. Transfer sheets to wire racks; let cool completely. Cookies can be stored in an airtight container at room temperature up to 2 weeks.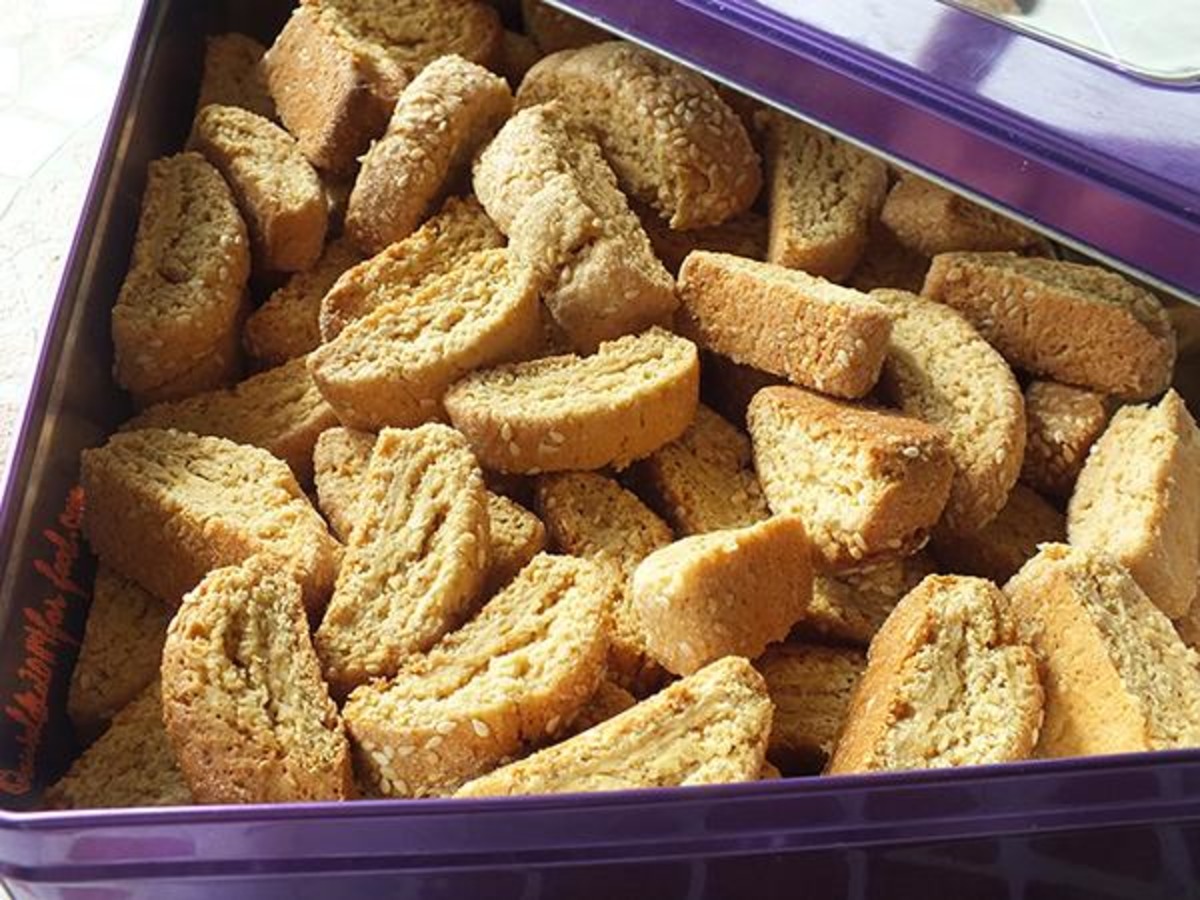 This recipe has been posted for play in ZWT9 – Greece. This recipe is from website: greekfood.about.com
Greece is known for its olive oil and for fabulous sweets and the tradition of sweets made with olive oil is centuries old.
These fabulous twice-baked cookies do not need to be dunked in coffee, tea, or milk but they are perfect for it.
Prep: 30min
Total: 2h15min
Yield: 2 dozen
Servings:
Nutrition Facts : calories 1657.7, Fat 78.7, Saturated Fat 10.9, Cholesterol 0, Sodium 484.9, Carbohydrate 213, Fiber 8.8, Sugar 39.1, Protein 26.3
Ingredients:
1/4 cup sesame seeds, toasted
1/3 cup fresh orange juice, strained
2 tablespoons fresh orange juice, strained
1/2 cup olive oil
2 tablespoons olive oil
1 1/2 tablespoons lemon juice, freshly squeezed
1 1/2 tablespoons lemon peel, grated
1/3 cup sugar
1/4 teaspoon ground cinnamon
1 3/4 teaspoons baking powder
1/4 teaspoon baking soda
1/4 cup lukewarm water
3 1/2-3 3/4 cups all-purpose flour
Instruction:
Tips:. You do not have to use the most expensive olive oil, just use a good one.
To toast sesame seeds, place in a single layer on a non-stick cookie sheet or baking pan and roast for about 10 minutes at 400°F To grind the toasted sesame seeds, use a small mixer/chopper, a coffee bean grinder, or a mortar and pestle.
Make sure to cool the biscotti completely before storing. The biscotti may be stored in airtight plastic containers (not refrigerated) for several months or frozen for longer because they contain no butter or eggs.
Biscotti Dough:.
Dissolve the baking soda in the orange juice.
In a mixing bowl, combine the olive oil, cinnamon, orange and lemon juice with baking soda, grated peel, water, and sesame seeds. Beat at medium high for 5 minutes until thoroughly combined and the oil and juices are not separating. (If mixing by hand, use a whisk and beat until thoroughly blended.).
In a separate bowl, whisk together 3 cups of the flour with the sugar and baking powder.
Add the dry mixture to the liquid slowly, using dough hooks or a wooden spoon.
Knead with hands in the bowl until the dough holds together then turn out on a floured surface. Knead well for 10 minutes, adding more flour as needed, until the dough is smooth and soft. (The dough will be softer and oilier than other cookie doughs.).
Divide the dough into 2 or 3 parts to make 2 or 3 small loaves. .
Preheat oven to 390°F (200°C).
For each loaf:.
Knead the dough until dense (holding together tightly), forming it into a loaf shape.
Pinch the seam together, and form it into a loaf that is approximately 14 inches long and 1/2 to 3/4 inch high. Place the seam side down.
Using a floured knife (not serrated), slice the loaf almost all the way through into 1/2 to 3/4" slices.
Place the loaves on a lightly oiled (or non-stick) cookie sheet or baking pan and bake for 15 minutes at 390°F (200°C) 3 – 4 inches above the bottom of the oven.
When ready the bottom should be golden and the top should be just starting to brown.
Remove the loaves from the oven and cut all the way through the slices. Allow to cool completely.
Preheat the oven to 200°-210°F (around 100°C).
When thoroughly cooled, place all the slices upright in a very lightly oiled or non-stick baking sheet or roasting pan and bake at 200°-210°F (100°C) for 1 1/2 to 2 hours until dry.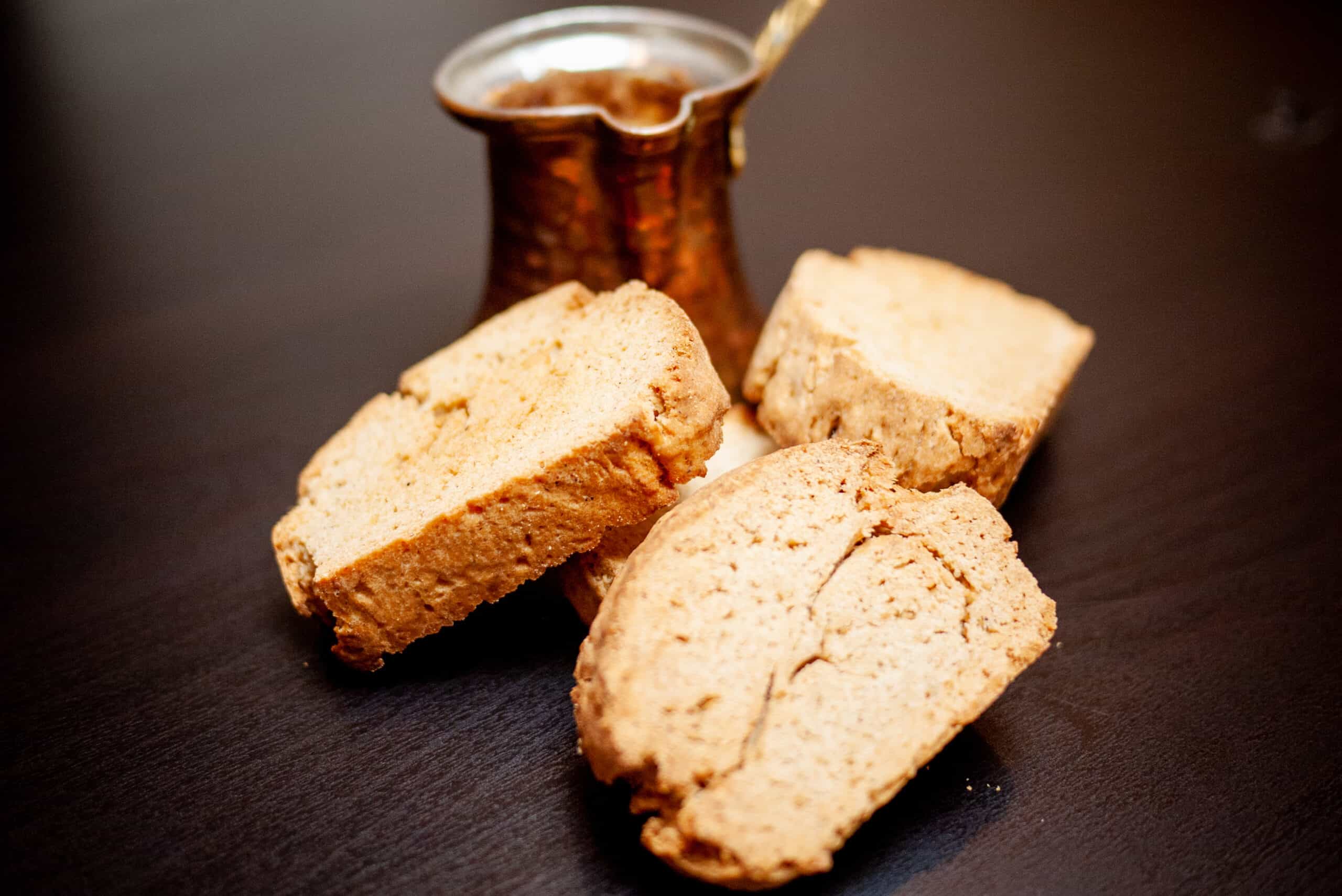 Bake these easy homemade sweet Greek Cinnamon Biscotti (Paximadia Kanelas) and fill your house with irresistible aromas. Perfect accompaniment to any cup…
Prep: 15min
Total: 1h
Yield: 6-8
Servings:
Nutrition Facts :
Ingredients:
600gms plain strong flour
110mls sunflower oil
250mls warm water
250gms sugar
2 eggs
2 tablespoons baking powder
1-2 teaspoons of cinnamon
2-3 cinnamon sticks
4 cloves
Instruction:
To prepare these delicious cinnamon biscotti start by pouring water into a pot along with the cinnamon sticks and cloves. Bring this to boil and leave it to simmer for a few minutes longer. Set the spice infused  water aside.
In a  bowl, beat the eggs with the sugar until a meringue like consistency is reached.
In another bowl, add flour, cinnamon and add slowly oil, water and the egg-sugar mixture.Stir the ingredients until a texture of dough is achieved.
Knead the dough until it turns non sticky. If you find the dough too dense and doesn't come together, add water in small increments.
Once you kneaded the dough, divide it roughly into equal 3-4 portions.  Shape each dough portion into a loaf and score or slice each one with a knife.  Scoring the dough prior to baking will render the biscotti easier to cut for the second round of baking.  I prefer to slice the dough loaves prior to the first round of baking rather than just scoring them. It is rather difficult to achieve nice biscotti or rusks by slicing  already baked loaves (non-sliced or scored). So, make sure you either slice or score each biscotti loaf in even (thickness) slices as this will allow them bake evenly.
Bake the cinnamon Paximadia at 180C or 356F for 40 minutes (first bake).
Once they are baked, set them aside to cool for a bit.
Bake them for the second time at 180C or 356F for approximately 15 mins on each side. Pay attention on this second round of baking not to overtabe the Biscotti.  Remove  the biscotti from the once they gain a light brown colour.
This recipe makes 30 cinnamon biscotti of average 30g weight each.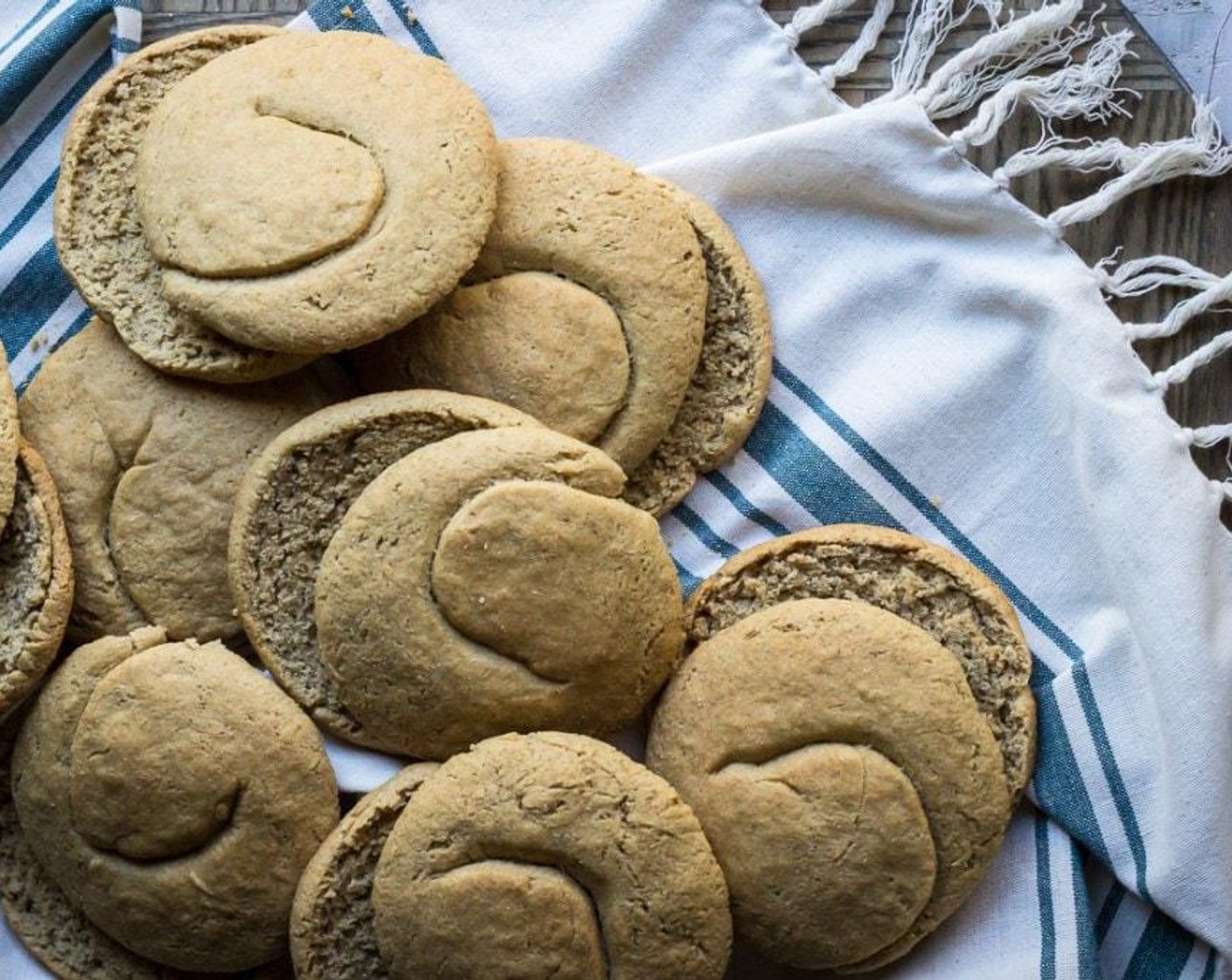 Served with cheese and olives or just simply topped with ripe tomatoes, olive oil, feta and oregano, cretan barley paximadia were more than just the foundation of the Greek diet, they represented a way of life that everyone of us should glean some inspiration from.
Prep:
Total: 24000sec
Yield: 12
Servings:
Nutrition Facts : calories 32 calories, Protein 0.8 g, Fat 0.9 g, Carbohydrate 5.5 g, Fiber 0.7 g, Sodium 22.9 mg, Saturated Fat 0.1 g, Trans Fat 0 g, Cholesterol 0 mg, Sugar 0.4 g, unSaturated Fat 0.7 g
Ingredients:
3 cup Einkorn Flour
2 tablespoon Active Dry Yeast
24 fluid ounce Water
4 fluid ounce Extra-Virgin Olive Oil
5 cup Barley Flour
1 1/2 teaspoon Fine Salt
3 tablespoon Honey
Instruction:
For the starter, in a large bowl whisk Einkorn Flour (3 cup) and Active Dry Yeast (2 tablespoon) together. Add Water (16 fluid ounce), whisk until smooth.
Cover and let rise until doubled (45 minutes to 1 hour). Add Extra-Virgin Olive Oil (4 fluid ounce) to starter, whisking to combine.
For the dough, in a separate bowl, whisk Barley Flour (5 cup) with Fine Salt (1 1/2 teaspoon). Add Honey (3 tablespoon) to Water (8 fluid ounce), stirring until combined. Make a well in the flour and add the honey water to the well.
Next, add the starter to the well. Slowly begin to stir the wet ingredients into the barley flour. Stir contents until they start to come together as a dough.
Knead the dough by hand in the bowl until contents are well combined. Remove dough from the bowl and knead on work surface until elastic for 3 to 5 minutes.
Return dough to the bowl, cover and let rise until doubled for 1 1/2 to 2 hours. Once the dough has doubled, remove from bowl and knead for a few minutes.
Divide dough evenly into 12 portions. Roll each portion into a cylinder about 7 inches long. Shape each cylinder into a gentle spiral and press evenly until about 4 inches in diameter.
Place paximadia onto baking sheets about 2 inches apart (6 per baking sheet). Score each paximadi around the edges with a lame or a sharp knife to facilitate easier slicing in half once baked. Cover paximadia and let rise for 1 hour.
Position oven racks to the center of the oven. Preheat the oven to 400 degrees F (200 degrees C).
Place baking sheets in the center of the oven and bake paximadia for 40 minutes, rotating the sheets halfway into the baking time (after 20 minutes). When done, remove from oven and let cool until you can handle them. Slice each paximadi in half with a serrated knife.
Lay halved paximadia out across baking sheets, cut side down (you will need 1 additional baking sheet). Return paximadia to oven and dry at 175 degrees F (80 degrees C) for 2 hours.
Remove from oven and let cool to room temperature.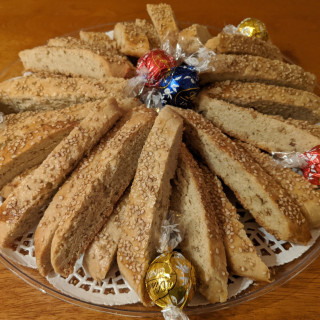 "Toasted biscuits "
Prep: 30min
Total: 30min
Yield: 1
Servings: 1 1 Serving (1516g)
Nutrition Facts : calories 5566 calories, Fat 301.946346916083 g, Carbohydrate 710.990933331884 g, Cholesterol 19.5999999900587 mg, Fiber 8.49523357854443 g, Protein 46.2507900171568 g, Saturated Fat 24.8672406840558 g, servingSize 1 1 Serving (1516g), Sodium 517.199666407817 mg, Sugar 702.495699753339 g, Trans Fat 16.834710680599 g
Ingredients:
4 1/2 Cups Flour Sifted
3 Eggs
1+ Cup Sugar
1 Cup Mazola oil Not more
1 1/2 Tsp Baking powder
1/2 Tsp Vanilla
1/2 Tsp Salt
1 Cup Walnuts chopped
Instruction:
"-Beat eggs and add sugar.
-Add all other ingredients.
-Knead like dough. Refrigerate for 2 hours.
-Shape into loaves. Egg wash and sprinkle with sesame.
-Bake 350 for approx. 20 minutes.
-Cut into pieces and toast back in oven 200-250 degrees.
-Could take more flour"