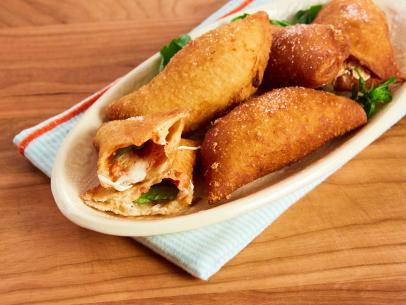 Prep:
Total: 0 25min0
Yield: 4 to 6 servings
Servings:
Nutrition Facts :
Ingredients:
Canola oil or vegetable oil for frying
1 tablespoon olive oil
One 12 1/2-ounce jar tomato puree, such as Mutti brand
1 ball fresh mozzarella (knotted or braided)
All-purpose flour, for rolling out the dough
1 pound pizza dough, at room temperature
1 bunch fresh basil
Kosher salt
Instruction:
Pour enough canola or vegetable oil into a large Dutch oven to come 4 to 5 inches up the sides. Clip a deep-fry thermometer to the edge of the pan. Place over medium-high heat and bring to 365 degrees F.
Meanwhile, place the olive oil in a small saucepan over medium heat. Once warm, add the tomato puree and cook until bubbling and most water has evaporated, about 5 minutes. Remove from heat and set aside.
Dice the mozzarella and place in a strainer to remove any excess liquid. Set aside.
Dust a work surface with flour. Roll the pizza dough out until it is 1/4 inch thick. Using a 4- to 5-inch biscuit cutter, cut out rounds. Spread 1 to 2 teaspoons cooled tomato puree on one half of a round. Top with a basil leaf and 1 tablespoon mozzarella. Fold the other half of the round over to enclose the filling and pinch the edges to seal. Continue until all dough is filled and sealed. (At this point you can freeze the panzerotti for up to a month.)
Drop 2 to 3 panzerotti into the preheated oil and fry until golden, flipping them frequently, 3 to 4 minutes. Drain them on a plate lined with paper towels. Continue until all the panzerotti are cooked. Sprinkle with salt. Eat them hot! 
Panzerotti are deep-fried pockets of dough filled with mozzarella and tomato sauce. These crisp golden pillows are best eaten whilst hot, but watch out for that first bite!
Prep:
Total:
Yield:
Servings:
Nutrition Facts :
Ingredients:
570 ml lukewarm water
500 g 00-type flour (or all purpose flour)
500g manitoba flour (or strong bread flour)
7 g (1 packet) active dry yeast
1 tbsp extra virgin olive oil
3 ½ tsp salt
2 tsp sugar
500 g mozzarella
200 g tomato purée
Dried…
Instruction:
Make the dough: In a large bowl
mix together the two flours. Dissolve the yeast in some of the warm water
followed by the sugar. Dissolve the salt in the rest of the warm water. Add the yeast and sugar mixture to the flour
and slowly add the salt water whilst using your hands to bring the dough together. Drizzle in the oil
and turn the dough out to a smooth surface and continue to work with your hands until it is soft and smooth.

Divide the dough into 20 pieces and then shape each piece into a ball. Place the dough balls on a lined baking tray

cover with plastic
and let them rise until they have doubled in size
about 2 hours.

Meanwhile

prepare the filling: chop the mozzarella into small cubes and in a medium bowl
stir in the tomato purée. Season with salt and stir in the oregano
to taste. When the dough has risen
heat the frying oil in a deep frying pan.

On a lightly oiled work surface

roll each dough ball into an 8 inch disc. Place a heaped tablespoon full of filling on one half of each disc. Carefully lift the dough from one side to fold over the other
forming a half moon shape and press down with your thumb to seal. Now
to create the classic panzerotti shape and also to ensure the panzerotti don't open up whilst frying: fold the edges over themselves
and use the tips of a fork to press them down.

Heat enough oil in a deep skillet. Working with just a couple of panzerotti at a time

place carefully into the boiling oil
turning over once to ensure they are cooked evenly
until golden on both sides
about 4-5 minutes. Use a slotted spoon to remove the panzerotti and transfer to paper towels to drain. Repeat with the remaining panzerotti and serve while hot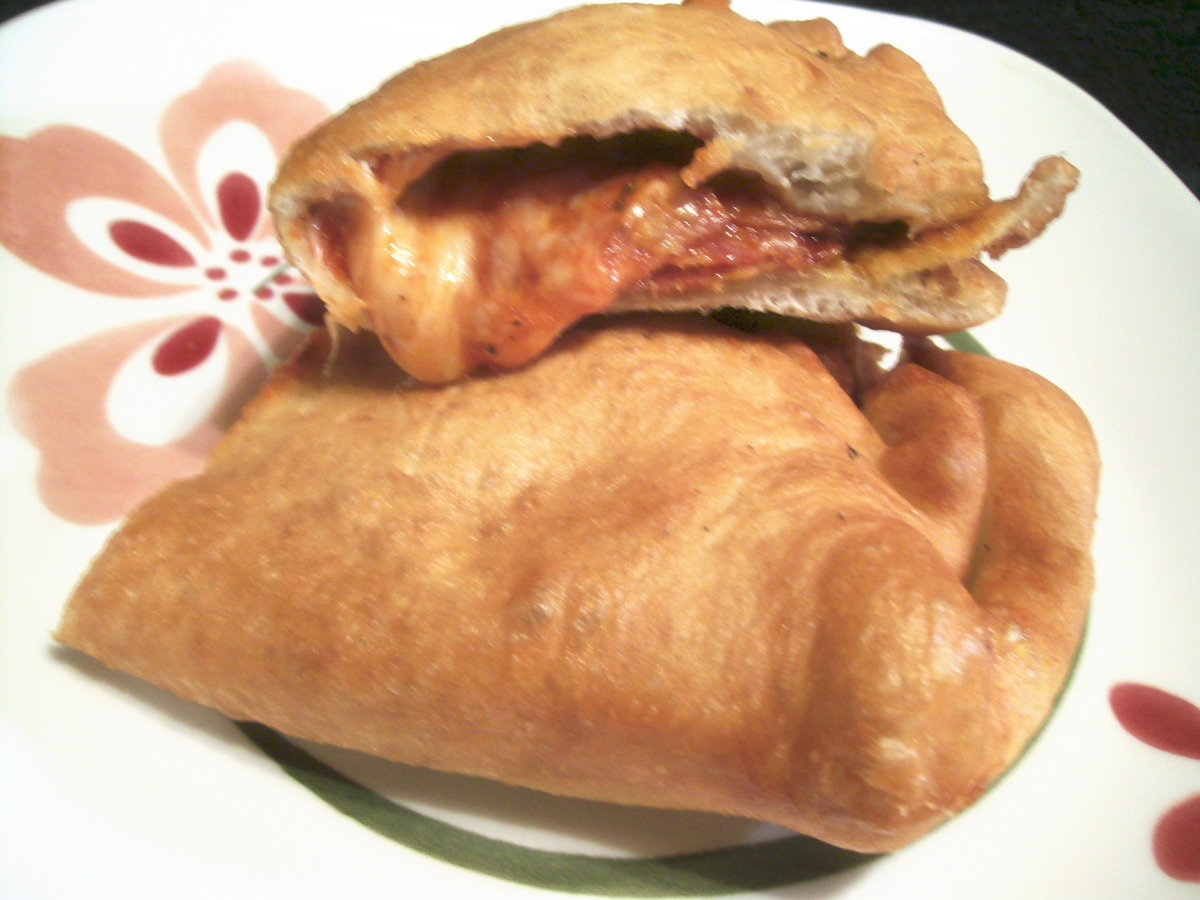 I love panzerotti's cooked this way and ever since the pizza place that used to make them closed down I have been trying to figure out how to do them justice.I think I have come pretty close.Prep time will depend on whether you make your own dough. I use a bread maker which takes two hours for the dough.
Prep: 1h
Total: 1h30min
Yield: 3 serving(s)
Servings:
Nutrition Facts : calories 204.4, Fat 12.8, Saturated Fat 7.4, Cholesterol 44.2, Sodium 1194.5, Carbohydrate 9.6, Fiber 1.9, Sugar 7.3, Protein 14.1
Ingredients:
1 lb pizza dough (store bought or homemade enough for large pizza)
1 (13 ounce) can tomato sauce
1/4 cup water
1/4 teaspoon garlic powder
1/4 teaspoon dried basil leaves
1/4 teaspoon dried oregano
1/4 teaspoon lemon juice
1/4 teaspoon salt
1 teaspoon sugar
pepperoni
1 1/2 cups mozzarella cheese
Instruction:
In sauce pan combine tomato sauce, water, lemon juice and spices bring to a boil then reduce heat and simmer for 30 minutes.
While the sauce is simmering divide your dough into three parts then roll out each one making sure not to roll them out to thin.
Allow the dough to rest.
When sauce is ready add desired amount to middle of the pizza dough making sure to leave room around edge for folding.
Top with cheese and pepperoni.
Fold over and seal edges.
Preheat oil in deep fryer or large pot to 375.
Add panzerotti to heated oil cooking for 5 minutes then turn over and cook for another five.
Remove from oil and place on paper towel.
Let cool for a couple minutes before serving (leftover sauce can be used for dipping sauce).
TRADITIONAL ITALIAN RECIPE: Panzerotti originated in central and southern Italy, especially in Apulia. They are small versions of the Calzone or closed Pizza, but produced with a softer Dough. The most common fillings are Tomato and Mozzarella, but Spinach, Mushrooms, Baby Corn, and Ham are often used, especially outside Italy.
Prep: 30min
Total: 3h
Yield: 20
Servings: 1 portion
Nutrition Facts : servingSize 1 portion, calories 300 cal, Fat 30 g
Ingredients:
2 cups Water
4 cups Flour
4 cups Manitoba Flour
4 teaspoons Salt
1 tablespoon Extra Virgin Olive Oil
2 teaspoons Sugar
2 teaspoons Dried Yeast
Instruction:
Combine in a bowl the two Flours.
Using some of the Water from the Ingredient List, dissolve Yeast and Sugar in a glass.
Dissolve now the Salt in the remaining Water.
Combine the Yeast-Sugar mixture with the Flours, and mix well.
Now, little by little, using your hands or an electric mixer set to medium speed, add in the Salted Water and mix.
Knead the Dough and at the same time add the Olive Oil to it. Keep Kneading till you'll end up having a nice soft and smooth Dough…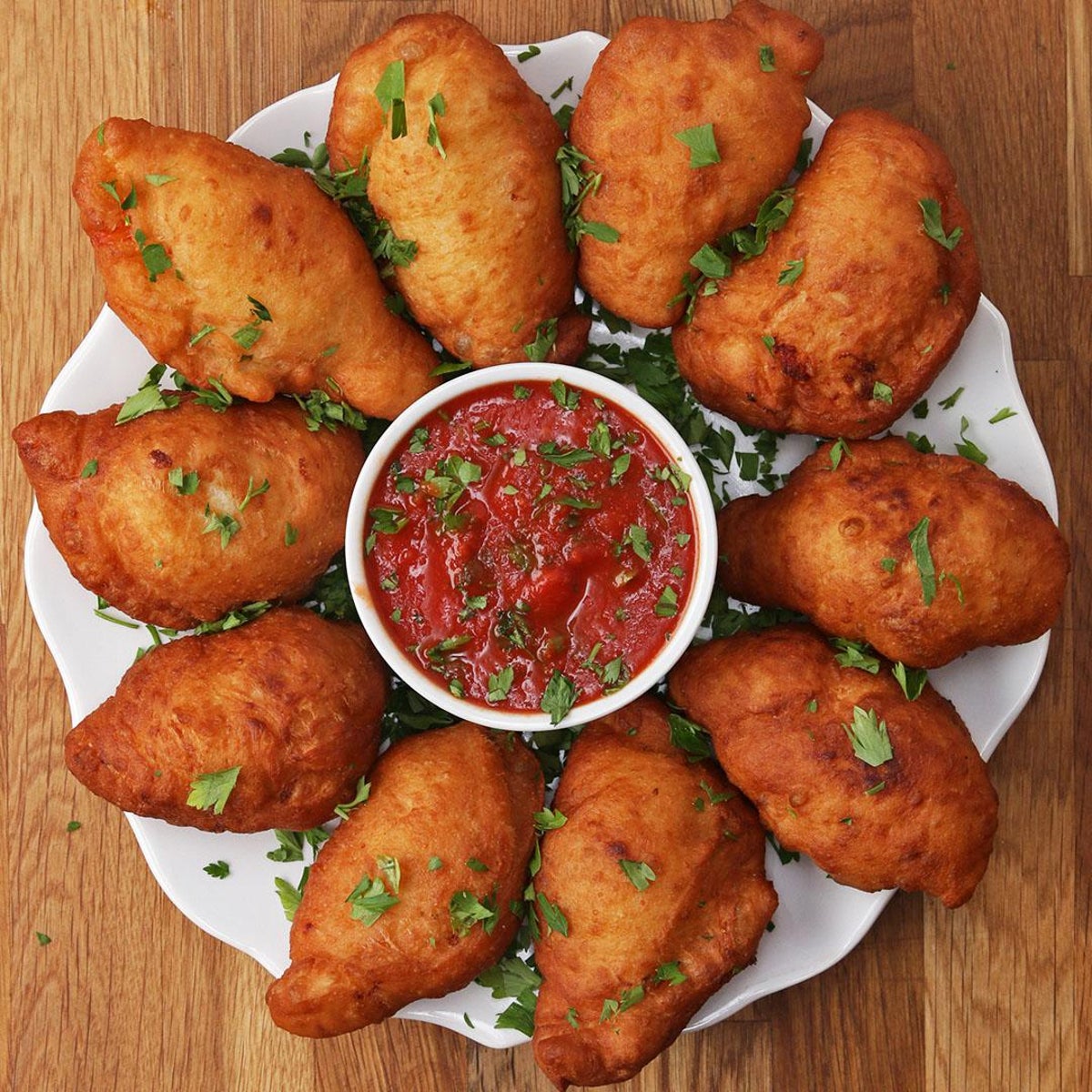 Here's what you need: warm water, active dry yeast, flour, grated parmesan cheese, baking powder, salt, sugar, olive oil, tomato sauce, shredded mozzarella cheese, fresh basil, salt, oil, fresh parsley
Prep:
Total:
Yield: 14 servings
Servings:
Nutrition Facts : calories 261 calories, Carbohydrate 27 grams, Fat 11 grams, Fiber 1 gram, Protein 11 grams, Sugar 2 grams
Ingredients:
1 ⅓ cups warm water
1 ½ teaspoons active dry yeast
3 ½ cups flour, divided
¼ cup grated parmesan cheese
1 teaspoon baking powder
1 teaspoon salt
2 teaspoons sugar
3 tablespoons olive oil, divided
2 cups tomato sauce, divided
3 cups shredded mozzarella cheese, divided
1 cup fresh basil, chopped, divided
salt, to taste
oil, for frying
2 tablespoons fresh parsley, chopped, to serve
Instruction:
In a liquid measuring cup, sprinkle the yeast over the warm water. Set aside for 5 minutes to bloom.
In a bowl, add 3 cups (375 g) of the flour, Parmesan, baking powder, salt, and sugar, and stir to combine.
Add 2 tablespoons of the olive oil and stir to combine. Pour the yeast water over the flour mixture and stir until the dough forms into a ball.
Use remaining flour for dusting the surface. Scrape the dough out of the bowl onto your floured surface. Knead the dough for about 10 minutes until the dough is tight and form the dough into a ball.
Pour 1 tablespoon olive oil in a bowl. Place the dough in the bowl.
Cover, let rise for 1 hour in a warm area, or until the dough has doubled in size.
Flour the surface. Flip bowl over surface and let the dough fall out of the bowl. Cut the dough into 2-inch (5-cm) pieces. Roll into balls.
Begin forming the dough into a circle about ½-inch (1-cm) thick and 5 inches (12-cm) wide, making sure the middle of the circle is not too thin. Repeat with the other balls of dough.
Spoon 1 tablespoon of tomato sauce on to the center of the dough.
Sprinkle 2 tablespoons mozzarella, then 1 tablespoon basil. Season with salt.
Fold the dough over the fillings and seal. Pinch the edge of the dough together and fold back. Repeat with the rest of the dough.
Heat 2 inches (5 cm) of oil until the temperature reaches 365˚F (185˚C).
Fry the calzones 2 at a time for about 3 minutes on each side. Remove from oil and drain on a paper towel-lined plate.
Place a bowl filled with the rest of the tomato sauce on the plate.
Sprinkle with parsley. Serve immediately.
Enjoy!