Pamela's Diner, with six outposts in and around Pittsburgh, is justly famous for its oversized pancakes. Light and buttery, thinner than regular pancakes but thicker than crêpes, people rave about their crisp edges and wonderful texture. Our version of these cakes, based on some "hints" Pamela's has dropped about their secret recipe, produces pancakes we feel are close to the original; but since we've never been to Pamela's Diner, we can't know for certain. Attention, Pamela's fans: try these pancakes, and let us know how they stack up — pun intended!
Prep: 15min
Total: 11h38min
Yield: 4
Servings: 1 pancake (107g)
Nutrition Facts : servingSize 1 pancake (107g), calories 200 calories, Carbohydrate 23g, Cholesterol 50mg, Fiber 1g, Protein 6g, Sodium 370mg, Sugar 6g, Fat 9g, Saturated Fat 2g, Trans Fat 0g
Ingredients:
1 cup (227g) milk lukewarm
2 tablespoons (25g) vegetable oil
3/4 cup (90g) King Arthur Unbleached All-Purpose Flour
3/8 teaspoon salt
1 teaspoon baking powder
1 tablespoon (14g) granulated sugar
1/2 teaspoon instant yeast
1 large egg beaten
In a medium-sized mixing bowl, whisk together everything except the egg, stirring until fairly smooth; a few small lumps can remain.
,
Tent the bowl lightly with plastic, and allow it to rest at room temperature for 3 hours; it'll start to bubble just a bit.
,
Refrigerate the batter overnight.
,
Just before cooking the pancakes, stir in the beaten egg.
,
Heat a 9″ or 10″ skillet over medium heat; or heat a 9″ or 10″ electric skillet to 300°F; or heat a griddle that's at least 9″ to 10″ wide, and easy to pick up and handle.
,
Place 1 teaspoon vegetable oil and 1 teaspoon butter into the skillet, swirling them around until the butter melts. Yes, use 1 teaspoon each; this is what will give the pancakes their signature crisp edges.
,
Pour a scant 1/2 cup batter into the pan, tilting the pan until the batter forms a circle about 9″ in diameter. It's important that you do this quickly, before the pancake has a chance to set; the thin edges that result from tilting the pan to distribute the batter become wonderfully crispy.
,
Cook the pancake for about 2 to 2 1/2 minutes, or until its underside is golden brown. Flip it over, and cook about 1 1/2 to 2 minutes more, until golden.
,
Transfer to a plate (or lightly greased baking sheet, if you want to keep the pancake warm in the oven while you cook the remainder). Repeat with the remaining batter.
,
Serve the pancakes with butter and syrup. Or spread sour cream (or whipped cream, or yogurt), layer strawberries down the center, and roll like a blintz.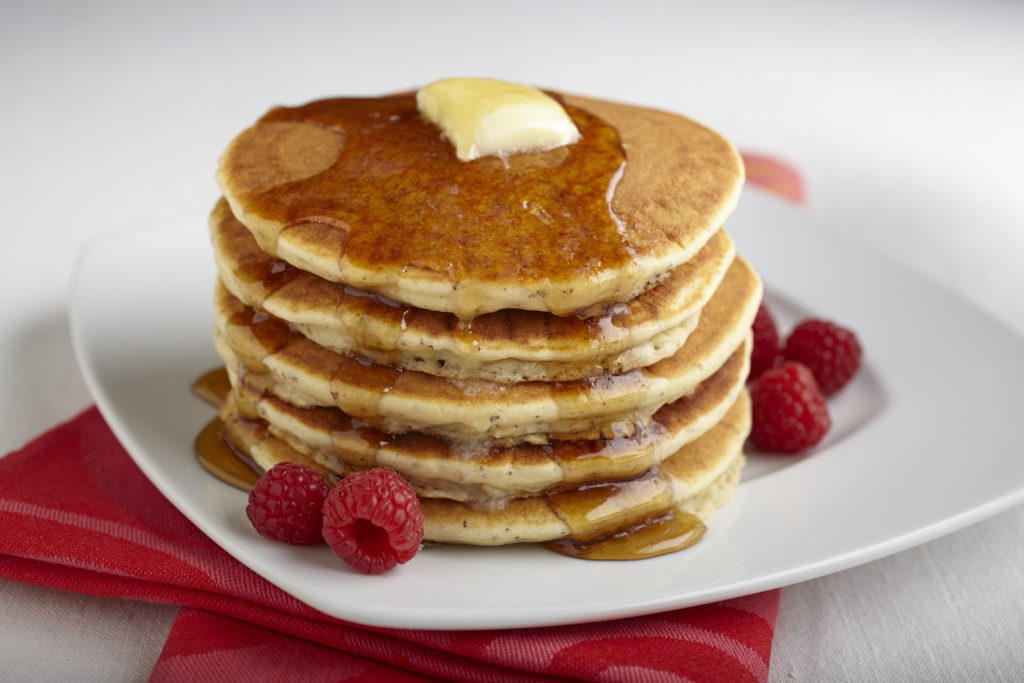 Gluten Free Pamelas Pancakes
Prep:
Total:
Yield:
Servings:
Nutrition Facts :
Ingredients:
2 cups Pamela's Baking & Pancake Mix
2 Eggs (or egg replacer)
1 1/2 cups Water (or almond milk)
2 Tbs Oil (or 1/2 cup applesauce)
Instruction:
Mix all ingredients together until there are no lumps. Batter should not be too thin or too thick.
Pour ¼ cup batter onto a preheated, lightly oiled griddle (medium low heat, or 350º for electric griddles).
Cook until bubbles start to form and edges start to look dull.
Flip once.
Serve immediately.
Extra pancakes can be cooked, cooled, and then wrapped in plastic and frozen. To reheat, remove plastic. Wrap pancakes in a paper towel and microwave until hot, approximately one minute.
Makes approximately 16 -4″ gluten-free pancakes.
Prep: 10min
Total: 25min
Yield: 4
Servings: 1 serving
Nutrition Facts : calories 462 kcal, Carbohydrate 60 g, Protein 12 g, Fat 20 g, Saturated Fat 11 g, Cholesterol 127 mg, Sodium 762 mg, Fiber 6 g, Sugar 17 g, servingSize 1 serving
Ingredients:
2 cups milk
2 tablespoons lemon juice
2 cups Pamela's Artisan Flour Blend
3 tablespoons sugar
2 teaspoons baking powder
1 teaspoon baking soda
1/2 teaspoon salt
2 eggs
3 1/2 tablespoons butter (melted)
2 teaspoons of vanilla
1 tablespoon butter (to grease the skillet)
Instruction:
Pour milk into measuring cup and add lemon juice. This will create "buttermilk" for you. Put it aside.
Pour flour, sugar, baking powder and baking soda into a large mixing bowl and whisk until blended.
Turn medium heat on to warm up your skillet.
Add milk to the dry mixture and whisk. Add egg, butter, and vanilla. Whisk until smooth.
Using a silicone spatula, slide a very small amount of butter around the skillet.
Pour 4″ pancakes into the skillet. Flip once you see bubbles forming throughout, approx. 4 minutes. Let them cook for another 3-4 minutes and serve immediately. Repeat steps 5 & 6 until all of the batter is used.
Top with maple syrup, jam or eat them plain. They are THAT good.
Prep:
Total:
Yield:
Servings:
Nutrition Facts :
Prep:
Total:
Yield:
Servings:
Nutrition Facts :