Okra and onions are fried with bacon, then simmered with tomato and corn in this delicious side dish that is especially good served alongside cornbread. This recipe is a longtime family favorite.
Prep:
Total:
Yield: 6 servings
Servings:
Nutrition Facts : calories 167.3 calories, Carbohydrate 27.8 g, Cholesterol 6.3 mg, Fat 5.3 g, Fiber 4.3 g, Protein 5.6 g, Saturated Fat 1.5 g, servingSize None, Sodium 189.3 mg, Sugar 7.1 g, Trans Fat None, unSaturated Fat None
Ingredients:
2 slices bacon, chopped
1 medium onion, chopped
1 (10 ounce) package frozen cut okra
1 (14.5 ounce) can diced tomatoes, drained
1 (20 ounce) package frozen corn
1 tablespoon file powder
salt and pepper to taste
Instruction:
Place bacon in a large skillet over medium-high heat. Cook and stir to release some of the juices, then add the onion and okra. Fry until tender and browned, stirring constantly. Be careful, as this tends to brown quickly.
Pour in the tomatoes, and simmer over medium heat for 20 minutes. Mix in the corn, and simmer for another 10 minutes. Season with file powder, salt and pepper, and serve.
Corn Tomatoes and Okra is an iconic Southern side dish. This fabulous side dish can be paired with anything such as Chicken, Pork, Beef, Fish,  and including long-grain rice. 
Prep: 15min
Total: 45min
Yield: 10
Servings: 1 serving
Nutrition Facts : calories 99 kcal, Carbohydrate 13 g, Protein 3 g, Fat 5 g, Saturated Fat 2 g, Cholesterol 4 mg, Sodium 127 mg, Fiber 3 g, Sugar 5 g, unSaturated Fat 3 g, servingSize 1 serving
Ingredients:
3 tablespoons Bacon drippings (or butter)
1 large Yellow onion (chopped or thinly sliced)
1 medium Green Pepper (chopped or diced)
1 stalk Green celery (diced or thinly sliced)
3 cloves Garlic (minced)
12- ounces Fresh okra (or organic frozen, sliced)
10- ounces Fresh corn (or organic frozen)
2- 14 ounce Cans of stewed tomatoes (organic, undrained)
¼ cup Chicken stock (or water)
2 teaspoons Cajun seasoning (or to taste)
Kosher salt (to taste)
4 dashes Louisana original hot sauce (optional, or to taste)
Instruction:
Add three tablespoons of the bacon drippings in the pan or unsalted butter. Saute the yellow onion, green bell pepper, green celery, and minced garlic in the bacon drippings or butter for about 3-4 minutes.
Add the organic sliced okra, organic corn, organic stewed tomatoes, chicken stock, Cajun seasoning, hot sauce, and kosher salt. 
Cover with a tight-fighting lid and simmer for about 25- 30 minutes until flavors are married.
Taste to see if it needs more seasoning. If so, add at this time.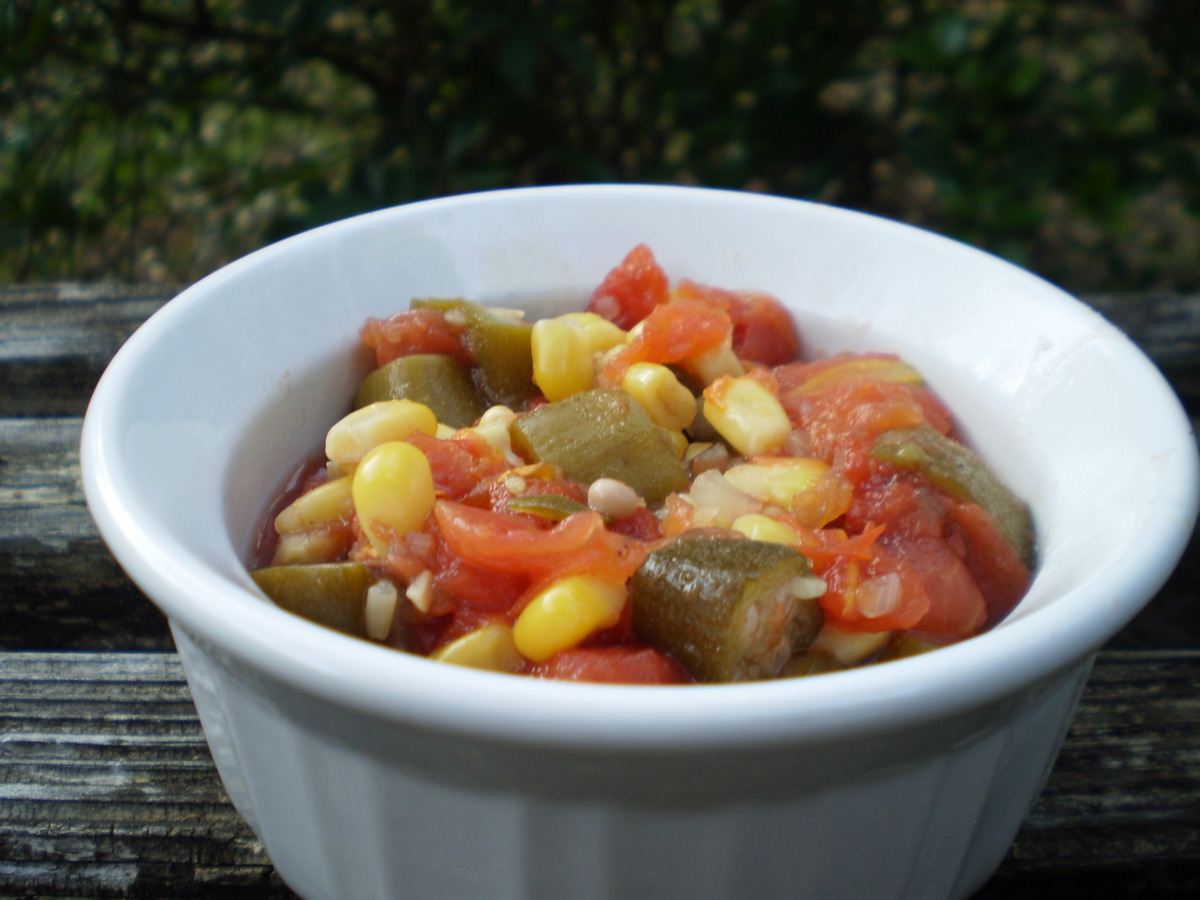 This was the "Recipe of the Day" in today's email from a local grocery store. I am posting it so I remember it when my okra and tomatoes are ready (I'll have to buy the corn!). I have to guess on the prep and cooking times since the recipe says it takes 45 minutes total to make, yet gives no definite times within the recipe.
Prep: 20min
Total: 45min
Yield: 4-6 serving(s)
Servings:
Nutrition Facts : calories 156.9, Fat 7.2, Saturated Fat 2.4, Cholesterol 7.6, Sodium 40.4, Carbohydrate 23.2, Fiber 5.1, Sugar 4.5, Protein 4.2
Ingredients:
1 tablespoon butter or 1 tablespoon margarine
1 tablespoon vegetable oil
12 ounces fresh okra, cut into thin rounds
2 ears corn, kernels cut off
2 tomatoes, chopped
salt
fresh ground pepper
Instruction:
Heat butter and oil in a medium-size saucepan.
Add okra; cook, stirring occasionally, until okra no longer forms "strings."
Stir in corn and tomatoes.
Simmer, covered, over low heat until vegetables are tender, stirring occasionally.
Season with salt and pepper.
Okra, corn and tomatoes stewed together, served over rice, and topped with bacon
Prep: 20min
Total:
Yield: 4
Servings:
Nutrition Facts :
Ingredients:
6 slices thick bacon
1 cup onion chopped
1 clove garlic, chopped (or more to taste)
2 cups fresh okra, de-stemmed and sliced in 1/4 inch slices
2 large tomatoes, chopped
2 ears corn, kernels cut from the cob
1/2 tsp creole seasoning or to taste
salt
pepper
cooked white rice
Instruction:
Fry bacon and set aside on a plate with paper towels to drain
Reserve a couple tablespoons of bacon grease in the same skillet
Add onion to bacon grease and cook until starting to soften
Add garlic and cook for about a minute, don't let garlic get too brown
Add chopped okra to the onion and garlic, saute for about 5 minutes over medium heat.
Add tomatoes, stir together, cover the skillet, and cook approximately 10 minutes, stirring frequently, until the mixture is juicy and the okra is tender.
Add creole seasoning to taste at this point if you want your gumbo to be a little spicy. Remember that most of the varieties of creole seasoning are salty so be careful not to add too much salt if you choose to add creole or cajun seasoning. You can also choose to forgo the creole seasoning and let each person spice up their own portion with hot sauce.
Add fresh corn kernels, cover and cook for another 5 to 7 minutes or until the corn is crisp tender.
Serve over hot white rice
Sprinkle with chopped, cooked bacon
You can have hot sauce on the table for each person to spice up their portion to their own personal preference.
Enjoy!!
Charring okra and corn in a cast-iron skillet brings high-summer cookout spirit to the classic Lowcountry vegetable trinity. The resulting caramelized, sweet vegetable flavor is the perfect complement to the…
Prep:
Total:
Yield: 6 servings
Servings: 6
Nutrition Facts : servingSize 6
Ingredients:
3 Tbs. vegetable oil, plus more for brushing
8 oz. fresh okra, halved lengthwise
Kosher salt
1-1/2 cups corn kernels (from 2 large ears)
2 lb. fresh tomatoes
2 oz. slab bacon, cut into large dice
1 medium white onion, chopped (3/4 cup)
1 large garlic clove, mashed to a paste
1 to 2 tsp. vinegar, either red wine, white wine, or distilled white (optional)
Freshly ground black pepper
Instruction:
Heat a large cast-iron skillet over high heat until very hot and brush lightly with vegetable oil. In a bowl, toss the okra with 1 Tbs. of the oil and season with 1/4 tsp. salt. Cook the okra in the pan in two batches, turning once, until charred and tender, 3 to 4 minutes per batch depending on the size and freshness of your okra. Reserve in a bowl so you can reuse the cast-iron skillet.
Add 1 Tbs. of the oil to the corn and season with 1/4 tsp. of the salt. Add the corn to the skillet and cook over high heat, stirring occasionally, until lightly charred in spots, about 3 minutes. Reserve the corn in a bowl, separate from the okra.
Bring a large saucepan of water to a boil and fill a bowl with ice water. Score the tomato bottoms with an X. Add the tomatoes to the boiling water and blanch for 10 seconds to loosen their skins. Transfer the tomatoes to the ice water to cool. Core and peel the tomatoes, and halve them crosswise. Working over a sieve set in a bowl, tease out the seeds with your fingers. Press on the seeds to extract the juice, then discard them. Chop the tomatoes and reserve them in the bowl of their juice.
Pour the remaining tablespoon oil into the skillet over medium-high heat, and when it shimmers, add the bacon. Sauté the bacon until it just begins to brown, about 4 minutes, then add the onion and 1/2 tsp. salt. Stir continuously for about 2 minutes, allowing the onion to release some moisture, but not letting it brown. Add the garlic and cook for about a minute to let its flavor bloom (do not brown the garlic). Then add the tomatoes, and stir to combine. Cover the pot, reduce the heat to medium, and cook for about 4 minutes until the tomatoes have mostly collapsed.
Add the corn, stir to combine, and cook for 3 more minutes. Add the okra, stir, and cook just until the okra is heated through, about 2 minutes. Season to taste with the vinegar (which you may or may not need, depending upon the acidity of the tomatoes), salt, and black pepper; serve.