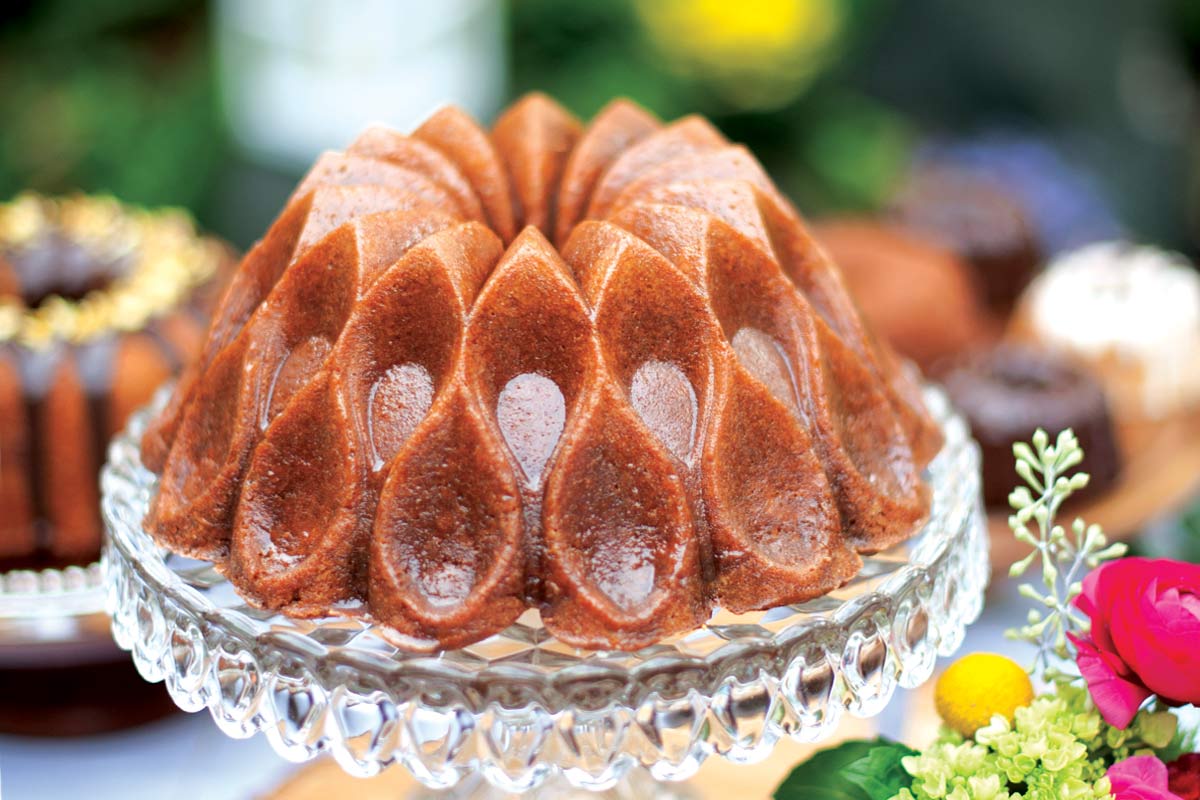 A deliciously-spiced Bundt to celebrate our 70th anniversary, presented splendidly in our Crown Bundt pan.
Prep: 30min
Total: 1h30min
Yield: 14
Servings:
Nutrition Facts : calories 0, Carbohydrate , Cholesterol , Fat , Fiber , Protein , Saturated Fat , servingSize , Sodium , Sugar , Trans Fat
Ingredients:
3 cups flour, sifted
1 ½ tsp baking powder
1 tsp baking soda
¾ tsp kosher salt
1 cup unsalted butter, softened
¼ cup coconut nut oil (or butter), melted
1 ⅔ cups caster sugar
4 large eggs
1 tsp vanilla
1 tsp orange zest, finely-grated
2 cups full-fat sour cream (or full-cream plain Greek yogurt)
1 cup finely-chopped pecans, lightly toasted
3 tbsp granulated sugar
3 tbsp brown sugar
2 tsp ground cinnamon
2 tsp unsweetened cocoa powder
1 cup confectioner's sugar
1 tsp vanilla
3 tbsp unsalted butter
1 tsp milk
1 pinch salt
Crown Bundt Pan
Instruction:
Preheat oven to 175°C with oven rack in center of oven. Prepare your Bundt pan by using a pastry brush and melted butter, ensuring that you reach inside every crevice of the pan, then dust with flour. Alternately, use a baking spray that contains flour and brush excess with a pastry brush to evenly coat the pan.
Prepare the batter
In a separate medium bowl, whisk the flour, baking powder, baking soda, and salt.
In the bowl of a stand mixer, beat the butter (and optional coconut oil) on medium speed until smooth and light in colour, 1-2 minutes.
Add the sugar 1/3 of a cup at a time, creaming until light and fluffy. Scrape the bowl.
Add in the eggs one at a time, ensuring each one is fully incorporated before adding the next. Scrape the bowl and add vanilla.
On lowest mixer speed, alternate adding flour mixture and the sour cream in small amounts, beginning and ending with the flour mixture. Do not over-mix the batter.
Prepare the filling
In a medium bowl, combine pecans, both sugars, cinnamon, salt, and cocoa. Use your fingertips to blend until all ingredients are thoroughly incorporated.
Filling your Bundt
Spoon 2 heaping cups of the batter into the prepared Bundt. Smooth with the back of a spoon, spreading the batter to the sides of the pan first and then to the center cone to create a 'well' for the filling.
Sprinkle about 1/2 cup of the filling evenly into the well. Cover the filling with about 2 cups of batter, dropping dollops around the pan and smoothing with the spoon.
Sprinkle another 1/2 cup filling evenly over the batter and cover with 2 more cups batter. Repeat process until you end with batter as your final top layer. (Ideally you'll have four layers of batter and three layers of filling.)
Insert a plastic butter knife 1 inch from the side of the pan straight into the batter going almost to the bottom. Run the blade around the pan two times, without lifting, spacing your loops about 1 inch apart for optimal swirling effect.
Tap the pan firmly several times on a cutting board or counter top to release bubbles from the batter.
Bake until the top of the cake is golden brown, approximately 50-60 minutes, or until the sides are beginning to pull away from the pan, and a wooden skewer inserted into the center of the cake comes out clean (or your Reusable Bundt Cake Thermometer indicates it is cooked).
Transfer to a wire rack and let cool for just 10 minutes before inverting pan to remove cake.
Serving
To make vanilla glaze, melt butter in a microwave-safe bowl.
Add vanilla, salt and sugar, then stir to combine.
Use up to 1 tsp of milk to reach desired consistency, then pour over cooled cake.
Prep:
Total:
Yield:
Servings:
Nutrition Facts :
Prep:
Total:
Yield:
Servings:
Nutrition Facts :
Prep:
Total:
Yield:
Servings:
Nutrition Facts :
Prep:
Total:
Yield:
Servings:
Nutrition Facts :