Are you looking for a great cobbler recipe to try out this summer? This Easy Southern Nectarine Cobbler needs to make it to your list soon!
Prep: 15min
Total: 55min
Yield: 6
Servings:
Nutrition Facts :
Ingredients:
6-8 cups nectarines (sliced)
1/2 cup granulated sugar
1 tablespoon cornstarch
2 teaspoons lemon juice
1/2 cup all-purpose flour
1/2 cup whole wheat pastry flour
1/2 cup brown sugar
2 teaspoons baking powder
1/2 teaspoon salt
1 1/4 sticks butter, melted
1/3 cup milk
1 tablespoon granulated sugar (for sprinkling over the top. )
Instruction:
Preheat oven to 375 degrees.
Butter your skillet or pan for baking.
Mix your sliced nectarines, sugar, cornstarch, and lemon juice in a bowl.
Pour the nectarines into your prepared pan.
In another bowl, mix your all-purpose flour, whole wheat flour, brown sugar, baking powder, and salt.
Pour in the melted butter and milk. Mix until it is almost smooth.
Pour and spread over the top of the nectarines.
Sprinkle with the 1 tablespoon granulated sugar.
Place in then oven and bake for 30-45 minutes.
You want the top to be lightly golden and the nectarines tender.
As a note, your nectarine juices might bubble over. This will depend on how much liquid is in your nectarines. If this starts to happen, or you want to prevent it from happening, place a sheet pan on the shelf beneath it.
Now, sit back and enjoy. You deserve it!
Southerners know: Summertime is stone fruit time.
Prep:
Total: 1h20min
Yield:
Servings:
Nutrition Facts :
Ingredients:
4 pounds (about 12 medium-size) ripe nectarines, peeled and cut into 3/4-in. wedges (about 7 1/2 cups)
1 cup granulated sugar
2 ½ tablespoons cornstarch
1 teaspoon kosher salt
¼ cup unsalted butter
½ teaspoon grated lemon zest plus 2 tablespoons fresh juice (from 1 lemon)
2 teaspoons grated fresh ginger (from 1 [2-in.] piece)
2 cups (about 8 1/2 oz.) all-purpose flour
3 tablespoons granulated sugar
1 tablespoon baking powder
1 teaspoon kosher salt
10 tablespoons (5 oz.) unsalted butter, chilled and cut into 1/2-in. pieces
1 ¼ cups plus 1 tablespoon heavy whipping cream, divided
2 tablespoons turbinado sugar
Vanilla ice cream
Instruction:
Prepare the Cobbler Filling: Preheat oven to 425°F. Toss together nectarines, sugar, cornstarch, and salt in a large bowl. Heat butter in a 12-inch cast-iron skillet over medium-high, stirring often, until melted, about 2 minutes. Add nectarine mixture, and cook, stirring often, until liquid comes to a boil and thickens, 4 to 6 minutes. Remove from heat. Stir in lemon zest, lemon juice, and ginger.
Prepare the Drop Biscuits: While the Cobbler Filling cooks, whisk together flour, granulated sugar, baking powder, and salt in a large bowl. Using a pastry blender, cut butter into flour mixture until mixture resembles small peas. Stir in 1 1/4 cups of the heavy whipping cream with a fork until mixture is evenly moistened and a dough has formed.
Scoop dough into 8 mounds (about 1/3 cup each) on a work surface. Flatten each mound slightly to form 3/4-inch-thick disks, and arrange in a single layer on top of hot Cobbler Filling. Brush dough disks with remaining 1 tablespoon heavy whipping cream; sprinkle with turbinado sugar. Bake in preheated oven until biscuits are golden brown and cobbler is bubbly, 28 to 32 minutes. Remove to a wire rack, and let stand 20 minutes. Serve warm with vanilla ice cream.
Dessert is always a good thing. This cobbler is made with a simple combination of ingredients that go together quickly to create a sweet and delicious cobbler with minimum stress for the cook. I used fresh fruit, but this recipe works just as well with either frozen or canned fruit. It's our go to cobbler recipe when we want something sweet. Cook's note: If you use fresh fruit that requires you to peel and slice, the prep time will be longer.
Prep: 10min
Total: 1h10min
Yield: 12
Servings:
Nutrition Facts :
Ingredients:
4 cups sliced nectarines
½ cup butter or margarine, melted
1 cup flour
1½ cups sugar (divided)
2 teaspoons baking powder
¾ cup milk
½ teaspoon cinnamon
Instruction:
Turn on oven and preheat to 325 degrees.
Melt butter in the bottom of a 9X13 baking dish, making sure to spread it evenly on the bottom of the pan. You can stick the pan with the stick of butter into the oven while it preheats then remove it.
Mix together 1 cup flour, 1 cup sugar, ¾ cup milk, and 2 teaspoons baking powder.
Stir batter until well combined.
Pour batter over butter in the pan, spreading it evenly across the bottom, making sure it reaches out to the edges by pushing it with a spoon or spatula.
Carefully spoon sliced nectarines over the batter, making sure that they are evenly distributed.
Mix ½ teaspoon cinnamon with the remaining ½ cup sugar.
Sprinkle the sugar, cinnamon mixture evenly over the fruit.
Place pan in preheated oven and bake at 325 degrees for 1 hour or until top is golden brown.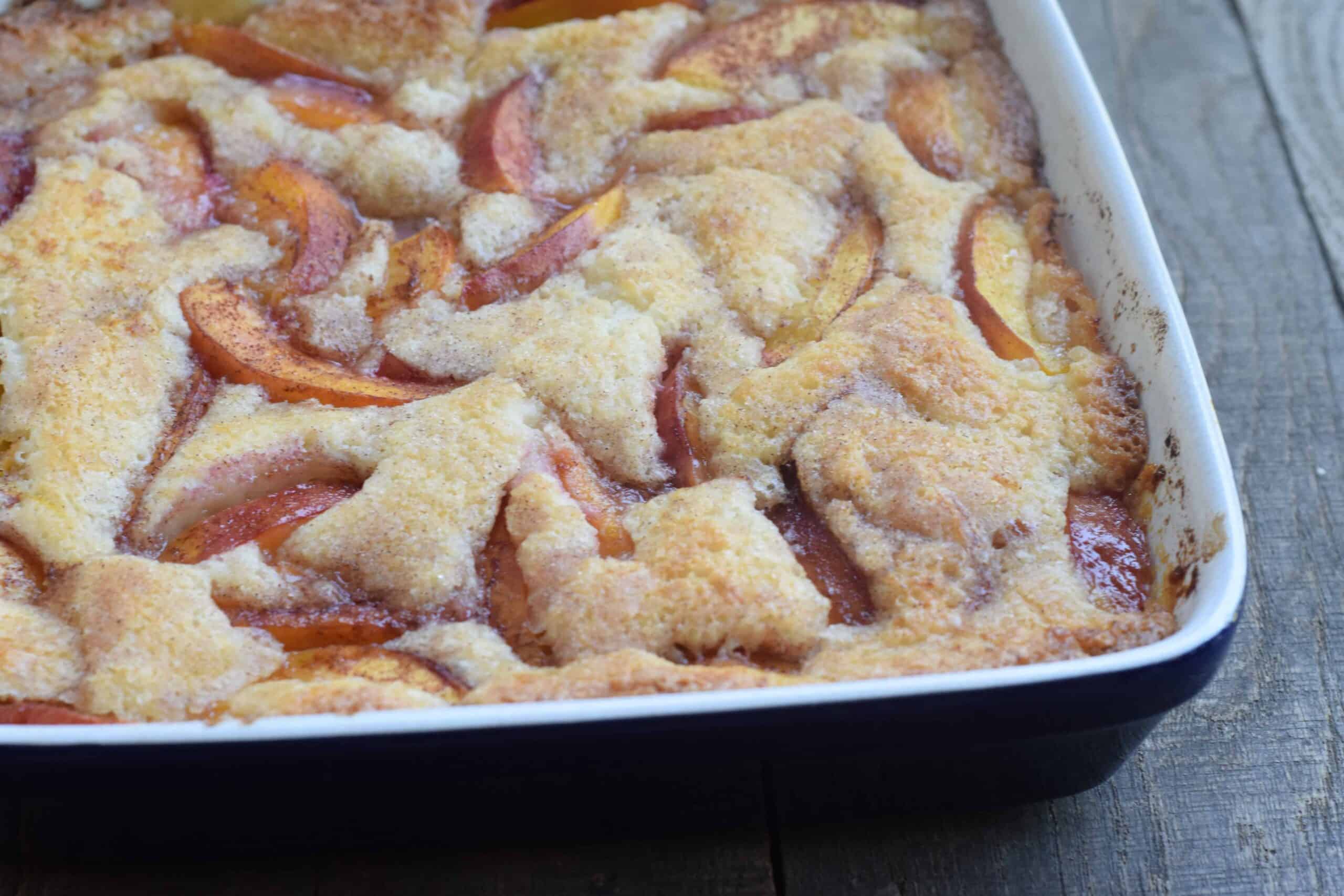 Nectarine Cinnamon-Sugar Cobbler. Nectarines can be used anywhere a peach is called for in a recipe-without having to peel it.
Prep: 10min
Total: 62min
Yield: 6
Servings: 1 serving
Nutrition Facts : calories 412 kcal, servingSize 1 serving
Ingredients:
5 nectarines
1/2 cup salted butter (cut into pieces)
1 cup self-rising flour (or 1 cup all-purpose plus 2 teaspoons baking powder)
1 cup granulated sugar
3/4 cup whole or 2 % milk
1 teaspoon vanilla extract
2 tablespoons granulated sugar
1/4 teaspoon ground cinnamon
Instruction:
Preheat oven to 350°
Place butter pieces in a 1 1/2 to 2 -quart casserole dish or 9×9-inch baking dish or pan. Place the dish in the oven to melt the butter while you slice nectarines and prepare the batter.
(About 8 minutes or until melted and bubbly.) If you are still slicing fruit when it ready, just remove from oven.
Meanwhile slice nectarines about 1/2-inch thick. (about 3 cups sliced)
Stir together flour and sugar. Add milk and vanilla and stir until smooth.
Pour batter over melted butter. DO NOT STIR. Arrange sliced nectarines in a single layer over batter. DO NOT STIR. Sprinkle with Cinnamon Sugar. Bake for 40 minutes or until golden brown and bubbly around the edges.
Fruit cobblers are a traditional summer dessert and nectarines take center stage in this one.
Prep: 15min
Total: 75min
Yield: 4
Servings: 1 serving
Nutrition Facts : servingSize 1 serving, calories 551 kcal, Carbohydrate 67 g, Protein 6 g, Fat 30 g, Saturated Fat 17 g, Cholesterol 68 mg, Sodium 612 mg, Fiber 3 g, Sugar 46 g
Ingredients:
3 cups sliced ripe nectarines
1 tbsp lemon juice
1/2 cup sugar
2 tbsp flour
1 cup baking mix
1 cup milk
2 tbsp sugar
1/2 cup melted butter
1/8 tsp nutmeg (if desired)
Instruction:
Preheat oven to 375 degrees F.
Place nectarines in a medium bowl; add lemon juice and toss to coat
Mix the flour and 1/2 cup sugar in a small bowl and add to the nectarines. Stir well.
In a separate bowl, mix the baking mix, milk, nutmeg if using and sugar. Stir well to combine; add the melted butter and stir.
Pour baking mix mixture into a 8 x 8-inch square pan.
Top with the nectarine mixture.
Bake 50-60 minutes or until top is nicely browned
Best served warm