These Chinese Style Meat Buns also known as Char Siu Bao are delicious pork filled buns, made incredibly easy and so yummy!
Prep: 30min
Total: 60min
Yield: 12
Servings: 1 bun
Nutrition Facts : servingSize 1 bun, calories 437 kcal, Carbohydrate 28 g, Protein 46 g, Fat 15 g, Saturated Fat 5 g, Cholesterol 144 mg, Sodium 381 mg, Fiber 1 g, Sugar 8 g
Ingredients:
1/2 cup water (water)
2 1/2 teaspoon dry yeast
1/4 cup sugar
2 1/4 cups all-purpose flour
1 large egg (beaten)
3 tablespoon oil
1/2 teaspoon salt
1 pork loin (1 1/2 lb)
2 teaspoon garlic and ginger paste
1 tablespoon vegetable oil
2 tablespoon honey
2 tablespoon hoisin sauce
2 tablespoon soy sauce (low sodium)
1 tablespoon red wine
1/2 teaspoon pepper (freshly ground)
1/4 teaspoon salt
1/2 teaspoon five spice powder
1 teaspoon sesame oil
1 tablespoon vegetable oil
2 sprigs green onion (finely chopped)
1 egg (beaten)
Instruction:
In a small bowl, mix the warm water, sugar and yeast and let it sit until it starts foaming, for about 15 minutes. In a large bowl add the flour and to it add the egg, oil, salt and the yeast mixture.
Mix it all together using your hands, if you find the dough too sticky just add more flour. Knead the dough on a floured surface for a few more minutes, until it becomes elastic. Place the dough in a lightly oiled bowl and let it rise until doubled in size, in a warm spot.
Cut up the pork loin in small pieces and set aside. In a medium sized bowl, add the garlic and ginger paste, vegetable oil, honey, Hoisin sauce, soy sauce, wine, pepper, salt, five spice powder, and sesame oil. Whisk everything all together and add the pork to it. Let the pork marinate for about 1 hour, or until the dough is almost ready.
eat a skillet, over medium heat and add a tablespoon of vegetable oil to it. When the oil is hot add the pork mixture including the marinade to it and cook until the pork is cooked thoroughly, for about 5 minutes. Before removing it from heat, add the green onions to it and mix well.
Preheat oven to 350 F degrees.
Divide the dough into 12 equal pieces. Roll each piece into a ball.
Using a rolling pin, roll out each ball into a disc, so that it's about 4 or 5 inches in diameter. Place heaping tablespoon of the meat mixture in the middle of it.
Seal the bun by gathering up the edges of the disc.
Place the sealed side down bun, on an ungreased baking sheet. Repeat with remaining balls and meat mixture.
Brush the buns with egg wash and bake for about 15 to 20 minutes or until the buns are nice and golden brown.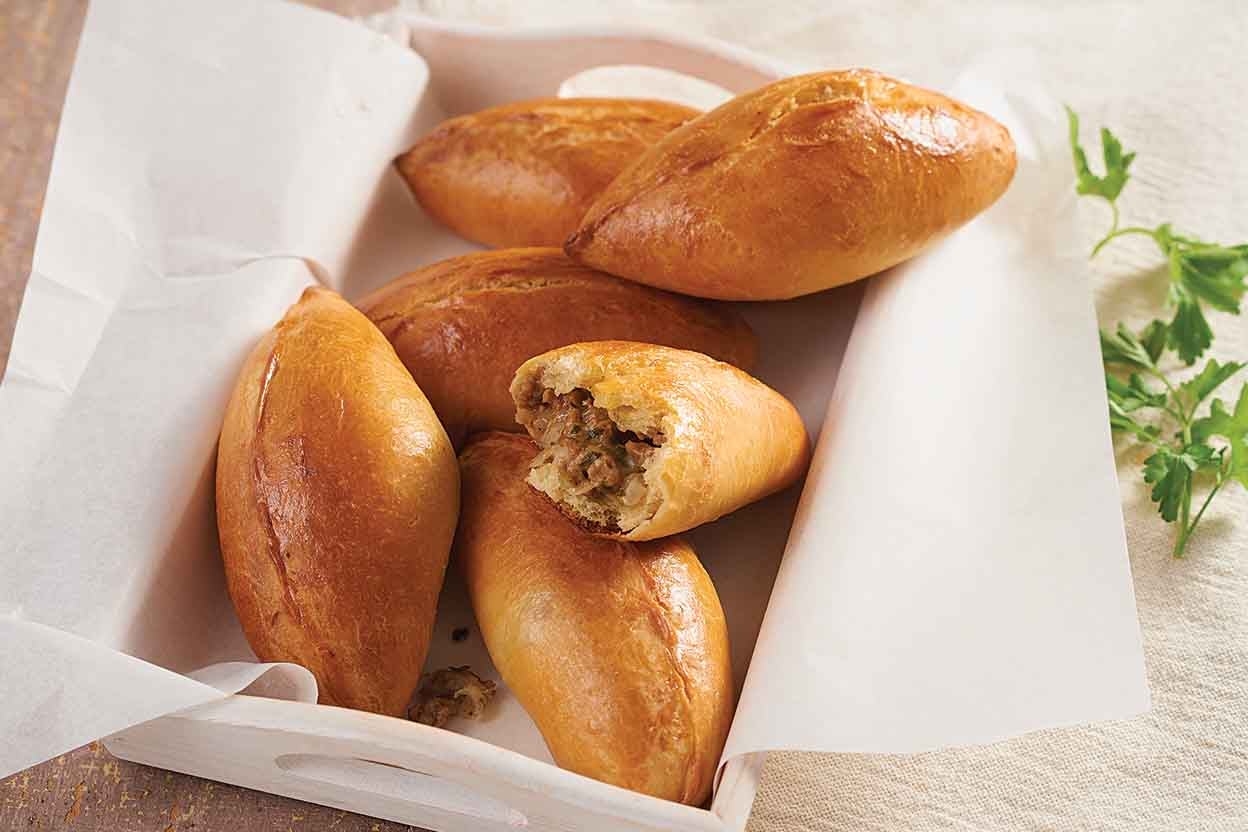 Inspired by Russian pirozhki, these "small pies" envelop a savory cheese and beef filling in a pocket of pillowy soft dough enriched with sour cream, butter, and eggs. We love them served hot from the oven as an appetizer, or alongside soup or salad for a more substantial meal. They can also be enjoyed at room temperature for an easy on-the-go snack or quick meal.
Prep: 1
Total: 4h20min
Yield: 16
Servings: 1 bun (92g)
Nutrition Facts : servingSize 1 bun (92g), calories 260 calories, Carbohydrate 27g, Cholesterol 60mg, Fiber 1g, Protein 10g, Sodium 390mg, Sugar 3g, Fat 12g, Saturated Fat 6g, Trans Fat 0g
Ingredients:
4 cups (480g) King Arthur Unbleached All-Purpose Flour
1/4 cup (28g) King Arthur Better Cheddar Cheese Powder
1/2 cup (113g) sour cream
4 tablespoons (57g) unsalted butter softened
1/2 cup (113g) water warm
2 large eggs
2 tablespoons (25g) granulated sugar
1 1/2 teaspoons (9g) salt
2 teaspoons instant yeast
1 tablespoon (14g) vegetable oil or olive oil
1 small peeled onion or shallot finely diced; about 3/4 cup (99g)
1 clove garlic finely chopped
8 ounces (227g) ground beef
salt and pepper to taste
chopped parsley fresh or dried to taste
1 1/2 cups (170g) cheddar cheese shredded
1 large egg beaten with 1 tablespoon water to brush on dough
To make the dough: Weigh your flour; or measure it by gently spooning it into a cup, then sweeping off any excess. Combine all the dough ingredients and mix and knead — by hand, mixer, or bread machine — until a soft, smooth dough forms.
,
Transfer the dough to a lightly greased bowl, cover, and allow to rest for about 90 minutes, until puffy but not necessarily doubled in bulk.
,
To make the filling: Heat the oil in a sauté pan set over medium heat.
,
Add the onion and cook until translucent.
,
Add the garlic and ground beef and cook for 5 to 10 minutes, breaking the meat up as it browns, until it's cooked through.
,
Season the filling with salt, pepper, and parsley, remove it from the heat, and cool to room temperature.
,
Stir in the cheese. The filling can be made ahead of time, then wrapped and stored in the refrigerator until ready to use.
,
Divide the dough into 16 equal pieces; if you have a scale they'll weigh about 2 ounces each.
,
Shape the pieces into balls, and place them on lightly greased or parchment-lined baking sheets, leaving about an inch between them.
,
Cover the dough balls, and allow them to rest for about 15 minutes.
,
Shape each ball into a flattened round about 5″ in diameter, brush the surface with some of the egg/water wash, and place 2 tablespoons of filling onto the center of each round; our tablespoon cookie scoop works well here.
,
Pull the dough over the filling, pinching two opposite edges together tightly, to seal in the filling; it should look like a dumpling.
,
Place the buns on two lightly greased or parchment-lined baking sheets. Cover the buns, and allow them to rise for 1 hour, or until puffy.
,
Towards the end of the rising time preheat the oven to 400°F.
,
Brush the buns with the remaining egg wash. Bake the buns for 15 to 20 minutes, until golden brown. It's OK if some of the seams have come undone and the filling is visible; they can be prettier that way!
,
Remove the buns from the oven and allow them to cool for 5 to 10 minutes before serving.
,
Store any leftover buns in the refrigerator.
These meat buns are so soft and delicious. Ones you taste one bun you will not be able to stop eating more.
Prep: 30min
Total:
Yield: 16
Servings:
Nutrition Facts :
Ingredients:
4 cups (500g) flour
1 tablespoon instant dry yeast
1 tablespoon sugar
2 teaspoons salt
1/4 cup (60ml) vegetable oil
1¼ cups (300ml) water
10oz (285g) ground beef
1 large onion
3 tablespoons olive oil
3 crushed garlic cloves
1/2 teaspoon salt
1/2 teaspoon black pepper
1 teaspoon thyme
1/2 teaspoon cumin
1/4 cup (35g) pine nuts
1 egg
Sesame seeds
1. Make the dough: in a mixing bowl place flour, yeast and sugar. Mix. Add salt, water and oil. Knead the dough 7-8 minutes. 2. Transfer the dough to greased bowl and let rise for 1 hour. 3. Meanwhile make the filling: over medium heat sauté chopped onion for 2-3 minutes, add crushed garlic and sauté for 1-2 minutes more. Add ground beef, salt, pepper, thyme, cumin and pine nuts. cook for 3-5 minutes, stirring constantly. Let cool. 4. Divide the dough into 16-20 equal pieces and shape each piece into ball. Roll the balls into 3-3.5″ (7-9cm) diameter circle. Place 1 tablespoon of the filling in the center, close the dough tight and shape a ball. Place all the balls in a baking try, cover and let rest 20 minutes. 5. Preheat oven to 355F (180C). 6. Brush the buns with egg wash, sprinkle with sesame. Bake 20 minutes.
easy pan fried pork buns recipes
Prep: 70min
Total: 85min
Yield: 6
Servings: 1 serving
Nutrition Facts : calories 215 kcal, Carbohydrate 24 g, Protein 5 g, Fat 9 g, Saturated Fat 3 g, Cholesterol 13 mg, Sodium 45 mg, Sugar 4 g, servingSize 1 serving
Ingredients:
150 g plain flour (1 cup + 2 tbsp + 2 tsp)
1/2 tsp instant dry yeast (*1)
2 tbsp sugar
a pinch salt
80 ml lukewarm milk (1/3 cup *2 )
1 tbsp sesame seed oil
100 g pork mince (1/2 cup)
1/4 cup finely chopped scallions
1/2 tsp ginger
1 tbsp sake
1/2 tbsp sesame seed oil
1/2 tsp soy sauce (*3)
a pinch salt and pepper
1 tbsp salad oil for frying
Instruction:
Sift flour into a mixing bowl. Make a well in the flour and place the instant dry yeast and sugar. Pour the lukewarm milk and combine all together.
Add sesame seed oil and salt into the bowl and knead with your hand.
When all the ingredients have combined well, form a ball and wrap it with cling wrap. Let it rise for about 1 hour or the ball size doubles. *4
While the dough is resting, make the filling.
Place all ingredients for filling in a mixing bowl and combine and knead until the mixture becomes sticky.
Divide the mixture into 6 even portions and shape into round mince patties. Set them aside.
When the dough has doubled in size, Place it on the floured board and cut it into 6 equal size.
Shape each dough to a round circle. Squash each with your palm. Pinch the edge of the dough with your finger tips and put another hand on a rolling pin. Roll the rolling pin to the centre of the dough, press and pull the rolling pin to your front and rotate the dough 30 degrees. Repeat this process till the dough roll outs to 4 inch (10cm) in diameter.
Place the rolled dough on your palm, and put the mince pattie on top of it.
Grab a point on the edge of the dough and put the thumb on the point as a pivot point, draw and make pleats with the index finger by moving the dough in a clockwise direction. Close the opening with the thumb and index finger tightly at the end. Repeat the process for 5 other doughs.
Place each buns onto a parchment paper.
Place 2-3 buns 0.8-1.2 inch (2-3cm) apart into a bamboo steamer lined with muslin cloth.
Put lid on and steam the buns on a pot of boiling water for 15 minutes.
Turn the heat off and serve.
These buns are a grab-and-go street food in China. They were also popular in our Test Kitchens, where they earned our highest rating. Use a multitray bamboo steamer so you can cook all the buns at one time. To make them up to two months ahead, fill the dough, and freeze unsteamed buns on a tray in the freezer before placing them in a freezer-safe zip-top plastic bag. Steam directly from the freezer for an additional five minutes. This Chinese recipe is proof you don't have to get takeout to enjoy the fine cuisine. Serve these for a meal or as a fantastic appetizer for entertaining. 
Prep:
Total:
Yield: 10 servings (serving size: 1 bun)
Servings:
Nutrition Facts : calories 259 calories, Carbohydrate 35.7 g, Cholesterol 27 mg, Fat 6.1 g, Fiber 1.6 g, Protein 14.3 g, Saturated Fat 0.9 g, servingSize None, Sodium 343 mg, Sugar None, Trans Fat None, unSaturated Fat None
Ingredients:
Filling:
½ teaspoon five-spice powder
1 pound pork tenderloin, trimmed
Cooking spray
1 cup thinly sliced green onions
3 tablespoons hoisin sauce
2 tablespoons rice vinegar
1 tablespoon low-sodium soy sauce
1 ½ teaspoons honey
1 teaspoon minced peeled fresh ginger
1 teaspoon minced garlic
¼ teaspoon salt
Dough:
1 cup warm water (100° to 110°)
3 tablespoons sugar
1 package dry yeast (about 2 1/4 teaspoons)
3 ¼ cups all-purpose flour (about 14 2/3 ounces)
3 tablespoons canola oil
¼ teaspoon salt
1 ½ teaspoons baking powder
Instruction:
To prepare the filling, rub five-spice powder evenly over pork. Heat a grill pan over medium-high heat. Coat the pan with cooking spray. Add pork to pan; cook 18 minutes or until a thermometer registers 155°, turning pork occasionally. Remove pork from pan, and let stand 15 minutes.
Cut pork crosswise into thin slices; cut slices into thin strips. Place pork in a medium bowl. Add onions and next 7 ingredients (through 1/4 teaspoon salt); stir well to combine. Cover and refrigerate.
To prepare dough, combine 1 cup warm water, sugar, and yeast in a large bowl; let stand 5 minutes.
Lightly spoon flour into dry measuring cups; level with a knife. Add flour, oil, and 1/4 teaspoon salt to yeast mixture; stir until a soft dough forms. Turn dough out onto a lightly floured surface. Knead until smooth and elastic (about 10 minutes). Place dough in a large bowl coated with cooking spray, turning to coat top. Cover and let rise in a warm place (85°), free from drafts, 1 hour or until doubled in size. (Gently press two fingers into dough. If indentation remains, dough has risen enough.)
Punch dough down; let rest 5 minutes. Turn dough out onto a clean surface; knead in baking powder. Let dough rest 5 minutes.
Divide dough into 10 equal portions, forming each into a ball. Working with one dough ball at a time (cover remaining dough balls to keep from drying), roll ball into a 5-inch circle. Place 1/4 cup filling in center of dough circle. Bring up sides to cover filling and meet on top. Pinch and seal closed with a twist. Repeat procedure with remaining dough balls and filling.
Arrange 5 buns seam side down, 1 inch apart, in each tier of a 2-tiered bamboo steamer. Stack tiers; cover with lid.
Add water to a large skillet to a depth of 1 inch; bring to a boil over medium-high heat. Place steamer in pan; steam 15 minutes or until puffed and set. Cool 10 minutes before serving.