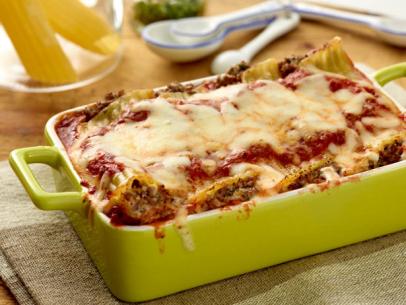 Prep: 0 15min0
Total: 0 55min0
Yield: 6 servings
Servings:
Nutrition Facts :
Ingredients:
4 teaspoons olive oil
1 medium onion, coarsely chopped
1 pound ground beef
Salt and freshly ground black pepper
14 (8-ounce package) manicotti
1 (15-ounce) container whole-milk ricotta
3 cups shredded mozzarella
1 cup grated Parmesan
2 tablespoons chopped fresh Italian parsley leaves
2 garlic cloves, minced
3 cups marinara sauce
2 tablespoons butter, cut into pieces
Instruction:
Heat a heavy medium skillet over medium heat. Add 1 teaspoon of the olive oil, onion and ground beef. Season with salt and pepper. Saute until the meat browns and the onion is translucent, about 5 minutes. Remove from the heat, and cool.
Brush 1 teaspoon of oil over a large baking sheet. Cook the manicotti in a large pot of boiling salted water until slightly softened, but still very firm to the bite, about 4 to 6 minutes. Using a slotted spoon, transfer the manicotti from the pot to the oiled baking sheet and cool.
Meanwhile, combine the ricotta, 1 1/2 to 2 cups mozzarella cheese, 1/2 cup Parmesan, and parsley. Add the garlic, salt, and pepper to taste, and mix. Stir the cooled meat mixture into the cheese mixture.
Preheat the oven to 350 degrees F.
Brush the remaining 2 teaspoons of oil over a 13 by 9 by 2-inch glass baking dish. Spoon 1 1/2 cups of the marinara sauce over the bottom of the prepared dish. Fill the manicotti with the cheese-meat mixture. Arrange the stuffed pasta in a single layer in the prepared dish and spoon the remaining sauce over.
Sprinkle the remaining 1 1/2 cups of mozzarella cheese, then the remaining 1/2 cup of Parmesan over the stuffed pasta. Dot entire dish with the butter pieces. Bake the manicotti uncovered until heated through and the sauce bubbles on the sides of the dish, about 30 to 35 minutes. Let the manicotti stand 5 minutes and serve.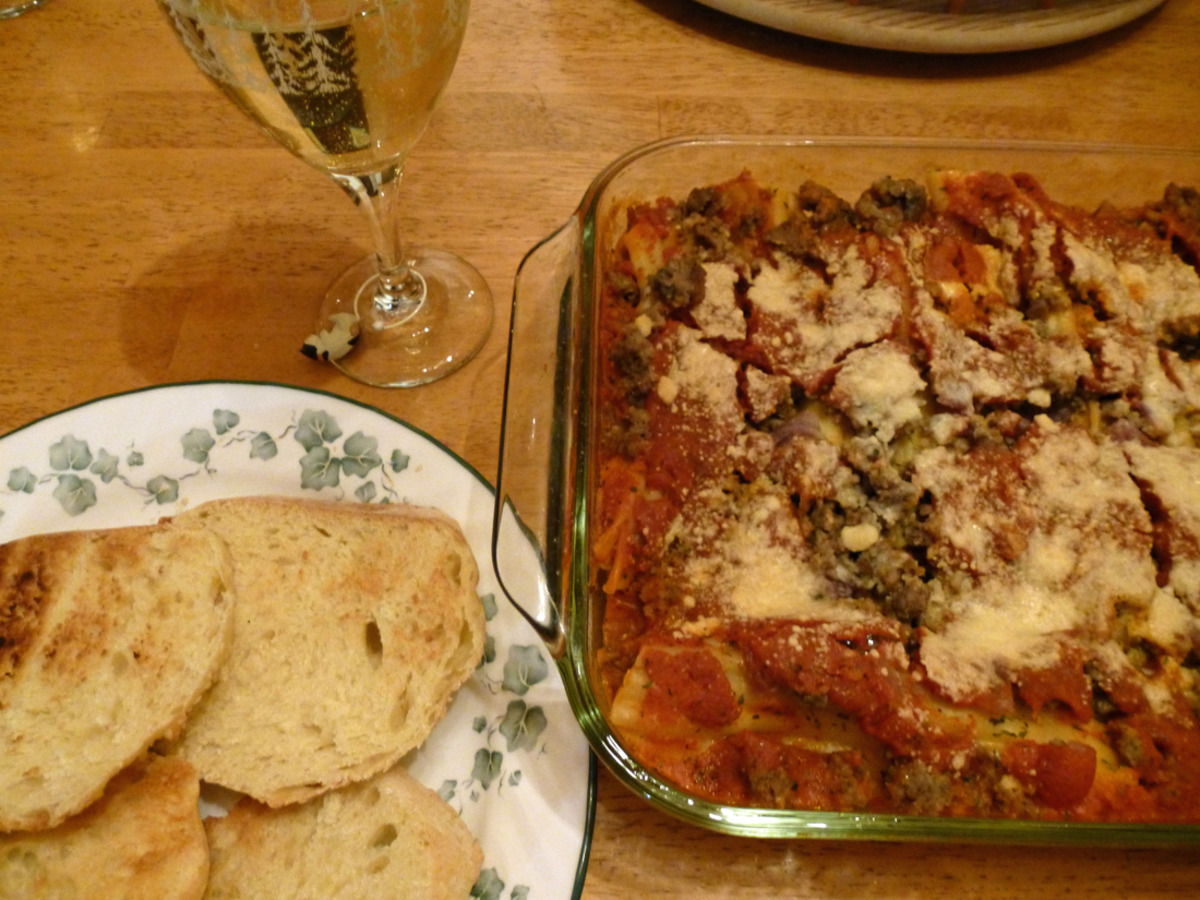 I think this originally came in Women's Day magazine, back when they had a skinny 6 or 8 page cookbook, in a strip, in the center of the magazine. I started making this as a newly wed, and it is still a family favorite. I usually double the recipe and freeze at least 1/2 of the stuffed noodles, since that is the most time consuming part. Serve with a sald and garlic bread, and a good bottle of red wine !
Prep: 1h
Total: 1h45min
Yield: 16 shells, 6-8 serving(s)
Servings:
Nutrition Facts : calories 918.6, Fat 65.8, Saturated Fat 30.8, Cholesterol 236.1, Sodium 2448.1, Carbohydrate 25.6, Fiber 3.9, Sugar 10.4, Protein 55.8
Ingredients:
2 lbs ricotta cheese
1/2 lb mozzarella cheese, shredded
2 eggs, well beaten
2 tablespoons parsley, chopped
1/2 teaspoon pepper
1/4 teaspoon nutmeg
1/2 cup almonds, slivered
1 teaspoon salt
1 1/2 cups parmesan cheese, grated
1 lb mild Italian sausage
16 manicotti, cooked
1 garlic clove, minced
1 onion, finely chopped
32 ounces spaghetti sauce
Instruction:
Make filling by mixing first 8ingredients and 1 cup parmesan cheese.
Blend thoroughly.
Cook meat with garlic and onions
Sprinkle with salt and drain grease.
Stuff cooked noodles (gently) with filling.
Butter 12×15 baking dish.
Spoon tomato sauce in bottom of dish to cover.
Place stuffed shells in dish to completely fill.
Sprinkle meat over and around shells.
Spoon tomato sauce over shells generously.
Sprinke with 1/2 cup parmesan.
Cover with foil.
Bake at 350°F for 45 minutes.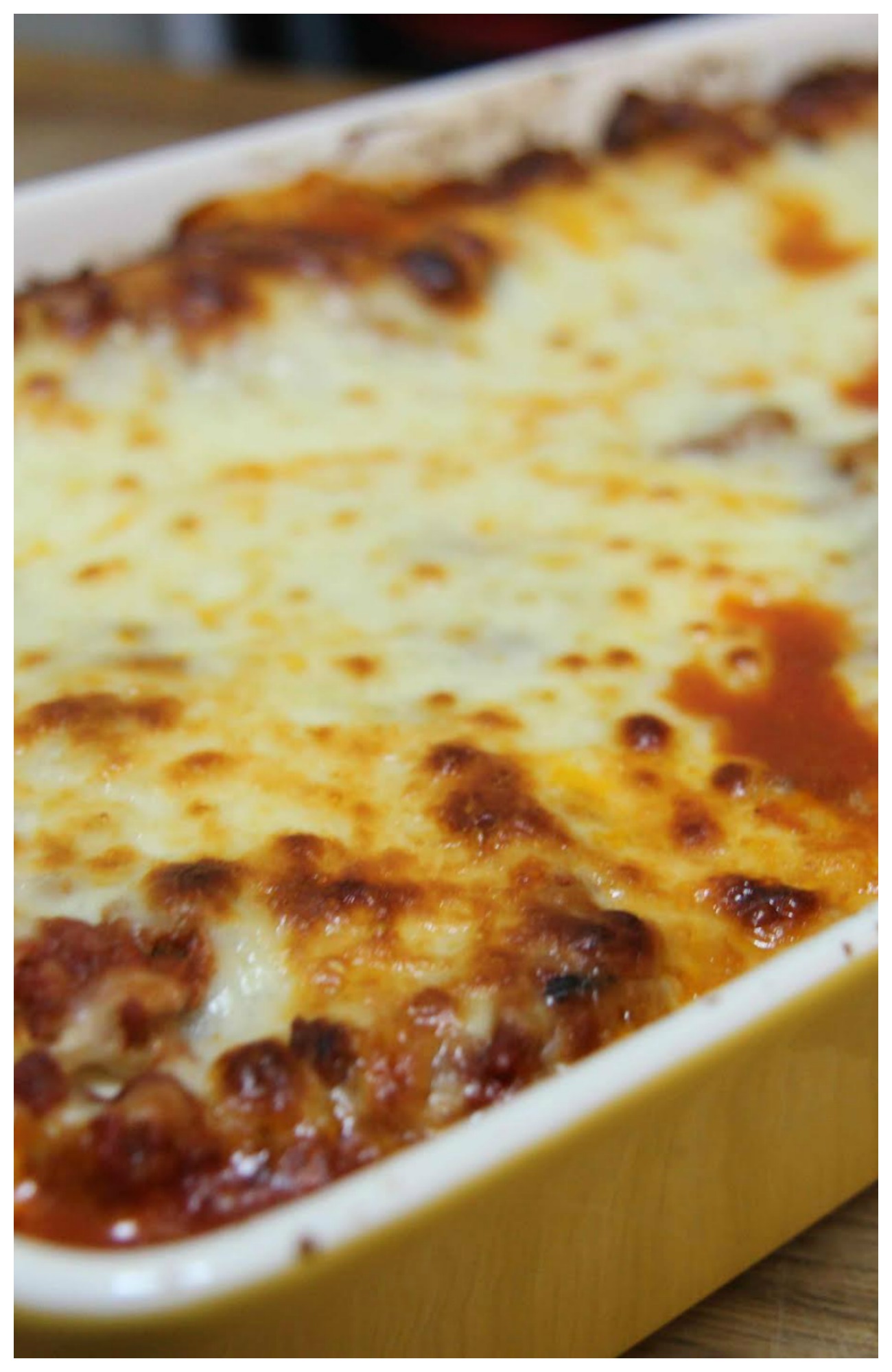 Delicious cheesy manicotti recipe. Made with lots of cheese and a from-scratch meat sauce.
Prep: 10min
Total: 80min
Yield: 8
Servings: 1 serving
Nutrition Facts : calories 432 kcal, Carbohydrate 14 g, Protein 28 g, Fat 27 g, Saturated Fat 13 g, Cholesterol 92 mg, Sodium 727 mg, Fiber 2 g, Sugar 6 g, servingSize 1 serving
Ingredients:
1 lb beef
1 package manicotti shells
1 small onion
2 cloves garlic
1 tsp red chili flakes
28 oz crushed tomatoes
3/4 cup red wine
1/2 tbsp brown sugar
4 cups mozzarella cheese
1 cup parmesan cheese
32 oz whole milk ricotta
1/4 cup parsley
2 tbsp fresh basil
2 tsp granulated garlic
salt and pepper to taste
Instruction:
Heat some olive oil in a large skillet over medium-high heat then add the onions and cook for 1 minute.
Stir in the garlic and red pepper flakes, cook for 10 seconds.
Add the beef and break it up using a wooden spoon.
Once the beef is completely brown, season with granulated garlic, oregano, salt, and pepper.
Add the crushed tomatoes and red wine.
Place a lid on the pot, reduce the heat to low, and stir occasionally. Cook for 1 hour.
Bring a large pot of salted Walter to a boil.
Once the sauce thickens, add the brown sugar and fresh basil. Check for seasoning.
In a medium bowl, combine the ricotta cheese, parsley, parmesan cheese, garlic, mozzarella cheese, and salt.
Place the ricotta mixture in a ziplock bag, set aside.
Cook the manicotti in boiling water, then drain and rinse with cold water.
Preheat oven to 400 degrees.
To assemble, spread about 1 cup of meat sauce in the bottom of a casserole dish.
Fill each manicotti with the ricotta filling, fill both ends.
Place the filled manicotti's in the casserole dish then ladle the remaining sauce over the manicotti.
Top with mozzarella and parmesan cheese.
Cover and place it in the oven for 10 minutes or until the cheese melts completely.
Serve with salad and garlic bread if desired, enjoy!
This is the best manicotti recipe ever, I got it many years ago when living in San Francisco. It's so good I made sure to bring it with me when we moved to the Midwest. The sweet basil sauce pairs well with the rich cheese filling.—Melba Perlenfein, Barstow, Illinois
Prep: 55min
Total: 01h25min
Yield: 4 servings.
Servings:
Nutrition Facts : calories 813 calories, Fat 43g fat (25g saturated fat), Cholesterol 274mg cholesterol, Sodium 2075mg sodium, Carbohydrate 47g carbohydrate (19g sugars, Fiber 5g fiber), Protein 66g protein.
Ingredients:
1 pound ground beef
2 cups water
2 cans (6 ounces each) tomato paste
1 medium onion, chopped
6 tablespoons minced fresh parsley, divided
1 tablespoon dried basil
1 garlic clove, minced
2 teaspoons salt, divided
1/4 teaspoon pepper, divided
3 cups ricotta cheese
1-1/4 cups grated Romano or Parmesan cheese, divided
2 eggs, lightly beaten
8 large manicotti shells, cooked and drained
In a large skillet, cook beef over medium heat until no longer pink; drain. Stir in the water, tomato paste, onion, 2 tablespoons parsley, basil, garlic, 1-1/2 teaspoons salt and 1/8 teaspoon pepper. Simmer, uncovered, for 30 minutes, stirring occasionally. , Preheat oven to 350°. Combine the ricotta cheese, 3/4 cup Romano cheese, eggs and remaining parsley, salt and pepper. Stuff into manicotti shells. , Pour half of the meat sauce into a greased 11×7-in. baking dish. Arrange shells over sauce. Top with sauce; sprinkle with remaining Romano cheese. Bake, uncovered, until heated through, 30-35 minutes.
This rich meat, spinach and cheese filled manicotti dish is covered with white and red sauces. I offer this on the catering menu at my catering company and it is the most popular for casual dinner parties. It's a bit of work but well worth the effort.
Prep: 1
Total: 1h50min
Yield: 6 to 8 servings
Servings:
Nutrition Facts : calories 611.7 calories, Carbohydrate 58.7 g, Cholesterol 134.2 mg, Fat 30.3 g, Fiber 6 g, Protein 27.6 g, Saturated Fat 13.1 g, servingSize None, Sodium 991.6 mg, Sugar 12.7 g, Trans Fat None, unSaturated Fat None
Ingredients:
2 tablespoons olive oil
½ cup chopped onion
6 cloves garlic, finely chopped
1 pound ground beef
salt to taste
1 (10 ounce) package frozen chopped spinach, thawed and drained
1 (12 ounce) package manicotti shells
2 cups ricotta cheese
2 eggs, beaten
3 cups spaghetti sauce, divided
2 tablespoons butter
2 tablespoons all-purpose flour
2 tablespoons chicken bouillon granules
2 cups half-and-half
¼ cup chopped fresh parsley
1 tablespoon chopped fresh basil
½ cup grated Parmesan cheese
Instruction:
Heat oil in a large skillet over medium heat. Saute onions until translucent. Saute garlic for 1 minute and stir in ground beef. Cook until well browned and crumbled. Season with salt and set aside to cool.
Cook spinach according to package directions. Meanwhile, bring a large pot of lightly salted water to a boil. Add manicotti shells and parboil for half of the time recommended on the package. Drain and cover with cool water to stop the cooking process and prevent the shells from cracking.
To the ground beef mixture add the cooked spinach and ricotta cheese. When the mixture is cool, add the beaten eggs. Spread 1/4 cup spaghetti sauce in the bottom of a 9×13 inch baking dish. Gently drain the manicotti shells and carefully stuff each one with the meat and cheese mixture; place shells in prepared dish. Lightly cover the dish with plastic wrap or a clean, damp towel to prevent shells from cracking.
Preheat oven to 350 degrees F (175 degrees C).
Prepare the white sauce by melting the butter in a small saucepan over medium heat. Stir in flour and chicken bouillon. Increase heat to medium-high and cook, stirring constantly, until it begins to bubble. Stir in half and half and bring to a boil, stirring frequently. Cook for 1 minute, stirring constantly. Remove from heat and stir in parsley. Pour or ladle the sauce evenly over the stuffed shells.
Stir the basil into the remaining spaghetti sauce. Carefully pour or ladle spaghetti sauce over the white sauce, trying to layer the sauces without mixing.
Cover and bake for 40 minutes. Remove from oven, uncover and sprinkle with Parmesan cheese. Bake, uncovered, for 10 minutes more.