This recipe is designed to teach everyone how to make an easy keto baked beans substitute
Prep: 5min
Total:
Yield: 4
Servings:
Nutrition Facts :
Ingredients:
3/4 cup keto ketchup (see my recipe) or tomato sauce
1/4 cup brown Swerve or brown sugar sweetener of choice
2 TBS apple cider vinegar
1 TBS paprika
1/2 tsp garlic powder
1/2 tsp onion powder
15 oz can peas or black soy beans, drained
2 small mini sweet peppers, finely chopped
desired amount of cooked bacon bits or finely chopped ham, optional
Instruction:
Preheat oven to 400 degrees. Lightly spray a 1 1/2 quart casserole dish with cooking spray
In the prepared casserole dish whisk together keto ketchup, brown Swerve, apple cider vinegar, paprika, garlic powder and onion powder until fully combined and smooth
Add peas or bean substitute of choice and stir until the peas are fully coated
Add mini peppers and stir to fully coat the peppers
Add bacon, if using and stir to fully distribute the bacon
Cover with a lid or aluminum foil. Bake at 400 for 20 minutes.
Let sit in pan at least 5 minutes to cool. Serve hot.
These Vegan Baked Beans are absolutely delicious!! They taste just like Bush's, but are way better for you. They are gluten-free, low-calorie, low-carb, dairy-free, and sugar-free. Sure to be loved by the whole family!
Prep: 5min
Total:
Yield: 8
Servings: 1 serving
Nutrition Facts : calories 50 kcal, Carbohydrate 15 g, Sodium 248 mg, Fiber 8 g, Sugar 2 g, servingSize 1 serving
Ingredients:
1/2 lb uncooked pinto beans (about 1 cup soaked overnight in water)
1 can (15 oz no salt added tomato sauce)
2.5 Tbsp Bragg's liquid aminos ((or soy sauce or tamari))
1 3/4 cup water
2 Tbsp apple cider vinegar
2 garlic cloves, minced
1/2 + 1/8 tsp liquid stevia
1 1/4 tsp chili powder
1/2 tsp onion powder
dash of salt
Instruction:
Place all ingredients in crockpot, stir, and cook on high for 7 hours (or until beans are soft and sauce has thickened).
Let sit for one more hour with heat turned off and lid on.
Serve and enjoy!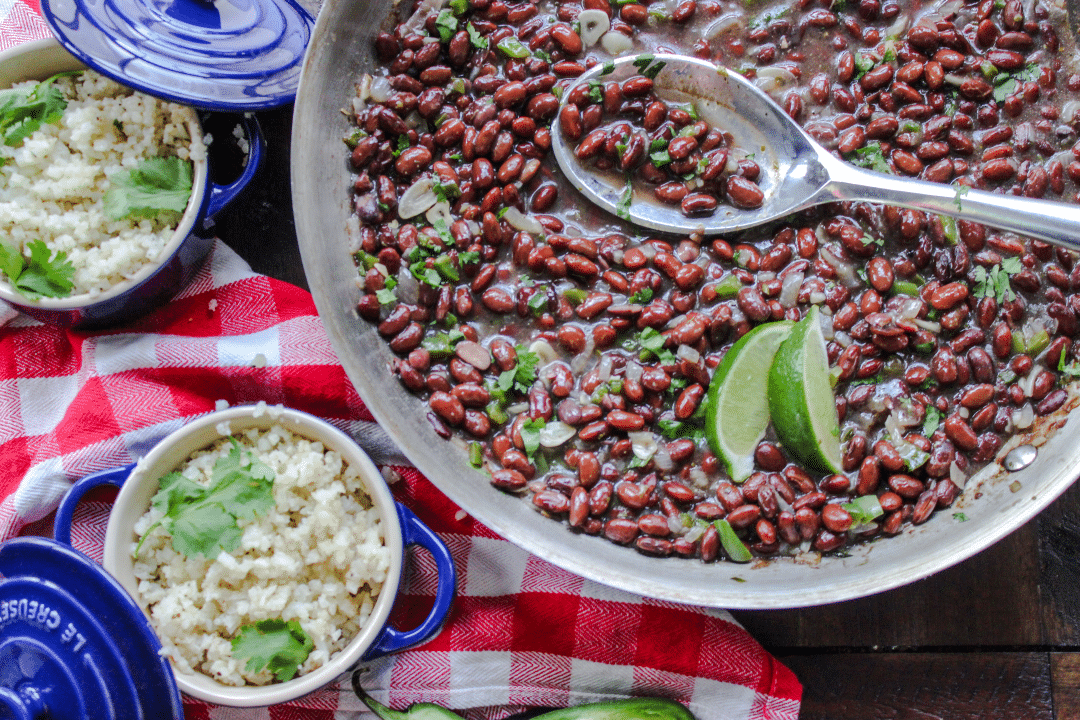 An easy low carb take on classic style Cuban black beans. This makes the best side with cauliflower rice and Mojo chicken or pork!
Prep: 10min
Total: 20min
Yield: 8
Servings: 1 g
Nutrition Facts : servingSize 1 g, calories 196 kcal, Carbohydrate 11 g, Protein 20 g, Fat 10 g, Saturated Fat 1 g, Sodium 39 mg, Fiber 7 g, Sugar 4 g, unSaturated Fat 8 g
Ingredients:
2, 15 oz. cans Black Soy Beans (I used the Eden Organic brand *DO NOT drain or rinse*)
1 tsp. Oil (olive or avocado)
1/2 Green Pepper (diced small)
1/2 Red Onion (diced small)
1 Small Jalapeno (seeds removed, diced small)
2-3 Garlic Cloves (minced)
1 tsp Cumin
1 tsp Oregano
2 Bay Leaves
Salt & Pepper to taste
1 tsp White Vinegar
Instruction:
Add the oil to the saucepan and heat over medium heat. Add the diced veggies and sauté for about 5 minutes. Be careful not to let the garlic burn.
Add in the two cans of black soy beans (do not drain or rinse). Mix in the seasonings and then add the bay leaves.
Allow the mixture to simmer over low heat for as long as possible to develop the flavors (I like a solid 30-45 minutes if possible).
Before serving, remove the bay leaves and stir in the vinegar. Serve over your favorite rice substitute (if low carb), see the post above for tips on cooking cauliflower rice!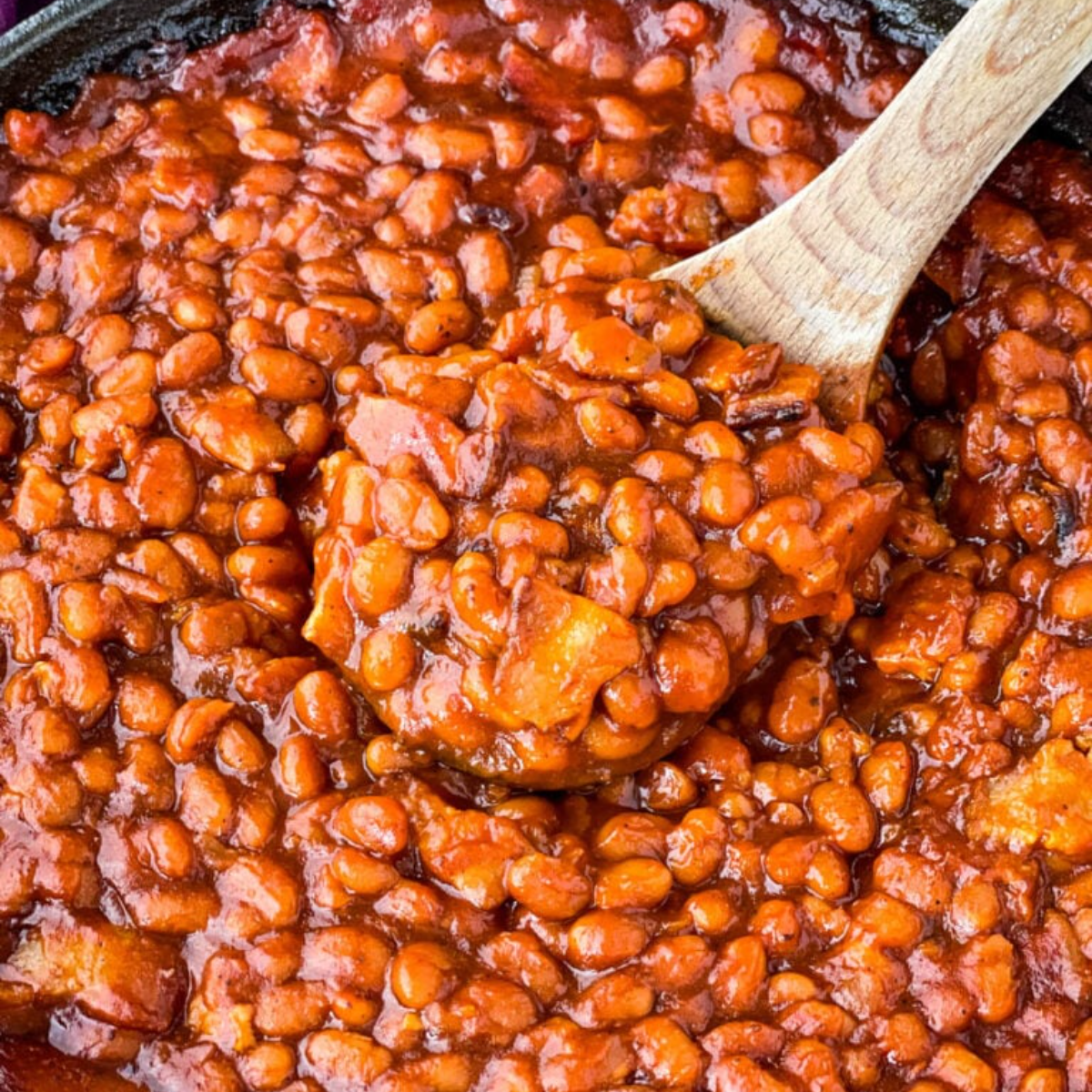 These Easy Southern Baked Beans is the best authentic recipe perfect for your BBQ or cookout. This classic dish is made with canned beans, bacon, and your favorite BBQ sauce. 
Prep: 15min
Total: 85min
Yield: 8
Servings: 1 serving
Nutrition Facts : servingSize 1 serving, calories 267 kcal, Fat 2 g, Carbohydrate 37 g, Protein 11 g
Ingredients:
4 slices bacon
1 cup chopped onion (I use white onion.)
2 garlic cloves (Minced.)
2 28oz cans baked beans (I use vegetarian.)
1 cup BBQ sauce
1/2 cup ketchup
1 tablespoon chili powder
1 teaspoon liquid smoke
2-4 tablespoons brown sugar or sweetener (I typically use 3. See notes.)
Instruction:
Preheat oven to 375 degrees.
I like to use a cast iron skillet to make everything using one pan. You can use any pan or oven safe baking dish.
Heat a skillet on medium high heat and add the bacon and chopped onions. Cook until the bacon is crisp and the onions are translucent and fragrant.
Drain any excess fat. Add in the garlic and stir.
Add in the beans, ketchup, BBQ sauce, liquid smoke, chili powder, and brown sugar or sweetener. Stir. Taste the mixture repeatedly to ensure the flavor meets your tastes. I don't add any salt because I feel the bacon adds enough. Taste and decide if you want to add salt or any other flavor.
(Alternatively, you can cook your bacon separately and simply add all of the ingredients to your baking dish without sauteing them on the stove first. Sauteing the onions and garlic first is done to enhance the flavor).
Bake for 50-60 minutes until the beans are bubbly and the sauce has thickened.
Bake the beans uncovered. Place a sheet pan under your pan if you fear the mixture will drip over and seep out.
Remove from the oven and cool before serving.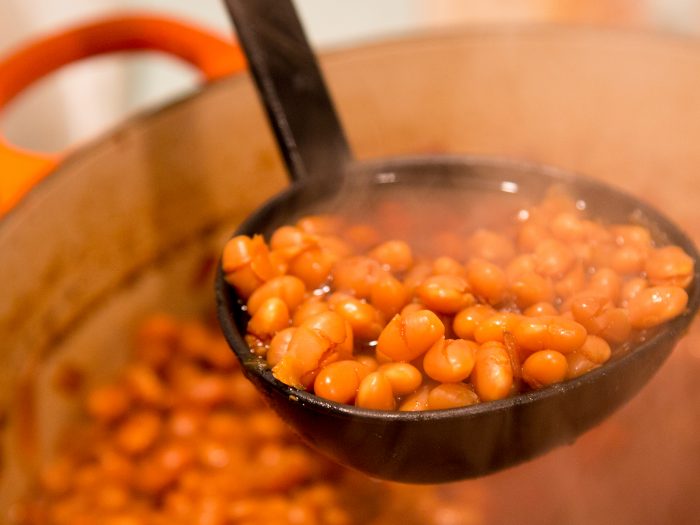 Cannellini and White Kidney beans contain phaseolamin which can help keep absorption of calories from starchy foods lower, while still allowing people to enjoy some of their favorite foods that might be higher in carbs than they prefer. This unique effect was discovered by Venezuelan cattle ranchers, who fed their herds raw kidney beans in the early 1970's to fatten cattle. These ranchers reported to government scientists that their cattle lost, rather than gained, weight from the kidney bean feed supplement. These findings were verified in laboratory animal feeding experiments, and published by Venezuelan scientists. Enough of the science! This recipe is really tasty and completely perfect for back yard barbecues or a camping trip!
Prep: 3
Total: 6
Yield: 12
Servings: 1
Nutrition Facts : calories 230, Carbohydrate 41, Cholesterol 5, Fat 6, Fiber 7, Protein 10, Saturated Fat 1.5, servingSize 1, Sodium 290, Sugar 10, Trans Fat
Ingredients:
1 lb Cannellini and White Kidney beans (Or your favorite!)
6 water
1 bay leaf
2 finely diced onion
1 tbsp olive oil
2 tbsp minced garlic
1 cup unsweetened apple cider (or apple juice)
2 diced unpeeled apple
2 tbsp molasses
0.25 cup Fructevia, Steviva Blend (or a dash SteviaSweet)
0.25 cup tomato paste
2 tbsp brown mustard
1 tsp curry powder
1 tsp salt
0.50 tsp freshly ground black pepper
0.50 cup cooked and cubed bacon (optional)
Instruction:
In a large pot, combine the beans, water, and bay leaf, and bring to a boil.
Allow the beans to boil for 15 minutes, then reduce the heat to medium, and cook the beans for 1 to 2 hours or until tender.
Meanwhile, in a skillet cook bacon until crisp then set aside.
In the same skillet saute the onion in the olive oil for 5 minutes or until soft and slightly browned.
Add the garlic and saute an additional minute.
Remove from the heat and set aside.
When the beans are tender, drain them, and discard the bay leaf.
Transfer the beans to a 2 1/2-quart casserole dish or Dutch oven.
Add the reserved onion mixture, the remaining ingredients, and stir well to combine.
Cover the casserole dish with a lid or aluminum foil.
Bake at 300ºF degrees for 1 hour, remove the lid or aluminum foil, and bake an additional 30 minutes.
Serve hot or cold.