Serve up sizzling fajitas at your next meal with this easy recipe.
Prep: 20min
Total: 30min
Yield: 4
Servings:
Nutrition Facts :
Ingredients:
1.5 lbs flat iron steak
1 red pepper
1 green pepper
1 medium vidalia onion
2 tbsp olive oil
4 small soft flour tortillas
1 cup Monterey Jack cheese
salt
1/2 cup sour cream
1 cup Pico de Gallo
1 tsp chili powder
1 tsp kosher salt
1 tsp paprika
1 tsp sugar
1 tsp cayenne pepper
1/2 tsp onion powder
1/2 tsp garlic powder
1/2 tsp cumin
1/2 tsp black pepper
Instruction:
Light grill and set it for direct high heat.
Combine all seasoning ingredients in a bowl, mix well.
Coat steak on both sides with fajita seasoning.
Shred 1 cup of Monterey Jack cheese, set aside.
Thinly slice peppers and onions.
In a large mixing bowl, toss sliced vegetables with 2 tablespoons of olive oil and a pinch of salt.
Place steak directly over medium high heat and grill for 3 minutes per side. Remove from grill and set aside.
Place cast iron griddle on grill. When it is heated, add the vegetables and sauté until they just start to soften, about 5-7 minutes.
Push vegetables to one side of griddle and remove from heat.
Slice steak and place on opposite side of hot griddle.
Serve with warmed tortillas, shredded cheese, sour cream, and pico de gallo.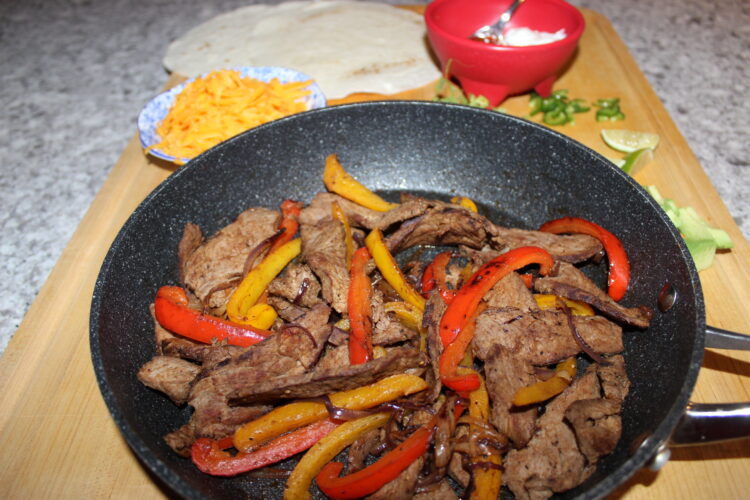 Make your own Steak Fajitas at home with leftover strip loin steak
Prep: 15min
Total:
Yield:
Servings:
Nutrition Facts :
Ingredients:
1 lb strip loin steak, cooked to rare (if using raw steak, add steak at beginning to vegetable mixture)
½ sweet red pepper
½ sweet orange or yellow pepper (or any 2 colour combination)
1 medium red onion
1 Tbsp vegetable oil (avoid olive oil)
1 Tbsp fajita seasoning
6 large tortillas (8 inches diameter)
3 tsp chili powder
2 tsp ground cumin
1 tsp fresh ground black pepper (or ½ tsp regular pepper)
½ tsp salt
½ tsp smoked paprika (or regular but smoked is better)
½ tsp garlic powder
¼ tsp cayenne pepper
shredded sharp cheddar cheese
sour cream
salsa
fresh chopped tomatoes
fresh cilantro
sliced jalapeno pepper
sliced avocado
lime wedges
Instruction:
Combine all seasoning ingredients.
Slice peppers and onions into thin strips.
Remove fat and grizzle from steak and slice across the grain into thin strips.
Heat large skillet to medium-high heat. Add vegetable oil and heat well. Add peppers and onions and allow to char slightly before stirring around.
Move vegetable mixture to the side of the pan and add meat. Spread out as best as possible and allow to cook slightly.
Sprinkle 1 Tbsp of seasoning mixture over top. Reserve remaining seasoning for future use. Stir fry meat and vegetable mixture until heated through and seasoning well blended.
Heat tortillas if desired for easier rolling.
Add 1/6 of meat mixture to each tortilla in a line across the middle. Do not over fill. Top with desired toppings. Fold side in slightly at the end of the line to form the bottom, then roll into a tube leaving the top end open.
I came up with this one night when I didn't know what to cook. I had leftover steak in the fridge, so I decided to get creative. These came out wonderful! The measurements are approximations, so feel free to change them according to your tastes. Serve with salsa, guacamole, and sour cream.
Prep: 10min
Total: 25min
Yield: 4 servings
Servings:
Nutrition Facts : calories 551.9 calories, Carbohydrate 40 g, Cholesterol 79.4 mg, Fat 31.1 g, Fiber 2.7 g, Protein 28 g, Saturated Fat 13 g, servingSize None, Sodium 761.7 mg, Sugar 2.3 g, Trans Fat None, unSaturated Fat None
Ingredients:
2 tablespoons vegetable oil, divided
½ onion, sliced
½ green bell pepper, sliced
salt to taste
4 flour tortillas
½ pound cooked steak, cut into 1/4-inch thick pieces
1 cup shredded Mexican cheese blend
Instruction:
Heat 2 teaspoons oil in a 10-inch skillet over medium heat; cook and stir onion and green bell pepper in the hot oil until onions are softened, 5 to 10 minutes. Season mixture with salt and transfer to a bowl.
Brush 1 side of each tortilla with remaining oil. Place 1 tortilla, oil-side down, in the same skillet; sprinkle with 1/2 the steak, 1/2 the onion mixture, and 1/2 the Mexican cheese mixture. Place a second tortilla, oil-side up, onto cheese layer, pressing down with a spatula to seal.
Cook quesadilla over medium heat until cheese melts and tortillas are browned, 3 to 4 minutes per side. Remove quesadilla from skillet and cut into wedges. Repeat with remaining ingredients for second quesadilla.
When I grill steak, I always cook extra so I have leftovers to make these delicious filled tortillas. The steak strips are seasoned with salsa, chili powder and cumin, then tucked inside soft flour tortillas with tasty toppings. —Kris Wells, Hereford, Arizona
Prep: 15min
Total: 15min
Yield: 6 servings.
Servings:
Nutrition Facts : calories 253 calories, Fat 6g fat (1g saturated fat), Cholesterol 43mg cholesterol, Sodium 313mg sodium, Carbohydrate 28g carbohydrate (1g sugars, Fiber 0 fiber), Protein 22g protein. Diabetic Exchanges: 3 lean meat
Ingredients:
2 cups thinly sliced cooked beef ribeye or sirloin steak (about 3/4 pound)
1 small onion, chopped
1/4 cup salsa
1/2 teaspoon ground cumin
1/2 teaspoon chili powder
1/4 teaspoon garlic powder
1-1/2 teaspoons all-purpose flour
1/2 cup cold water
6 flour tortillas (8 inches), warmed
Shredded cheese, chopped lettuce and tomatoes and additional salsa, optional
In a large nonstick skillet, saute steak and onion for 1 minute. Stir in the salsa, cumin, chili powder and garlic powder. , In a small bowl, combine flour and water until smooth; gradually add to the skillet. Bring to a boil; cook and stir for 1-2 minutes or until thickened. Place beef mixture on tortillas; top as desired with cheese, lettuce, tomatoes and additional salsa. Fold in sides.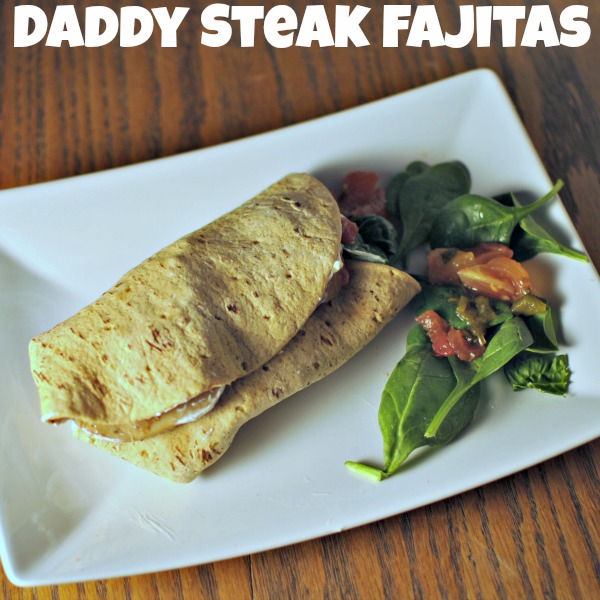 Slice and saute left-over steak with peppers, onions, mushrooms and fajita seasoning to make Monday night dinner a breeze.
Prep: 10min
Total: 25min
Yield: 6
Servings:
Nutrition Facts :
Ingredients:
1 Tablespoon Extra Virgin Olive Oil
1 large sweet Onion, sliced
1 green bell pepper, sliced
8 ounces baby portobello mushrooms, sliced
3 teaspoons chipotle chili powder
1 teaspoon smoked paprika
½ teaspoon onion powder
¼ teaspoon garlic powder
¼ teaspoon cayenne pepper
¼ teaspoon cumin
16 ounces leftover Daddy Steak
6 Flatout Wraps
Spinach
Salsa
Greek Yogurt
Cheese
Instruction:
Take leftover steak out and let come to room temperature.
Heat olive oil over medium heat. Add onions and peppers and cook for 5-7 minutes or until tender. Add mushrooms and continue to cook for 3-4 minutes or until the mushrooms have browned and have released their juices.
Add the all spices that make up the fajita seasoning and add the leftover steak and cook just until the steak is heated through.
Assemble fajitas with the garnishes you choose.