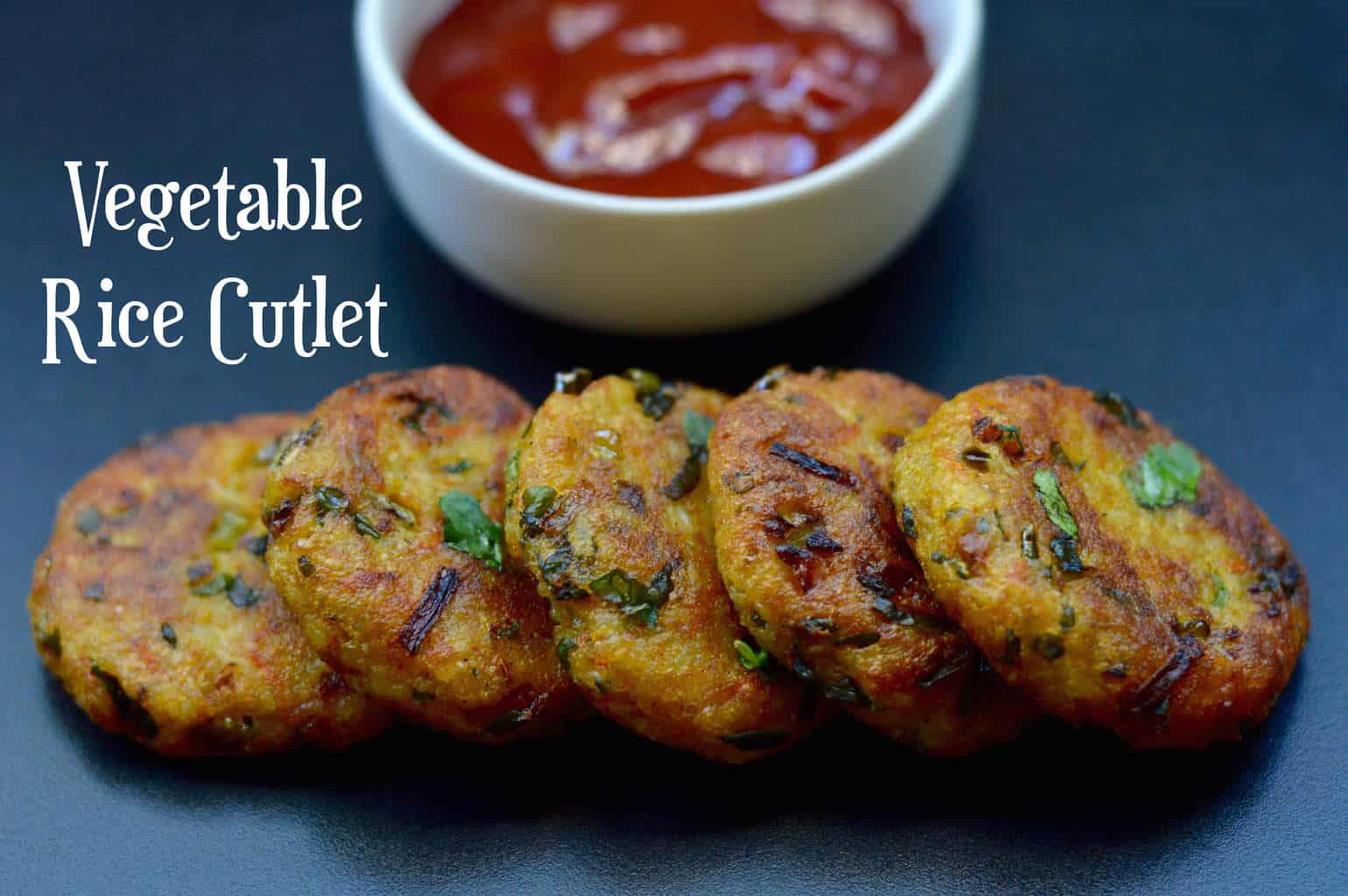 Vegetable Rice Cutlet Recipe are rice cutlets made with boiled rice blended with mix vegetables.
Prep: 15min
Total: 20min
Yield: 2
Servings: 1 serving
Nutrition Facts : calories 573 kcal, Carbohydrate 73 g, Protein 7 g, Fat 29 g, Saturated Fat 2 g, Trans Fat 1 g, Sodium 112 mg, Fiber 7 g, Sugar 5 g, servingSize 1 serving
Ingredients:
1 cup leftover rice or fresh cooked rice
1 large potato (about 1/2 cup) (boiled and mashed potato)
1/4 cup carrot (grated )
1/4 cup onion (finely chopped )
1/4 cup capsicum (finely chopped )
1/4 cup spinach (palak) (finely chopped )
1 tablespoon green beans (finely chopped )
2 tablespoon coriander (chopped )
1 green chili (finely chopped)
3 tablespoon cornflour ((You can use roasted gram/besan flour or rice flour too))
1/4 teaspoon turmeric powder
1/2 teaspoon red chili powder
1 teaspoon ginger (grated )
1 teaspoon chaat masala powder
1/2 teaspoon garam masala powder
juice of ½ lemon
salt (to taste)
1/4 cup oil (to shallow fry)
Instruction:
Take a mixing bowl. Add cooked rice and mash it with spoon or hand till soft.
Then add all the ingredients mentioned above except oil.
Mix mixture with your hand, add more corn flour if mixture is moist.(DO NOT ADD WATER).
Grease your palm with a teaspoon of oil so that mixture does not stick.
Now make small lemon size ball, flatten it between your hand palm and make round shaped cutlets/tikki.
Use same process for remaining mixture and make more cutlets.
Heat oil in a tawa. Once oil heat enough, place 4-5 tikkis in hot oil carefully and shallow fry it on medium flame till sides become golden brown.
Remove tikkis/cutlets on absorbent paper. Once all done, serve hot Leftover Rice Cutlets with green chutney or ketchup and enjoy…
An easy and delicious recipe made with cooked rice, herbs, spices and veggies. An excellent way to use leftover rice.
Prep: -459723h53min57sec
Total: -459723h53min57sec
Yield: 5
Servings:
Nutrition Facts :
Ingredients:
3 cups cooked rice
1/2 cup onion, finely chopped
2 carrots, grated
4 green chillies, finely chopped
3 sprigs curry leaves, finely chopped
1/4 cup coriander leaves, finely chopped
1 inch ginger, finely chopped
1/2 teaspoon cumin seeds
1 teaspoon salt
3/4 cup idiyappam rice flour
Oil for making rottis
Instruction:
Grind the cooked rice in a mixie without adding any water. Just a pulse for a few seconds will do. The ground paste need not be very smooth. A coarse paste will do.
Transfer the ground paste to a big bowl. To the paste add in the finely chopped onion, grated carrots, green chillies, curry leaves, coriander leaves, ginger, cumin seeds and the salt.
Finally add the rice flour little by little and knead the mixture to a soft dough. Do not add any water.
Make balls out of the dough. A tennis ball size will work for the recipe. While making the balls, wet your hands in water frequently so the dough does not stick to the hands.
Take a banana leaf or a parchment paper. Spread the prepped ball to a six to seven inch size roti. Use your palm to spread the roti. Wet hands frequently so the dough does not stick while spreading.
After shaping the rotti, make small holes on the rotti so it cooks evenly.
Heat a tawa and sprinkle a little oil. Transfer the banana leaf on the tawa. Leave it for a few seconds. Peel the banana leaf. Sprinkle little oil on the rotti. Cover the rotti with a lid and cook for a couple of minutes. Flip the rotti and cook for a minute more.
Rottis are ready.
Serve hot!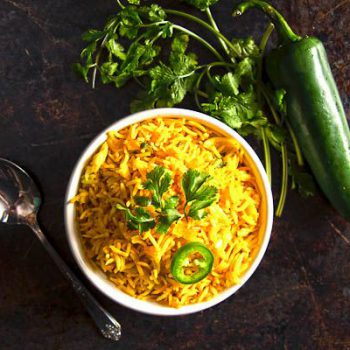 Prep: 5min
Total: 15min
Yield: 4
Servings: 85 g
Nutrition Facts : servingSize 85 g, calories 131 kcal, Carbohydrate 24 g, Protein 2 g, Fat 2 g, Sodium 13 mg
Ingredients:
2 tsp oil
1/2 onion (roughly diced)
1 tsp chopped green chili (or to taste)
1/2 tsp cumin seeds
2 cups cooked rice (I use Basmati rice)
1/2 tsp turmeric
1/4 tsp chili powder (or to taste)
2 tbsp water
salt (to taste)
1 tbsp cilantro (chopped)
Instruction:
Heat oil in a pan until it shimmers. Toss in the cumin seeds and let cook for about 15 seconds. Toss in the onion and green chili. Stir. Add a little salt and cook until the onions are soft, stirring every couple minutes.
Add rice, water, chili powder, turmeric and stir.
Cook until rice is heated through.
Prep:
Total:
Yield:
Servings:
Nutrition Facts :
Ingredients:
Leftover Rice Frittata
Leftover Rice Pudding
Leftover Rice Pancakes
Ubbu Rotti u2013 Leftover Rice Roti
Easy Leftover Risotto Balls
Vegetarian Bean and Rice Burrito
Rice Fritters
Easy Risotto Cakes
Chicken and Rice Soup
Vegetarian Wild Rice Stuffed Mushrooms
Leftover Rice Dosa Recipe
Chicken Broccoli Rice Casserole
Bibimbap! (Korean Rice Bowl)
Thai Crispy Rice
Stuffed Peppers
Ground Beef and Rice Casserole
Easy Vegan and Gluten-Free Lentil Loaf
Rice Pakora Recipe (Leftover iRce Pakora)
Rice Cutlet Recipe
Quick u0026amp; Easy Fried Rice Recipe
Breakfast Fried Rice
Stuffed Pepper Soup
Neeragaram u2013 Leftover Rice Porridge
Parmesan Rice Cakes Recipe
Instruction:
Select your favorite recipe.
Organize all the required ingredients.
Prep a rice dish in 30 minutes or less!
How to make Cooked Rice Pancakes
Prep: 10min
Total:
Yield: serve4
Servings:
Nutrition Facts : calories 757 calories, Carbohydrate 79.3 carbohydrates, Protein 19.8 proteins , Fat 40 fats
Ingredients:
Cooked Rice,Whole Wheat Flour,Gram flour (besan),Carrot,Spring onions,Cabbage,Turmeric powder,Asafoetida ,Green chillies,Garlic,Ginger,Yogurt,Salt,Fresh coriander leaves,Oil,
Instruction:
Mix together the cooked rice, carrot, onions and cabbage in a bowl. Add the whole wheat flour, gram flour, turmeric powder, asafoetida, green chillies, garlic, ginger, yogurt, salt and coriander leaves and mix well. Add one-fourth cup of water and knead into a soft dough. Cover and set aside for ten to fifteen minutes.
Divide the dough into eight equal portions and roll into balls.
Grease a plastic sheet with oil and place a dough ball on it and press evenly to make a thick roundel or pancake. Similarly make the remaining pancakes.
Heat a non-stick tawa. Place each pancake on it, one by one and shallow-fry till both the sides turn golden.
Serve hot with ketchup or chutney of your choice.