Prep: 30min
Total:
Yield:
Servings:
Nutrition Facts :
Ingredients:
500 bm kunafa dough (thawed)
225 gm butter (melted)
Crushed pistachios and rose petals (for garnish)
2 cups sugar
1 cup water
Juice of one lime
1 tbsp rose water
1 tbsp orange blossom water (refer notes)
2 cups milk
250 gm thick cream
2 tbsp semolina
3 tbsp corn flour
3 tbsp sugar
A pinch of salt
1/3 cup cream cheese (refer notes)
1 tbsp rose water
1 tbsp orange blossom water
Instruction:
First of all, prepare the sugar syrup. Combine the sugar, water and lime juice in a saucepan and bring to boil. There is no need to stir.
Keep the timer on 10 minutes, reduce the flame and allow the syrup to cook. Switch off, add the rose water and orange blossom water and allow to cool completely. You can prepare the syrup a week in advance.
For the filling, in a saucepan, combine from milk to sugar and keep on low flame. Cook till the mixture thickens.
Add the cheese and give a good stir. Make sure there are no lumps. Add the rose water and orange blossom water and switch off. Allow to cool completely.
Shred the kunafa dough using a food processor or food scissors. Add the butter and rub into all the dough.
Preheat oven to 200 degrees. Grease a 12 inch pie pan or a 9X13 sqare pan (I used a 9 inch and 6 inch pie pans) well with butter or ghee.
Line with around 60% of the buttered kunafa dough. Press down and towards the sides.
Spread the cooled filling evenly all over, with soft hands.
Sprinkle the remaining kunafa dough to cover the filling and pat down with hands dipped in cold water.
Bake for 25-30 minutes. Switch on the grill and wait till the top is slightly browned.
Take out of the oven and immediately flip onto a large plate. Pour the cold sugar syrup over till just covered. Reserve the remaining syrup to use while serving.
Garnish with crushed pistachios and/or rose petals.
Serve warm or at room temperature, as wished.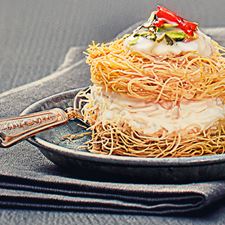 These bite-sized Middle Eastern desserts are a perfect combination of crispy knafeh, soft and silky Puck Cream and a generous drizzle of orange blossom.
Prep:
Total: 45min
Yield:
Servings:
Nutrition Facts :
Ingredients:
1 Cup Puck Thick Cream
1 Cup Puck Whipping Cream
250 Grams (gm) Butter salted
1 pc Lurpak Cooking Mist for baking
450 Grams (gm) Knafeh Pastry Dough
4 Inches Circular Baking Molds
2 Cups Sugar
2 Tablespoons Orange Blossom Water
2 Tablespoons Lemon Juice
1 Cup Water
1 Tablespoon Orange Blossom Water
4 Tablespoons Sugar
1 pc Pistachios chopped
1 pc Orange Blossom finely chopped
1 pc Dried Roses
Start by pre-heating the oven to 180C. Once the knafeh pastry has been thawed out and brought to room temperature, loosely separate the strands in a large bowl and mix in the melted butter. Spray some cooking mist and run through the strands with your fingers gently making sure the strands don't stick to each other and are evenly coated. Line a baking tray with baking paper and cover lightly with cooking spray. Set the circular molds, an inch apart from each other and gently fill them out roughly 2cm high with the knafeh pastry. Tap down lightly without putting too much pressure and cook for 20-30 minutes or until they turn a beautiful golden brown. Set aside the discs of Knafeh strands and allow to cool. For the filling, whip Puck Whipping Cream together with the sugar until it reaches soft peaks. Fold in the Puck Thick Cream and orange blossom water till it is evenly incorporated. Allow to chill in the refrigerator for at least 1 hour. To make the syrup, boil the sugar in 1 ¼ cups of water and lemon juice for 15 minutes. When the sugar has completely dissolved add in the orange blossom water and allow to chill in the refrigerator. To serve start with 1 layer of knafeh disc, drizzled with one tbsp. of syrup. Prop a dollop of the filling and sandwich together with another knafeh disc on top. Drizzle with another tbsp. of syrup, some chopped pistachios and few shreds of orange blossom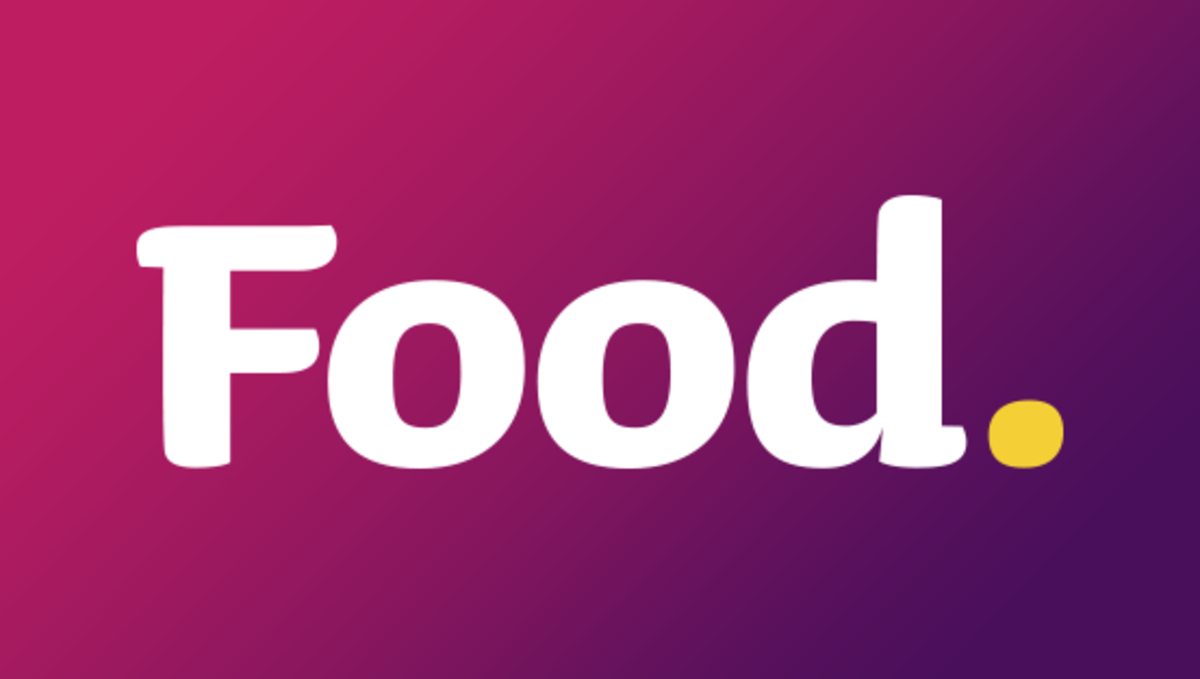 Delicious cream filled Middle Eastern sweet. This kunafa receives tremendous compliments on its sweet & savory combination and is requested very often. You may use 2 1/2 – 3 "small" cans plain keshta for a regular pie plate (it will not be able to hold all the kataifi pastry though) or 4 1/2 cans for the pan size called for, just don't tell anyone it was that easy! And don't forget to add in sugar to the keshta and mix well with a whisk. (I have made both fresh and with canned keshta and both ways received encores!) *Using canned keshta is just so much easier!!! A dessert of the cuisines of the former Ottoman empire in the Eastern Mediterranean as well as Arab countries. Recipe adapted from Arabesque: A Taste of Morocco, Turkey, and Lebanon, by Claudia Roden.
Prep: 10min
Total: 1h10min
Yield: 1 pan, 10 serving(s)
Servings:
Nutrition Facts : calories 431.7, Fat 28, Saturated Fat 16.5, Cholesterol 74.9, Sodium 49.9, Carbohydrate 42.6, Fiber 0.6, Sugar 35.3, Protein 4.8
Ingredients:
1 1/4 cups sugar cups sugar
3/4 cup water
1/2 tablespoon lemon juice
1/2 tablespoon orange blossom water (not an option)
1/2 cup rice flour
4 cups whole milk
1/2 cup heavy cream
4 tablespoons sugar
1 lb kataifi pastry, defrosted
1/2-3/4 lb unsalted butter, melted (I use more than 1/2 lb but less than 3/4 lb)
1/3 cup pistachios, chopped
Instruction:
Syrup: In a small saucepan on high heat add water, sugar and lemon juice, bring to a boil then reduce to a simmer. Cook until light bodied syrup (I test it by putting a drop on the stove surface and feeling it under my finger. It should feel like it developed a bit of body). Add orange blossom water, cool then chill.
In a medium saucepan on high heat, add whole milk. Have a whisk and gently pour rice flour into milk, whisk vigorously until there are no lumps what so ever.
Add cream, mix well.
Reduce heat to low and allow simmering 15 minutes, whisking through out every minute. Be careful not to burn the bottom! Add sugar, set aside.
In an extra large bowl, add Kataifi pastry, breaking all strings apart with hands.
Add melted butter over pastry mixing well with hands, until covered.
In an 11-12 inch pie pan, add half of Kataifi pastry, press down. Add cream filling (if using canned keshta as stated in the introduction make sure to add sugar until lightly sweet) smooth out (cream should no be runny) then add other half of Kataifi pastry, press down somewhat. Bake in a pre-heated 350F oven for 45 minutes or until golden brown.
Pour half of the cooled sugar syrup over the pastry; reserve other half to serve at table.
Garnish with chopped pistachios.
Enjoy after cooled to room temperature.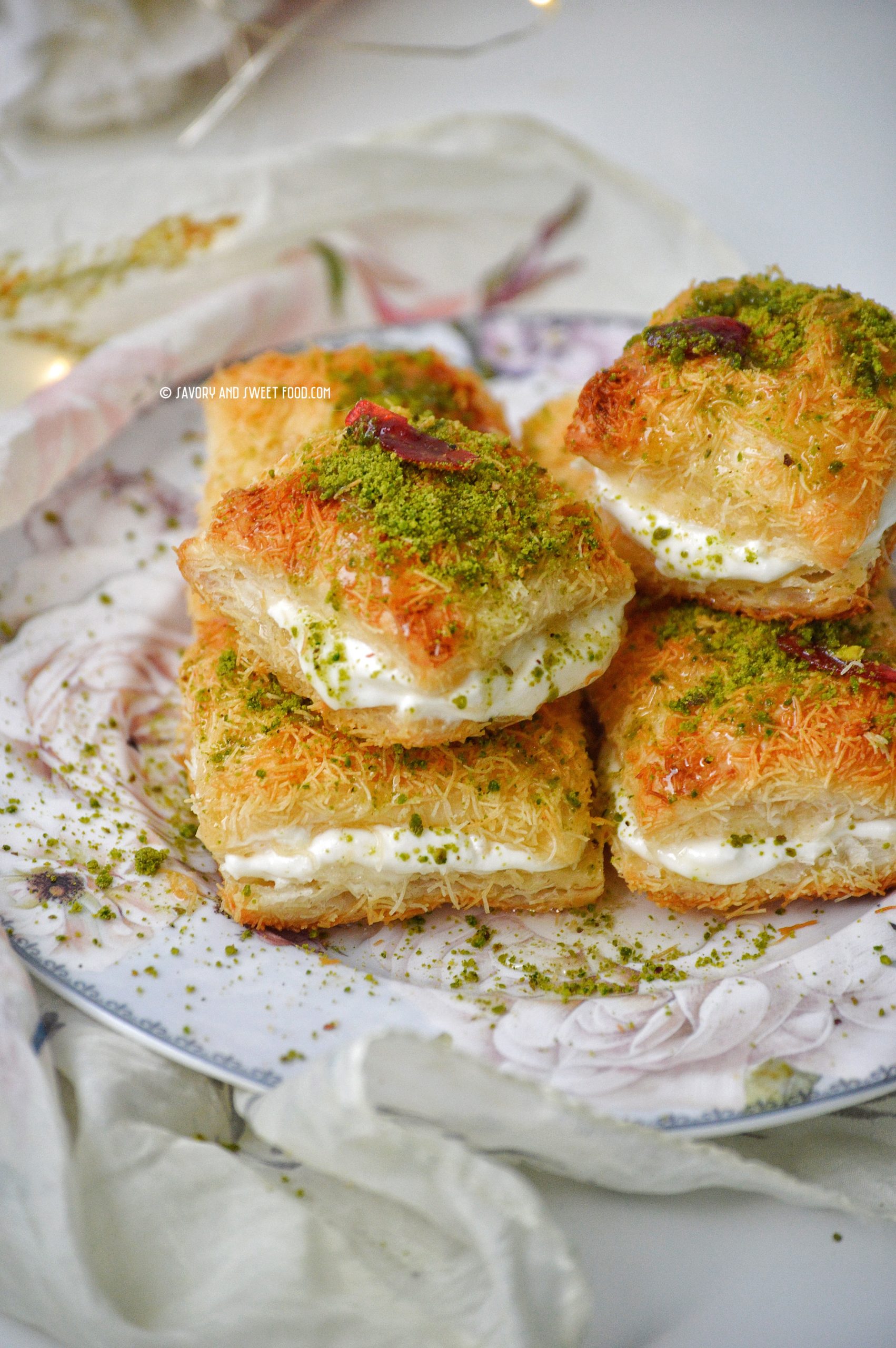 Kunafa coated flaky puff pastry filled with a ricotta cream mixture on which fragrant sugar syrup is poured generously. Perfect dessert for Eid or just anytime of the year.
Prep:
Total:
Yield: 6
Servings:
Nutrition Facts :
Ingredients:
100 g Kunafa/Shredded Phyllo Dough
50 g Butter (Melted)
5 nos Puff pastry squares
100 g Thick cream
100 g Ricotta
1 tsp Rose Water
1/2 tsp Orange blossom water ((Optional))
1/4 cup Milk
Sugar syrup
Powdered Pistachios
Instruction:
Put the kunafa in a food processor and chop it into small pieces.
Pour melted butter into the kunafa and process it once more till everything gets combined and the butter gets coated well on the kunafa.
Place this in a bowl.
Take out the puff pastry squares and cut each into 4 squares.
Dip the puff pastry cubes in the milk.
Dip it in the kunafa butter mixture. Make sure you press the kunafa onto the puff pastry well.
Do the same with all the puff pastries.
Place it on a well greased baking tray.
Bake it in a 180C preheated oven for 15 minutes or until the puff pastry puffs up and the kunafa gets golden brown in color.
Take it out of the oven and let it cool on a wire rack.
Meanwhile, make the cream filling.
For that mix together the ricotta and thick cream together. Pour few drops of rose water and orange blossom water, not too much.
Once the puff pastry cools completely, open it from one side and fill a teaspoon full of cream into each.
When serving, pour a bit of sugar syrup on the serving plate. Place the Kunafa Cream Puff on the plate. And drizzle sugar syrup all over the puff pastry. Sprinkle powdered pistachios. Serve immediately.
Our version is made with whole milk. No cheese.
My research into the world of Kunafa, has turned up plenty of contradictions in spellings, and pronunciations and ingredients. They all to agree on kataifi as being the star ingredient. (although I did find one using bread crust) Some are made with cream and mild cheese similar to mozzarella. And then soaked in a honeyed simple syrup. The Americanized versions mostly use mozzarella as opposed to sourcing the authentic ingredients, as they can be hard to find state-side.
And then, there is this version. Without any cheese at all. I believe it to be Arabic or Palestinian. Our pastry chef made this for a company party and I have been begging him for the recipe since. It was so light, slightly sweet, not overpoweringly saccharine. His idea of a recipe was to use 2 lbs of this, and a gallon of that….enough to make a cake big enough to serve a restaurant. I've finally got it pared down to a workable size. The filling is sweet, but not overpowering, tender and surprisingly light. It is a nice effect, the crispy crunch of the kataifi with the delicate creamy filling. Let us know how you like it.
Prep: 20min
Total:
Yield:
Servings:
Nutrition Facts : value Milk, Wheat
Ingredients:
https://fillo-recipes.com/ingredients/whole-milk/
https://fillo-recipes.com/ingredients/sugar/
https://fillo-recipes.com/ingredients/cornstarch/
https://fillo-recipes.com/ingredients/butter/
https://fillo-recipes.com/ingredients/pure-vanilla-extract/
https://fillo-recipes.com/ingredients/butter/
https://fillo-recipes.com/ingredients/fillo-factory-kataifi/
https://fillo-recipes.com/ingredients/shelled-unsalted-pistachios/
Preheat oven to 350f
Mix and dissolve the cornstarch into the 1/4 cold milk and set aside for a few minutes
In a saucepan, add butter, milk, and sugar and bring to boil. Add the vanilla extract to the cornstarch and then stir both into the slow boiling milk. Keep stirring.
How to make the Kunafa with milk
When the mixture thickens, and clings to the spoon, as above, it is done. It happens pretty quickly. Remove from heat and pour into another bowl – set aside to cool down.
Meanwhile, take out a "large" 1/3 lb of the kataifi and put it into a wide pan or bowl. Using your hands, massage the room temp butter into it, breaking up clumps with your fingers and making sure all is covered with the butter. Yes it will break up, that's fine.
Making Kunafa
Take 1/2 of the kataifi and press it into an 8×8″ or 8×9″ baking pyrex or pan – spreading it evenly.
Pour the thickened milk mixture over it and spread out with a spoon or spatula. Then gently press the remaining buttered kataifi over the top of the filling and bake in the oven for about 30 minutes. The top should be golden.
Remove, cool for 15 minutes and gently remove from pan or cut and put on plates to serve. Garnish with crushed pistachios if desired.
Kunafa- a favorite dessert