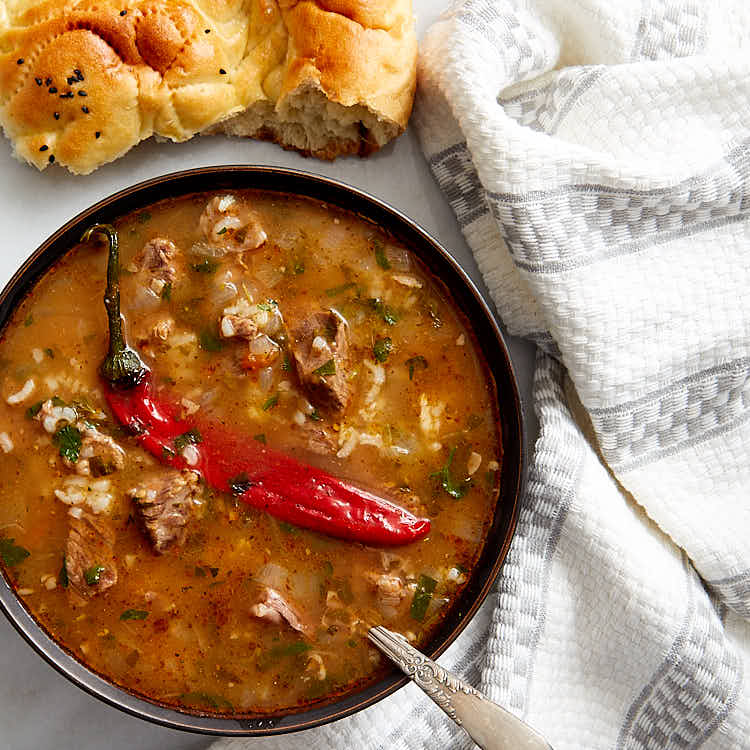 Prep: 20min
Total: 200min
Yield: 8
Servings: 1 serving
Nutrition Facts : calories 358 kcal, Carbohydrate 15 g, Protein 21 g, Fat 22 g, Saturated Fat 8 g, Cholesterol 80 mg, Sodium 83 mg, Fiber 1 g, Sugar 3 g, servingSize 1 serving
Ingredients:
2 lbs beef ((traditionally chuck or brisket))
2 medium onions ((finely chopped))
1/2 cup rice ((uncooked, rinsed in 5 waters))
2 large tomatoes ((peeled and pureed in a blender))
2 Tbsp Tkemali sauce ((or 1-2 Tbsp red wine vinegar))
8 twigs fresh parsley ((2 whole, 6 finely chopped))
8 twigs fresh cilantro ((2 whole, 6 finely chopped))
1 Tbsp khmeli-tsuneli spice mix ((see notes))
2 cloves garlic ((pressed))
2 red hot chili peppers ((whole and undamaged))
Kosher salt ((to taste))
Black pepper ((to taste))
More chopped parsley and cilantro for garnish when serving.
Instruction:
Cut beef chuck or brisket into bite size pieces, place in a large boiling pot, add 8-10 cups of water and bring to a boil. Remove scum, turn the heat to low, cover and simmer for 1 1/2 – 2 hours, until the meat is tender.
After 1 1/2 – 2 hours, add the rinsed rice, chopped onions, two twigs of parsley and two twigs of cilantro. Continue simmering for another 20 more minutes.
Add the finely chopped parsley and cilantro, pressed garlic, whole red hot chili peppers, spice mix, Tkemali sauce or red wine vinegar, pureed tomatoes, salt and pepper to taste, and continue cooking for another 15 minutes.
Serve hot, garnished with more fresh chopped parsley and cilantro.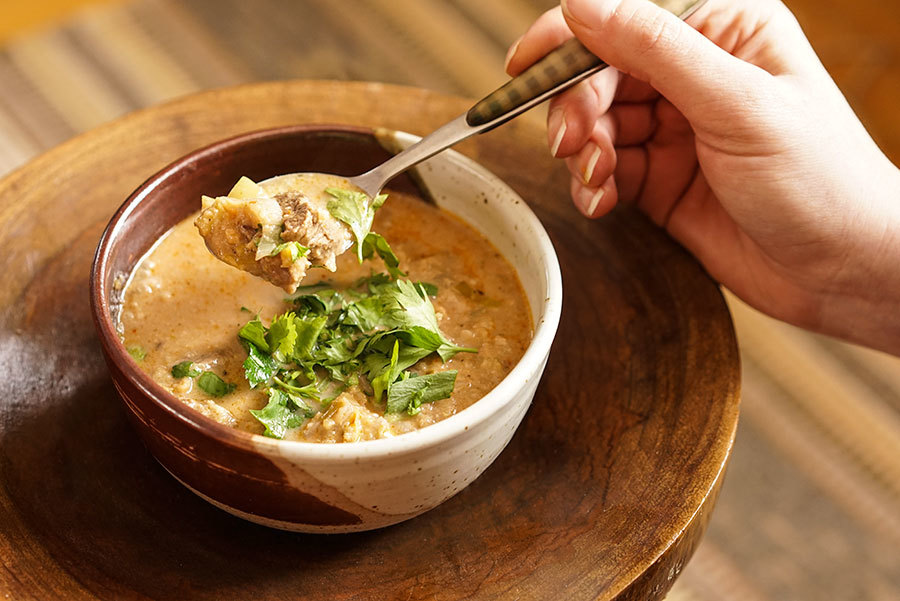 Kharcho is a beef soup from Georgia. It's also great when made with chicken, veal, or lamb.
Prep:
Total:
Yield:
Servings:
Nutrition Facts :
Ingredients:
2 lbs stew beef cubes
1 lb beef bones
12 cup water
1 handful parsley stems
12 black peppercorns
3 bay leaves
½ cup dried apricots
2 large onions
4 Tbsp clarified butter
¼ cup rice
3 Tbsp tomato paste
1 medium leek, sliced
1 Tbsp Aleppo pepper
1 tsp coriander seed
½ tsp caraway
1 tsp thyme
4 cloves garlic
½ cup walnuts
Salt and pepper to taste
1 lemon
2 cups herbs (dill/parsley/cilantro)
1. Wash the meat and bones well in warm water. Place in a large pot with the water and parsley stems. Bring to a boil, skim, add pepper and bay leaf, then reduce heat. Cook on medium-high until the meat is tender, around 1½ hours. Strain the stock and set meat aside.  
2. Meanwhile, dice apricots, place in a bowl and cover with boiling water. Set aside.
3. Place onions and clarified butter in a pot and sauté for 3-4 minutes. Add rice, tomato paste and leek. Sauté for another 2 minutes and add beef stock. Simmer for 30 minutes.
4. Grind spices in a mortar, add garlic and 1 tsp salt, then grind to a purée. Add drained apricots and nuts, then pound into a chunky purée.  
5. Pour the purée into the soup. Cook for another 5 minutes. Salt and pepper to taste.
6. Add lemon juice and herbs.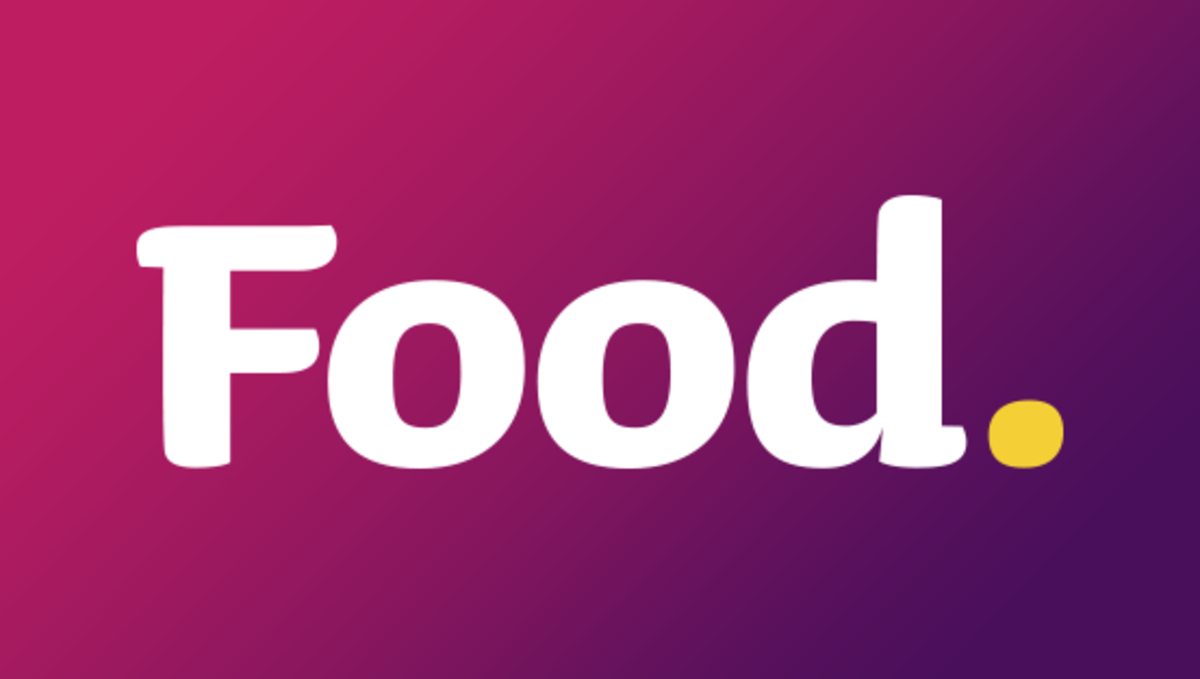 This truly outstanding soup can singlehandedly help you prepare for or recover from a blizzard, a grueling journey, any challenge you can imagine–it is that rich and robust. It has an unusual number of herbs and flavorings; these create an exotic but not offputting taste and texture. I recommend it highly. Serve hot as a meal to 6-8 people.
Prep: 10min
Total: 2h10min
Yield: 6-8 serving(s)
Servings:
Nutrition Facts : calories 466.9, Fat 31.9, Saturated Fat 13.2, Cholesterol 91.2, Sodium 1217.2, Carbohydrate 18.1, Fiber 2.7, Sugar 5.3, Protein 27.5
Ingredients:
1 1/2 lbs boneless lean beef
8 cups beef stock
3 tablespoons butter
2 onions, finely chopped
1 tablespoon flour
3 tablespoons tomato paste
1 (16 ounce) can tomatoes, seeded and chopped
1/4 cup rice
1/2 teaspoon dried tarragon
1/4 teaspoon dried mint
1 1/2 teaspoons sweet Hungarian paprika
1/2 teaspoon hot pepper flakes
1/2 teaspoon ground coriander
1/4 teaspoon ground fenugreek (in a pinch, use curry powder)
2 teaspoons tamarind paste, diluted in hot stock (can substitute 4 Tablespoons of lemon juice)
3 cloves garlic, pressed or minced
1/4 cup walnut pieces, crushed
salt
1/4 cup chopped fresh herb (, any mixture of tarragon, cilantro, basil, parsley, mint, or dill)
3/4 cup chopped fresh herb (, any mixture of tarragon, cilantro, basil, parsley, mint, or dill)
Instruction:
Bring the meat, in one big piece, to a boil in the stock.
Skim off the foam as necessary.
Reduce heat and simmer, partly covered, for about 1½ hours.
Remove and reserve the meat.
When the meat has been cooking for an hour or so, melt the butter in a Dutch oven over medium heat, and stir in the onions.
Fry for about 10 minutes, stirring occasionally, until the onions are soft and colored.
Stir in the flour and cook, stirring, for about a minute.
Add 1/2 cup stock and stir until smooth.
Stir in the tomato paste and the tomatoes.
Whisk in the rest of the stock, add the rice, and simmer, covered, for about 10 minutes.
Add all the rest of the ingredients, except for the fresh herbs, and simmer them until the rice is tender–another 10 to 15 minutes.
At this point, you can cut the meat into bite-sized pieces.
When ready to serve, remove the soup from the heat, stir in the meat pieces and the 1/4 cup of fresh chopped herbs, cover, and let sit for 10 minutes.
Stir in the remaining herbs and ladle into bowls.
Serve with hearty bread and butter and a good Georgian red wine.
Beef Soup Kharcho: a hearty beef and tomato soup with a unique spice blend and plenty of fresh herbs. The tender beef in this beef soup melts in your mouth.
Prep:
Total:
Yield:
Servings:
Nutrition Facts :
Ingredients:
3 lb beef stew meat
3 tsp salt
4 Tbsp light olive oil (or any cooking oil, divided)
1 medium onion (chopped)
2 celery ribs (finely chopped)
4 cups beef broth + 4 cup filtered water
28 oz can diced tomatoes
2 dry bay leaves
1 tsp ground coriander seeds
1 tsp smoked paprika
2 garlic cloves (pressed)
1/2 cup uncooked white rice (I used Jasmine)
2 Tbsp fresh lemon juice (from 1 medium lemon)
1/4 cup fresh parsley (chopped, plus more to serve)
1/4 cup fresh dill (chopped, plus more to serve)
Instruction:
Sprinkle meat with 3 tsp salt and stir. Heat dutch oven or soup pot over medium/high heat and add 2 Tbsp oil. Once oil is hot, add beef in 2 batches, sautéing until browned on all sides. Remove from pot and set aside. Don't worry about cooking it through.
Add chopped onion and celery with more oil as needed. Saute 5 min until softened.
Add canned tomatoes with their juice, 4 cups broth, 4 cups water, 2 bay leaves and browned beef. Bring to a boil then reduce heat, cover and simmer 1 1/2 to 2 hours or until beef is tender.
Add 1/2 cup white rice, 2 Tbsp lemon juice, 2 pressed garlic cloves, 1 tsp coriander, 1 tsp paprika. Cover and simmer 20 min or until rice is tender.
Remove from heat and add 1/4 cup parsley and 1/4 cup dill then cover and let sit off heat another 10 min before serving. Season to taste with salt and pepper and serve with more fresh herbs as desired.
This is a slightly modified recipe of a traditional Georgian soup "Kharcho". It contains beef, rice, potatoes, tomatoes, onions and garlic. Kharcho is not an expensive dish, and it was very popular in Soviet cafes. I want to thank my friend Elena for sending me this marvellous recipe.
Prep: 15min
Total: 1h25min
Yield: 4 Servings
Servings:
Nutrition Facts :
Ingredients:
3 us liquid quarts water
1 pound beef (beef tenderloin steak was used in this recipe)
1/3 cup rice
2 potatoes (medium, peeled and cut into 1/2-inch cubes)
2 tomatoes (medium)
1 onion (medium, finely chopped or grated)
3 cloves garlic (finely chopped)
1 tablespoon olive oil
4 tablespoons tomato sauce
salt (to taste)
parsley flakes (or fresh parsley, optional)
pepper (to taste)
Instructions