Jamaican Steamed Cabbage is a popular side dish in Jamaica. It is easy to prepare and very flavorful. Shredded cabbage and carrots are cooked with onion, garlic, bell pepper, and thyme.
Prep: 10min
Total: 20min
Yield: 6
Servings:
Nutrition Facts : calories 43, Carbohydrate 7, Cholesterol 0, Fat 2, Protein 1, Saturated Fat 0, Sodium 0, Sugar 0
Ingredients:
1/2 medium head cabbage washed
1 medium carrot washed
2 teaspoons olive oil or coconut oil
1/2 medium onion chopped
2 cloves garlic minced
1/4 red bell pepper chopped
2 sprigs fresh thyme or 1/4 teaspoon dried
2 green onions
1/2 teaspoon salt
1/4 cup water or vegetable broth
1 whole Scotch Bonnet pepper
Instruction:
Remove outer leaves of cabbage, cut in half, using a knife slice thinly discarding the inner core. Shred or thinly slice the carrot.
Heat oil in a large skillet on medium-high heat. Saute onion, garlic, bell pepper, thyme, green onion, and salt
Add cabbage and carrots and stir well. Add water or broth and whole Scotch Bonnet pepper.
Cover and allow to cook for about 10 minutes stirring occasionally.
Great Jamaican-style cabbage. Great with jerk chicken or pork.
Prep: 20min
Total: 40min
Yield: 6 servings
Servings:
Nutrition Facts : calories 120.7 calories, Carbohydrate 19.2 g, Cholesterol None, Fat 4.8 g, Fiber 5.9 g, Protein 3 g, Saturated Fat 0.7 g, servingSize None, Sodium 437 mg, Sugar 12.1 g, Trans Fat None, unSaturated Fat None
Ingredients:
1 head cabbage
2 tablespoons olive oil, or as needed
1 small onion, thinly sliced
½ chopped green bell pepper
1 green onion, sliced
2 sprigs fresh thyme
1 whole Scotch bonnet chile pepper
1 teaspoon salt
1 cup shredded carrots
¼ cup white vinegar
2 tablespoons white sugar
Instruction:
Peel tough outer leaves from cabbage, core the head, and shred cabbage.
Heat olive oil in a large skillet over medium high heat; Raise heat to high. Stir onion, green bell pepper, and green onion in the hot oil and cook until vegetables have softened, about 5 minutes, stirring often. Stir thyme, Scotch bonnet pepper, and salt into onion mixture.
Mix shredded cabbage and carrots into onion mixture until thoroughly combined, cover skillet, and reduce heat to medium-low. Cook until cabbage has started to soften, about 10 minutes, stirring occasionally. Uncover skillet and stir vinegar and sugar into cabbage mixture; cook and stir until cabbage is tender, about 3 more minutes. Discard Scotch bonnet pepper and thyme sprigs before serving.
This Jamaican Steamed Cabbage is a flavorful dish that can be paired with most anything.
Prep: 5min
Total:
Yield: 4
Servings: 1 serving
Nutrition Facts : calories 87 kcal, Carbohydrate 13 g, Protein 2 g, Fat 4 g, Saturated Fat 3 g, Sodium 92 mg, Fiber 4 g, Sugar 7 g, servingSize 1 serving
Ingredients:
1 tbsp coconut oil
1 small onion (peeled and finely chopped)
1/2 tsp garlic purée
1/2 cabbage (shredded)
1 bell pepper (sliced)
1 large carrot (julienned)
1/4 cup (60ml) vegetable broth
scotch bonnet (to taste (optional))
4 springs thyme
salt (to taste)
Instruction:
Heat the coconut oil in a pot.
Add the onion and thyme, and cook for about 5-7 mins till soft.
Stir in the garlic purée, followed by cabbage, bell pepper, carrot, scotch bonnet if using, vegetable broth, and salt.
Mix and cover. Reduce and steam for between 10-15 mins or until done to your preference, stirring a couple of times during the process.
Keep and eye on the liquid. If it looks like it is starting to dry out, add another tbsp or so of broth.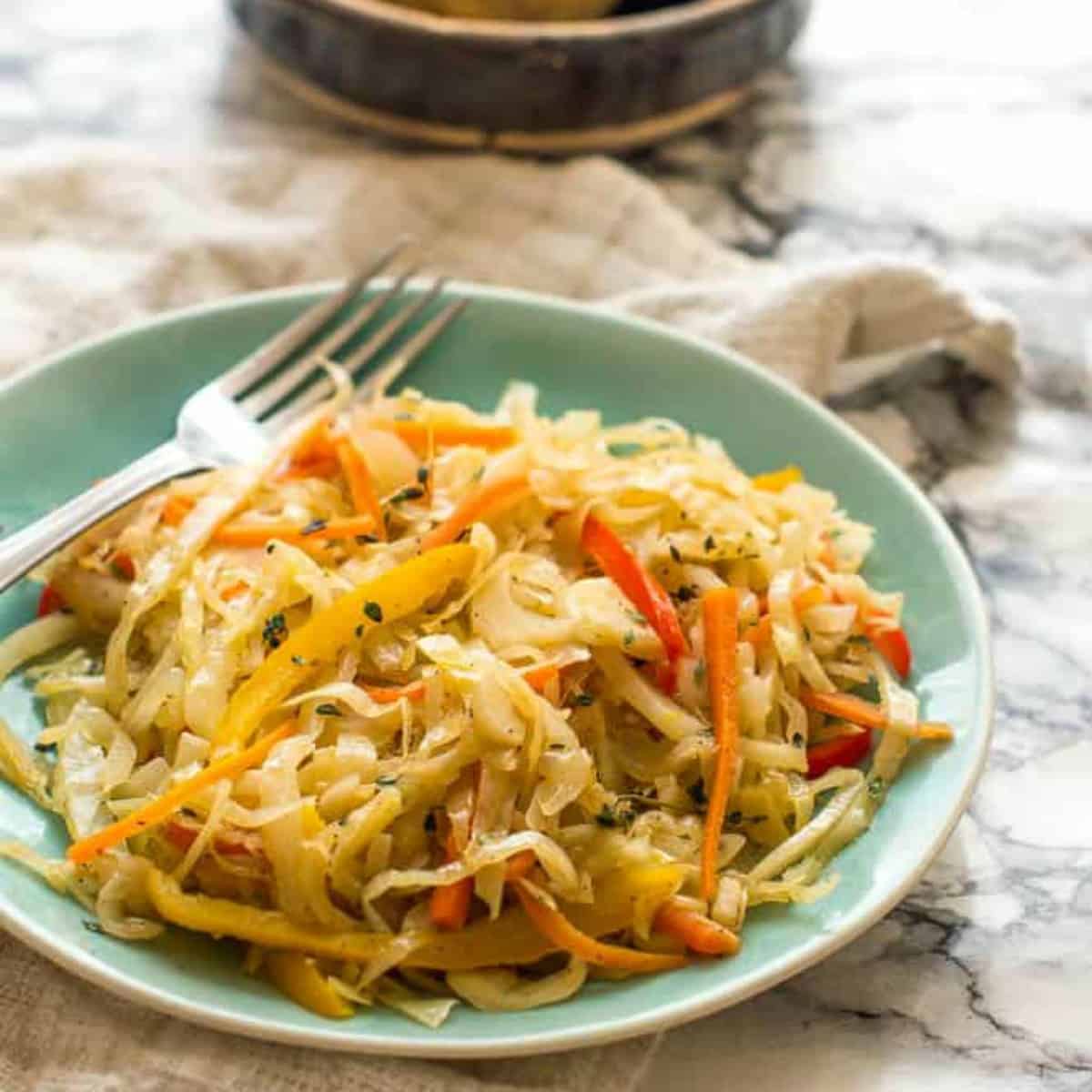 This delicious Jamaican steamed cabbage makes the perfect Caribbean appetiser or side dish.
Prep: 10min
Total: 30min
Yield: 4
Servings: 1 serving
Nutrition Facts : calories 157 kcal, Sugar 7 g, Sodium 131 mg, Fat 10 g, Saturated Fat 7 g, Carbohydrate 17 g, Fiber 5 g, Protein 3 g, servingSize 1 serving
Ingredients:
1/2 a head of large cabbage (sliced)
1 small onion (sliced)
1 medium carrot (julienned)
1 red pepper (sliced finely)
1 yellow pepper (sliced finely)
3 garlic cloves (chopped)
3-4 sprigs of thyme (tied together)
1 tsp of all purpose seasoning (see post for recipe)
1 tbsp of dairy free butter
1 tsp of black pepper
1/4 cup of water
Himalayan pink salt to taste
1/2 scotch bonnet (minced (or use 1/4 tsp of chilli powder))
2 tbsp of coconut oil
Instruction:
Melt the coconut oil on medium heat then proceed to sautee the onion, garlic along with the sprigs of thyme until soft and tender.
Add the cabbage, carrot, bell peppers and scotch bonnet, fold and stir. The pan may seem overcrowded but the cabbage will reduce as it heats through.
Continue to stir and fold until the cabbage reduces in volume, this should take up to 5 minutes.
Once reduced, lower the heat and add the water, ready for steaming.
Cover the skillet with a lid and steam for 15 minutes (10 minutes or less if you want crunchy cabbage).
Remove the lid and season with the all purpose seasoning, black pepper, butter and salt to taste and stir.
Serve accordingly and sprinkle the cabbage with additional loose thyme (optional).
Prep: 10min
Total:
Yield: 6
Servings:
Nutrition Facts :
Ingredients:
1/2 Head of Cabbage
1/4 cup Water
1/2 Sweet Onion
1/2 Bell Pepper (any color you prefer)
6-8 Baby Carrots
2 tsp Minced Garlic
1 Tbsp Olive Oil
2 Tbsp Butter
2 tsp Onion Powder
1 tsp Seasoned Salt
2 Sprigs Fresh Thyme (or 1/2 tsp ground thyme)
1/2 tsp Black Pepper
1/2 tsp Paprika
1 Scotch Bonnet Pepper (*optional: VERY SPICY PEPPER*)
Instruction:
Roughly chop your cabbage and rinse the chopped cabbage in a strainer. Set to the side.
Dice or slice your carrots, onion and bell pepper. Sit it to the side as well.
Over high heat add your olive oil and 1 Tbsp of butter to a medium-large pot. (A pot big enough for your ingredients)
Once the butter has melted in the oil add the minced garlic to the pot and quickly stir the garlic to release the fragrance and not burn the garlic.
Add your bell peppers, carrots, and onions to the pot and stir well to mix the ingredients together in the pot. Once it's combined let it cook for another 2-3 minutes.
Now add your chopped cabbage to the hot pot of ingredients. Add your last Tbsp of butter, sprigs of thyme, onion powder, seasoned salt, black pepper, and paprika on top of the cabbage.
Pour the water into the hot pot. There should be a sizzle of steam and place the lid on the pot. Let it cook on high for a minute or two then turn it down to a medium-low. Let it cook for another 10 minutes.
Stir the ingredients in the pot together until they're well combined.
You can let it cook for another 10 minutes if you like your cabbage with a slight crunch. If you want it to be cooked until it's softer, you can let the cabbage simmer in the pot for an additional 10-15 minutes.
Remove the sprig of thyme (and scotch bonnet pepper if you added it).
Plate and enjoy!