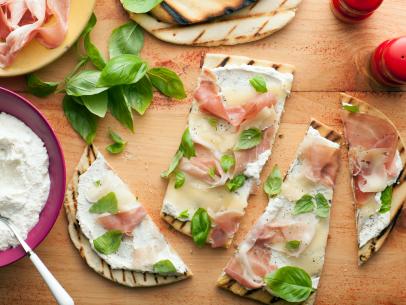 Giada says, "Piadini is a lot like a pizza, except that the crust doesn't rise and it's typically cooked on a grill to give it a nice, smoky flavor and crunchy crust. You can top a piadina with anything you like. This sauceless combination is very typical of northern Italy, where piadini are especially popular."
Prep: 0 12min0
Total: 0 50min0
Yield: 4 to 6 servings
Servings:
Nutrition Facts :
Ingredients:
3 1/2 cups all-purpose flour, plus extra for dusting
1/2 teaspoon baking soda
1 teaspoon fine sea salt, plus extra for seasoning
1 stick butter, cut into 1/2-inch pieces, at room temperature
2 tablespoons extra-virgin olive oil
1 pound whole milk ricotta cheese
2 teaspoons lemon zest (from about 2 small lemons)
Freshly ground black pepper
6 ounces fontina cheese, shredded (about 2 cups)
4 ounces prosciutto, thinly sliced-
1 cup chopped fresh basil
Instruction:
Combine the flour, baking soda, and 1 teaspoon of salt in the bowl of an upright mixer fitted with a dough hook attachment. Add the butter and mix on low speed until incorporated, about 2 minutes. With the machine running, slowly add 10 to 12 tablespoons water until the mixture forms a dough around the hook. Transfer the dough to a lightly floured work surface and knead for 5 minutes until smooth. Cut the dough into 4 equal pieces. Form into disk shapes and wrap in plastic wrap. Refrigerate for 30 minutes.
Place a grill pan over medium-high heat or preheat a gas or charcoal grill. On a lightly floured work surface, roll out each piece of dough into an 8 to 10-inch circle, about 1/8-inch thick. Brush each circle with the extra-virgin olive oil and grill for 4 minutes each side. Remove the piadina from the grill to cool slightly. Combine the ricotta cheese and lemon zest in a small bowl. Season with salt and pepper. Spread each piadina with 1/2 cup of the ricotta mixture. Sprinkle the fontina cheese evenly over the ricotta cheese. Arrange 2 prosciutto slices on top of the cheeses. Cut each piadina into 8 wedges and transfer to a serving platter. Garnish with the chopped basil.
Piadina is an Italian flatbread from Emilia-Romagna region. The traditional recipe calls for lard in the dough which you can replace with a good extra-virgin olive oil. It is typically served stuffed with prosciutto and a local cheese called squacquerone but any soft cheese will work. Enjoy!
Prep: 20min
Total: 24min
Yield: 4 servings
Servings:
Nutrition Facts : calories 429.5 calories, Carbohydrate 47.7 g, Cholesterol 21.3 mg, Fat 23 g, Fiber 1.7 g, Protein 6.5 g, Saturated Fat 8.9 g, servingSize None, Sodium 40.9 mg, Sugar 0.2 g, Trans Fat None, unSaturated Fat None
Ingredients:
2 cups all-purpose flour
1 pinch salt
½ cup water
7 tablespoons lard
Instruction:
Mix flour and salt together in a large bowl. Mix in water a little at a time. Rub in lard until dough comes together in a ball.
Transfer dough to a lightly floured work surface; knead until smooth and elastic, about 10 minutes. Divide the dough into 6 pieces; roll out each piece to 1/16-inch thickness.
Heat a dry, heavy skillet or flat griddle over medium-high heat. Cook each piece until golden brown, about 2 minutes per side.
Laura Lazzaroni's recipe for piadina, a traditional Italian flatbread usually made with lard, is the one she has come to rely on at home. It's made with extra-virgin olive oil (instead of lard) and sourdough starter discard. Lazzaroni lets the dough ferment in the fridge for 2 days: This adds creaminess and a delicious hint of acidity. She also seeks out flavor-packed specialty flours to make her flatbread special. Nutty whole-wheat flour and semola rimacinata, a finely ground, twice-milled flour, contribute to the flatbread's soft, fluffy texture. You can find it at specialty grocery stores or online at italianfoodonlinestore.com.
Prep:
Total: 1D 4h30min
Yield:
Servings:
Nutrition Facts :
Ingredients:
3 ½ cups white whole-wheat flour (such as King Arthur) (about 14 ounces)
¾ cup semola rimacinata flour (such as Caputo) (about 4 3/8 ounces), plus more for work surface
¼ cup extra-virgin olive oil, plus more for greasing, brushing, and, if desired, serving
¼ cup sourdough starter discard (2 ounces)
1 tablespoon plus 1 tsp. flaky sea salt
1 ½ cups warm water (about 82°F)
Ghee or thinly sliced guanciale, for serving (optional)
Instruction:
Stir together white whole-wheat flour and semola flour in a large bowl. Drizzle with oil; using your fingers, rub oil into flour mixture until evenly combined and any beads of oil are dispersed, 3 to 5 minutes. Add sourdough starter and salt. Pour 1 1/2 cups warm water over mixture. Form your hand into the shape of a hook, and mix dough until dough is smooth and all dry ingredients are incorporated, about 2 minutes. Cover bowl with a clean towel, and let dough rest 20 minutes.
Uncover bowl. Using wet hands to prevent dough from sticking, stretch and fold dough over itself in bowl until it feels tight and elastic (a sign that the gluten is well developed), 4 to 6 minutes. If dough starts to tear, stop stretching, and let rest 2 minutes before resuming. Cover bowl with a clean towel, and let dough rest until relaxed and risen slightly, 2 to 3 hours.
Turn dough out onto a clean work surface. Divide evenly into 12 pieces (about 2 7/8 ounces each). To shape each dough piece, form a claw with your hand, and rotate it in a circle, gently pressing down on top of the dough piece. The dough will pull across the unfloured surface and form a tight ball. Arrange dough balls, evenly spaced, in a lightly greased (with oil) 13- x 9-inch baking pan. Cover pan tightly with plastic wrap. Chill at least 24 hours or up to 48 hours. (Chilling for an extra day gives the flatbread a more complex flavor.)
Remove dough from refrigerator. Let stand in baking pan at room temperature until dough is relaxed and no longer cool to the touch, 1 to 2 hours. (If working in a warm environment [around 85°F], let dough stand for only 1 hour.)
Working with 1 dough ball at a time and keeping remaining dough balls covered in pan, transfer dough ball to a lightly floured (with semola flour) surface. Dust top of ball with semola flour. Using the palm of your hand, flatten ball slightly; using your fingertips, stretch it into a 5-inch disk. Using a rolling pin, start from center of disk and roll outward, rotating disk often, to form a 7 1/2-inch round, dusting with flour as needed to prevent sticking. Heat a large cast-iron skillet over medium. Lightly brush with oil. (If using a terra-cotta flatbread baking dish or a comal, heat over medium-high or high, and do not grease.) Toss dough round gently between your hands to stretch it into an 8-inch round, and carefully place dough round in preheated skillet. Cook until dough puffs up (in 1 large bubble or several small bubbles) and bottom is covered in a leopard pattern of golden spots, 2 to 3 minutes. Flip and cook until dough is cooked through and speckled on both sides, about 2 minutes. Remove from skillet, and brush both sides lightly with oil. Keep warm in a folded towel or a tortillero with lid. Repeat process with remaining dough balls, wiping skillet clean and brushing with oil between flatbreads. Serve warm.
Pairs wedges of this chewy flatbread with a tomato-based soup and start dunking! —Cynthia M. Bent, Newark, DE
Prep: 20min
Total: 35min
Yield: 2 loaves (8 wedges each).
Servings:
Nutrition Facts : calories 132 calories, Fat 6g fat (1g saturated fat), Cholesterol 1mg cholesterol, Sodium 115mg sodium, Carbohydrate 16g carbohydrate (1g sugars, Fiber 1g fiber), Protein 3g protein.
Ingredients:
1 package (1/4 ounce) active dry yeast
1 cup warm water (110° to 115°)
1/4 cup plus 3 tablespoons olive oil, divided
2 teaspoons sugar
1/4 teaspoon salt
2-1/2 to 3 cups all-purpose flour
1/4 cup shredded Parmesan cheese
1/2 teaspoon garlic salt
1/2 teaspoon dried rosemary, crushed
In a small bowl, dissolve yeast in warm water. In a large bowl, combine 1/4 cup oil, sugar, salt, yeast mixture and 2 cups flour; beat on medium speed until smooth. Stir in enough remaining flour to form a soft dough., Turn dough onto a floured surface; knead until smooth and elastic, about 5 minutes. Place in a greased bowl, turning once to grease the top. Cover with plastic wrap and let rise in a warm place until doubled, about 40 minutes., Punch dough down. Turn onto a lightly floured surface; divide in half. Pat each piece flat. Let rest 5 minutes. Roll out each portion into an 11-in. circle; place on greased baking sheets. Cover with kitchen towels; let rise in a warm place until almost doubled, about 40 minutes., Preheat oven to 425°. Using the end of a wooden spoon handle, make several 1/4-in. indentations. Brush with remaining oil. In a small bowl, combine cheese, garlic salt and rosemary; sprinkle over dough. Bake 12-15 minutes or until golden brown. Remove from pans to wire racks to cool. Cut into wedges.
Piadina is an Italian flatbread, a no-yeast soft dough made only with flour, water and extra virgin olive oil or lard. Just few ingredients to make a delicious bread for all of your favourite sandwiches. In Italy it's also known as Piadina Romagnola, for the name of the region where it's born, Romagna. The perfect Piadina has a soft texture and a slightly burnt surface. Unlike bread, Piadina has no leavening. Its dough needs only a short rest to make it softer. If you don't have time, it's not even necessary. That's why it's so easy and fast to make.
Prep: 5min
Total: 25min
Yield: 6
Servings: 100 g
Nutrition Facts : servingSize 100 g, calories 320 cal
Ingredients:
500 g (3 ¾ cups) of all purpose flour
220 ml (1 cup) of water
80 ml (about ⅓ cup) of extra virgin olive oil
1 teaspoon of fine salt
⅓ teaspoon of baking soda
Instruction:
Place the flour in a bowl with the baking soda and salt. Mix well. Then add the oil and water. Mix everything for a few minutes until you get a soft but compact dough.
Cover the dough with cling film and let it rest at room temperature for about 30 minutes. Then divide the dough into 6 portions of about 100/110 g each (3.5/3.8 0z).
Work them a little with your hand on the work surface in order to have balls with a smooth surface and let them rest for another 10 minutes covered with a kitchen towel. Roll out each ball with the help of a rolling pin, forming a disc with a thickness of 4/5 mm (about 0,20 inch) and a diameter of about 20/25 cm (8/10 inch).
Cook the Piadina one at a time in a preheated non-stick pan. Turn the Piadina after a minute or when bubbles form. Repeat it twice, pricking it here and there with a fork. The piadina must cook about 2 minutes per side (4 minutes in total). Piadina is ready when it has taken on a slightly golden color and the characteristic small dark spots have appeared on the surface.