Turtle candy is a delicious confection that can be made at home with only a few ingredients. The familiar combination of caramel, chocolate, and pecans has been around for generations – but what makes it so special? It's the unique process that goes into making each piece!
Prep: 15min
Total: 75min
Yield: 34
Servings: 1 turtle
Nutrition Facts : servingSize 1 turtle, calories 182 kcal, Carbohydrate 19 g, Protein 2 g, Fat 12 g, Saturated Fat 4 g, Trans Fat 1 g, Cholesterol 9 mg, Sodium 14 mg, Fiber 1 g, Sugar 18 g, unSaturated Fat 7 g
Ingredients:
3 cups pecan halves
½ cup unsalted butter
7 ounces sweetened condensed milk
1 cup light brown sugar
½ cup light corn syrup
pinch salt
½ teaspoon vanilla extract
1½ cups chocolate morsels (milk chocolate chips)
1 teaspoon vegetable shortening
Instruction:
Add halved raw pecans on a large baking sheet. Bake them for 10 minutes in a 350 degree heated oven. Toasting the pecans adds a deep, rich flavor that makes these candies taste so delicious. Once toasted, remove the pecans from the sheet and coat the pan with parchment paper.
On the parchment paper-lined baking sheet into 34 separate groups that are 2″ – 2 1/2″ wide.
In a 5-quart stockpot, add the light brown sugar, corn syrup, and butter. Bring to a boil over medium heat. Add in the salt, vanilla, and sweetened, condensed milk. Continue cooking and stirring the mixture until the candy thermometer reaches 240 degrees F. Once at temperature, remove caramel from the heat and allow it to cool for 10 minutes to thicken. This will allow for an easier to spoon caramel.
Once the caramel has cooled a bit, spoon 3/4 of a tablespoon over each bunch of pecans. Place the baking sheet in the fridge to harden the caramel for 15 minutes before adding the chocolate.
In a microwave-safe glass bowl, add the milk chocolate chips and vegetable shortening. Heat morsels in 30-second intervals stirring in-between each. Once creamy, remove the caramel topped pecans from the fridge, and spoon about a tablespoon of chocolate over each caramel nut cluster.
Once all are topped, return the candy to the fridge to allow for the chocolate to harden. Enjoy once the chocolate is firm.
One of my favorite Christmas Candy Recipes is this Homemade Turtle Candy.  They are so easy to make and can be made right at home!
Prep:
Total:
Yield: 24
Servings: 24 g
Nutrition Facts : servingSize 24 g, calories 96 kcal, Carbohydrate 11 g, Fat 6 g, Saturated Fat 4 g, Fiber 1 g, Protein 1 g, Sodium 5 mg, Sugar 10 g
Ingredients:
8 ounces pecan halfs (roasted, lightly salted)
25 each caramel squares (unwrapped)
1/4 cup cream or half-and-half (divided)
16 ounces milk chocolate (melted)
1 dash sea salt (optional for sprinkling)
Instruction:
Line two baking sheets or large platters with parchment paper.
Make small piles of pecans, using 5 to 6 pieces per pile. Overlap the pecans some to reduce gaps so the caramel doesn't seep through.
In a medium microwave-safe bowl, add the caramels, half of the cream (reserve the remainder), and heat on high power to melt. Heating in 30 second intervals so they do not burn.
The caramel is runny and loose when it first comes together, but firms up quite a bit as it cools. If the mixture seems thick and needs more cream, add the remaining amount.Alternatively, you can melt caramels on the stove over low heat, using caution and stirring frequently.
Add about 1 tablespoon caramel to the top of each pecan pile; set aside.
In a medium microwave-safe bowl, melt chocolate in 30 second intervals as well.
Add about 2 tablespoons chocolate to the top of each pecan cluster smoothing it over the middle and letting it run around the edges.
Add a pinch of sea salt to the top of the turtles if desired.
Allow Turtles to firm up at room temp or in the fridge or freezer before serving.
A decadent combination of our favorite dessert components, turtles are the ideal treat to satisfy a hankering for chewy caramel and sweet chocolate with the savory crunch of toasted pecans. While they may seem like a tricky confection to make, our recipe makes the whole process quite simple using ingredients like sweetened condensed milk and corn syrup for a foolproof caramel. Boil brown sugar, condensed milk, corn syrup, and butter for a few minutes on the stovetop to create a rich and aromatic caramel. While the mixture is still hot, stir in vanilla and pecans and scoop the sticky filling into mounds on a parchment paper lined baking sheet. Then chill until the mounds set into chewy disks of caramel and pecan. Melt semisweet chocolate and dunk the mounds in the chocolate and remove to form a thin layer of chocolate on the mounds. Finish the disks with a sprinkling of flake salt before placing them back in the fridge to encourage the chocolate to solidify. The final product is a thin layer of chocolate covering a salty-sweet filling that is both toothsome and creamy as it melts in your mouth.
Prep:
Total: 1h20min
Yield: 1 dozen
Servings:
Nutrition Facts :
Ingredients:
2 cups pecan halves, toasted
3/4 cup light brown sugar
1/3 cup sweetened condensed milk
1/3 cup light corn syrup
4 tablespoons unsalted butter, melted
1/4 teaspoon kosher salt
1/2 teaspoon vanilla extract
1/8 teaspoon baking soda
12 ounces semisweet chocolate, finely chopped
Flake salt (optional)
Instruction:
Line a baking sheet with parchment paper; set aside. Finely chop 1/2 cup toasted pecans, leaving the remaining 1 1/2 cups whole.
In a medium saucepan, stir together brown sugar, condensed milk, corn syrup, butter, and salt. Place over medium heat and bring to a boil, stirring constantly, until mixture reaches 240°F, about 5 minutes. Remove from heat; stir in vanilla extract and baking soda.
Add chopped and whole pecan halves and stir for one minute until caramel begins to thicken slightly. Working quickly, use a spoon to scoop 2 tablespoons of mixture in a mound on prepared baking sheet. Repeat until all of the mixture has been used, yielding 12 caramel-pecan mounds. Transfer baking sheet to refrigerator until mounds have solidified and are no longer warm to the touch, about 20 minutes.
Over a double boiler or in the microwave, melt chocolate until smooth. Coat each caramel mound in chocolate, gently lifting the mound out of the chocolate with a fork allowing excess chocolate to drip off. Return chocolate covered mound to its place on baking sheet. If using, sprinkle surface with flake salt while chocolate is still warm. Repeat with remaining mounds, chocolate, and flake salt. Once all turtles are coated, return baking sheet to refrigerator to allow chocolate to harden, about 30 minutes. Store in an airtight container and keep in the fridge.
I am a self-taught candy maker through trial and error. This turtle candy recipe is a favorite of friends and family. —Carole Wiese, New Berlin, Wisconsin
Prep: 40min
Total: 60min
Yield: 4 dozen.
Servings:
Nutrition Facts : calories 171 calories, Fat 11g fat (4g saturated fat), Cholesterol 5mg cholesterol, Sodium 20mg sodium, Carbohydrate 19g carbohydrate (15g sugars, Fiber 1g fiber), Protein 2g protein.
Ingredients:
1 pound pecan halves, toasted
1 can (14 ounces) sweetened condensed milk
3/4 cup light corn syrup
1/2 cup sugar
1/3 cup packed brown sugar
1/4 cup butter, cubed
1-1/2 teaspoons vanilla extract
1 pound milk chocolate candy coating, chopped
Flake sea salt, optional
On waxed paper-lined baking sheets, arrange pecans in small clusters of 4-5 pecans each. , For caramel, in a small saucepan, combine the milk, corn syrup and sugars. Cook and stir over medium heat until a candy thermometer reads 238° (soft-ball stage). Remove from the heat. Stir in butter and vanilla. Working quickly, spoon caramel onto pecan clusters. Let stand until set. , In a microwave, melt candy coating; stir until smooth. Spoon over caramel. If desired, top with flake sea salt. Chill for 10 minutes or until set. Store in an airtight container.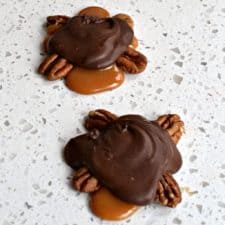 Delicious chocolate pecan caramel candies made super easy using the microwave.  Perfect for parties, holiday gift giving and hostess presents.
Prep: 10min
Total: 15min
Yield: 12
Servings: 1 chocolate turtle
Nutrition Facts : servingSize 1 chocolate turtle, calories 271, Sugar 28.4 g, Sodium 55.1 mg, Fat 15.6 g, Saturated Fat 5.7 g, Trans Fat 0 g, Carbohydrate 33.5 g, Fiber 2.5 g, Protein 3.5 g, Cholesterol 2.3 mg
Ingredients:
48 pecan halves (get a little extra in case some break)
28 individually wrapped caramels
1 tablespoon cream
1 1/4 cups semi sweet chocolate chips (I use Ghirardelli chips)
1 teaspoon coconut oil (optional)
Instruction:
Cover a large cookie sheet with parchment paper.
Arrange pecans in twelve X's making four legs sticking out.
Unwrap caramels and place in microwavable bowl. Don't use too small of a bowl. You will need to be able to easily stir it. Add cream and microwave on 50% power for 30 seconds If not melted heat for 15 second intervals at 50% power. Stir between each interval. Stir and place one heaping tablespoon in the center of each set of pecans. Allow to cool for at least 10 minutes.
Melt chocolate chips and coconut oil in microwave for 1 minute at 50% power. Stir until bowl no longer feels warm. Continue heating at 15-30 second 50% power intervals until fully melted. Stirring every interval until the bowl no longer feels warm.
Spoon chocolate over the the caramel; spreading and swirling with the back of the spoon. Allow to fully set for several hours.  You can refrigerate the turtles to speed up the process.