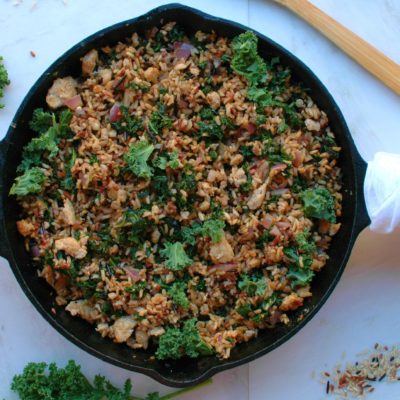 Prep: 5min
Total: 25min
Yield: 4-5 servings
Servings:
Nutrition Facts :
Ingredients:
2 tbsp. olive oil
1.5 lbs. ground turkey
1 small red onion, diced
3-4 cloves garlic, minced
1 large bunch of kale, chopped (about 6-8 cups loosely packed)
3 cups cooked wild rice blend
1 tsp. salt
¼ tsp. pepper
½ tsp. ground thyme
½ tsp. paprika
¼ tsp. red pepper flakes (optional)
Instruction:
Heat olive oil in a large cast-iron skillet and brown turkey, breaking into pieces as it cooked.
Add garlic and onion and cook until translucent.
Add kale and cook until wilted.
Reduced heat to low and stir in rice blend.
Add salt, pepper, garlic powder, thyme, paprika, and red pepper flakes (if using).
Taste and season as desired.
Enjoy!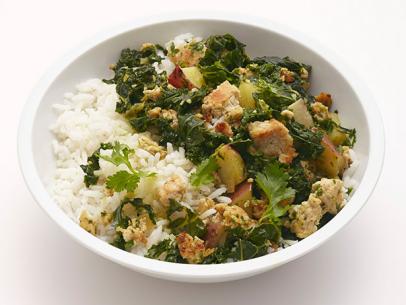 Prep: 0 15min0
Total: 0 40min0
Yield: 4 servings
Servings:
Nutrition Facts : calories 440 calorie, Fat 14 grams, Saturated Fat 3 grams, Cholesterol 65 milligrams, Sodium 248 milligrams, Carbohydrate 51 grams, Fiber 5 grams, Protein 30 grams
Ingredients:
1 bunch cilantro, tough stems removed
1 jalapeno pepper, halved (remove seeds for less heat)
3 tablespoons sliced almonds
Kosher salt
1 tablespoon vegetable oil
1 pound 93 percent lean ground turkey
1 onion, finely chopped
2 cloves garlic, finely chopped
1 teaspoon ground cumin
1/2 pound red-skinned potatoes, cut into 1/2-inch pieces
1 5-ounce package chopped kale (about 6 cups packed)
2 1/2 cups cooked white or brown rice
Instruction:
Puree all but 3 tablespoons cilantro with 1/2 cup water, the jalapeno, almonds and 1/4 teaspoon salt in a blender until smooth.
Heat the vegetable oil in a large pot or Dutch oven over medium-high heat. Add the turkey and 1/2 teaspoon salt; cook, stirring and breaking up the meat with a wooden spoon, until browned, about 4 minutes.
Add the onion, garlic and cumin and cook, stirring occasionally, until softened, about 6 minutes. Stir in 1 1/2 cups water, the pureed cilantro mixture, the potatoes and kale. Cover and bring to a boil, then uncover and reduce the heat to medium. Simmer, stirring occasionally, until the potatoes are tender, about 15 minutes. Season with salt and serve over the rice. Top with the reserved cilantro.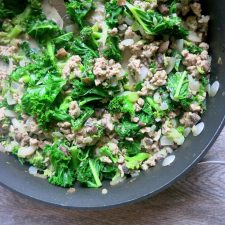 This simple turkey and kale skillet is a filling dish that is high in protein and overflowing with fresh vegetables. Made with wholesome ingredients and also gluten-free and Paleo-friendly, this one-pan meal can be served alone or on top of spaghetti squash, pasta or fresh spinach.
Prep:
Total: 20min
Yield: 4
Servings:
Nutrition Facts :
Ingredients:
1 teaspoon coconut oil
1 onion, diced
3 garlic cloves, minced
1 pint portobello mushrooms, chopped
1 pound lean ground turkey
1 1/2 cup broccoli florets, chopped
1 teaspoon dried thyme
1/2 teaspoon dried sage
1/2 teaspoon dried ginger (more to taste)
1/2 cup chicken broth
1 cup light coconut milk
4 cups fresh chopped kale
salt and pepper to taste
Instruction:
Heat coconut oil over medium heat. Add onion, garlic and mushrooms. Cook until onion is translucent, about 3-4 minutes.
Add ground turkey, broccoli, thyme, sage, ginger salt and pepper. Stir continuously to break up turkey and brown the meat.
Pour chicken broth over turkey and allow to simmer for a couple of minutes as turkey cooks through.
Add coconut milk, kale and additional salt and pepper to taste. Cook until kale is slightly wilted, approximately 5 minutes.
Serve in bowls or over pasta, spaghetti squash or fresh spinach!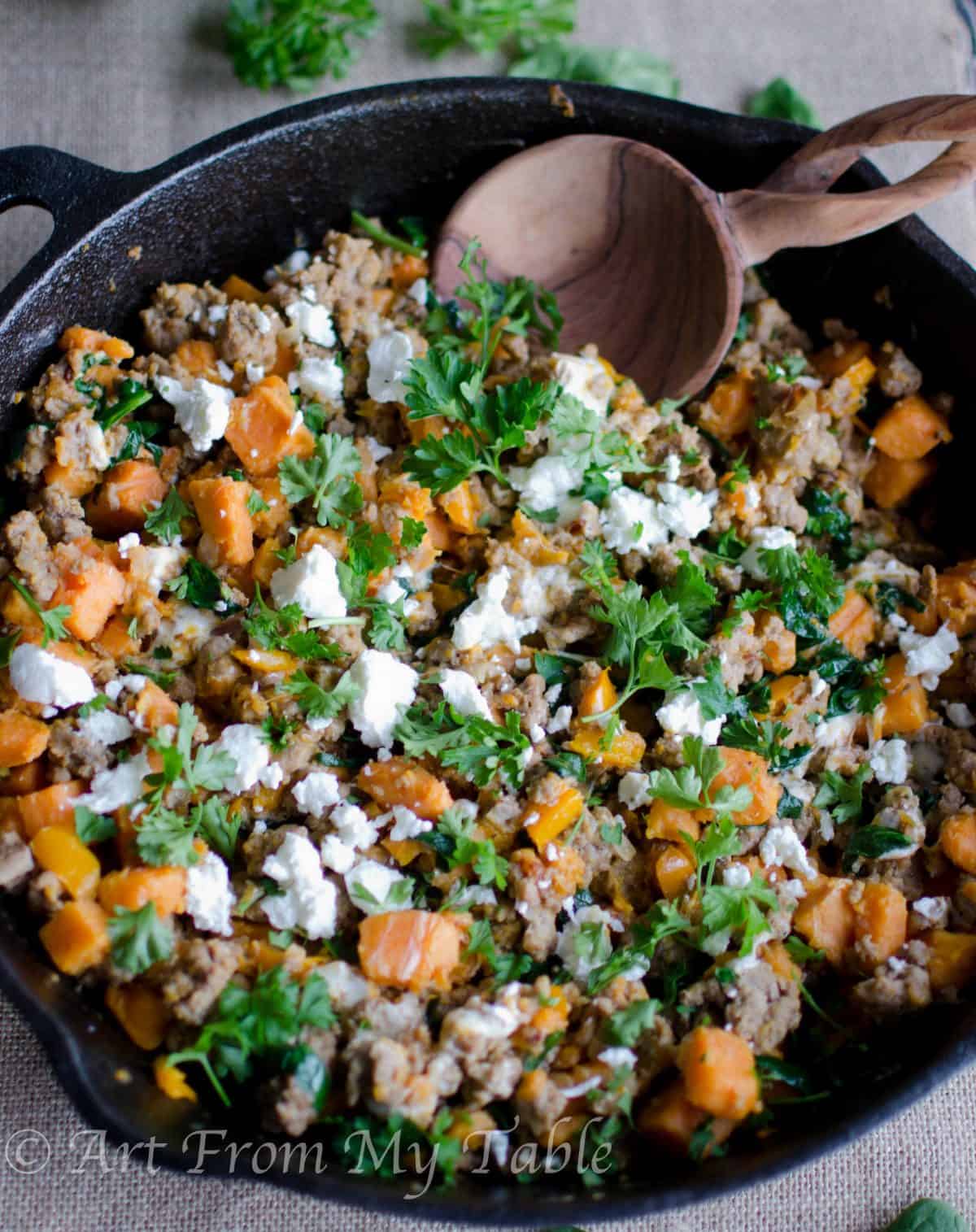 One pot wonder, just 5 ingredients and you have a healthy well balanced meal in 30 minutes.
Prep: 10min
Total: 30min
Yield: 6
Servings: 1 cup
Nutrition Facts : servingSize 1 cup, calories 373 kcal, Carbohydrate 18 g, Protein 32 g, Fat 19 g, Saturated Fat 5 g, Cholesterol 116 mg, Sodium 189 mg, Fiber 2 g, Sugar 3 g
Ingredients:
2 Tbs olive oil
2 pounds lean ground turkey
1 small onion (diced)
3 cups sweet potatoes (peeled and cut into chunks)
3 cups Kale or Spinach
1/4 cup crumbled goat cheese (or more to taste)
Salt and Pepper to taste.
parsley (optional for garnish)
Instruction:
Warm the olive oil in a skillet
Add onions and saute until translucent, 5 minutes.
Add the ground turkey, browning and breaking up until cooked through.
Add the sweet potatoes, and cover. (you may need to add a little water) Cook until tender, 10-15 minutes.
Add the Kale, and cook until wilted.
Add the cheese.
Garnish with parsley if desired.
Prep: 5min
Total: 30min
Yield: 2
Servings:
Nutrition Facts :
Ingredients:
2 tbsp olive oil
2 tbsp butter
1 medium orange or red bell pepper, chopped fine
1 small onion, chopped fine
2 medium sweet potatoes, cut into 1/4" – 1'2"cubes and par-boiled (see instructions)
1/2 lb lean ground turkey
1/2 tsp garlic powder
1/2 tsp dry oregano
1/2 tsp dry basil
1/2 tsp red pepper flakes
1/2 lb chopped kale
3 cloves garlic, finely chopped
1/3 cup low sodium chicken stock
1/4 cup crumbled honey goat cheese ((or plain goat cheese))
Instruction:
Cut sweet potatoes into 1/4" – 1/2" pieces, transfer to a small saucepan, cover with water and bring to a boil. Reduce heat to medium and simmer until easily pierced with a fork, about 6-8 minutes. Drain and se aside. 2. While the potatoes par-boil, heat olive oil in a large, deep frying pan over medium heat and add peppers and onions. Season with salt and pepper, toss to coat in olive oil, and continue to cook, stirring occasionally until translucent and slightly softened, about 5 minutes. 3. Add potatoes, season with salt and pepper and cook 3-5 minutes more, until potatoes are softened and onions and peppers are cooked through. 4. Move sweet potatoes, onions and peppers to outer edges of pan. Add butter to center of pan, and once melted, add ground turkey. 5. Season turkey with salt and pepper to taste, garlic powder, oregano, basil, and red pepper flakes. Continue to cook, breaking up into small pieces with a wooden spoon or spatula until all turkey is cooked through. 6. Once turkey is fully cooked, stir all ingredients to combine, and add the kale to the top. Add chicken stock, reduce heat to low, and cover. 7. Continue cooking covered on low heat for 5-7 minutes, stirring occasionally, until kale is well cooked/wilted. 8. Bring heat back to medium, stir in garlic and cook until fragrant, about 1 minute. Remove from heat and top with crumbled goat cheese.