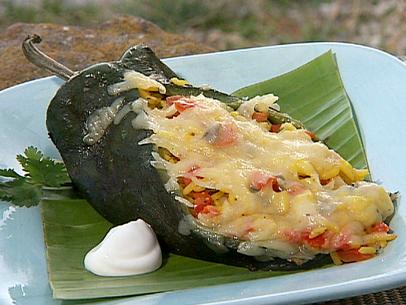 Prep: 0 15min0
Total: 0 35min0
Yield: 4 servings
Servings:
Nutrition Facts :
Ingredients:
4 poblanos, roasted, seeded, skins removed
2 tablespoons butter
1 small onion, diced or 1/2 large onion
1 small red bell pepper, diced
1/4 cup pepita seeds
1 small tomato, diced
1 cup Yellow Cooked Rice, recipe follows
1/2 teaspoon salt
1/4 teaspoon black pepper
2 tablespoons freshly chopped cilantro leaves
1 cup shredded Monterey jack cheese
1/2 cup sour cream
2 cups water
Pinch salt
1 cup yellow rice
Instruction:
On a preheated grill roast your poblanos for about 10 minutes or until the skins begin to blister and char. Place into a bowl and cover with plastic wrap for about 5 minutes. In a medium skillet add the butter and saute the onion and red bell pepper until soft for about 5 minutes. Once cooked place into a medium bowl. In the same cleaned skillet toast the pepita seeds for about 3 minutes. Place into bowl with onions, peppers, diced tomato, cooked rice, salt, pepper and cilantro. Mix well. Carefully remove skins from poblanos. With a paring knife or your fingernail (the poblano with be tender), make a slit in the poblano from bottom to top. Pull and discard the seeds and inner membranes, being careful not to tear the rest of the poblano. With a spoon stuff poblanos with rice mixture. Top with cheese. Cover a section of the grill with foil and place the poblanos back on the grill for about 5 to 10 minutes until cheese melts. Top with a dollop of sour cream.
Boil 2 cups salted water. Add rice, cover and lower heat. Cook for about 15 minutes. Fluff with fork when done.
Filled with corn, black-eyed peas, and plenty of gooey cheese, these hearty stuffed peppers are cooked on the grill for rich, smoky flavor. Peeling the poblanos might seem like an unnecessary step, but don't be tempted to skip it. Unless you're making kabobs, grilled peppers of any type always taste better when their skins have been removed. Char the peppers evenly on all sides, then transfer them (while hot) to a heavy-duty ziplock plastic bag for 10 minutes. The trapped steam inside the bag will loosen the skins so the peppers can be peeled more easily. Poblano peppers are generally pretty mild, but if you prefer, you can substitute halved medium-size bell peppers in this recipe. (Bell peppers will have an 'open-faced' look, but will still taste great.) Serve with pico de gallo on the side for topping and plenty of cold beers or margaritas for a summertime meal that feels like a fiesta.
Prep:
Total: 45min
Yield: Serves 4
Servings:
Nutrition Facts :
Ingredients:
8 medium poblano chiles
5 ears fresh yellow corn, shucked
2 tablespoons butter
1 (15-oz.) can black-eyed peas, drained and rinsed
2 medium garlic cloves, minced (2 tsp.)
1 1/2 teaspoons kosher salt
1 teaspoon ground cumin
1/4 teaspoon black pepper
1/4 cup chopped fresh cilantro
1 tablespoon chopped fresh oregano
8 ounces Monterey Jack cheese, shredded (about 2 cups)
Pico de gallo
Instruction:
Preheat a gas grill to medium-high (400°F to 450°F) on 1 side. Place poblano chiles and corn on oiled grates over lit side of grill. Cover grill. Grill poblanos, turning once, until skins are charred, about 5 minutes per side. Grill corn, turning occasionally, until charred, about 5 minutes per side. Remove poblanos and corn from grill.
Transfer poblanos to a heavy-duty ziplock plastic bag. Seal and let stand 10 minutes.
Meanwhile, let corn cool 5 minutes. Cut kernels from cobs, discarding cobs. Set aside kernels.
Remove poblanos from plastic bag. Remove and discard skins, keeping stems intact. Working with 1 at a time, make a lengthwise slit down side of poblano, starting at the stem and being careful to not cut through the other side of the pepper. Carefully remove and discard seeds and membrane. Set aside poblanos.
Heat butter in a large skillet over medium-high until melted and foamy. Add peas. Cook, stirring often, until hot, about 2 minutes. Stir in reserved corn kernels, garlic, salt, cumin, and black pepper. Cook, stirring often, 2 minutes. Stir in cilantro and oregano. Remove from heat; stir in cheese.
Spoon pea mixture evenly into poblanos, pulling sides of each chile around the filling to enclose. Transfer poblanos to a baking sheet lightly coated with cooking spray. Place on unlit side of grill. Grill, covered, until cheese is melted and bubbling, about 5 minutes. Serve immediately with pico de gallo on the side for topping.
Delicious grilled poblano peppers stuffed with BUSH'S Black Bean Fiesta™, topped with cheese and then grilled to perfection! These peppers make a great side dish or an healthy, protein-packed entree! Top with tomatoes, onions and avocado for an easy, inexpensive meal!
Prep: 20min
Total: 40min
Yield: 4
Servings: 2 pepper halves
Nutrition Facts : servingSize 2 pepper halves, calories 340 kcal, Carbohydrate 20.8 g, Protein 10.8 g, Fat 9.9 g, Saturated Fat 3.9 g, Fiber 6.2 g, Sugar 4 g
Ingredients:
4 large poblano peppers, halved and seeded
2 (15 ounce) cans BUSH'S Black Bean Fiesta™
3/4 cup shredded cheddar cheese, plus more if desired
For serving:
Fresh grape tomatoes, halved
Diced red onion
Diced avocado
Greek yogurt
Instruction:
Preheat grill to medium heat, or around 375 degrees F.
There are two options for making these stuffed poblano peppers: you can either make two foil packs to hold the peppers, or use a greased cast iron skillet. For the foil pack, simply place peppers on a large sheet of foil and roll up the ends up the foil to secure peppers. You may need to use two foil packets for this to fit all the peppers. Alternatively you can grease two cast iron skillets and use that instead.
Place pepper halves in foil packs or cast iron skillets arranging so that they fit well and aren't falling over. Add beans to each pepper half, being careful not to overfill. Top with shredded cheese.
To grill: place foil packet or cast iron directly on grill and grill for 20-25 minutes or until peppers are fork tender. It's okay if some of the beans spill over the edges of the pepper, they'll still be delicious!
Once done serve immediately and top with tomatoes, onions, avocado and yogurt, if desired. Use a fork and knife to eat. Serves 4, 2 pepper halves each.
My husband and I entertain a lot in summer, and this has quickly become the most-requested dish. I usually serve it with Mexican rice and a tossed salad.
Prep: 10min
Total: 30min
Yield: 6 servings.
Servings:
Nutrition Facts : calories 304 calories, Fat 14g fat (7g saturated fat), Cholesterol 110mg cholesterol, Sodium 389mg sodium, Carbohydrate 5g carbohydrate (2g sugars, Fiber 2g fiber), Protein 38g protein.
Ingredients:
3 large poblano peppers
1-1/2 cups shredded Monterey Jack cheese
4-1/2 teaspoons chili powder
1-1/2 teaspoons onion powder
1-1/2 teaspoons ground cumin
1/2 teaspoon garlic powder
1/4 teaspoon salt
1/8 teaspoon aniseed, ground
1/8 teaspoon cayenne pepper
2 pork tenderloins (about 1 pound each)
Cut each pepper in half and remove the seeds. Stuff peppers with cheese; set aside., Combine the seasonings; rub over pork. Grill, covered, over medium-hot heat until a thermometer reads 145°, about 15 minutes. Place peppers over indirect heat; cook until peppers are tender and cheese is melted, about 8-10 minutes.
A moist and cohesive filling of fresh and tangy flavors pairs incredibly well with the fruity poblano that holds it, helping solidify my view that poblanos are the ultimate stuffing pepper.
Prep: 30min
Total: 1h
Yield: 6 servings
Servings:
Nutrition Facts :
Ingredients:
1 cup uncooked white long grain rice
1 1/2 cups water
3 3/4 teaspoons kosher salt
6 medium poblano peppers
1 cup cooked black beans
1 teaspoon toasted cumin seeds
3/4 cup sour cream
3/4 cup crumbled Cotija cheese (about 4 ounces)
1/2 cup chopped cilantro (about 1/2 bunch)
1 cup chopped fresh tomatoes (about 2 small tomatoes)
2/3 cup chopped scallions (about 1/2 bunch)
1 jalepeno, finely chopped
1/2 teaspoon freshly ground black pepper
Instruction:
Place rice in a colander or a fine mesh strainer and rinse under cold running water until the water runs clear. Combine rice, water, and 3/4 teaspoon of the salt in a medium saucepan and bring to a boil over high heat. Cover the pan and reduce heat to low; cook until water has been completely absorbed, about 10 minutes (rice will be slightly undercooked). Remove the lid and set the pan aside to let rice cool.
Place beans in a large mixing bowl. Using a potato masher or the back of a fork, lightly mash them (some whole beans will remain). Stir cumin, sour cream, Cotija, cilantro, tomatoes, scallions, jalapeno, pepper, and remaining salt into mashed beans and mix until evenly combined. Gently mix in cooled rice. Taste mixture and, if necessary, season with salt and freshly ground black pepper. (Note that the filling should be quite salty to compensate for there being no salt on the peppers.) Stuff each pepper with the filling and replace caps, securing with a toothpick.
Light one chimney full of charcoal. When all the charcoal is lit and covered with gray ash, pour out and spread coals out evenly over the charcoal grate. Place stuffed peppers on their sides and close the lid. Roll each pepper a quarter turn every 7 minutes or so to cook all four sides. The peppers are finished once the filling is hot, the skins are well-charred, and the flesh is soft to the touch, about 30 minutes. Remove from the grill and serve.