A mayo fit for the Mediterranean Diet! Try this delicious mixture of Greek yogurt, Kalamata olive paste, extra virgin Greek olive oil and more on all your sandwiches.
Prep: 10min
Total:
Yield: 2
Servings:
Nutrition Facts :
Ingredients:
1 1/2 cups Greek yogurt (preferably full fat)
1/3 cup green or Kalamata olive paste
1 scant tablespoon Dijon mustard
3 tablespoons extra virgin Greek olive oil
1 Greek garlic clove in brine (minced)
Grated zest of 1 small orange
Instruction:
Whisk the yogurt, olive paste, mustard and olive oil together in a bowl. Using a spatula or wire whisk, stir in the remaining ingredients. Season to taste with salt and pepper. Chill before serving.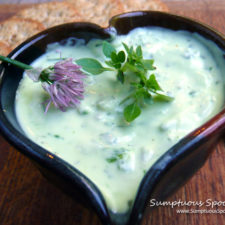 Prep: 15min
Total: 15min
Yield: 3
Servings:
Nutrition Facts :
Ingredients:
A handful of mixed herbs, chives, and green onion (I used basil, rosemary, tarragon, dill, oregano, chives & green onion)
A few garlic scapes (greens from garlic) or 1 clove of garlic, peeled
2 Tablespoons extra virgin olive oil
2 Tablespoons nonfat or low-fat milk
1/2 cup nonfat Greek yogurt
1/2 teaspoon salt (more or less to taste)
1/2 teaspoon sugar
Instruction:
Gather your herbs, chives, green onion and garlic scapes (or garlic) and put them in a handi chopper. Pour in the olive oil and milk and blend to chop all the herbs very fine.
Put the Greek yogurt in a small mixing bowl and add the chopped herb mixture, carefully scraping out all the herbs from the chopper bowl. Add the salt & sugar and stir to mix well.
Store in an airtight container in the fridge.
This Yogurt Mayo Dip comes together in just 5 minutes and makes for a great party appetizer. Serve it with veggies sticks, chips, or nachos.
Prep: 5min
Total: 7min
Yield: 6
Servings: 1 serving
Nutrition Facts : calories 109 kcal, Carbohydrate 2 g, Protein 4 g, Fat 10 g, Saturated Fat 2 g, Trans Fat 1 g, Cholesterol 10 mg, Sodium 70 mg, Fiber 1 g, Sugar 2 g, unSaturated Fat 6 g, servingSize 1 serving
Ingredients:
1 cup Greek yogurt
3 tablespoons mayonnaise (full-fat or low-fat)
1/4 cup sour cream
1 teaspoon lime juice
1/2 teaspoon lime zest
1 teaspoon red pepper flakes
1 tablespoon extra virgin olive oil
1 teaspoon minced garlic
1 tablespoon mixed Italian seasoning
1/2 teaspoon salt (or to taste)
1/4 teaspoon pepper powder
Instruction:
Add all the ingredients to a mixing bowl.
Whisk well using a wire whisk. Check for salt and pepper and add more if required.
Chill the dip for at least 30 minutes for the flavors to blend well.
Serve chilled with french fries, nachos, crackers, potato chips, or fresh veggies sticks or slather on sandwiches and wraps.
This Sriracha Aioli recipe is packed with healthy, flavorful ingredients that instantly level up your snacking game. Made in minutes with just the right amount of tangy, creamy, spicy heat! This clean eating condiment is mayonnaise-free and the perfect sauce, dip or spread.
Prep: 5min
Total: 5min
Yield: 12
Servings: 2 tablespoons
Nutrition Facts : servingSize 2 tablespoons, calories 18 kcal, Carbohydrate 2 g, Protein 2 g, Fat 1 g, Saturated Fat 1 g, Cholesterol 1 mg, Sodium 65 mg, Fiber 1 g, Sugar 2 g, unSaturated Fat 2 g
Ingredients:
1 cup Low-Fat Greek Yogurt
2 tablespoons sriracha sauce
1.5 teaspoons honey
1 clove garlic (finely chopped)
1 tablespoon lemon juice
salt and pepper (to taste)
Instruction:
Finely chop one clove of garlic
In a small bowl, combine Greek yogurt, honey, sriracha sauce, lime juice, garlic, and salt.
Taste and adjust seasonings if needed.
Checked the cupboard and there's no mayo? Or doesn't fit your diet? Here's the best mayonnaise to use in all your cooking.
Prep: -5h10min
Total: 10min
Yield: Varies
Servings:
Nutrition Facts :
Ingredients:
1 cup raw or roasted cashews*
3/4 cup water or vegetable broth
1/2 teaspoon kosher salt
1 small garlic clove (1/8 teaspoon finely minced)
1/8 teaspoon kosher salt
1 egg yolk
1 teaspoon white wine vinegar
1/2 teaspoon Dijon mustard
1/3 cup olive oil OR 3 tablespoons olive oil plus 2 tablespoons neutral oil*
1 ripe avocado*
1 small garlic clove
1 tablespoon lemon juice
1 teaspoon Dijon mustard
1/4 teaspoon kosher salt
2 tablespoons olive oil
2 tablespoons aquafaba (liquid from a can of chickpeas)
Instruction:
Place the cashews in a bowl and cover them with water. Soak for at least 1 hour. For preparation in advance, you can soak the cashews overnight, which is even better. Drain the cashews. Add the cashews, broth or water, and salt to a blender, then blend on high for 1 minute. Stop and scrape, then add additional liquid if necessary to come to a creamy consistency. Blend for several minutes until creamy and smooth. (Store in a sealed container in the refrigerator for up to 1 week or in the freezer for several months.)
Place a medium flat-bottomed bowl on top of a folded dish towel to keep it secure while whisking. The size of the bowl is important; it must be large enough to allow for whisking vigorously. Add the garlic, egg yolk, white wine vinegar, and Dijon mustard to the bowl and whisk until thick and creamy. Pour the olive oil into a liquid measuring cup. Starting one drop at a time, slowly add the olive oil into the egg mixture, whisking constantly. Allow the olive oil to become completely incorporated before continuing to add more olive oil; the drizzling can become gradually faster as you add more oil. Whisk until all of the oil is fully incorporated and the aioli is thickened. Store the leftover aioli in an airtight container in the refrigerator for several weeks; bring to room temperature before serving.
Pit the avocado. Add all ingredients to a small blender, small food processor, or cup of an immersion blender and blend. If you don't have a small blender, you can make a chunkier version of the sauce by grating in the garlic and then whisking very vigorously to get it as smooth as possible. You also can use a standard-size blender or food processor, but you'll need to make double the mayo to get it to blend. Store 2 to 3 days in the refrigerator and place plastic wrap pressed onto the surface of the mayo to prevent browning. If the very top layer does get browned, you can simply scrape it off.