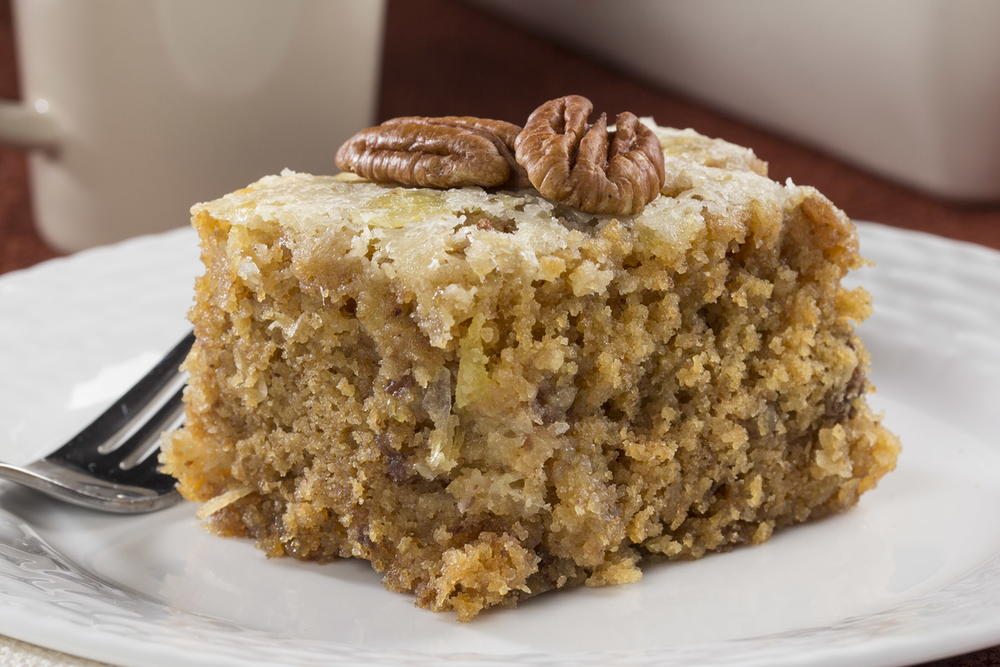 When you think of graham crackers, you might think of crushing them up to make a pie crust, or maybe sandwiching chocolate bars and toasted marshmallows between a couple of 'em for s'mores. Well, now we've taken it a step further by making a super moist, Graham Cracker Cake that's packed with flavor! Trust us, this is a recipe you'll want to get your hands on.
Prep:
Total:
Yield:
Servings:
Nutrition Facts :
Ingredients:
2 sticks (1 cup) butter, softened, divided
1 1/2 cups granulated sugar
1 (13.5-ounce) package graham cracker crumbs
2 teaspoons baking powder
3/4 cup milk
5 eggs
1 teaspoon vanilla extract
1/2 cup flaked coconut
1/2 cup chopped pecans
3 cups confectioners' sugar
1 (8-ounce) can crushed pineapple, undrained
Instruction:
Preheat oven to 350 degrees F. Coat a 9- x 13-inch baking dish with cooking spray; set aside.
In a large bowl with an electric mixer on medium speed, beat 1-1/2 sticks butter and the granulated sugar 3 to 4 minutes or until creamy. Add graham cracker crumbs, baking powder, milk, eggs, and vanilla, and beat until well mixed. Stir in coconut and pecans until well mixed, then spread batter into baking dish.
Melt remaining half stick butter in microwave. In a large bowl, combine the melted butter, confectioners' sugar, and pineapple until well mixed; pour evenly over batter.
Bake 45 to 50 minutes or until a wooden toothpick inserted in center comes out clean. Allow to cool, then cut and serve.
Why this isn't as popular as it once was, I will never know.
Prep:
Total:
Yield: 1 – 9 inch layer cake
Servings:
Nutrition Facts : calories 709.3 calories, Carbohydrate 59.2 g, Cholesterol 168.1 mg, Fat 52 g, Fiber 1.4 g, Protein 5.2 g, Saturated Fat 28.1 g, servingSize None, Sodium 255.5 mg, Sugar 46.2 g, Trans Fat None, unSaturated Fat None
Ingredients:
2 cups graham cracker crumbs
¾ cup ground pecans
½ cup cake flour
2 teaspoons baking powder
¼ teaspoon salt
1 cup unsalted butter, softened
1 cup packed light brown sugar
3 egg yolks, room temperature
2 teaspoons vanilla extract
1 cup milk, lukewarm
3 egg whites, room temperature
¼ cup white sugar
2 tablespoons white sugar
1 ½ cups unsalted butter, softened
½ cup packed dark brown sugar
½ cup heavy whipping cream
¾ cup confectioners' sugar
½ cup chopped pecans
Instruction:
Preheat oven to 350 degrees F (175 degrees C). Grease and line with parchment two 9 inch round pans.
Combine the crumbs, 1/2 cup pecans, flour, baking powder, and salt.
In a large bowl, cream the butter and the light brown sugar until fluffy. Slowly beat in the egg yolks, one at a time. Stir in the vanilla. Alternately add the milk and the crumb mixture while beating on low.
Beat the egg whites in a bowl until foamy. Add the sugar slowly, and beat to soft peaks. Fold into the crumb batter, and pour into the pans.
Bake for 25 minutes, or until a tester comes out clean. Cool in the pans on a rack about 10 minutes, then invert and cool completely.
To Make Frosting: In a saucepan over medium heat, melt the 2 tablespoon sugar until it turns golden. Remove from heat, and add 4 tablespoons of the butter; swirl. Whisk in the dark brown sugar, and place back on the heat. Bring to a boil, stirring all the time. Add the cream, and bring back to a boil. Boil 1 minute, and remove caramel from heat.
Place the confectioners' sugar in a large bowl, and mixing on medium speed, slowly drizzle in the caramel. Beat until the bottom of the bowl is just barely warm, about 5 minutes. Add the remaining 1 1/4 cups butter, 1 tablespoon at a time. Beat until smooth, and chill frosting until ready to ice the cake. Frost the cake, and press the pecans into the sides.
Chef Way This clever pound cake, from Megan Garrelts of Bluestem in Kansas City, Missouri, has crushed graham crackers in the batter. Garrelts serves it with sage-glazed figs and spiced walnut gelato.Easy Way This cake is already easy to make, but omitting the figs and gelato makes it easier still. Slideshow:  More Make-Ahead Desserts 
Prep:
Total: 1h30min
Yield: makes one 8-by-4-inch loaf
Servings:
Nutrition Facts :
Ingredients:
Vegetable oil spray
1 1/2 sticks unsalted butter, softened
1/2 cup granulated sugar
1/4 cup dark brown sugar
1 1/2 cups cake flour
1/2 cup finely ground graham cracker crumbs, from half a sleeve
3/4 teaspoon baking powder
1/4 teaspoon salt
3 tablespoons whole milk
2 tablespoons heavy cream
3 large eggs
1 tablespoon pure vanilla extract
Instruction:
Preheat the oven to 325°. Spray an 8-by-4-inch glass loaf pan with vegetable oil spray. In a large bowl, using an electric mixer, cream the butter with the granulated sugar and dark brown sugar. In a medium bowl, whisk the cake flour with the graham cracker crumbs, baking powder and salt. In a small bowl, whisk together the whole milk, cream, eggs and vanilla. Beating at medium speed, add the dry and liquid ingredients to the butter mixture in 3 alternating batches.
Scrape the batter into the prepared loaf pan and bake in the lower third of the oven for about 55 minutes, until a toothpick inserted in the center comes out with a few moist crumbs attached. Let cool in the pan for 15 minutes, then turn the pound cake out onto a rack to cool completely.
Prep:
Total:
Yield:
Servings:
Nutrition Facts :
Prep:
Total:
Yield:
Servings:
Nutrition Facts :