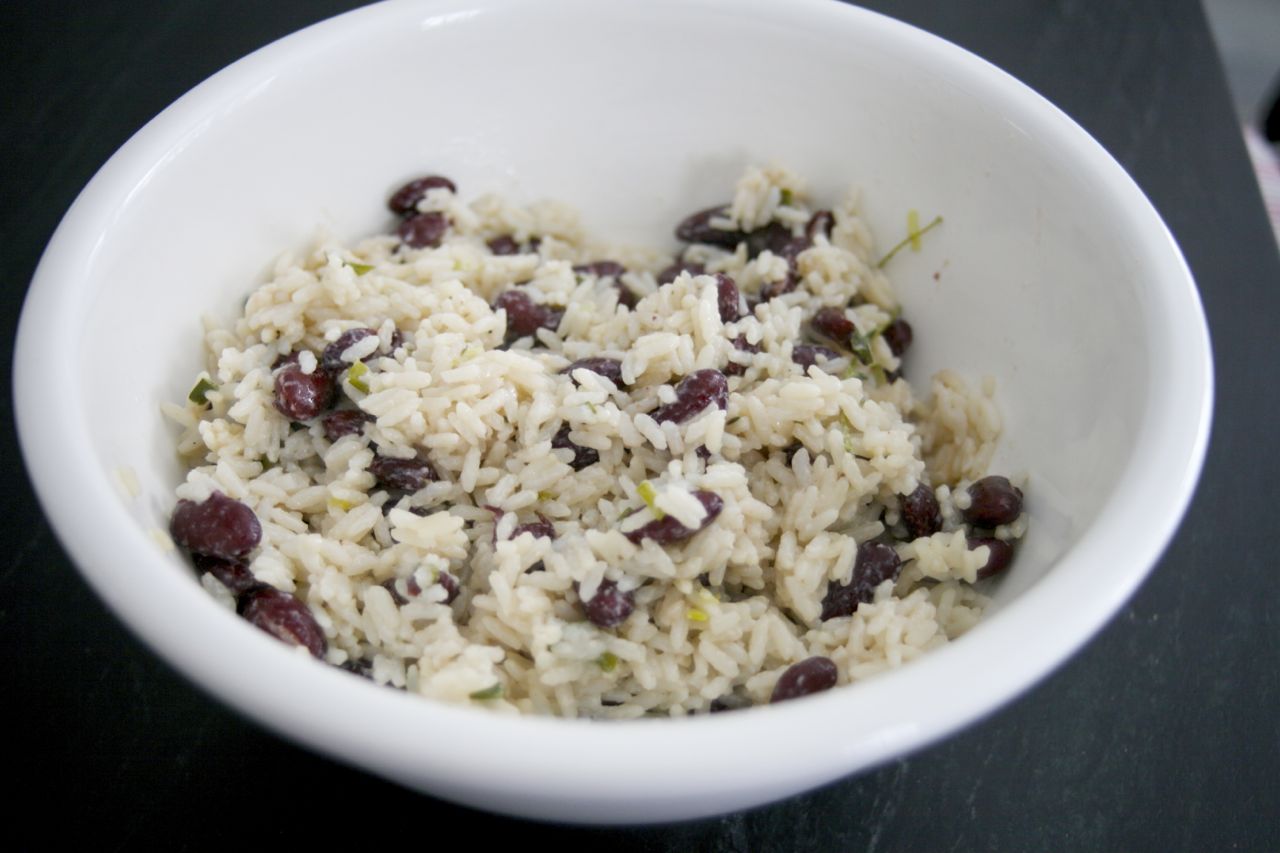 Prep:
Total:
Yield:
Servings:
Nutrition Facts :
Ingredients:
1 1/2 cups cooked Grace red kidney beans (liquid reserved)
2 cloves garlic (chopped)
1 1/4 cups Grace Organic Coconut Milk
Water (enough to make 2 1/4 cups combined liquid)
1 cup rice
2 green onions (crushed)
1 or 2 sprigs fresh thyme
Salt & Pepper to Taste
2 tbsps Grace Organic Coconut Oil
Instruction:
Cook red kidney beans to package directions or use Grace canned.
Put cooked beans into a large saucepan or pot. Add chopped garlic.
Measure all liquids, including reserved bean liquid, Grace Organic Coconut Milk and water enough to make 2 1/4 cups. Add the 2 1/4 cups of liquid to the beans and garlic in the pot.
Add rice, crushed green onion, thyme, salt and pepper to taste. Bring to a boil. Reduce heat. Cover and cook for about 20 mintues or until all liquid is absorbed.
You will love the sweet taste of Jamaican festival dumpling.
Prep: 10min
Total:
Yield: 24
Servings: 155 g
Nutrition Facts : calories 215 kcal, servingSize 155 g, Carbohydrate 16 g, Protein 2 g, Fat 16 g, Saturated Fat 2 g, Cholesterol 1 mg, Sodium 115 mg, Fiber 1 g, Sugar 2 g, unSaturated Fat 13 g
Ingredients:
2 Cups Plain flour
½ Cup Fine yellow cornmeal
½ tsp Salt
3 ½ tbsp Brown sugar
1 tbsp Baking powder
¼ Cup Milk (I use oats milk)
½ Cup Water
2 Cups Cooking oil
Instruction:
Add the flour, cornmeal, baking powder, salt, and sugar to a mixing bowl and combine these dry ingredients well.
When the dry ingredients are all evenly combined, mix the water and the milk and start adding it little by little to the dry ingredients. Knead until if form a soft dough. (A soft dough but not paste like).
Add the oil to a deep frying pan and heat on medium to low fire.
When the oil is hot, divide the dough into smaller portions and roll it in the palm of your hands to form it into an oval like shape.
Place the dough one at a time into the heated oil. Constantly turn dumplings so that it cooks on all sides.
Once the dumplings get golden brown, remove from the oil.
A dark, rich fruit cake for wine and fruit lovers! This is a recipe I use at Christmas and for Birthdays. I prefer to use Jamaican Red Label Wine and White Rum. But you may use your Favorites….ENJOY!
Prep: 20min
Total: 1h50min
Yield: 2 – 9 inch round cake pans
Servings:
Nutrition Facts : calories 862 calories, Carbohydrate 124.2 g, Cholesterol 220.8 mg, Fat 35.1 g, Fiber 0.8 g, Protein 9.6 g, Saturated Fat 20.7 g, servingSize None, Sodium 418.4 mg, Sugar 49.2 g, Trans Fat None, unSaturated Fat None
Ingredients:
2 cups butter
2 cups white sugar
9 eggs
¼ cup white rum
1 tablespoon lime juice
1 teaspoon vanilla extract
1 tablespoon almond extract
1 grated zest of one lime
2 pounds chopped dried mixed fruit
2 cups red wine
1 cup dark molasses
2 ½ cups all-purpose flour
3 teaspoons baking powder
½ teaspoon ground nutmeg
½ teaspoon ground allspice
½ teaspoon ground cinnamon
1 pinch salt
Instruction:
Preheat oven to 350 degrees F (175 degrees C). Grease and flour 2 – 9 inch round cake pans.
In a large bowl, cream together the butter and sugar until light and fluffy. Beat in eggs, then add rum, lime juice, vanilla, almond extract, and lime zest. Stir in mixed fruit, wine, and molasses. Sift together flour, baking powder, nutmeg, allspice, cinnamon, and salt. Fold into batter, being careful not to over-mix. Pour into prepared pans.
Bake in preheated oven for 80 to 90 minutes, or until a knife inserted into the center comes out clean. Let cool in pan for 10 minutes, then turn out onto a wire rack and cool completely.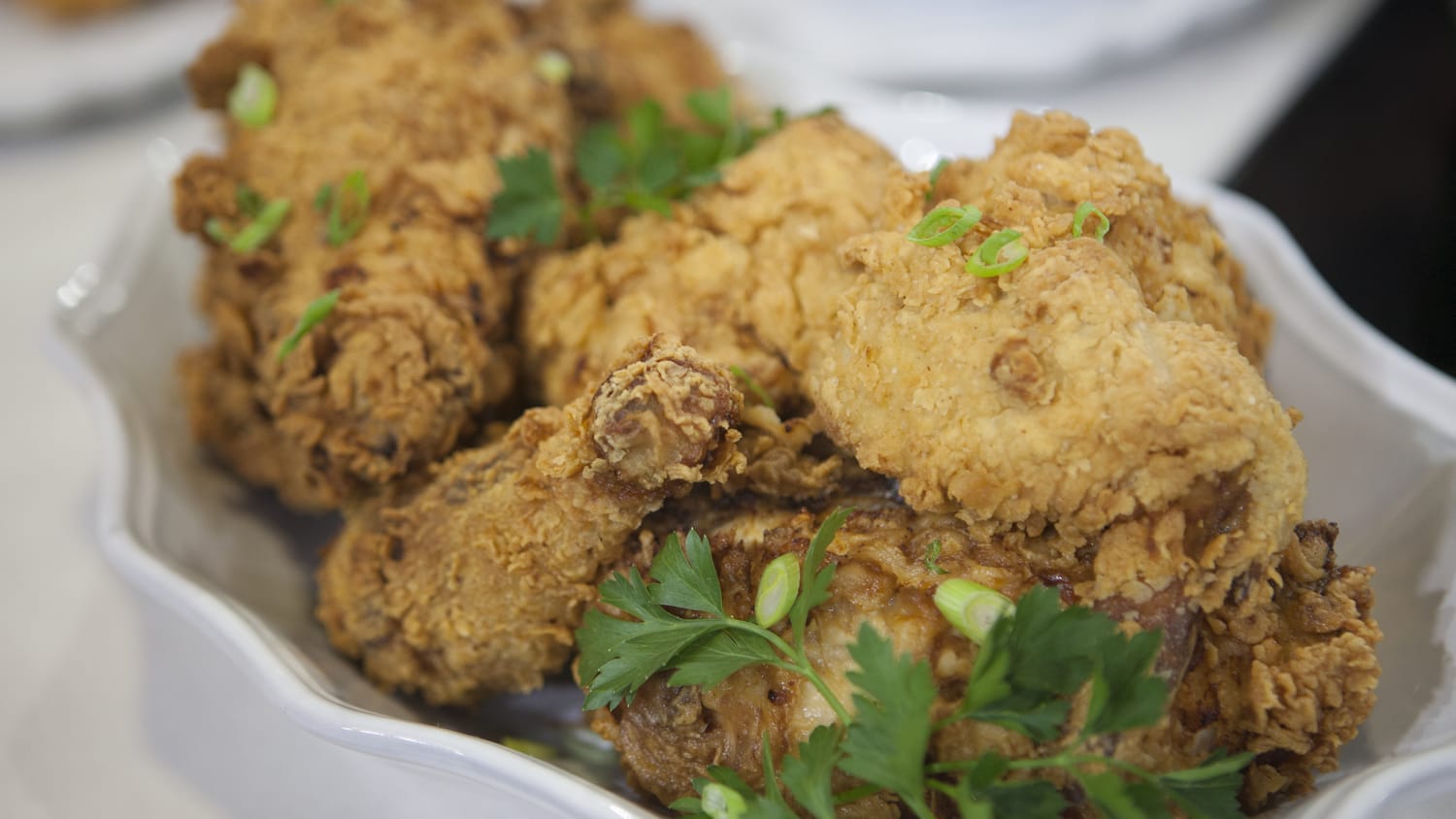 John Besh shares a family recipe for juicy and crispy buttermilk fried chicken.
Prep:
Total:
Yield:
Servings:
Nutrition Facts : calories
Ingredients:
1 chicken, cut into 8 pieces
Salt and pepper
1 quart buttermilk
3 cups flour
1 teaspoon celery salt
1 teaspoon garlic powder
1/2 teaspoon cayenne pepper
Canola oil
Instruction:
Season the chicken pieces generously with salt and pepper. In a large bowl, soak the chicken in the buttermilk for at least 15 minutes. The idea is that the lactic acids tenderize the chicken. Sometimes my grandmother would even put the soaking chicken in the fridge overnight.
Mix together the flour, celery salt, garlic powder, cayenne, salt, and pepper in a large bowl. Dredge each chicken piece in the seasoned flour to coat well. The batter should just barely adhere to the chicken, so make sure you give each piece a little shake to let extra batter drop off before frying.
Heat about 1 inch of canola oil in a heavy skillet until it reaches 350 ̊. Place a few pieces of the chicken in the oil at a time and fry for 6-8 minutes. Using a slotted spoon, turn each piece over, then cover the pan to cook for an additional 6 minutes. (After the chicken was in the hot oil, my grandmother would put the lid on her pot and a kind of pressure cooker thing began to happen inside-the meat inside gets to cook, leaving the outside crispy.) Drain on paper towels and salt well.
Recipe reprinted with permission from Besh Big Easy: 101 Home Cooked New Orleans Recipes by John Besh/Andrews McMeel Publishing.
A spicy, sweet Carrot Cake just like they make on the gorgeous isle of Jamaica. So wah go on?! Tis time tah bake sista!
Prep: 10min
Total:
Yield:
Servings:
Nutrition Facts :
Ingredients:
3 cups raw carrots, shredded
4 beaten eggs
1 3/4 cups Muscovado sugar or dark brown sugar
2 1/2 cups all-purpose flour
1 1/2 cups oil
1 teaspoon vanilla
1 1/2 teaspoons cinnamon
3/4 nutmeg
1/2 teaspoon mixed spice
1 teaspoon baking soda
1/2 teaspoon salt
Combine carrot and sugar, mix well. Add beaten egg, then oil and vanilla and mix well.
Combine and sift together the flour, cinnamon, spices, nutmeg, mixed spice, baking soda and salt. Slowly add the dry ingredients to the wet mixture.
Pour into greased baking container. Bake for 40 minutes at 355°F or 30 mins if using a shallow container.