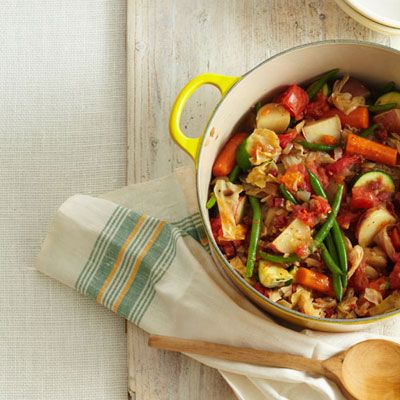 Giambotta, an end-of-summer tradition, combines the best of the garden with an Italian family history.
Prep: 40min
Total: 1h25min
Yield: 6
Servings:
Nutrition Facts :
Ingredients:
4 tbsp. olive oil
2 large onions
4 oz. pepperoni
4 clove garlic
3 large carrots
1/2 medium Head cabbage
kosher salt
Pepper
1 1/2 lb. tomatoes
2 medium zucchini
1/2 lb. green beans
3 medium red potatoes
Instruction:
Heat 1 tablespoon oil in a large heavy pot over medium heat. Add the onions, pepperoni, and garlic and cook, stirring occasionally, until golden, 8 to 10 minutes. Transfer the onion mixture to a bowl.
Add the remaining 3 tablespoons oil to the pot and heat over medium-low heat. Add the carrots, cabbage, 3/4 teaspoon salt, and 1/2 teaspoon pepper, and toss to combine. Top with the tomatoes, then the zucchini and beans. Scatter the onion mixture over the top. Partially cover and cook until the vegetables are tender, 45 to 55 minutes.
Meanwhile,place the potatoes in a medium pot, add enough cold water to cover, and bring to a boil. Add 2 teaspoons salt, reduce heat, and simmer until just tender, 18 to 20 minutes. Drain and when cool enough to handle, cut the potatoes into 1 1/2-inch pieces.
Fold the potatoes into the vegetable stew and cook until heated through, about 3 minutes. Drizzle with additional oil and serve with crusty bread, if desired.
Some giambotta recipes use meat such as chicken, pork or sausage. This vegetarian version includes beans to make the giambotta more hearty and to add healthy protein and fiber to the meal.
Prep:
Total:
Yield: 4
Servings:
Nutrition Facts :
Ingredients:
3 T olive oil, divided use
1 large yellow onion, roughly chopped
1 large clove garlic, minced
2 zucchini, cut into 1″ chunks
1 large eggplant, cut into 1″ chunks and pressed with paper towels to remove some of the moisture from the eggplant
2 potatoes, cubed
4 Italian fryer peppers, cut into chunks
1 28 oz can plum tomatoes
1 cup low sodium vegetable broth
1/2 cup white wine
1 T each chopped fresh parsley and oregano
1/2 tsp crushed red pepper flakes
1/4 tsp cinnamon
1 15 oz can cannellini beans, rinsed and drained
Salt and pepper to taste
Fresh grated pecorino romano
Preparation
Preheat oven to 425 deg. Spread zucchini and eggplant on a cookie sheet lined with foil, drizzle with 2 T olive oil and sprinkle with salt. Roast in oven 40 minutes, stirring occassionally. While vegetables are roasted, saute the garlic and onion in a large heavy bottom saucepan over medium heat until soft and just starting to turn golden. Add in potatoes and peppers, cook for 5 minutes. Add in tomatoes, breaking up with back of spoon. Stir in wine, broth, herbs, cinnamon and red pepper. Stir in roasted vegetables. Let simmer on medium low heat 25 minutes. Stir in beans. Check seasoning, add salt and pepper to taste. Let simmer another 10 minutes. Serve with fresh grated pecorino romano or parmesan cheese.
Prep:
Total: 45min
Yield:
Servings:
Nutrition Facts :
Ingredients:
¼ cup extra-virgin olive oil, plus more for drizzling
1 small onion, halved and thinly sliced
2 medium shallots, sliced crosswise
2 cups sliced leeks, white and light-green parts, rinsed well
2 garlic cloves, thinly sliced
Kosher salt and freshly ground black pepper
1 cup corn kernels, from 1 to 2 ears
2 cups sliced fennel
1 cup romano beans, cut into 2-inch lengths
1 ½ cups wax beans, cut into 2-inch lengths
1 yellow summer squash, cut into 1/2-inch thick half-moons
Parmesan rind
2 cups green beans, cut into 2-inch lengths
1 bunch radishes, halved length-wise if large
1 small zucchini, cut into 1/2-inch-thick half-moons
1 to 2 cups tiny broccoli or Broccolini florets
1 cup cherry tomatoes, such as Sungold
½ cup fresh basil, torn if large
½ cup fresh flat-leaf parsley
Instruction:
Heat the oil in a large, wide, shallow pot over medium heat. Add onion, shallots, leeks, garlic, and 1/2 teaspoon salt, and cook until softened, about 8 minutes. Add corn and fennel and cook, stirring, until the fennel is soft and translucent, 4 to 5 minutes. Add romano and wax beans and yellow summer squash.
Season with 1/2 teaspoon salt and pepper, and add 1 cup water and Parmesan rind. Cover, and cook over medium-low heat, about 6 minutes or until the vegetables soften. Add green beans, radishes, zucchini, broccoli, and another 1/2 to 1 cup water.
Cover, and cook 5 minutes more or until green beans are bright green and crisp tender. Add tomatoes, and cook just until heated through, 1 minute. Remove rind, and discard. Season to taste with salt and pepper, and drizzle with oil. Sprinkle with basil and parsley, and serve.
Prep:
Total:
Yield:
Servings:
Nutrition Facts :
Prep:
Total:
Yield:
Servings:
Nutrition Facts :