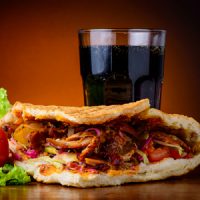 Much like America has adopted the Mexican Taco, Germany has adopted Turkey's Döner Kebab and made it its own! German Döner contain a shredded meat mixture with sauce and chopped veggies, wrapped in a warm pita. The Döner is Germany's multicultural portable food trend. Like the taco, once you eat it, it will have you captivated by its delicious flavor!
Prep:
Total:
Yield: 4
Servings:
Nutrition Facts :
Ingredients:
1-1/2 lbs lean veal
salt
freshly ground pepper
1/2 tsp ground cumin (or a prepared doner-kabab seasoning)
2 small onions
5 Tbsp olive oil
4 cloves garlic
3/4 cup sheep-milk yogurt
1 Tbsp fresh chopped parsley
4 flatbreads (the size of your hand)
1 cup red cabbage
1 cup cucumber (grated)
1 onion
4 grill skewers
Instruction:
Preheat the oven to 430 degrees (grill setting). Cut the veal into thin slices and season with salt, pepper, and cumin. Place the seasoned meat on the four skewers
Peel the onions and grate finely. Stir half of the resulting onion paste with the olive oil and brush onto the skewered meat, coating all sides.
Place the skewers on a grid on the middle rack of the preheated oven. Grill for about 20 minutes, turning several times.
In the meantime, peel and press the garlic into the yogurt, using a garlic press. Stir in the parsley, and season with salt and pepper. Set sauce aside.
Slice the flatbreads in half, but not all the way through, to form pockets. Drizzle a little olive oil into the pockets. Wash and dice the tomatoes.
Wash the red cabbage and cut into thin strips. Wash the cucumber and grate finely. Peel and halve the onion, and cut into very thin strips.
Arrange the prepared ingredients on a serving platter.
During the meat's last 5 to 8 minutes under the grill, warm the flatbread on the oven floor.
Remove the skewers and the flatbread from the oven. Remove the meat from each skewer and place in a bread pocket. Add all of the remaining ingredients or just some, according to taste, and dribble the garlic sauce over the top. Doner-kebabs can also be served on plates, with rice and a salad.
Chicken Döner Recipe -An Ersatz Döner Recipe to Keep You Satisfied Until You Get to Germany Again!
Prep: 9
Total: 9h50min
Yield: 5-8 servings
Servings:
Nutrition Facts :
Ingredients:
2 1/2 to 3 lbs Boneless Skinless Chicken Thighs (around 9)
1 cup Plain Yogurt (you can use Sour Cream)
1 tsp. Lemon Juice
2 tsp Paprika
2 tsp Cumin powder
2 tsp Coriander powder
2 tsp Onion Powder
1 tsp Chili Powder
1 1/2 tsp Salt
1/2 tsp Ground Pepper
2-3 garlic cloves minced
2 1/2 TBL Tomato Paste
2 tsp. Olive Oil for drizzling
For Serving:
Pita Bread or Lavash
Diced Tomato
Shredded Lettuce
Diced Cucumber
Tzatziki
Hummus
Hot Sauce
In Addition:
Wooden or metal Skewers
Aluminum Foil
Instruction:
Wash and trim some of the extra fat off of the Chicken Thighs.. pat dry
In a medium bowl, combine the Yogurt or Sour Cream and all the seasonings, lemon juice, tomato paste, salt and pepper and garlic. Mix it well.
I found it easiest to put the chicken thighs in a gallon sized zip-lock bag… then add the the yogurt marinade. Zip the bag shut, then knead the bag to completely coat the chicken.
Set the plastic bag on a dish, then put in the refrigerator for at least 8 hours.
When you are ready to cook….
Take the chicken thighs out of the bag. Roll each one up into a semi-tight roll, and secure onto 2 skewers. Add one or 2 other rolled up thighs to the skewers.
In the oven-
Preheat oven to 450 degrees.
Line a baking pan with foil (for ease of cleaning)
Set the skewered thighs across the edges of the pan… so that they are held slightly above the pan bottom
Drizzle with the Olive Oil
Roast for 30 minutes
Then spoon some of the drippings over the chicken… flip the skewer over… spoon with more drippings… then Roast for another 10 – 15 min.
On the Grill-
Pre-heat your grill… If you are using a gas grill, only heat half of the grill. If you are using coal, move the coals to one side.
When the grill is hot, oil the grill, then put the chicken on NOT DIRECTLY OVER THE FIRE!
Cook 15 min… flip… 15 more… flip… then 10 more.
Remove from the grill.
To Serve-
Slice the chicken thighs the long way (parallel to the skewer).
You can add more drippings to the pile of meat.
Serve in a Pita with tomato, onion, hummus, hot sauce, tzatziki… I find it easiest to warm the Pita in the oven, lay it on a piece of foil, then load it up and wrap the foil up to hold it together.
Alternatively, build a salad with the Chicken Döner meat on top. Or serve with an assortment of side dishes.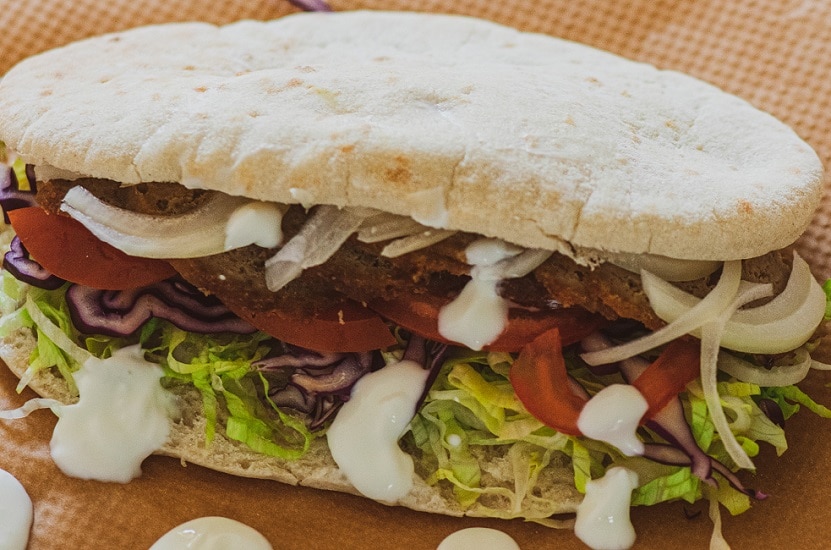 Doner Kebab or Döner Kebap, without a doubt, is one of the trademarks of Turkish cuisine. Its fame has long ago crossed the borders of Turkey and today is one of the most popular street food in the world.
Prep: 20min
Total: 180min
Yield: 8 Servings
Servings:
Nutrition Facts :
Ingredients:
minced lamb: 600 g
yogurt: 100 g
onion peeled roughly chopped: 1 pcs
Breadcrumbs: 60 g
paprika: 1 teaspoon
granulated garlic: 1/2 teaspoon
ground coriander: 1/2 teaspoon
ground cumin: 1/2 teaspoon
ground cinnamon: a pinch
white pepper: a pinch
fresh mint chopped: 1 sprig
fresh parsley chopped: 2-3 sprigs
Salt: 1 tablespoon
lemon juice: 1/2 lemon
onion peeled roughly chopped: 1 pcs
tomatoes roughly chopped: 1 pcs
fresh cucumber: 1/2 pcs
cabbage roughly chopped: 1/4 pcs
lettuce: 1/4 pcs
pita bread: 8 pcs
Instruction:
Put chopped onion, parsley, mint and olive oil in a blender.
In a deep bowl, mix minced lamb, breadcrumbs, coriander, cumin, garlic, paprika, salt, cinnamon, white pepper and yoghurt. Add the mixture from the blender (step 1) and pour in the juice of half a lemon. Mix everything well until you get a compact mass.
From the meat, make a meatloaf with a diameter of 7-8 cm, wrap it in aluminium foil and put it in the oven. Bake at 220 °C for at least 2.5 hours. Make sure meat is properly baked.
When the doner is baked, cut it lengthwise into small slices.
While the doner is baking, chop the tomatoes, onions, lettuce, cabbage, and cucumbers.
Put vegetables from step 5 on pita bread, add thinly sliced doner, pour over yoghurt and wrap. That is it, you got a finger-licking doner kebab.
One of the first Exotic" dishes that had established itself in Germany after the mass-migration of millions of "Gastarbeiter" (Guest-Workers) from Italy, Turkey, Greece, and Yugoslavia in the 60's, was the Turkish "Döner" (Doner Kebab).
Prep:
Total: 64800sec
Yield: 6
Servings:
Nutrition Facts : calories 65 calories, Protein 7.4 g, Fat 2.9 g, Carbohydrate 1.6 g, Fiber 0.1 g, Sugar 1.0 g, Sodium 470.5 mg, Saturated Fat 0.8 g, Trans Fat 0 g, Cholesterol 29.2 mg, unSaturated Fat 1.2 g
Ingredients:
12 Boneless, Skinless Chicken Thigh
2 tablespoon Olive Oil
1/2 Lemon
1 Lemon
2 tablespoon Garlic Paste
1 tablespoon Sweet Paprika
2 tablespoon Kosher Salt
1/2 teaspoon Crushed Red Pepper Flakes
1 tablespoon Ground Coriander
1 tablespoon Fresh Oregano
1 teaspoon Ground Cumin
2 tablespoon Fresh Cilantro
3 cup Greek Yogurt
1/2 Onion
Instruction:
Mix together Olive Oil (2 tablespoon), Lemon (1), Lemon (1/2), Garlic Paste (2 tablespoon), Sweet Paprika (1 tablespoon), Kosher Salt (2 tablespoon), Crushed Red Pepper Flakes (1/2 teaspoon), Ground Coriander (1 tablespoon), Fresh Oregano (1 tablespoon), Ground Cumin (1 teaspoon), Fresh Cilantro (2 tablespoon), and Greek Yogurt (3 cup).
Add Boneless, Skinless Chicken Thigh (12), mix well, cover and chill overnight.
The next day, separate the skin from the meat.
Take Onion (1/2), skewer with a long bamboo or metal skewer.
Impale half the skins first, then top with all the meat.
Finish by skewering the second half of the skins on top.
Place in a preheated 400 degrees F (200 degrees C) oven, (you might have to cover the meat after one hour to prevent burning the meat, then uncover 30 minutes before removing the kebab from the oven) cook until a thermometer inserted in the middle registers 160 degrees F (70 degrees C), remove from oven, let rest lightly covered for at least 15 minutes before you start carving the meat. Serve with salad.
Prep:
Total:
Yield:
Servings:
Nutrition Facts :