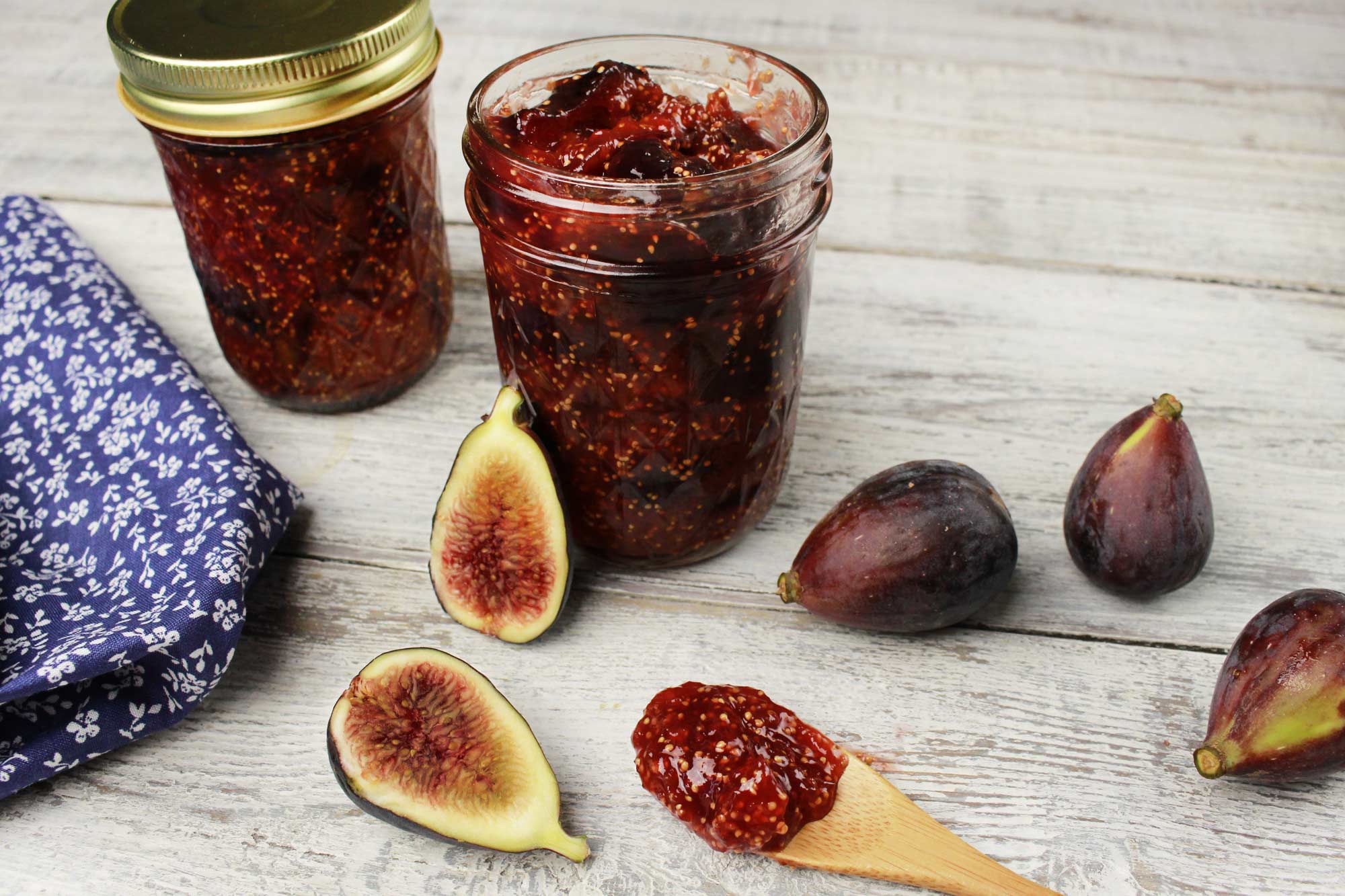 By adding fresh ginger and lemon, you'll find these fig preserves are a little brighter in flavor and sweet with a nice amount of heat.
Prep:
Total:
Yield: makes 1 pint
Servings:
Nutrition Facts :
Ingredients:
1 pound figs
1/4 cup lemon juice, freshly-squeezed
1 teaspoon lemon zest
1 tablespoon fresh ginger, grated (or ½ teaspoon ground)
1 cinnamon stick
1/4 cup honey
1/4 cup sugar
Instruction:
Wash and trim stems from figs. Cut into halves lengthwise, or quarters if figs are large.

Combine all ingredients in a heavy pan and heat over medium heat, stirring occasionally until sugar dissolves. Increase heat to medium high and bring to a boil. Continue stirring occasionally until fruit is cooked and juices start to thicken. Remove cinnamon stick.

Preserves reach the setting stage around 220F. You can test using a candy or sugar thermometer or dip a chilled spoon into the mixture, if the preserves form thick droplets (instead of running off the spoon) it's done or close to it.

Spoon preserves into 1 pint jars, letting them cool before storing in the refrigerator.
This recipe for Fig and Ginger Jam requires 4 simple ingredients to make and can be stored in glass jars for up to 6 months in the fridge, making Fig and Ginger Jam the perfect little homemade gift for Easter next month.
Prep: 10min
Total: 55min
Yield: 4
Servings:
Nutrition Facts : servingSize None, calories 67 calories, Sugar 10 g, Sodium 1.2 mg, Fat 1.6 g, Saturated Fat 0.2 g, Trans Fat 0 g, Carbohydrate 12.9 g, Fiber 2 g, Protein 0.9 g, Cholesterol 0 mg
Ingredients:
Approx 1Kg Figs
3/4 Cup Caster Sugar
1 Thumb Sized piece of ginger peeled and finely chopped
4 Tbsp Lemon Juice
4 Tbsp Chia Seeds
Instruction:
Wash and roughly chop the figs and place into a large saucepan along with all the other ingredients over medium heat.
Cook the figs and stir often with a wooden spoon until the figs start to open and soften. Using a potato masher mash the figs
Reduce heat to low and cook figs, uncovered and continuing to stir occasionally, for 30-60 minutes or until the liquid is thick and sticky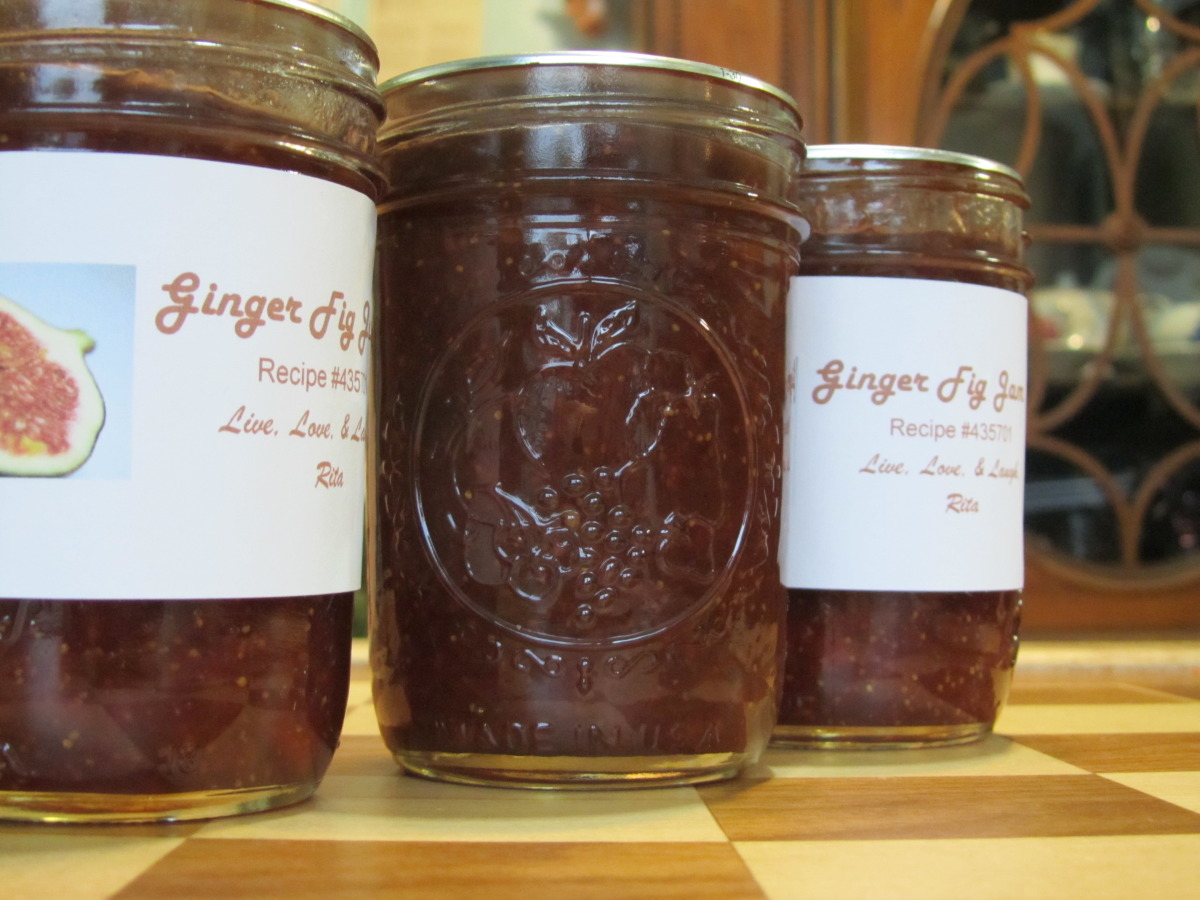 Figs and ginger made sweet to enjoy over cream cheese on toast or top a grilled or roast pork or chicken. Try as a spread in a wrap.
Prep: 20min
Total: 50min
Yield: 5 1/2 pint jars
Servings:
Nutrition Facts : calories 674.5, Fat 0.6, Saturated Fat 0.1, Cholesterol 0, Sodium 2, Carbohydrate 174.2, Fiber 5.9, Sugar 168, Protein 1.6
Ingredients:
1/4 ounce fresh ginger, 1/4 cup peeled sliced super thin and the rough chop
2 lbs fresh figs, 4 cups pureed with some chunks
2 cinnamon sticks
1 1/2 lbs sugar, 3/12 cups
1 orange, zest and fruit chopped with no pith
Instruction:
PREPARE boiling water canner. Wash and heat jars and lids in simmering water until ready for use. Do not boil. Set bands aside.
COMBINE all ingredients in a non reactive heavy bottom pot.
Bring to a roiling boil ( full rolling boil over high heat is when stirring it still is boiling while being stirred) When temperature reaches 22 degrees remove cinnamon sticks.
Carefully ladle hot jam into hot jars leaving 1/4 inch head space. Wipe rim. Center lid on jar. Center lid on jar. Apply band until fit is fingertip tight. Process in a boiling water canner for 10 minutes, be sure the jars are covered by at least 1 inch of water, adjusting for altitude.
Remove jars and cool in a draft free spot. Check lids for seal after 24 hours. Lid should not flex up and down when center is pressed. Remove bands, wipe jars, label storing in a cool dark pantry for up to 1 year. Or wrap a ribbon if giving for gifts.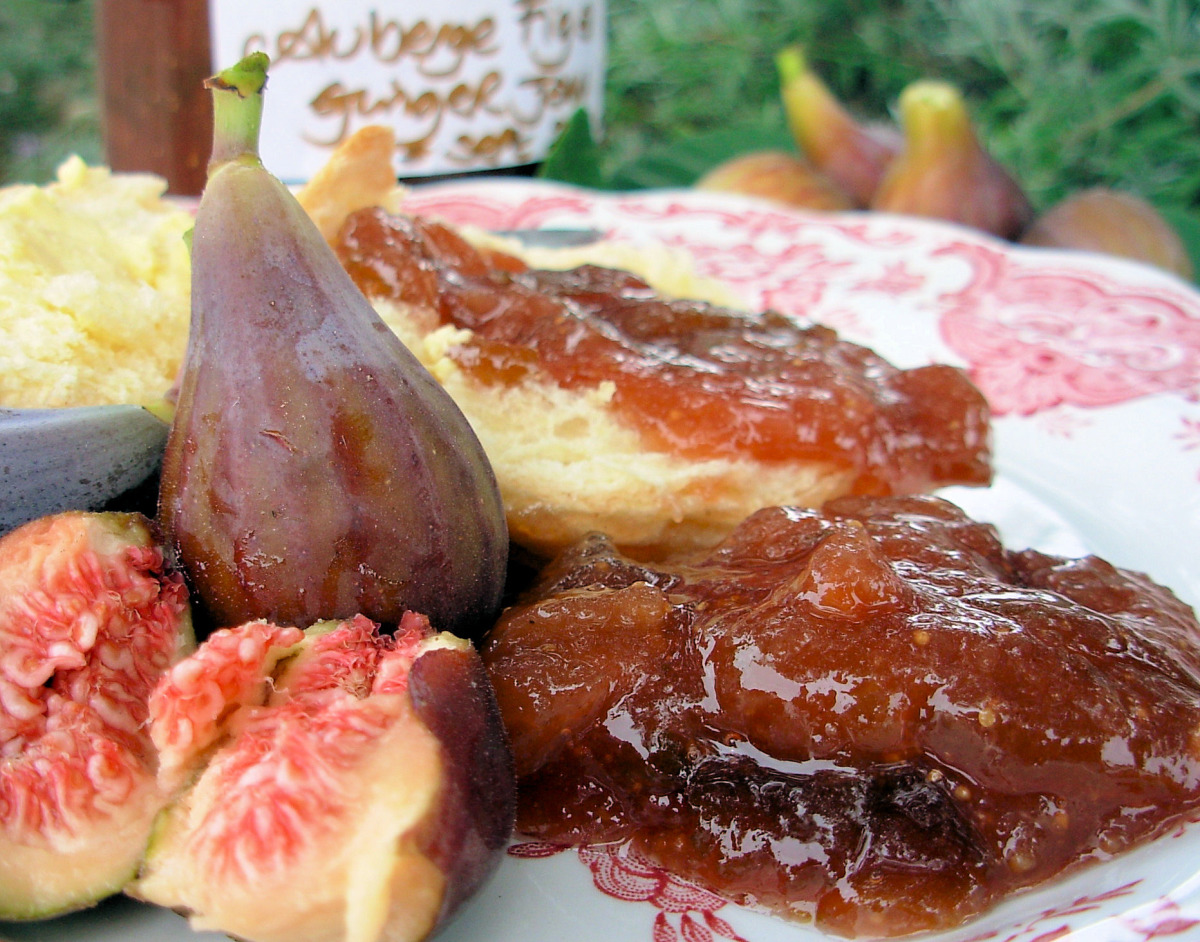 We have a wonderful fig tree in our back garden, and this year I cannot keep up with all the fruit! We have had figs in salads, baked figs, figs and cheese – I have made fig chutney, bottled figs and figs in Armagnac…finally, I thought up this idea for a jam, as I think figs and ginger go so well together. It is delicious – and such a wonderful rich colour! Not only is it wonderful spread on toast or bread, but it is lovely dolloped on ice cream and hot desserts, or for steamed puddings! You need to use fresh figs for this recipe – you don't get the same results with dried figs.
Prep: 6h
Total: 6h30min
Yield: 2 lb Jars
Servings:
Nutrition Facts : calories 2322.2, Fat 2.3, Saturated Fat 0.5, Cholesterol 0, Sodium 11.4, Carbohydrate 601.6, Fiber 22, Sugar 572.9, Protein 5.8
Ingredients:
3 lbs ripe figs, washed and diced
2 lbs preserving sugar
1 -2 tablespoon ground ginger
1 cooking apple, cored, peeled and diced
4 -5 tablespoons crystallized ginger, chopped roughly
3 lemons, juice of, only
1/2 pint water
Instruction:
Put the figs, sugar and ground ginger into a large non-metallic bowl, cover and leave for 6-8 hours.
Just before you are ready to make your jam, warm and sterilise your jam jars and jam pot covers or lids – prepare jars by washing in hot soapy water and leaving to dry and warm in a cool oven – 130C/250F/Gas ½ for 10-15 minutes.
Transfer the figs and sugar to a large saucepan or preserving pan, add the apple, crystallised ginger, lemons and water. Stir over a low heat until the sugar has dissolved.
Bring to the boil and simmer for 15-20 minutes or until the fruit is soft and setting point is reached.
Remove the jam from the heat and leave to cool for 20-25 minutes. Pour into the warm jam jars and cover/seal straight away.
Label and store in a cool dark place for 2-3 weeks to allow the flavours to develop.
Spoon this condiment onto English muffins, dab it on crackers and top with a sliver of Brie cheese, or slather it on toast points and top with smoked salmon or salmon caviar.
Prep:
Total:
Yield: 3 cups (serving size: 2 tablespoons)
Servings:
Nutrition Facts : calories 107 calories, Carbohydrate 27.7 g, Cholesterol None, Fat 0.1 g, Fiber 1.2 g, Protein 0.3 g, Saturated Fat None, servingSize None, Sodium 25 mg, Sugar None, Trans Fat None, unSaturated Fat None
Ingredients:
4 cups coarsely chopped dark-skinned fresh figs (such as Black Mission, Celeste, or Brown Turkey; about 15 large figs)
2 ¼ cups sugar
⅓ cup water
¼ cup fresh lemon juice
3 tablespoons chopped crystallized ginger
¼ teaspoon salt
Instruction:
Combine all ingredients in a large saucepan; bring to a boil. Reduce heat, and simmer, uncovered, 30 minutes or until thick, stirring frequently. Cool; pour into airtight containers.
Note: Refrigerate Fig and Ginger Jam in airtight containers up to six weeks.