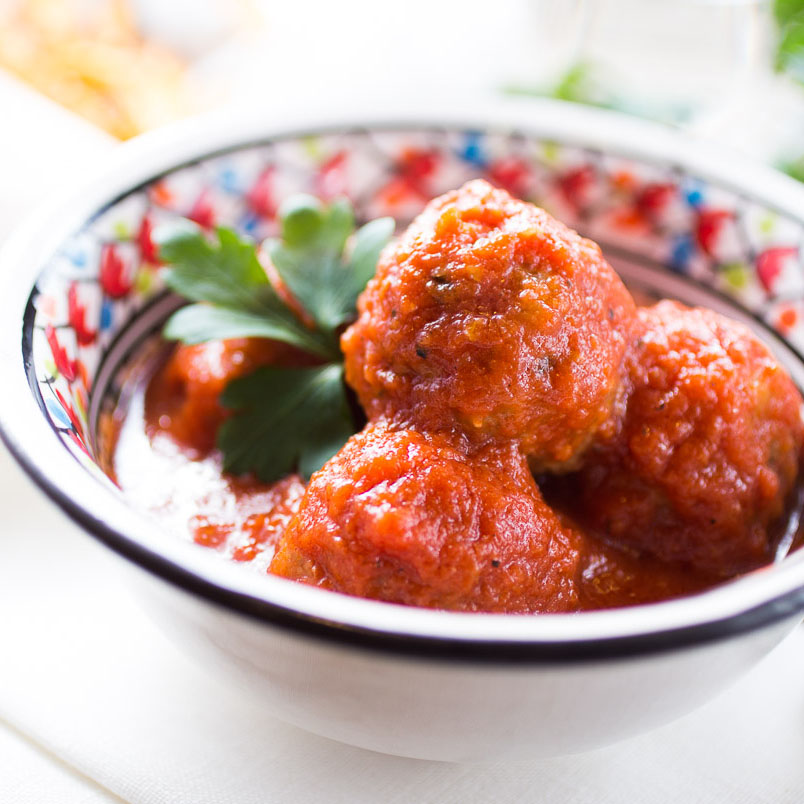 Prep: 30min
Total: 60min
Yield: 2
Servings:
Nutrition Facts :
Ingredients:
300 g minced meat
1 onion (finely chopped)
2 cloves of garlic (finely chopped)
1 egg
3 tbsp bread crumbs
2 tbsp parsley (finely chopped)
1/2 tsp salt
1/2 tsp black pepper
50 g feta cheese
3 tbsp flour
Oil
1 can chopped tomatoes
Salt and pepper
Olive oil
1 large sweet potato
1/2 tsp dried rosemary
1/4 tsp dried thyme
salt and pepper
Olive Oil
Instruction:
In a large pot add the chopped tomatoes and olive oil and put on low to medium heat. Add salt and pepper to taste and let it simmer while you prepare the rest of the meal.
Preheat your oven to 200°C / 392°F.
In a large pan heat a couple of cups of neutral oil for frying. I always make sure to have it around one inch deep for this dish.
In a large bowl combine the meat, onion, garlic, egg, bread crumbs, parsley, salt and pepper. Mix well.
Slightly wet your hands, form the meatballs and stuff each one with a small piece of feta cheese.
Coat the meatballs lightly in flour and fry them until they are brown and crispy on all sides.
While the meatballs fry, peel the sweet potato and cut it into strips.
Line a baking sheet with baking parchment. Add the sweet potatoes, rosemary, thymeand a generous pinch of salt and pepper. Coat everything a tablespoon of olive oil and roast in the oven for around 20 min.
When the meatballs are done, take them out of the frying pan and add them to the pot with the tomato sauce. Cook together for another 10 min.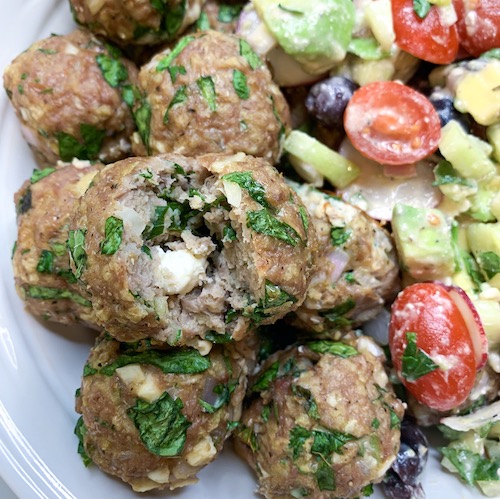 Salty, crumbly feta stuffed into juicy Greek-flavored meatballs!
Prep: 15min
Total: 35min
Yield: 4
Servings:
Nutrition Facts :
Ingredients:
1 lb. ground turkey
2 eggs
1 shallot (minced)
3 cloves garlic (minced)
½ cup panko
1 cup spinach
3 tbs. parsley (chopped)
1 tbs. mint (chopped)
¼ cup feta crumbles
Instruction:
Set your oven to 375 and in a mixing bowl, lightly beat eggs. Add in minced shallot and garlic.
Chop spinach, parsley and mint leaves altogether and add to bowl then add ground turkey, panko, and 1 big pinch each of salt and pepper. Mix with hands to combine.
Using a small ice cream scoop or round tablespoon measurement, scoop from mixture and roll with hands to form meatball. Then use a finger to press into middle of meatball and place 1 feta crumble in. Cover crater with a small amount of meat and roll lightly to seal.
Place all meatballs onto a cookie sheet covered in tin foil that has been sprayed or oiled. Place into oven for 20 mins. Serve warm!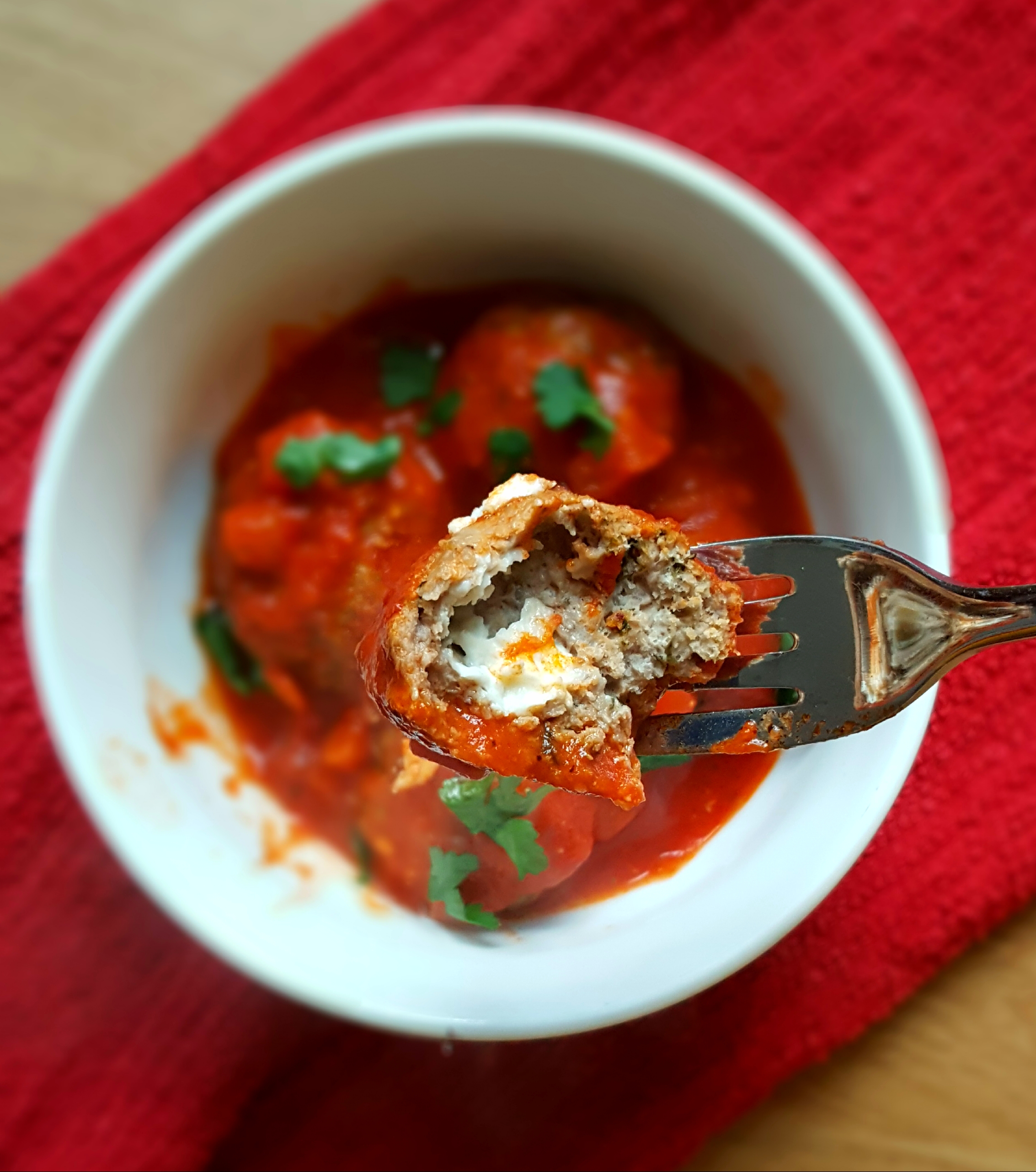 I have both the girls home this week as it's half term! The weather has been awful though so we are struggling to find places to visit and have fun…
Prep:
Total:
Yield: 4
Servings:
Nutrition Facts : calories 200, Fat 20 grams
Ingredients:
500 gr pork minced meat
1 egg
2 tbsp fresh chopped parsley
1 tsp cinnamon
2 tsp dried mint
1 tsp oregano
salt/pepper
100 gr feta cheese cut in cubes
some olive oil to drizzle the meatballs
For the sauce:
400 gr tomato passata
1 onion finely chopped
1 tsp oregano
4 tbsp olive oil
1/2 cup water
Instruction:
Step 1
Mix together the minced meat with the egg, spices,herbs,salt and pepper. Blend well together mixing for about five minutes
Step 2
Shape small patties the shape of a small lemon. Place one feta cheese cube in each patty and roll in a meatball.
Step 3
Place the meatballs in a baking tray lined with parchment paper. Drizzle with some olive oil.
Step 4
Pre-heat the oven at 180°C . When the oven is hot, bake the meatballs for 30 minutes.
Step 5
Prepare the sauce by adding the olive oil and chopped onion in a pan. Saute the onion for about 5 minutes and add the passata, oregano, mint,salt and pepper. Slowly add the meatballs in the sauce with half a cup water. Cover and let it simmer for 15 minutes on a low heat.
Feta-stuffed meatballs and smoky chickpeas make this zesty zucchini noodle bowl a nutritious yet satisfying meal.
Prep: 20min
Total:
Yield: 4
Servings:
Nutrition Facts :
Ingredients:
1 1/2 pounds lean ground beef
3 green onions, thinly sliced
1 large egg
2 tablespoons chopped mint
2 cloves garlic, minced
1 teaspoon ground cumin
Kosher salt and freshly ground black pepper
3-ounce block of feta, cut into 1/2-inch cubes
3 tablespoons extra-virgin olive oil
6 cloves garlic, sliced
1 shallot, sliced
2 teaspoons smoked paprika
1 teaspoon cumin
Pinch of red chili flakes
2 (15-ounce) cans chickpeas, drained and rinsed
1/4 cup cilantro leaves
Kosher salt and freshly ground black pepper
4 spiralized zucchinis
2 tablespoons olive oil
Juice of half a lemon
Pinch kosher salt
Grated carrots
Grape tomatoes, sliced
Persian cucumbers, sliced
Instruction:
Heat oven to 425 degrees F. Line a sheet tray with parchment paper.
Combine beef, green onions, garlic, egg, mint, cumin, salt and pepper in a large bowl. Roll golfball-sized meatballs with your hands and pop a cube of feta inside. Bake for 15 to 20 minutes.
Add olive oil to a large sauté pan over medium-high heat.
Once hot, add garlic and shallot and sauté until softened, about 4 minutes.
Sprinkle with smoked paprika, cumin and chili flakes. Stir until fragrant, about 1 minute. Season with a pinch of salt and pepper.
Stir in chickpeas and cook for 5 minutes.
Taste for seasoning and adjust. Turn off heat and stir in cilantro leaves.
Add zucchini to a bowl and drizzle with olive oil, lemon juice and salt. Toss with hands. Let soften for 5 to 10 minutes at room temperature.
Add zucchini noodles to the bottom of the bowl, top with meatballs, spiced chickpeas, feta, grated carrots, sliced grape tomatoes and sliced Persian cucumbers.
Prep:
Total:
Yield:
Servings:
Nutrition Facts :