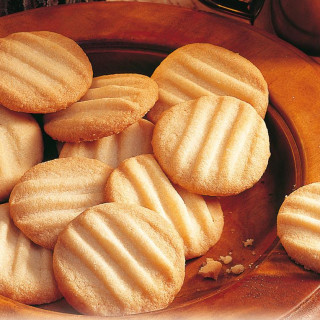 ""
Prep: 10min
Total: 30min
Yield: 40
Servings: 1 1 Serving (15g)
Nutrition Facts : calories 44 calories, Fat 0 g, Carbohydrate 11.24775 g, Cholesterol 0 mg, Fiber 0 g, Protein 0 g, Saturated Fat 0 g, servingSize 1 1 Serving (15g), Sodium 1395.28800401033 mg, Sugar 11.24775 g, Trans Fat 0 g
Ingredients:
1 3/4 cups butter (not margarine)
1 cup sugar
3 cups flour
Instruction:
"Bring butter to room temperature. Mix butter and sugar until thoroughly blended. Add flour and mix well. Roll into balls the size of a walnut. Place on a greased cookie sheet and flaten with a glass dipped in milk. Bake at 300 degrees for 15 to 20 minutes until edges just begin to brown. Watch carefully–cookies must not be brown. Recipe makes 40 large cookies that freeze well. Serve with vanilla ice crea and strawberries. May also use this recipe to make Valentine cookies by rolling out dough and baking. Then decorate with pink powdered sugar frosting."
My great-grandmother's Holland butter cookies have been passed down in my family from generation to generation. This recipe uses only five ingredients that are usually already in the house. For different holidays, I swap the almonds for cherries, walnuts or ginger. —Tineke De Rosa, Blairstown, New Jersey
Prep: 15min
Total: 40min
Yield: 24 servings.
Servings:
Nutrition Facts : calories 118 calories, Fat 9g fat (5g saturated fat), Cholesterol 28mg cholesterol, Sodium 64mg sodium, Carbohydrate 8g carbohydrate (0 sugars, Fiber 0 fiber), Protein 2g protein.
Ingredients:
1 cup butter, softened
1 cup sugar
1 large egg, separated, room temperature
2 cups all-purpose flour
1/4 cup unblanched almonds
Preheat oven to 325°. In a large bowl, cream butter and sugar until light and fluffy, 5-7 minutes. Beat in egg yolk. Gradually beat in flour. Press dough into a greased 13×9-in. pan. Score dough into 24 square or diamond bars. Brush egg white over bars. Gently press one almond into the center of each bar.,
Bake until lightly browned, 20-25 minutes. Cool in pan 10 minutes before cutting into bars. Cool completely in pan.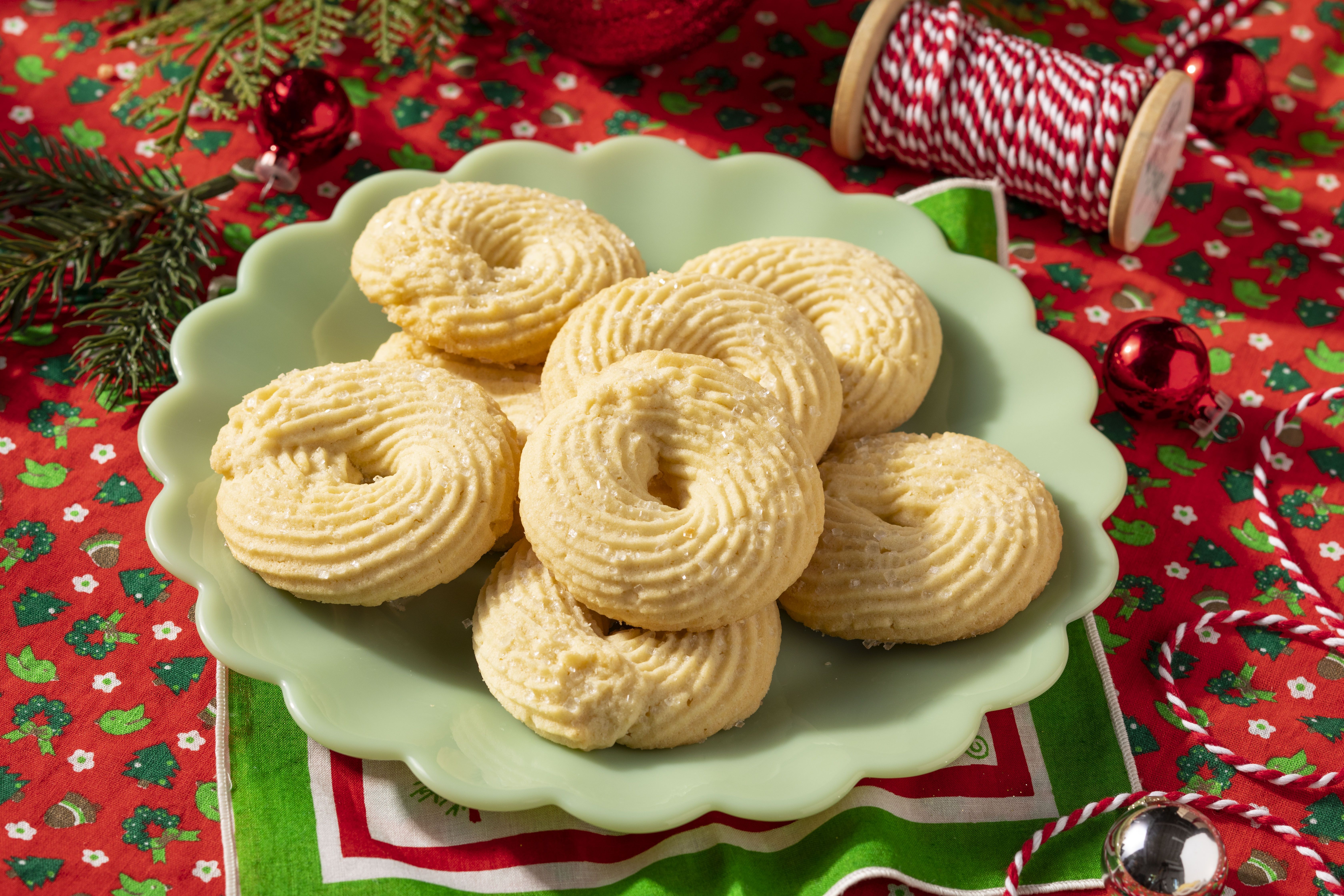 This Danish butter cookie recipe helps you to recreate the famous treats at home! The buttery cookies come in a variety of shapes and are separated by white cupcake liners.
Prep: 20min
Total: 1h
Yield: 24 servings
Servings:
Nutrition Facts :
Ingredients:
2 sticks salted butter, softened
3/4 c. granulated sugar
1 egg, room temperature
1 tsp. vanilla extract
2 c. all-purpose flour
White sparkling sugar
Instruction:
Place the softened butter and sugar in a large bowl (or the bowl of a stand mixer). With a hand mixer (or stand mixer with a paddle attachment) on medium-high speed, beat until very light and fluffy, 3-4 minutes. Add the egg and vanilla and mix well to combine. Add the flour 1 cup at a time, mixing on low to combine completely in between each addition. Scrape the bottom and sides of the bowl as needed.
Transfer the dough to a piping bag fitted with a large, star tip (with a wide opening). Pipe the dough in a circle shape, about 2″ in diameter, overlapping by about 1/2-inch at the edges. Sprinkle all over with sparkling sugar. Refrigerate the cookies for 30 minutes (or freeze for 15 minutes) in order to firm up and prevent spreading while baking.
Preheat the oven to 350 degrees. Bake cookies for 12-15 minutes, until the edges are just lightly golden. Let cool on a sheet tray for 5 minutes, then carefully transfer to a cooling rack to cool completely. Once cool, store in an air-tight container in a single layer, between layers of parchment paper, at room temperature for up to 1 week.
Light, crisp and delicate, my recipe for these classic Danish Butter cookies are absolute melt in your mouth deliciousness. Made using just 4 basic ingredients, this is a super easy bake.
Prep: 15min
Total: 58min
Yield: 14
Servings: 1 cookie
Nutrition Facts : servingSize 1 cookie, calories 47 kcal, Carbohydrate 9 g, Fat 1 g, Saturated Fat 1 g, Cholesterol 1 mg, Sodium 9 mg, Sugar 3 g
Ingredients:
½ cup butter (at room temperature)
½ cup Powdered sugar
1 teaspoon vanilla extract
1 cup cake flour OR all-purpose flour (See note 1)
Instruction:
Get the butter out of the refrigerator at least an hour before baking. It should be soft to the touch, but not melted.
Cream the butter, sugar and vanilla extract with a handheld or stand mixer for 5 to 8 minutes. The creamed butter and sugar should be light in color and fluffy in texture. SEE NOTE 2
Use a spatula to scrape the dough of the side of the bowl. Sift the flour, 1/3 cup ( 40g at a time folding it gently into the creamed butter mixture, until you have used up all the flour.
Transfer the dough to a sheet of plastic wrap and roll it to form a log. Cut a hole in one end of the plastic wrap and place it into a piping bag fitted with a flower tipped nozzle. SEE NOTE 3
Pipe the dough using a 1M open star piping tip onto a baking sheet lined with parchment/baking paper. If you feeling that the dough is too stiff or hard to pipe, then just add a tablespoon of warm milk to the dough. This will make the dough softer and easier for you to pipe.) SEE NOTE 4
Place the baking sheet into the refrigerator for 30 minutes to firm up the piped cookies. This prevents the dough from spreading while baking ensuring that the cookies keep their beautiful piped shape.
Sprinkle granulated sugar over the cookies before baking if preferred or leave plain.
Bake in a preheated oven of 300°F/ 150°C (148°C fan)for 15 minutes or until the edges begin to turn a golden color.
Remove from the oven and leave the cookies on the baking sheet to cool for 10 minutes before serving or store in an airtight container.
These homemade Danish Butter Cookies are traditional Christmas Cookies. Crispy outside and soft inside, they are dipped in chocolate and decorated with sprinkles for a classic festive look.
Prep: 20min
Total: 55min
Yield: 22
Servings: 1 cookie
Nutrition Facts : servingSize 1 cookie, calories 148 kcal, Carbohydrate 16 g, Protein 2 g, Fat 9 g, Saturated Fat 5 g, Cholesterol 30 mg, Sodium 31 mg, Fiber 1 g, Sugar 7 g
Ingredients:
1 cup unsalted butter (room temperature)
2/3 cup granulated sugar
1 large egg (room temperature)
1 teaspoon vanilla extract
2 cups all-purpose flour
1/4 teaspoon salt
2 teaspoons milk
3 oz semi-sweet or milk chocolate
3 tablespoons sprinkles
Instruction:
Using a stand mixer with a paddle attachment or hand mixer, cream together 1 cup butter and 2/3 cup granulated sugar for a few minutes. The mixture should be light and airy.
Add 1 egg and 1 tsp vanilla extract. Mix it again until well combined.
Add 2 cups all-purpose flour and ¼ tsp salt and mix on low speed until just combined.
Add 2 teaspoons milk and mix. The dough should be a pipeable consistency but not runny. You can add more milk if needed, but try to use as little milk as possible.
Transfer the dough to a piping bag with a large piping tip.
Pipe 2-inch swirls on a baking sheet (don't use parchment paper!), 3 inches apart.
Place the baking sheet with piped cookies in the fridge for 15-20 minutes. This extra step will help them keep their shape while baking.
Preheat the oven to 350°F.
Bake the cookies for about 15 minutes or until they are golden brown on the sides.
When done, remove from the oven and let them sit on the baking sheet for about 10 minutes, then transfer to a wire rack to cool off completely.
While they are cooling off, we can prepare the chocolate. You can melt it on a double boiler or in a microwave. Put the chopped chocolate in a medium heat-proof bowl and microwave in 20 seconds increments, stirring after each increment.
Dip 2/3 of the cookies into melted chocolate and place on a parchment paper. Decorate with sprinkles and let them dry off completely.