Prep: 15min
Total: 20min
Yield:
Servings:
Nutrition Facts :
Ingredients:
12 large eggs
Ice water
6 tablespoons mayonnaise
2 teaspoons mustard
1 pinch cayenne pepper
Salt and black pepper
Paprika, for dusting
Instruction:
In a large pot, arrange the eggs in a single layer and add enough water to cover. Bring to a boil over high heat, then cover and remove from the heat; let stand for 10 minutes. Drain, then cover the eggs with ice water. Let stand until cool to the touch.
Peel the eggs, halve lengthwise and scoop the yolks into a medium bowl, reserving the egg whites. Mash the yolks with the mayonnaise, mustard and cayenne; season with salt and black pepper. Spoon the yolk mixture into the egg white halves and dust with paprika.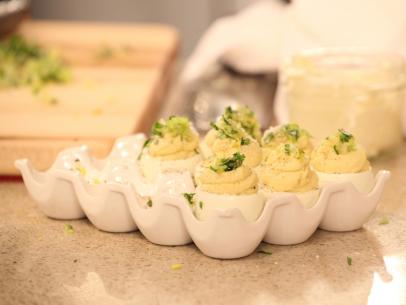 This is the one I am famous for, and it's by far my most requested stuffed egg. It tastes exactly (or, eggs-actly) like a Caesar salad.
Prep: 0 20min0
Total: 0 20min0
Yield: 1 dozen
Servings:
Nutrition Facts :
Ingredients:
12 large hard-boiled eggs, peeled
1 small clove garlic
2 teaspoons anchovy paste
A handful grated Parmigiano-Reggiano
3 to 4 tablespoons mayonnaise, just enough to bind
1 teaspoon Worcestershire sauce
Juice of 1/2 lemon
1 teaspoon coarse black pepper
2 romaine lettuce leaves, from the heart, finely chopped
Instruction:
Cut the fat rounded ends off the eggs and scoop the yolks into a bowl. Stand the hard-boiled egg whites upright in the egg carton. If you prefer to serve the eggs on a platter, trim a small piece of egg off the pointed ends so they will stand upright.
Break the egg yolks up a little bit using a fork. Grate the garlic directly over the bowl, then add the anchovy paste, Parmigiano, mayo, Worcestershire, lemon juice, pepper and half the finely chopped lettuce. Mash until smooth and check the seasonings.
Fill the egg whites, overstuffing them a little. Garnish with the remaining finely chopped lettuce.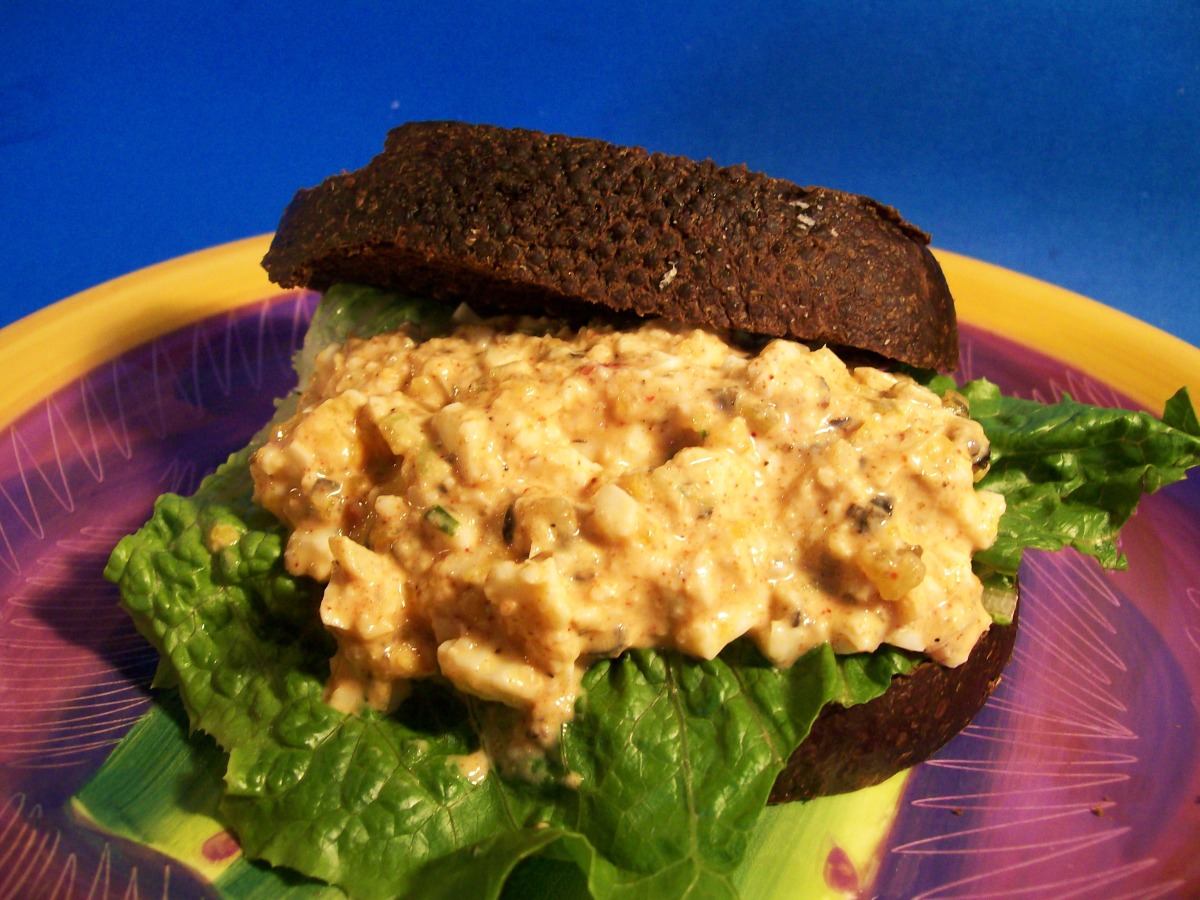 This is not your Mom's egg salad recipe. It's a whole lot better–spicy but creamy. I found this recipe in Rachael Ray's Cooking 'Round the Clock, 30 Minute Meals. Tasty stuff!
Prep: 15min
Total: 25min
Yield: 4 serving(s)
Servings:
Nutrition Facts : calories 371.8, Fat 16.1, Saturated Fat 4, Cholesterol 425.9, Sodium 865.5, Carbohydrate 37.9, Fiber 5.7, Sugar 3.4, Protein 19.4
Ingredients:
8 large eggs
1 teaspoon paprika
1 teaspoon chili powder
1 teaspoon Worcestershire sauce
1 tablespoon hot sauce (tabasco)
2 tablespoons prepared yellow mustard
3 tablespoons mayonnaise or 3 tablespoons ranch dressing
1/4 cup onion (white, grated or minced)
1 celery rib (small, from the heart with greens and finely chopped)
2 tablespoons chives, finely chopped
3 tablespoons green salad olives and pimientos, drained and finely chopped
salt
black pepper
8 slices pumpernickel bread
4 lettuce leaves
Instruction:
Place eggs in a pot and cover with water.
Bring water to a boil.
Cover the pot and turn off the heat. Let eggs stand 10 minutes.
Drain, then shake the eggs around in pot to crack the shells.
Run eggs under cold water to peel and cool.
In a medium bowl, combine paprika, chili powder, worcestershire sauce, hot sauce, mustard, mayonnaise, onion w/juice, celery, chives, and olives.
Coarsely chop eggs and add them to a bowl.
Mix egg salad and season with salt and pepper.
Lightly toast bread and make sandwiches with mounds of deviled egg salad and lettuce.
Prep:
Total:
Yield:
Servings:
Nutrition Facts :
Prep:
Total:
Yield:
Servings:
Nutrition Facts :