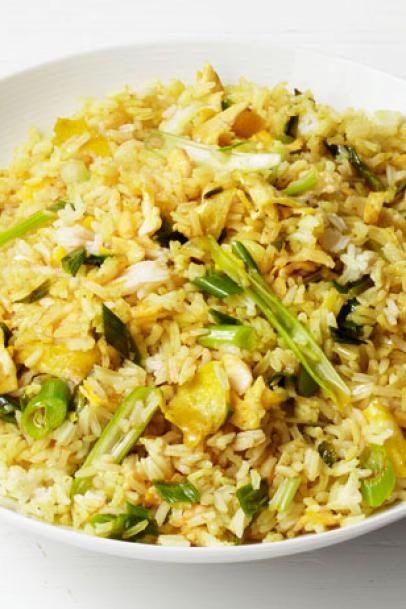 Prep:
Total: 0 10min0
Yield: 4 servings
Servings:
Nutrition Facts :
Ingredients:
1 1/2 tablespoons vegetable oil
1 large egg, beaten
6 scallions, roughly chopped
2 teaspoons curry powder
Kosher salt and freshly ground black pepper
4 cups cooked rice
Sesame oil, for drizzling
Instruction:
Heat the oil in a large nonstick skillet over high heat. Add the beaten egg and swirl the pan; let set, then transfer to a plate. Add the scallions to the pan along with the curry powder and pepper to taste; stir-fry 2 minutes. Stir in the cooked rice; spread in an even layer and cook 3 minutes. Add the egg, and salt to taste; stir to break up the egg. Drizzle with the sesame oil.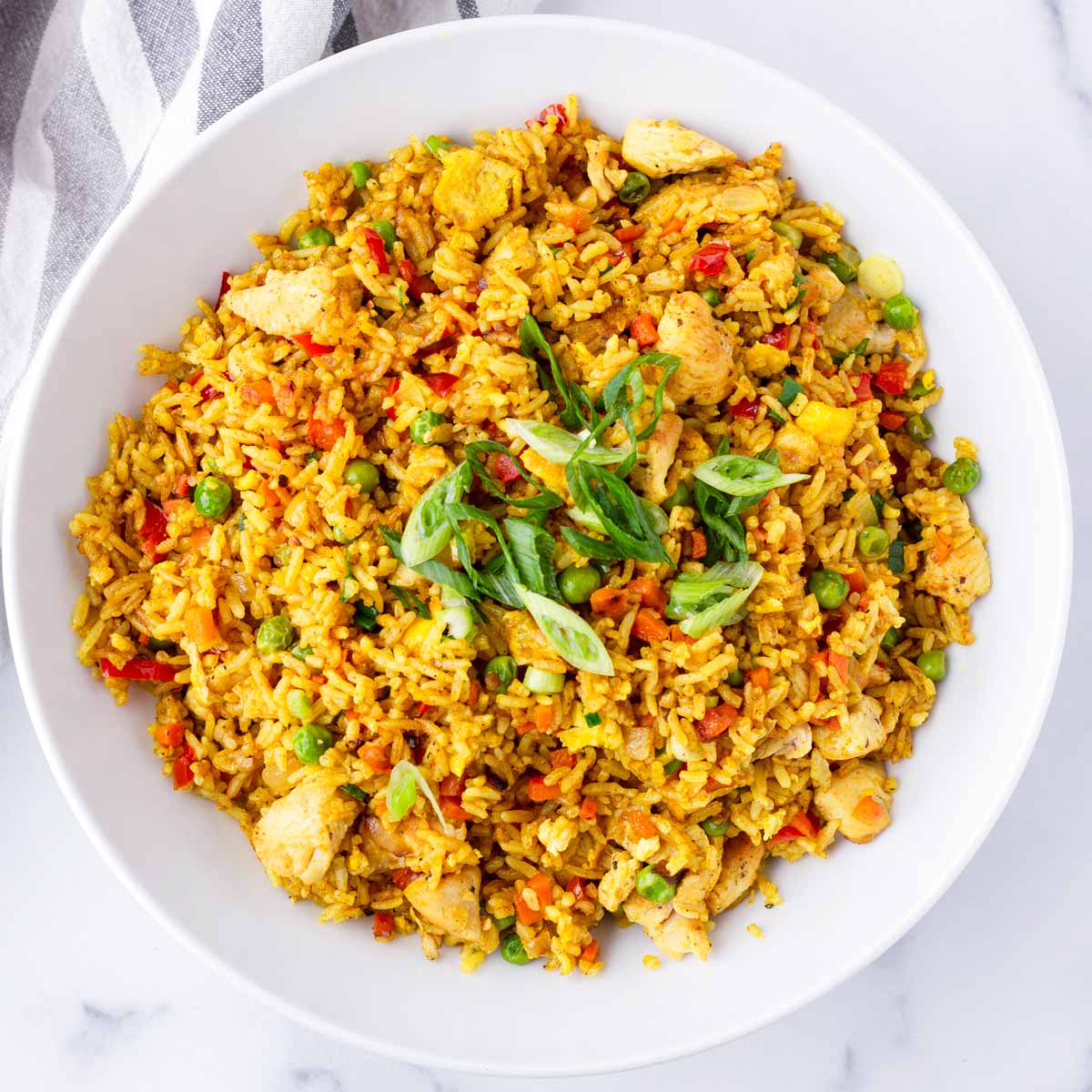 This easy and super flavorful yellow curry fried rice with chicken is the perfect 30-minute weeknight dinner. It's make-ahead and prep-ahead friendly as well for ease and convenience.
Prep: 15min
Total: 30min
Yield: 4
Servings: 1 serving
Nutrition Facts : calories 411 kcal, Carbohydrate 42 g, Protein 20 g, Fat 18 g, Saturated Fat 3 g, Trans Fat 1 g, Cholesterol 118 mg, Sodium 115 mg, Fiber 3 g, Sugar 3 g, unSaturated Fat 14 g, servingSize 1 serving
Ingredients:
Vegetable oil
1 large chicken breast, cut into small cubes (boneless, skin removed)
½ teaspoon chicken bouillon
Salt and pepper to taste
2 large eggs, beaten
⅓ cup small-diced onions
½ teaspoon grated ginger
3 cloves garlic, minced
½ cup small-diced red bell pepper
½ cup small-diced carrots
⅓ cup frozen green peas
3 cups day-old cooked Jasmine rice (cooked day before and refrigerated, see notes)
2 tablespoons yellow curry powder (see note)
Scallions, thinly sliced (for garnish)
Water, as needed (about ⅓ to ½ cup)
Instruction:
Season chicken: Drizzle chicken with 1 tablespoon vegetable oil. Season with chicken bouillon, salt and pepper (about ½ teaspoon Kosher salt and ¼ teaspoon black pepper). Set aside.
Heat 1 tablespoon of oil in a wok or skillet over medium-high heat. Add the beaten eggs, and cook breaking them up into smaller pieces with your spatula. Transfer cooked eggs to a plate. Set aside.
Increase to high heat. Heat about 1 more tablespoon oil in the same wok or skillet, and cook the chicken until fully cooked through. Remove from skillet and set aside.
Over high heat, add about 2 tablespoons of oil and cook the diced onions, carrots, and bell pepper for 3-4 minutes, stirring occasionally, until carrots are slightly softened. Then, add garlic, ginger, and peas for 1-2 minutes, stirring until fragrant.
Add a few more drizzles of oil. Add the cooked day-old rice, breaking it up with a spatula and tossing until warm.
Add yellow curry powder and mix with the rice until evenly combined. Gradually drizzle in water (about ⅓ to ½ cup, or as needed) letting it be absorbed into the rice, stirring, about 2-3 minutes. If needed, add more water. Note: Water helps the curry powder get absorbed and incorporated into the rice. It also adds moisture.
Return cooked eggs and chicken to the skillet. Toss to combine. Season with salt and pepper to taste. Garnish with sliced green onions. Serve warm. Enjoy!
This Curry Fried Rice is packed full of flavor. 1 Pot 20 Mins. Easy to make and gluten free. Use other cooked grains, spice blends for variation. A perfect side or a light meal. Vegan Glutenfree Nutfree Soyfree Recipe
Prep: 10min
Total: 20min
Yield: 3
Servings: 1 serving
Nutrition Facts : calories 227 kcal, Carbohydrate 42 g, Protein 6 g, Fat 4 g, Sodium 413 mg, Fiber 4 g, Sugar 5 g, servingSize 1 serving
Ingredients:
2 cups cooked cooled rice (, Or 3/4 cup uncooked rice, see notes for cooking instructions.)
2 tsp oil
1/2 medium onion (chopped)
1 serrano or jalapeno pepper (chopped)
1 tbsp minced garlic
2 tsp minced ginger (optional)
1/2 green pepper (chopped)
1/2 red bell pepper (chopped)
1 zucchini (chopped)
1/2 cup carrots (sliced)
1/3 cup or more peas
1 tbsp or more curry powder (or 1 tsp turmeric + 1 tsp coriander powder+ 1 tsp garam masala, or use berbere or jamaican curry blend)
1/2 tsp salt (or to taste)
lime or lemon juice to taste
Instruction:
Heat oil in a skillet over medium heat. Add onion, serrano pepper and a dash of salt. Cook until translucent. 2 mins. Add the ginger, garlic and mix well.Cook for a minute.
Add the peppers, zuzzhini and carrots and a dash of salt. Cook for 2 minutes. Then mix, cover and cook for another 2 mins or until al dente. Add the peas and curry powder or other spices and mix in. (At this point you can also add in yellow or red curry paste for variation and cook for a minute. You can also add in some chickpeas or baked/crisped tofu at this point to make it into a meal. )
Add the rice and salt and toss well. Taste and adjust salt and spice. Add more spices as needed. Add a dash of cayenne and some lime/lemon juice and mix in. (Variation: add in some roasted nuts and mix in)
Cover and cook for 2 mins. Then let sit covered for another 2-3 mins for the flavors to develop.
Garnish with cilantro and lemon juice. Serve with chutneys or dips or as a side with curries or stir fries.
A sprinkle of curry powder is a quick way to add a ton of flavor to fried rice. In this Japanese Curry Fried Rice recipe, I go a step further to give this quick-fix all the flavors of a bubbling pot of Japanese Curry.
Prep: 4min
Total: 12min
Yield: 3
Servings: 1 serving
Nutrition Facts : calories 414 kcal, Carbohydrate 45 g, Protein 13 g, Fat 20 g, Saturated Fat 12 g, Cholesterol 36 mg, Sodium 591 mg, Fiber 2 g, Sugar 3 g, servingSize 1 serving
Ingredients:
2 tablespoons vegetable oil
100 grams onions (finely minced)
150 grams ground beef (or other ground meat)
400 grams cooked rice (use stale rice)
1 tablespoon Japanese curry powder
1/2 teaspoon salt
50 grams mild green pepper (diced)
2 tablespoon chunou sauce
Instruction:
Heat a frying pan over medium-high heat and add the oil and onions. Fry these until they're light brown in color.
Add the ground beef and break it up using a spatula.
When the meat is cooked through, add the rice and stir together to coat it with oil.
Sprinkle the curry powder and salt evenly over the rice, and then add the green peppers.
Stir-fry and toss the fried rice until the curry fried rice is uniform in color, and the rice is heated through.
Drizzle the chunou sauce over the fried rice and toss to distribute evenly. Once the sauce is mixed through, you can stop stirring periodically to give the rice a little bit of browning, but be careful not to burn it.
Only have minutes and looking for a super easy recipe? Well, this curry fried rice is so easy and packed full of flavour! It's also a great way to use up leftover veggies of your choice.
Prep: 5min
Total: 15min
Yield: 2
Servings: 1 serving
Nutrition Facts : servingSize 1 serving, calories 290 kcal, Carbohydrate 48 g, Protein 7 g, Fat 8 g, Saturated Fat 1 g, Sodium 1107 mg, Fiber 5 g, Sugar 3 g, unSaturated Fat 6 g
Ingredients:
2 cups cooked and cooled rice (, leftover is best)
1 tbsp sesame oil
1 tbsp diced onions (or chopped scallions)
2 cloves garlic (minced)
1/2 to 1 tsp salt (adjust depending on desired taste)
1 tbsp soy sauce ( or liquid aminos)
1 tbsp curry powder
Sesame seeds (for topping)
More scallions (for topping)
¼ cup carrots (I love to use a frozen corn, carrots, and peas mix! A lifesaver!)
¼ cup corn
¼ cup peas
Cabbage (chopped)
Mushrooms (diced)
Bell peppers (diced)
Instruction:
In a large pan or wok, heat the sesame oil over high heat.
Add in the onions and garlic then sauté for 2 minutes. Add in the vegetables and cook until tender.
Add in the rice or other leftover grain of choice.
Season with salt, soy sauce, and curry powder. Mix well. Adjust to taste if needed.
Garnish with some shopepd scallions and sesame seeds, if you'd like. Enjoy while hot!