A spicy sausage roast
Prep: 10min
Total: 20min
Yield:
Servings:
Nutrition Facts :
Ingredients:
6-7 Chicken sausages
2 tbsp oil
1 onion chopped
2 tsp ginger garlic paste
2 to matoes chopped
1 tbsp red chilly powder (kashmiri)
1 tbsp coriander powder
1 – 2 tsp pepper powder (adjust according to your spice level)
salt to taste
Instruction:
Thaw the chicken franks or sausages to room temparature. Cut them into roundels.
Heat oil in a pan. Add onions.Saute till it turns translucent.
Add ginger garlic paste.Saute till it leaves the raw smell.
Add in tomatoes.
Add red chilly powder , coriander powder, salt. Mix well.
Add the sausage roundels and give a gentle mix to coat the sausage with the spices.
Cover with a lid and cook for 5 mins on medium flame. If you feel it is getting too dry add few tbsp of water.
Once sausages are cooked completely add the pepper powder. Mix gently.
Switch off the flame.
Hot chicken sausage roast is ready to serve!!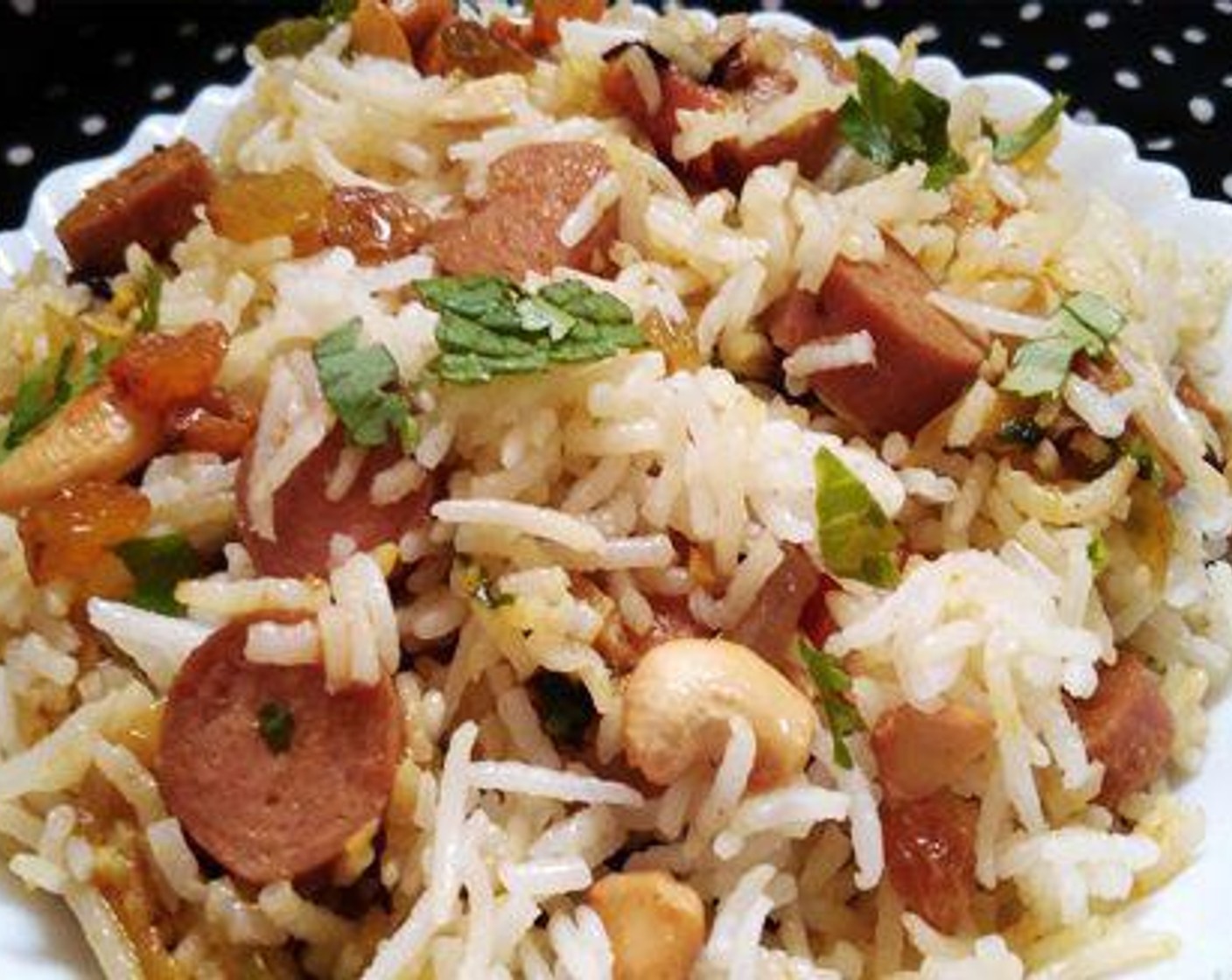 Simple and easy biriyani.
Prep:
Total: 2400sec
Yield: 4
Servings:
Nutrition Facts : calories 390 calories, Protein 10.3 g, Fat 27.2 g, Carbohydrate 25.7 g, Fiber 1.6 g, Sugar 2.3 g, Sodium 615.3 mg, Saturated Fat 8.4 g, Trans Fat 0.0 g, Cholesterol 45.8 mg, unSaturated Fat 15.7 g
Ingredients:
2 cup Basmati Rice
5 Whole Clove
3 Whole Cardamom Pods
2 Cinnamon Stick
2 Bay Leaf
3/4 teaspoon Garam Masala
3/4 teaspoon Ground Turmeric
3 tablespoon Ghee
6 tablespoon Oil
to taste Salt
4 cup Water
1 tablespoon Lemon Juice
10 Sausage
4 Onion
1 tablespoon Fresh Ginger
1 tablespoon Garlic
4 Green Chili Pepper
2 tablespoon Fresh Cilantro
2 tablespoon Fresh Mint Leaves
2 sprig Curry Leaf
1 Tomato
1/2 teaspoon Ground Fennel
1/2 tablespoon Chili Powder
to taste Cashew Nuts
to taste Raisins
Instruction:
Boil some water and let the Sausage (10) boil for a few minutes and the drain off the water. Once it cools down chop it to small bite size pieces.
To a pan, pour Oil (3 tablespoon) and add 3 Onion (3) and saute until the onion becomes soft. Then add Fresh Ginger (1 tablespoon), Garlic (1 tablespoon), Green Chili Pepper (4) and saute till the raw smell goes.
Add Garam Masala (1/2 teaspoon), Ground Fennel (1/2 teaspoon), Chili Powder (1/2 tablespoon) and Ground Turmeric (1/2 teaspoon).
Now add Tomato (1) and Salt (to taste) and cook well. Saute well and add chopped sausage, Fresh Cilantro (2 tablespoon), Fresh Mint Leaves (2 tablespoon), and Curry Leaf (2 sprig). Reserve some of it for garnishing.
Combine well and cover and cook for two to three minutes and then switch off the flame.
To a pan, add Ghee (3 tablespoon) and Oil (3 tablespoon). Fry remaining Onion (1) until light brown for garnishing.
Fry Cashew Nuts (to taste) and Raisins (to taste) and keep aside. Now add Whole Clove (5), Whole Cardamom Pods (3), Bay Leaf (2), and Cinnamon Stick (2).
Add Basmati Rice (2 cup) and fry the rice for a good eight to ten minutes.
Add Water (4 cup) to the rice. Once it starts boiling, reduce the flame.
Add Ground Turmeric (1/4 teaspoon), Garam Masala (1/4 teaspoon), Salt (to taste), and Lemon Juice (1 tablespoon). Stir well, close the lid and cook.
Take half of the cooked rice and keep aside. To the rest of the rice, add the sausage masala, fried onion, cashew nuts, raisins, and a little cilantro and mint leaves.
Add the rest of the rice and layer it well. Cover and cook in low flame for a few minutes.
Serve hot with raita, pickle and pappad.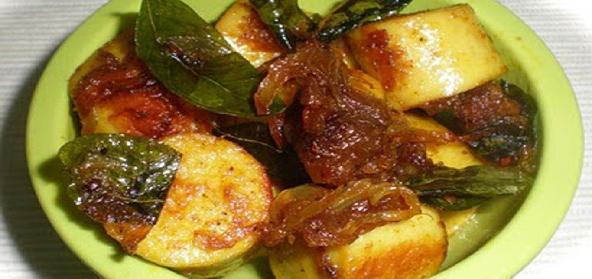 Spicy Sausage Fry is a finger-licking side dish recipe specially meant for all chicken lovers. It is a top spicy chicken recipe that is a complete mix of meaty sausages and tangy hot masalas. Make sure that the sausages are cooked well in low heat along with the added ingredients. You can sprinkle extra pepper powder to get that kind of a special taste. Spicy Sausage Fry serves as a best side dish for pulao, roti or paratha.
Prep:
Total:
Yield:
Servings:
Nutrition Facts : calories 240, Fat 9 grams, Fiber 2 grams, Protein 4 grams
8 – chicken sausages , 1 tbsp – oil , 1 – onion, finely sliced , 1 sprig – curry leaves , 4 cloves – garlic, finely sliced , 1/2 tsp – Kashmiri red chilli , 1/4 tsp – pepper powder , 1/4 tsp – turmeric powder , 2 tsp – water , 1/2 tsp – salt ,
Dilute red chilli powder, turmeric powder and pepper powder in 2 tsp of water and keep it aside. , Heat oil in a frying pan. Fry sliced onions till it is golden in color. , Add curry leaves and garlic to it. Fry it for 3 – 4 minutes. , Add diluted spice powder mix to it. , Stir it well for 3 – 4 minutes or until the raw smell disappears and water dries up. , Add sausage pieces and salt to it and mix all the ingredients well. , Cover it with a lid and cook on low heat for 12 – 15 minutes or until it is done. , Sprinkle extra pepper powder when serving. , Serve as a side dish with rotis. , Recipe Courtesy: Niya Prakash's World,
Prep: 10min
Total:
Yield: 2 people
Servings:
Nutrition Facts :
Ingredients:
250 gm cocktail sausages
4 cloves garlic (minced)
Small Onion (finely chopped)
½ tsp garam masala
½ tsp red chilli powder
2 tbsp barbecue sauce
1 tbsp Ketchup
2 tbsp Cooking oil
Instruction:
Take a pan and heat oil on medium heat. Once it is hot enough, add garlic and fry for a minute. Then add the onions and sauté until they are translucent.
Add the sausages to this onion-garlic mix and sauté gently.
Add garam masala, red chilli powder, barbeque sauce, and ketchup. Sauté the ingredients until the sauce thickens. Make sure the sausages are well coated. Flip/turn them to be cooked evenly. This will not take more than 4-5 minutes. Transfer into a bowl or plate and serve hot.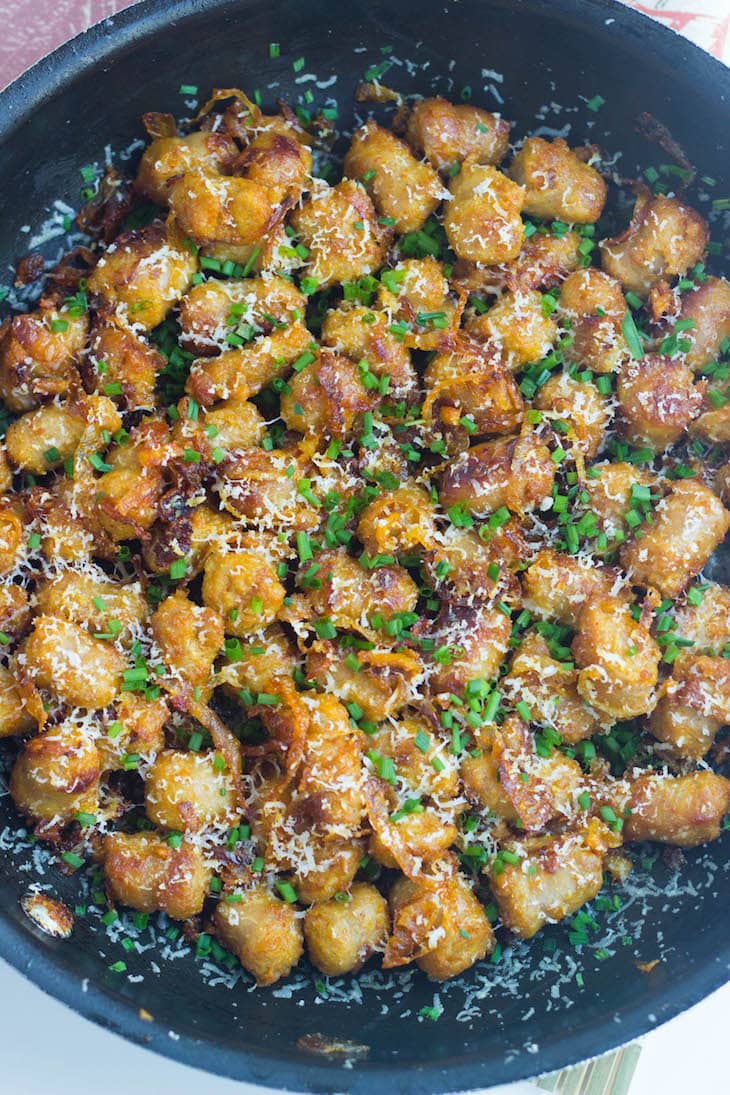 Prep: 10min
Total: 25min
Yield: 2
Servings:
Nutrition Facts :
Ingredients:
500 g 1 pound sausages (chicken, pork or beef)
2 tablespoons oil
2 medium onions (2 cups sliced)
1- inch ginger (finely sliced or crushed)
1/4 cup grated parmesan cheese (optional)
cilantro or chives for garnish
SPICES: (MARINADE)
1 and 1/2 teaspoon red chilly powder
1/4 teaspoon turmeric powder
1/4 teaspoon garam masala powder
1/2 teaspoon salt or to taste
2 tablespoons oil
Instruction:
Chop the sausages into 1-inch pieces. Add the spices listed under marinade, and mix well.
Add 2 tablespoons of oil in a pan and place over medium-high heat. To this, add the onions and ginger and saute till onions are soft and translucent.
Now add the marinated sausages and saute for 2-3 minutes.
Turn the heat to low, cover the pan with a lid for about 10 minutes and let the sausages cook. Stir once in between.
Take the lid off, turn the heat to medium-high and roast till the edges become slightly crisp.
Transfer into a serving dish and top with some grated parmesan cheese and herbs if desired.
Serve as a side with rice, roti or inside a roll.